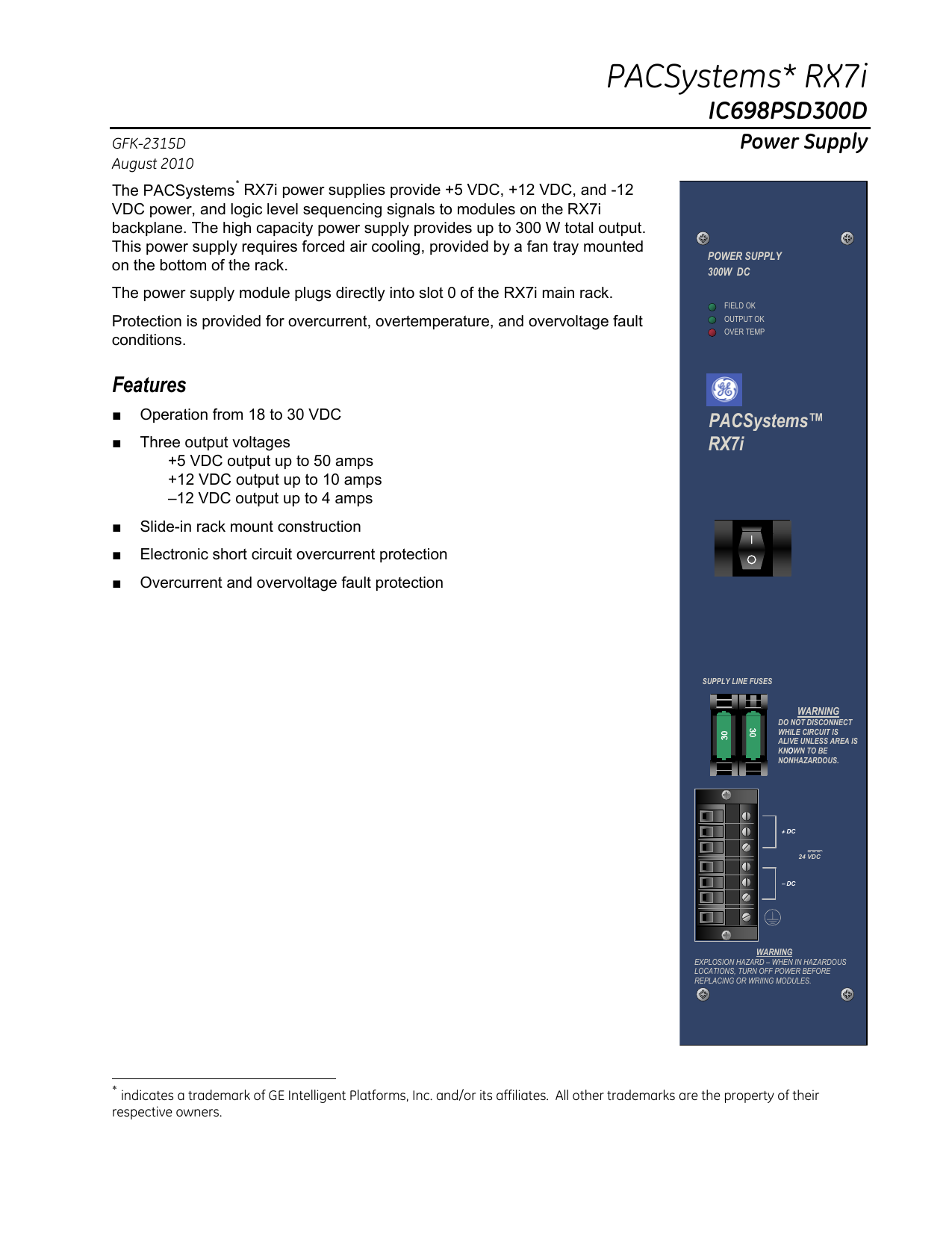 PACSystems* RX7i
IC698PSD300D
Power Supply
GFK-2315D
August 2010
The PACSystems * RX7i power supplies provide +5 VDC, +12 VDC, and -12
VDC power, and logic level sequencing signals to modules on the RX7i
backplane. The high capacity power supply provides up to 300 W total output.
This power supply requires forced air cooling, provided by a fan tray mounted
on the bottom of the rack.
The power supply module plugs directly into slot 0 of the RX7i main rack.
Protection is provided for overcurrent, overtemperature, and overvoltage fault
conditions.
POWER SUPPLY
300W DC
FIELD OK
OUTPUT OK
OVER TEMP
Features
■
Operation from 18 to 30 VDC
■
Three output voltages
+5 VDC output up to 50 amps
+12 VDC output up to 10 amps
–12 VDC output up to 4 amps
■
Slide-in rack mount construction
■
Electronic short circuit overcurrent protection
■
Overcurrent and overvoltage fault protection
PACSystems™
RX7i
SUPPLY LINE FUSES
30
30
WARNING
DO NOT DISCONNECT
WHILE CIRCUIT IS
ALIVE UNLESS AREA IS
KNOWN TO BE
NONHAZARDOUS.
+ DC
24 VDC
− DC
WARNING
EXPLOSION HAZARD – WHEN IN HAZARDOUS
LOCATIONS, TURN OFF POWER BEFORE
REPLACING OR WRIING MODULES.
*
indicates a trademark of GE Intelligent Platforms, Inc. and/or its affiliates. All other trademarks are the property of their
respective owners.
RX7i Power Supplies
2
GFK-2315D
Release Information
Release History
Version
Date
PSD300D
Aug 2010
PSD300C
Aug 2006
Comments
Label change only. No change in functionality, performance or compatibility.
Power supplies qualified to the Explosive Atmospheres Directive, European Safety for
Hazardous Locations, Equipment Group II, Category 3 (ATEX) agency standard.
Corrected an infrequently observed issue with power supply shutdown causing corrupted
memory faults in CPU.
PSD300B
Jun 2005
Overtemperature detection. See GFK-2315B for details.
PSD300A
Feb 2005
Initial release.
Functional Compatibility
The D version is interchangeable with previous versions.
Power Supply Operation
On/Off Switch
The two position On/Off switch, located on the front faceplate, is a logic level switch that enables or disables
the output channels only. This switch does not interrupt the DC line input.
Warning
Lethal voltages are present inside the module whenever
input power is present.
Indicators
The following LED indicators are provided on the power supply front panel.
LED Name
Color
Function
FIELD OK
green
Turns ON when DC power is applied within its
specification range.
OUTPUT OK
green
Turns ON when all three DC outputs channels
are operating within their specifications.
Turns OFF if any of the three DC output
channels has failed.
OVER TEMP
red
Turns On if the critical supply temperature is
exceeded or if the airflow sensor detects
cessation of air flow.
RX7i Power Supplies
3
GFK-2315D
VMEbus Power Monitor Interface Timing
ACFAIL#
The ACFAIL# signal is pulled down when the power supply inputs are no longer being provided or when the
ON/OFF switch is OFF. The ACFAIL# signal is asserted at least 5ms before outputs fall below their specified
limits to provide sufficient warning to the system of power failure.
SYSRESET#
The RX7i power supplies do not drive the SYSRESET# signal on the VME backplane. The RX7i CPU module
controls the SYSRESET# signal.
Overvoltage Protection
Any output channel that exceeds the nominal output voltage by 15% or more will cause all outputs to latch off.
The ON/OFF control switch or the DC input power must be recycled to reset
Replaceable fuses are present on both the positive and negative DC inputs. The power supply uses ATO
style 30 Amp fuses.
Overcurrent/Short Circuit Protection
All outputs are protected against overcurrent and short circuit with automatic recovery upon removal of fault.
An electronic current limit is provided on each of the three outputs. An overload on any output will cause the
voltage to collapse and may cause the other output voltages to collapse.
Normal operation will resume after removal of the overload. Some component cooling time may be required
before normal operation resumes.
Over Temperature Protection
The RX7i power supplies have internal temperature sensing that shuts down the output channels when
overheated. The supply will automatically recover once the internal temperature has decreased to operating
levels.
The power supply is capable of operating at full capacity (300W) from 0 to 60ºC with 70 CFM forced air
cooling provided by a fan tray mounted below the system chassis. The power supply can operate at a limited
capacity with only convection cooling. See the Temperature Derating Curve below
RX7i Power Supplies
4
GFK-2315D
Airflow Sensor
An airflow sensor is provided to detect a fan failure or air
blockage. If the power supply senses a cessation of air flow,
it responds by switching off all outputs and turning on the
overtemperature LED indicator. The power supply
automatically recovers from this condition when the internal
temperature has decreased to operating levels.
Jumper installed on
pins 1 & 2 of P3
(Airflow sensor
enabled)
You can enable or disable the airflow sensor via a jumper
located on the outside of the Power Supply. The airflow
sensor option is enabled (Jumper present) as the default for
each power supply.
Front
Top View
Location of Airflow Sensor Jumper – Top View
Temperature Derating
100
90
80
Load (%)
70
60
50
40
30
20
10
0
0
20
Temperature (°C)
60
RX7i Power Supplies
5
GFK-2315D
Installation
Warning
Do not remove (or insert) modules when the power supply or any externally-connected power
sources are on. Hazardous voltages may exist. Personal injury, damage to the module, or
unpredictable operation of the device or process being controlled may result.
This Power Supply is a plug-in module that is installed in the leftmost slot of any standard RX7i rack. For
additional installation information, refer to PACSystems RX7i Installation Manual, GFK-2223.
Power Source and Ground Connections
The input terminals are located on the front faceplate of the power supply. Power input connections should be
made with copper AWG #16 (1.3 mm2 ) wire rated for 75°C (167°F). Each terminal can accept two solid or
stranded wires, but the wires into any given terminal should be the same type and size. The terminal can
accept a single wire connection up to AWG #12. All wire lengths should be stripped to 0.25" (7mm). Longer
stripping lengths will result in exposed power wires, which is a potential shock hazard.
For additional noise protection, the input wires may be routed through the supplied choke core as shown on
page 6.
The GND (ground) terminal on the power supply should be connected to the GND terminal on the rack and to
earth using copper AWG #12 (3.3 mm2 ) wire rated for 75°C (167°F) to ensure adequate grounding. Use of a
ring terminal and star washer to ensure ground integrity is recommended.
Rack Grounding
Stud (8-32)
Earth
Ground
#12 (3.3 mm2)
Ground Wire
WARNING:
DO NOT DISCONNECT
WHILE CIRCUIT IS
ALIVE UNLESS AREA IS
IKNOWN TO BE
NONHAZARDOUS
Positive
+ DC
Power
Source
24 VDC
Negative
- DC
Torque 12 in-lb
(1.3 N-m)
75°C Copper
Conductors
Ground
Terminal Board Connections for IC698PSD300
RX7i Power Supplies
6
GFK-2315D
System Noise Protection
The following steps must be taken to reduce the possibility of errors due to electrical noise.
Make sure that the power supply mounting screws are properly secured.
Properly ground the system as described in "Power Source and Ground Connections" on page 5.
For additional noise protection, the input wires may be routed through the supplied choke core as shown in
the following figure. Wrap each wire once through the core.
Toroidal Core
50—80 mm
+DC
to P1
-DC
GND
Input Wires Routed Through Supplied Core
Note:
Each RX7i module has a noise reduction gasket on the right side of the faceplate that maintains
contact with the adjacent module or the rack. (RX7i power supplies have the noise strip on both
sides.) Installing modules that do not have this strip makes the rack system more susceptible to
electrical noise.
RX7i Power Supplies
7
GFK-2315D
Specifications
Nominal Rated Voltage:
24 VDC
Input Voltage Range:
18 to 30 VDC
Input Power:
430 watts (typical), 550 watts (maximum)
Inrush current (cold start, 24 VDC)
100 amps maximum
Output Requirements
Output Power:
300 watts maximum (total for all 3 outputs)
Output Voltage:
+5 VDC: 4.875 to 5.25 volts, 0 to 50 amps
+12 VDC: 11.64 to 12.6 volts, 0 to 10 amps
–12 VDC: –12.60 to –11.64 volts, 0 to 4 amps
Isolation, input to all outputs
250 VAC continuous; 1500 VAC for 1 minute
Protective Limits:
Overvoltage Limit:
+5 VDC Output: 5.7 to 6.7 volts
Overcurrent Limit:
+5 VDC output: 65 A typical
+12 VDC output: 15 A typical
–12 VDC output: 6 A typical
Ride-through (time allowed for loss of input
power without affecting DC outputs)
15 milliseconds minimum
Holdup Time (time from ACFAIL# system
failure signal is activated to when any DC
output drops out of specification)
5 milliseconds minimum
Operating Temperature:
0°C to 60°C (32°F to 140°F) Fan tray attachment required for full
capacity. See "Ordering Information."
For environmental specifications and compliance to standards (for example, FCC or European Union Directives),
refer to Appendix A of the PACSystems RX7I Installation Manual, GFK-2223.
Ordering Information
Description
Catalog Number
RX7i Power Supply: 24 VDC Input, 300watt output IC698PSD300
120 VAC Input Rack Fan Assembly , Standard
IC697ACC721
240 VAC Input Rack Fan Assembly , Standard
IC697ACC724
24 VDC Input Rack Fan Assembly, Standard
IC697ACC744
120 VAC Input Rack Fan Assembly, Narrow
IC697ACC621
240 VAC Input Rack Fan Assembly, Narrow
IC697ACC624
24 VDC Input Rack Fan Assembly, Narrow
IC697ACC644
Installation in Hazardous Locations
The following statements are required to appear for Class I Div 2 Hazardous Locations.
1. EQUIPMENT LABELED WITH REFERENCE TO CLASS I, GROUPS A, B, C, and D, DIV. 2
HAZARDOUS LOCATIONS IS SUITABLE FOR USE IN CLASS I, DIVISION 2, GROUPS A, B, C, D OR
NON–HAZARDOUS LOCATIONS ONLY.
2. WARNING – EXPLOSION HAZARD – SUBSTITUTION OF COMPONENTS MAY IMPAIR SUITABILITY
FOR CLASS I, DIVISION 2.
3. WARNING – EXPLOSION HAZARD – DO NOT DISCONNECT EQUIPMENT UNLESS POWER HAS
BEEN SWITCHED OFF OR THE AREA IS KNOWN TO BE NON–HAZARDOUS.