Lite-On ENAU108-101, ENAU108-111 Datasheet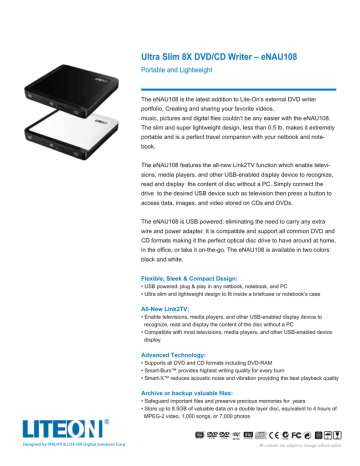 Ultra Slim 8X DVD/CD Writer – eNAU108
Portable and Lightweight
The eNAU108 is the latest addition to Lite-On's external DVD writer
portfolio. Creating and sharing your favorite videos,
music, pictures and digital files couldn't be any easier with the eNAU108.
The slim and super lightweight design, less than 0.5 lb, makes it extremely
portable and is a perfect travel companion with your netbook and notebook.
The eNAU108 features the all-new Link2TV function which enable televisions, media players, and other USB-enabled display device to recognize,
read and display the content of disc without a PC. Simply connect the
drive to the desired USB device such as television then press a button to
access data, images, and video stored on CDs and DVDs.
The eNAU108 is USB powered; eliminating the need to carry any extra
wire and power adapter. It is compatible and support all common DVD and
CD formats making it the perfect optical disc drive to have around at home,
in the office, or take it on-the-go. The eNAU108 is available in two colors:
black and white.
Flexible, Sleek & Compact Design:
• USB powered: plug & play in any netbook, notebook, and PC
• Ultra slim and lightweight design to fit inside a briefcase or notebook's case
All-New Link2TV:
• Enable televisions, media players, and other USB-enabled display device to
recognize, read and display the content of the disc without a PC
• Compatible with most televisions, media players, and other USB-enabled device
display
Advanced Technology:
• Supports all DVD and CD formats including DVD-RAM
• Smart-Burn™ provides highest writing quality for every burn
• Smart-X™ reduces acoustic noise and vibration providing the best playback quality
Archive or backup valuable files:
• Safeguard important files and preserve precious memories for years
• Store up to 8.5GB of valuable data on a double layer disc, equivalent to 4 hours of
MPEG-2 video, 1,000 songs, or 7,000 photos
Designed by PHILIPS & LITE-ON Digital Solutions Corp.
All contents are subject to change without notice
8X Ultra Slim DVD/CD Writer – eNAU108
Features:
• Portable and ultra lightweight
• USB powered: no power adapter needed
• Supports Link2TV
• SMART-BURN(*1) avoid Buffer Under Run error, automatically adjusting writing strategy & running OPC to provide the best burning quality
• SMART-X(*2) function adjusts CD-DA / VCD / DVD data extraction to a fastest allowable speed according to both data request rate from host and disc quality
• Plug & Play, and emergency manual eject function
• Supports DVD+/-R / DVD+/-RW / DVD+/-R DL / DVD-RAM / DVD-ROM / CD-R / CD-RW / CD-ROM format
• Supports Fixed packet, Variable packet, Disc-at-once, Session-at-once and Track-at-once
• Supports both 8cm and 12cm discs of CD and DVD family
• DVD read compliant: DVD single/dual layer (PTP/OTP), DVD-R (3.9GB/4.7GB), DVD-R multi-borders, DVD-RAM, DVD-R DL, DVD+R, DVD+R DL, DVD-RW,
and DVD+RW
• CD read compliant: CD-DA, CD-ROM, CD-ROM/XA, Photo-CD, Multi-session, Video-CD, CD-I FMV, CD Extra, CD Plus, CD-R, and CD-RW
• Conform to Orange Book: Part 2 CD-R Volume 1, Part 2 CD-R Volume 2 Multi Speed, Part 3 CD-RW Volume 1 (known as Low Speed), Part 3 CD-RW
Volume 2: High Speed, Part 3 CD-RW Volume 3: Ultra Speed
Specifications:
DVD Family:
Write
DVD±R
8X maximum
DVD±R DL 6X maximum
DVD-RAM 5X maximum
CD Family:
Write
CD-R
24X maximum
ReWrite
CD-RW 24X maximum
ReWrite
DVD+RW
DVD-RW
8X maximum
6X maximum
Read
CD-ROM 24X maximum
Read
8X maximum
Rand. access time 1/3 Stroke: 110ms
Full Stroke: 220ms
Random Access: 110ms
Rand. access time 1/3 Stroke: 130ms
Full Stroke: 250ms
Random Access: 130ms
(Maximum transfer rate is limited by PC system or interface speed)
Buffer Size: 2MB(MAX)
PC Required :
Pentium-4 1.3 GHz or higher CPU and 256MB or higher RAM are required
HDD must have up to 1GB free space for software installation, and for creating a CD image file,
up to 10GB free space for creating a DVD image file (10GB for double layer; 5GB for single layer)
USB2.0 Port required (a second USB2.0 port maybe need for additional power)
Link2TV: Requireds media player or television with built-in media
Compatibility: MS-Windows® 7, Vista or XP or later versions
MTBF(Life) : 60000 POH
Environment:
Operating 5ºc to 35ºc; Relative Humidity 10% to 80%
Non-Operating -40ºc to 65ºc; Relative Humidity: 10% to 90%
Dimension: 5.5 (W) x 5.2 (D) x 0.6 (H) inch
Weight: <0.40 lb
SMART-BURN™ : Smart Monitoring & Adapting Recording Technology for BURNing.
Smart-X™: Smart Monitoring & Adjusting Read-speed Technology for eXtraction.
Copyright LITE-ON IT Corp. All Rights Reserved.

* Your assessment is very important for improving the work of artificial intelligence, which forms the content of this project