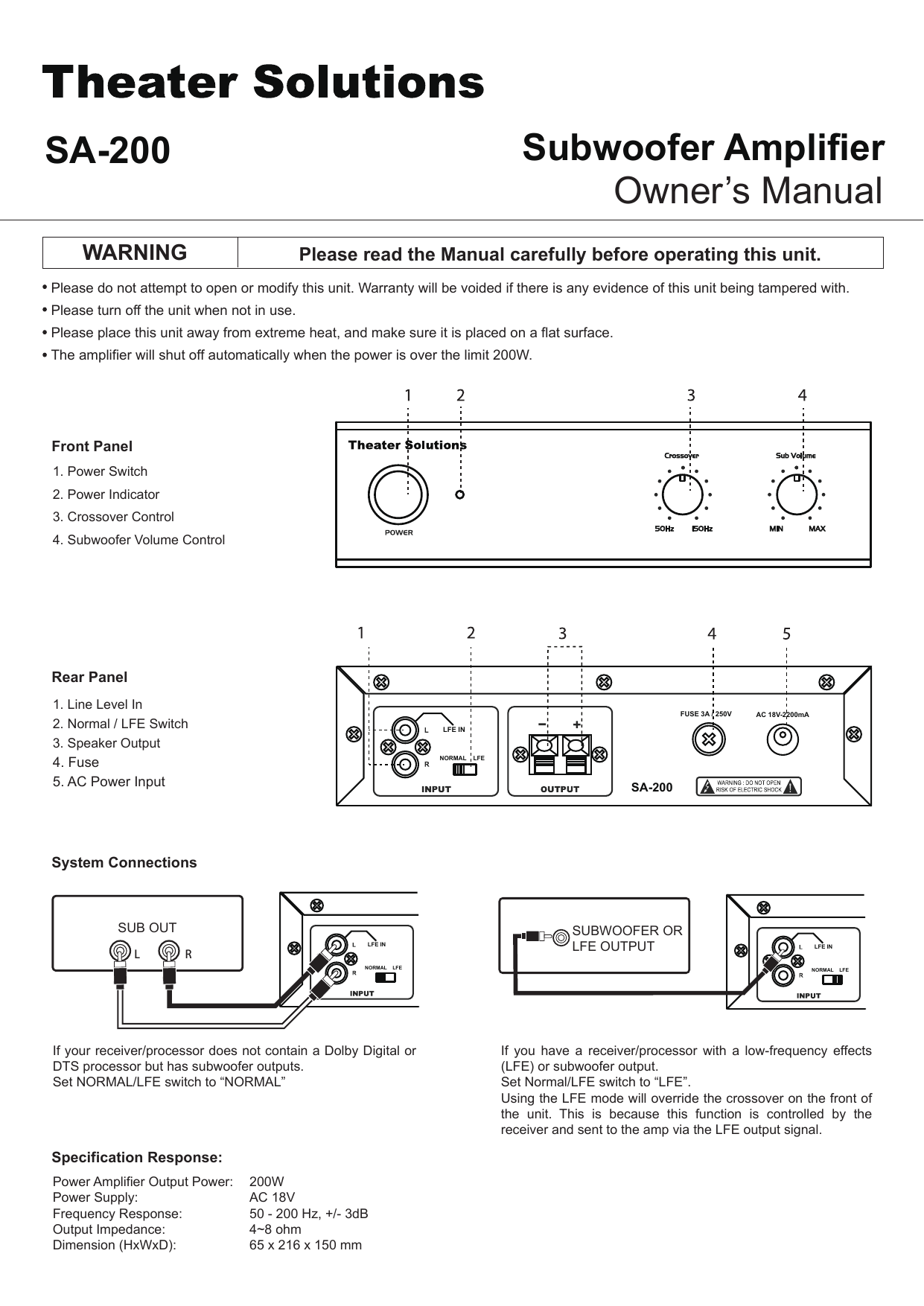 Subwoofer Amplifier
Owner's Manual
SA-200
WARNING
Please read the Manual carefully before operating this unit.
Please do not attempt to open or modify this unit. Warranty will be voided if there is any evidence of this unit being tampered with.
Please turn off the unit when not in use.
Please place this unit away from extreme heat, and make sure it is placed on a flat surface.
The amplifier will shut off automatically when the power is over the limit 200W.
Front Panel
Crossover
Sub Volume
1. Power Switch
2. Power Indicator
3. Crossover Control
50Hz
4. Subwoofer Volume Control
150Hz
MIN
MAX
Rear Panel
1. Line Level In
2. Normal / LFE Switch
3. Speaker Output
FUSE 3A / 250V
AC 18V-2200mA
LFE IN
4. Fuse
5. AC Power Input
NORMAL
LFE
SA-200
System Connections
SUB OUT
L
R
SUBWOOFER OR
LFE OUTPUT
LFE IN
NORMAL
LFE
If your receiver/processor does not contain a Dolby Digital or
DTS processor but has subwoofer outputs.
Set NORMAL/LFE switch to "NORMAL"
Specification Response:
Power Amplifier Output Power:
Power Supply:
Frequency Response:
Output Impedance:
Dimension (HxWxD):
200W
AC 18V
50 - 200 Hz, +/- 3dB
4~8 ohm
65 x 216 x 150 mm
LFE IN
NORMAL
LFE
If you have a receiver/processor with a low-frequency effects
(LFE) or subwoofer output.
Set Normal/LFE switch to "LFE".
Using the LFE mode will override the crossover on the front of
the unit. This is because this function is controlled by the
receiver and sent to the amp via the LFE output signal.

* Your assessment is very important for improving the work of artificial intelligence, which forms the content of this project