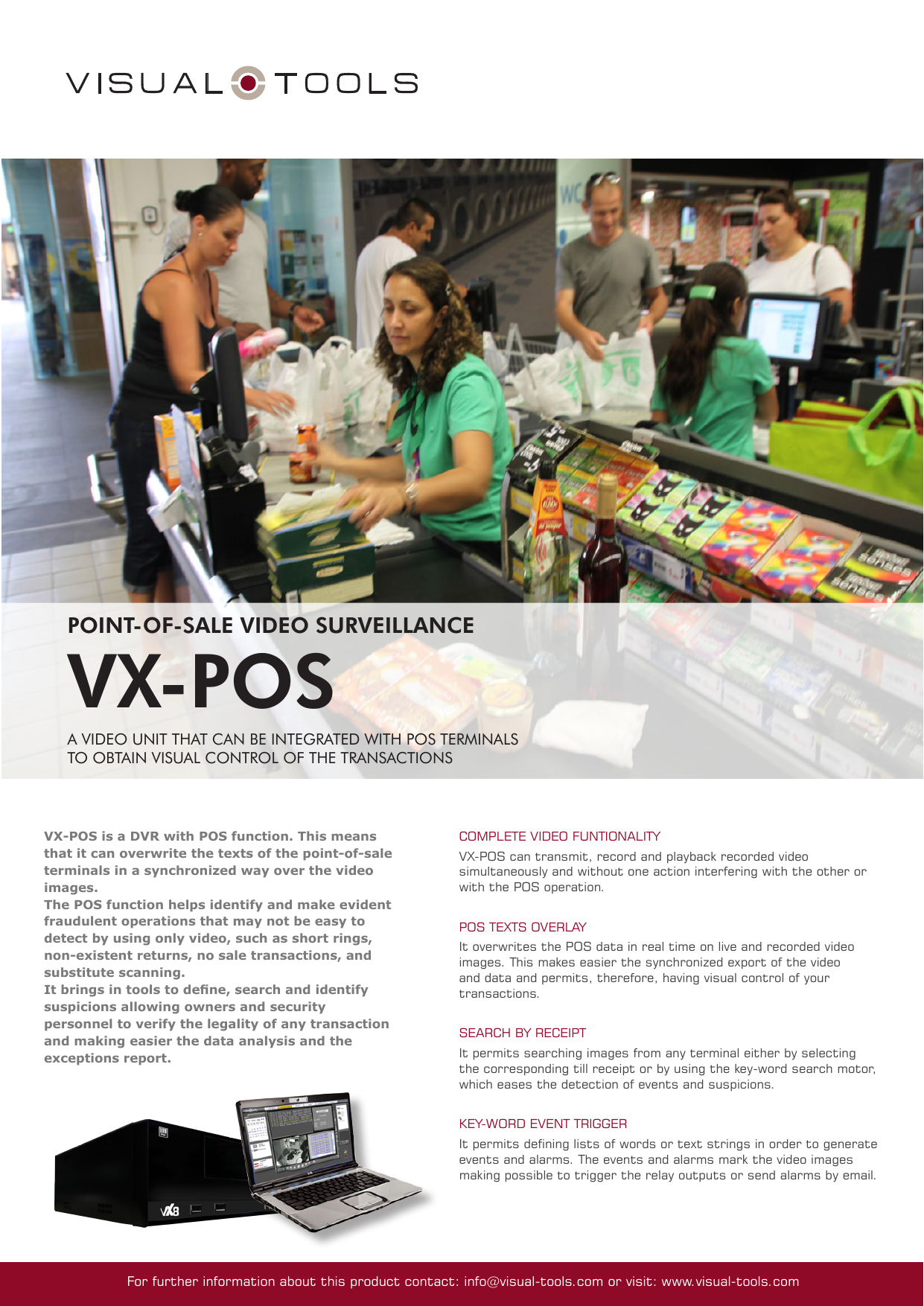 POINT-OF-SALE VIDEO SURVEILLANCE
VX-POS
A VIDEO UNIT THAT CAN BE INTEGRATED WITH POS TERMINALS
TO OBTAIN VISUAL CONTROL OF THE TRANSACTIONS
VX-POS is a DVR with POS function. This means
that it can overwrite the texts of the point-of-sale
terminals in a synchronized way over the video
images.
The POS function helps identify and make evident
fraudulent operations that may not be easy to
detect by using only video, such as short rings,
non-existent returns, no sale transactions, and
substitute scanning.
It brings in tools to define, search and identify
suspicions allowing owners and security
personnel to verify the legality of any transaction
and making easier the data analysis and the
exceptions report.
COMPLETE VIDEO FUNTIONALITY
VX-POS can transmit, record and playback recorded video
simultaneously and without one action interfering with the other or
with the POS operation.
POS TEXTS OVERLAY
It overwrites the POS data in real time on live and recorded video
images. This makes easier the synchronized export of the video
and data and permits, therefore, having visual control of your
transactions.
SEARCH BY RECEIPT
It permits searching images from any terminal either by selecting
the corresponding till receipt or by using the key-word search motor,
which eases the detection of events and suspicions.
KEY-WORD EVENT TRIGGER
It permits defining lists of words or text strings in order to generate
events and alarms. The events and alarms mark the video images
making possible to trigger the relay outputs or send alarms by email.
For further information about this product contact: [email protected] or visit: www.visual-tools.com
POS TEXT INSERTER VIDEO SOLUTION
VX-POS
POINT-OF-SALE VIDEO SURVEILLANCE
TECHNICAL SPECIFICATIONS:
MODEL:
VX4-P: 4 camera DVR. Up to 4 POS*
VX8-P: 8 camera DVR. Up to 6/8 POS*
VX16-P:16 camera DVR. Up to 6/16 POS*
Transmission of up to PAL 25 ips/NTSC 30ips
depending on the available bandwidth and the
recording configuration.
Simultaneous transmission and recording.
USER INTERFACE:
Local I: VGA monitor and up to 2 CCTV monitors.
Remote I: WEB access from any PC with MS
Internet Explorer or with the Supervisor X reception
and management software. Different user levels
password-protected. Optimized interface for mobile
devices. Multiple user login.
ALARM TRANSMISSION:
Sending of alarm images via e-mail and/or alarm
notification to up to 2 Supervisor posts.
COMMUNICATION:
Web server over TCP/IP with Ethernet internal
adapter and RJ45 connector.
Automatic management for Internet connections
with dynamic IP address.
Automatic time synchronisation with a configurable
NTP Server
VIDEO INPUTS:
PAL or NTSC video signals (according to the model)
with BNC connectors.
Online image setting controls, camera titles and
image masking customizable locally or in remote
from the configuration menu.
ALARM INPUTS:
8 non-isolated inputs for dry contacts. 1 switchable
screw terminal female connector.
Customisable alarm input titles and polarity
inversion from the configuration interface.
RELAY OUTPUTS:
4 relay outputs with NO/NC contacts. 24V 1A
switch power. 1 switchable screw terminal female
connector.
Manual activation by the operator or configurable to
signal equipment states, including POS events and
alarms. Customisable relay output titles from the
configuration interface.
VIDEO OUTPUTS
1 VGA video output for local interface use and 2
CCTV video outputs (PAL or NTSC according to the
model) for cyclic visualisation of the active cameras
and alarm monitoring. Control of the monitors from
the local interface.
MONITORING AND MANAGEMENT
CAPTURE AND COMPRESSION:
Resolution: 640 x 480.
4 configurable and independent quality levels for live
and recorded video.
MPEG standard compression.
Compression size: 12 KB for very high quality, 9KB
for high quality, 5 KB for medium quality and 3KB for
low quality per image.
TRANSMISSION:
AUDIO
SIP-based VoIP full duplex audio channel.
RECORDING:
PAL 200 ips/ NTSC 240 ips for recording at any
quality.
Automatic deletion of the images because of
antiquity or hard disk occupation.
ime-lapse or/and event recording (by means of an
alarm input or a motion sensor).
TIME LAPSE Recording:
Configurable calendar and possibility of
synchronization with external devices through an
alarm input.
EVENT Recording:
Recording activated by means of the alarm inputs or
motion sensors.
Configurable recording of up to 30 minutes of prealarm and 10 minutes of post-alarm.
The connection to the POS must be made by using a
kit that includes a USB adapter to RS232 port. One
kit per POS.
The POS data are retrieved from the serial port.
In most cases, existent printer connection socket is
used. Please consult available protocols.
RECORDING OF TRANSACTIONS:
Recording of transactions from up to POS terminals
synchronized with the associated video cameras.
Recorded video searching with key-word search
motor.
Simultaneous playback of video and the associated
transactions.
VIDEO AND DATA EXPORT:
Video export (MPEG format) including texts of POS
to USB device (external hard disk or flash memory).
CONFIGURACIÓN:
Menu for the local or remote configuration with user
level password-protected.
Local or remote software updating.
POWER SUPPLY:
110-240 Vac. external power supply UL, FCC and
CE marked.
Voltage: 19Vdc - 5A
MOTION DETECTION:
Motion sensors per camera with selectable
activation (always/in working hours).
Definition of different motion/no motion areas and 3
levels of sensitivity.
Smart search of video sequences in local viewer with
VMD filters on time-lapse and event recordings.
PHYSICAL DATA:
Weight: 3200 g.
W x H x D: 250 x 100 x 290 mm.
PAN TILT ZOOM (PTZ):
Control of domes and matrixes from multiple
manufacturers (refer to our dome list in www.visualtools.com)
On-Screen control for local video viewer
Go to a preset by an alarm input function.
Configurable preset titles.
HOW TO ORDER:
VX4-P-HDD: 4 PAL cameras. 4 (up to 6) POS.
VX4-N-P-HDD: 4 NTSC cameras. 4 (up to 6) POS.
VX8-P-HDD: 8 PAL cameras. 6 (up to 8) POS.
VX8-N-P-HDD: 8 NTSC cameras. 6 (up to 8) POS.
VX16-P-HDD: 16 PAL cameras. 6 (up to 16) POS.
VX16-N-P-HDD:16 NTSC cameras. 6 (up to 16)
POS.
-KIT-CABLE-POS= Cable kit + USB adapter for 1
POS terminal connection.
STORAGE
Internal hard drive recording. Different capacities
depending on the model.
Possibility of creating 1 or 2 resources NAS of 50,
100, 200 or 350 GB each one, up to max. 50% of
the total disk size.
CERTIFICATES:
CE.
HDD= 500G (500GB), 1TB or 2TB
POS TERMINAL CONNECTION:
Connection of 4/6 POS terminals by using the USB
ports of the unit.*Possibility of connecting up to
6/8/16 POS depending on model by installing external
USB hubs ports.
If using hubs, all POS must be connected through
them.
SUPERVISOR X
MOBILITY
AX-Tv
Digital video reception and management software to remotely connect to VS or VX units,
receive the images from the CCTV cameras
and control and manage unit information and
video.
Live video from any VX unit on Apple
smartphones and tablets by using their web
browsers and also third party applications for
IO and Android. (Consult us about compatible
applications)
Wireless decoder with remote control that,
connected via network or by WIFI to a VX
DVR, permits to display the images of their
cameras on the desired HDMI television and
visualize them in full screen or in 2x2, 3x3 or
4x4 quads.
DOCVXPOSDS00EN_140914v5042
1401 Brickell Ave. #320 - Miami, FL-33131, USA
Cell: +1 786 556 9032
www.visual-tools.com • [email protected]
The contents specified in this document may vary without previous notice.

* Your assessment is very important for improving the work of artificial intelligence, which forms the content of this project