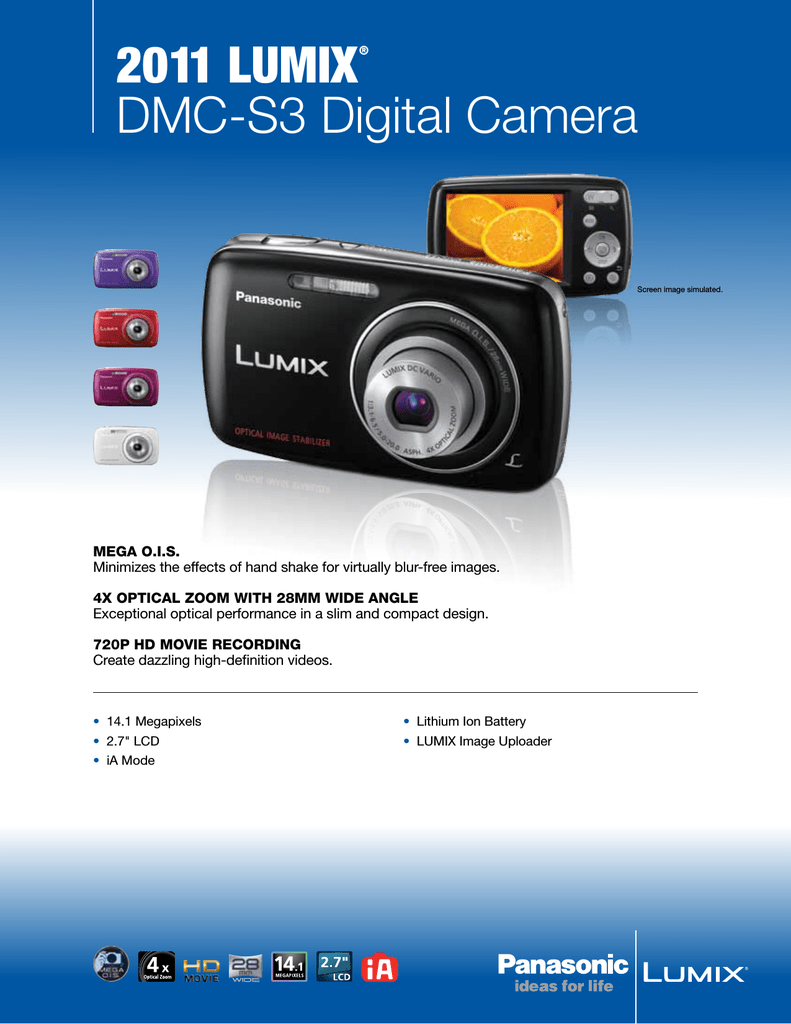 2011 LUMIX
DMC-S3 Digital Camera
®
Screen image simulated.
Mega O.I.S.
Minimizes the effects of hand shake for virtually blur-free images.
4x Optical Zoom with 28mm Wide Angle
Exceptional optical performance in a slim and compact design.
720p HD Movie Recording
Create dazzling high-definition videos.
• 14.1 Megapixels
• 2.7" LCD
• iA Mode
• Lithium Ion Battery
• Lumix Image Uploader
2011 LUMIX
DMC-S3 Digital Camera
®
Metrics
Image Parameters
Dimensions (W x H x D)
98.8 x 58.8 x 20.9 mm (3.89 x 2.31 x 0.82 in)
Weight
Approx. 117g with Battery and SD Memory Card (0.26 lb)
Aspect Ratio
Still Picture Recording
Approx. 100g without Battery and SD Memory Card (0.22 lb)
Optics
Pixels
Camera Effective Pixels
14.1 Megapixels
CCD
Sensor Size/ Total Pixels/ Filter
1/2.33-in/ 14.5 Total Megapixels/ Primary Color Filter
Lens
Aperture
F3.1 - F6.5/ Multistage Iris Diaphragm (F3.1 - 9.0 (W)/ F6.5 - 20.0 (T))
Optical Zoom
4X
Focal Length
Extra Optical Zoom (EZ)
Intelligent Zoom
—
Lens
LUMIX DC VARIO
Shutter
Finder
4320 x 3240(14M)/ 3648 x 2736(10M EZ)/ 2560 x 1920 (5M EZ)/
2048 x 1536 (3M EZ)/ 640 x 480 (0.3M EZ)
3:2
4320 x 2880 (12.5M)
16:9
4320 x 2432 (10.5M)
1:1
—
Image Quality
—
White Balance
Auto/ Daylight/ Cloudy/ Shade/ Incandescent/ White Set
(Selectable at Portrait, Soft Skin, Self-Portrait, Sports, Baby,
High Sensitivity)
f=5 - 20 mm (28 - 112 mm in 35 mm equiv.)
Quick Menu
Yes
4.7X (4:3/ 10M), 6.8X (4:3/ 5M), 8.4X (4:3/ under 3M)
Color Mode/ Color Effect
Standard, Vivid, Natural, Black & White, Sepia, Cool, Warm, Happy
(only in iA Mode)
Picture Adjustment
—
Still Image with Audio Recording
—
(3 Aspherical Lenses/ 6 Aspherical surfaces)
GPS
—
2-Speed Zoom
—
Flip Animation
—
Optical Image Stabilizer
MEGA O.I.S. (Off/ On)
Real-time histogram
—
Conversion lens Compatibility
—
Composition Guide Line
Yes (1 pattern)
Digital Zoom
4X
Auto Review
Yes (On/ Off)
(Max. 16.0X combined with Optical Zoom without Extra Optical Zoom)
Easy Zoom/ Zoom Resume
No/ No
(Max. 33.8X combined with Extra Optical Zoom)
Optical Zoom in Motion Picture
—
Focusing Area
Normal/ Intelligent AUTO/ Motion Picture : Wide 5 cm - infinity/ Tele
100 cm - infinity
Macro Zoom
—
Orientation Detector
Yes
Focus Range Display
Yes
Scene Mode Help Screen
Yes
AF Assist Lamp
Yes
Self Timer
2 sec/ 10 sec
Focus
Quick AF (Always On)
Focus Icon Select
Yes
AF Metering
Face/ 11 pt/ 1pt
Shutter Speed
Approx. 8 - 1/1600 sec
Playback Mode
Shutter Interval
Approx. 0.9 sec
Normal Playback, Slideshow, Filtering Playback(Category Playback),
Calendar Playback
Viewfinder
—
6 elements in 5 groups
Focus
4:3/ 3:2/ 16:9
4:3
Others
Playback
Display
Thumbnails/ Zoomed Playback
12,30-thumbnails/ Max. 16X
Recording
Calendar Display/ Dual-Image Playback
Yes/ No
iA
Yes/ No
File
Face Recognition
—
Set Favorites/ Rotate Image
Optical Image Stabilizer
Photo/ Movie
Playback Still Images with Audio
—
Intelligent ISO Control
Photo
Playback Motion Picture
Yes
Face Detection
Photo
Slideshow Mode
Intelligent Scene Selector
Photo (Portrait, Scenery, Night Portrait, Night Scenery, Sunset, Macro)
All/ Category/ Favorites
BGM Effect (Natural/ Slow/ Swing/ Urban/ OFF)
Intelligent Exposure
—
Show Histogram
—
AF Tracking
—
Show Highlights
—
Digital Red Eye Correction (Red Eye Removal)
Photo
Delete Image
Single/ Multi/ All/ All except Favorites
iA Direct Button
—
DPOF Print Setting/ Set Protection
No/ Yes
Intelligent Resolution Technology
—
Resize/ Cropping/ Aspect Conv./ Leveling
Yes/ No/ No/ No
File Format
Still Image: JPEG (DCF/ Exif2.3)
Copy/ Title Edit/ Text Stamp
Yes/ No/ Yes (only date stamp)
Cut Animation
—
Video Divide
—
PictBridge Support
Single/ Multi/ All/ Favorites
Delete
Edit
Motion Picture: QuickTime Motion JPEG
Interface
Recording Modes
AVCHD Lite REC
—
Mode Switch
[Playback] button
One-Touch Movie Button
—
Mode Dial/ Mode Button
Intelligent AUTO, Normal Picture, SCN, My SCN, Motion Picture
OSD language
Please refer to "OSD" Sheet
Still Image Scene Mode
Portrait, Soft Skin, Self-Portrait, Scenery, Panorama Assist, Sports,
Night Portrait, Night Scenery, Food, Party, Baby, Sunset, High
Sensitivity, Fireworks, Beach, Snow
Movie REC Guide
—
Wind-Cut in Motion Picture
—
Travel Date/ World Time
No/ Yes
LCD Monitor
2.7" (6.7 cm) TFT Screen LCD Display (230K dots)
Movie Scene Mode
—
Continuous Shooting Mode
—
Unlimited Consecutive Shooting
Motion Picture Recording
1.5 frames/ sec
4:3
Setup
Others
Monitor
Field of View: approx. 100%
VGA: 640 x 480 pixels, 30fps (Motion JPEG)
—
QVGA: 320 x 240 pixels, 30 fps (Motion JPEG)
HD
Movie
(16:9)
Continuous Recordable Time AVCHD Lite with picture quality set to [SH]
(motion pictures)
MOTION JPEG with picture quality set to [HD]
1280 x 720 pixels, 30fps (Motion JPEG)
Tough
—
—
Actual Recordable Time
(motion pictures)
AVCHD Lite with picture quality set to [SH]
—
MOTION JPEG with picture quality set to [HD]
—
Exposure Parameters
Exposure
Program AE
Exposure Compensation
1/3 EV step, +/-2 EV
Backlight Compensation
Yes (only in Intelligent AUTO Mode)
Auto (AE) Bracketing
—
Multi-Aspect
—
Light Metering
Intelligent Multiple
ISO Sensitivity
I.ISO/ 100/ 200/ 400/ 800/ 1600
High Sensitivity Mode (ISO 1600 - 6400)
Max Auto ISO Setting
—
Recording CONTINUED
Flash
Touch Panel
—
Water Proof
—
Dust Proof
—
Freeze Proof
—
Shock Proof
—
Built-in-Flash
Auto, Auto/ Red Eye Reduction, Slow Sync./ Red Eye Reduction,
Forced On, Forced Off
0.4 - 3.3m (Wide/ I.ISO), 1.0 - 1.6m (Tele/ I.ISO)
External Flash
—
Recording Media
Built-in Memory, SD Memory Card, SDHC Memory Card, SDXC
Memory Card
Built-in-Memory
Approx. 70MB
Audio
Microphone/ Speaker
Mono/ Yes
Interface
Interface
AV Output (NTSC), USB2.0 High-Speed
Network
Viera Link
—
HDMI Output
—
LUMIX Image Uploader
Yes
Power
Li-ion Battery Pack (3.6V, Minimum: 660mAh) (Included)
Battery Life (approx.)
250 pictures (CIPA Standard)*1
Included Software
PHOTOfunSTUDIO 6.0
QuickTime
Adobe Reader
Standard Accessories
Battery Charger, Battery Pack
Media
Power
Standard Package
USB Cable
Hand Strap, CD-ROM
Recording conditions by CIPA standard
• CIPA is the acronym for Camera & Imaging Products Association.
• Temperature: 23°C (73.4°F)/Humidity: 50% when LCD monitor is on.
• Using a Panasonic SD Memory Card (32MB).
• Using the supplied battery.
• Starting recording 30 seconds after the camera is turned on. (When the optical image stabilizer function is set to [ON].)
• Recording once every 30 seconds with full flash every second recording.
• Rotating the zoom lever from Tele to Wide or vice versa in every recording.
• Turning the camera off every 10 recordings and leaving it until the temperature of the battery decreases.
• The number of recordable pictures decreases in Auto Power LCD Mode and Power LCD Mode.
03/11 Specifications subject to change without notice.
• These are standard times taken at a temperature of 23°C (73.4°F) and a humidity of 50%.
• The time available for recording varies depending on the environment, the interval between recordings and the manner of use.
• Actual recordable time is the time available for recording when repeating actions such as switching the power supply [ON]/ [OFF], starting/stopping recording,
zoom operation etc.
• Motion picture recorded continuously in [MOTION JPEG] is up to 2 GB. Only the maximum recordable time for 2 GB is displayed on the screen.