No category
what is the promethean cash back campaign?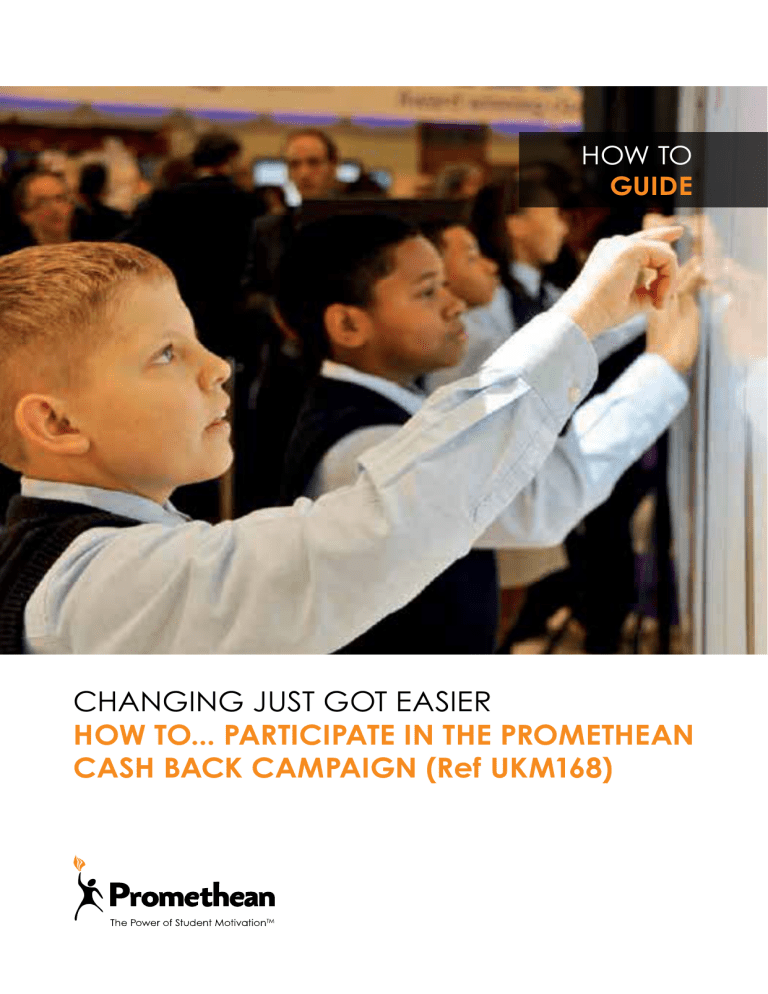 HOW TO
GUIDE
CHANGING JUST GOT EASIER
HOW TO... PARTICIPATE IN THE PROMETHEAN
CASH BACK CAMPAIGN (Ref UKM168)
HOW TO... PARTICIPATE IN THE
PROMETHEAN CASH BACK CAMPAIGN
Everything you need to know about getting involved
and maximising success:
What is the Promethean cash back campaign?
The Promethean 'Changing just got easier' cash back campaign is an incentivised campaign which
encourages potential purchasers to opt for a front of class Promethean solution that can either be the
ActivPanel Flat Panel Display (FPD) or ActivBoard Touch latest Interactive White Board (IWB) with 6 touches.
Whichever brand they currently use, whatever brand they may be considering.
Aimed at driving sales of Promethean's latest hardware technology, the campaign equips you with a
compelling proposition for your end user marketing:
For the school
£/€100 Cash Back for every ActivBoard Touch System purchased
£/€200 Cash Back for every ActivPanel Touch purchased
Free standard delivery (UK mainland only*)
Free 5 year warranty extension
£10 donation to Barnardo's for each APT or ABT sold, with the option to donate more of their cashback via
their claim (UK only).
Plus a reseller incentive
£/€200 Cash Back for each ActivBoard Touch System sold
£/€250 Cash Back for each ActivPanel Touch sold
*UK mainland refers to England, Scotland and Wales. POA for other areas e.g. Channel Islands, Shetland etc.
Donations from Promethean's 'Changing just got Easier' campaign, will help raise funds for children's
charity, Barnardo's, and more specifically finance the development of an interactive educational game
designed to prepare Care Leavers for independent living.
With a minimum target of £10,000, from now until 31st July 2015 Promethean will donate £10 for every
ActivBoard Touch or ActivPanel Touch which is sold as part of the 'Changing just got Easier' cashback
campaign. The initiative also gives UK resellers and schools the option to pledge all, or part, of the
cashback they receive to the Barnardo's game project.
Barnardo's is a charity (216250 / SC037605) and a company limited by guarantee.
(61625 England - see the governing document). Registered office: Tanners Lane, Barkingside, Ilford, Essex IG6
1QG. VAT number 507477337.
2
HOW TO... PARTICIPATE IN THE
PROMETHEAN CASH BACK CAMPAIGN
CAMPAIGN TOOLKITS
Why
the ActivPanel Touch?
Light up the room and students' imaginations with a touch panel that offers a
crystal-clear, high-definition display in virtually any classroom, from almost any angle.
ActivGlide ® surface technology provides smooth multi-touch interactivity that
eradicates finger burn experienced on other touch screen surfaces after prolonged use
Promethean's award-winning ActivInspire software ensure that students are active participants.
Create dynamic lessons with award-winning ActivInspire software, use any program that runs on your PC,
or plug into content from a wide variety of source devices for a rich and varied learning experience.
Choose from 65" and 70" classroom-tough touch panels.
Why
the ActivBoard Touch?
Reduce the technology learning curve, but retain the precision that Promethean's
ActivBoards are known for, with our multi-touch interactive display. Combining the
dry-erase surface option with the interactive functionality creates a solution that can
be used for every occasion.
Move from finger to stylus interaction to suit the needs of the lesson or the whim of the moment. With
ActivBoard Touch, there's no need to remove or replace the stylus in a tray or make a selection in the
software. Just grab the stylus or ready your finger; the functionality of each is the same on ActivBoard Touch.
Up to six students or a teacher and a group of students can work simultaneously and collaboratively with
ActivBoard Touch's multi-user functionality*, promoting collaboration and student engagement.
*Not only does ActivBoard Touch work seamlessly with Promethean solutions, it's flexible enough to complement most other existing classroom technology.
3
HOW TO... PARTICIPATE IN THE
PROMETHEAN CASH BACK CAMPAIGN
What's in it for me
as a reseller?
In very simple terms, the Promethean 'Changing just got easier' cash back campaign gives you a powerful
proposition with which to reach out to both your existing customer base and potential customers, whether
they are considering the switch to interactive flat panel display technology or are looking for an affordable
replacement to their current interactive whiteboards.
Rolling out
the campaign
To support you in the implementation of the campaign a suite of marketing support materials has been
developed which include:
CHANGING JUST GOT EASIER
ADAPTING YOUR CLASSROOM
IS FAST AND AFFORDABLE
Now it's easier than ever to
change to Promethean's
ActivPanel and ActivBoard Touch.
With cashback, free delivery, a 5-year
warranty and free software, it's fast,
affordable and hassle-free to adapt to a
new interactive learning environment.
ActivPanelTouch
• Cash Back for every ActivBoard
Touch System and ActivPanel
- £200 ActivPanel Touch
- £100 ActivBoard Touch
ActivBoard Touch
• Free educational software
ActivInspire 2.0
Upgrade your learning environment. Change to
the ActivPanel or ActivBoard Touch today.
prometheancashback.com
*Ut alit aut quam, tem et atur, sae disit faccum id eatem
latin porerumGendandia commod mos nonsequo corenim
porepudandel ipsaper atistia et enis maximpedis id mint
alitte im ant.Gendae odis mil mi, omnis dolorectio et debis el
ilia simus eicimus dolles porepudandel ipsaper atistia et enis
maximpedis id mint alit, te im ant.Gend.
• Free standard delivery (UK
mainland only)
• Free upgrade to 5 year
ActivCare Plus Warranty
Connected classroom technology lets
your students collaborate while they learn,
promoting higher levels of engagement,
teamwork, critical thinking, communication
and interpersonal skills.
• Certified safe and non
hazardous disposal of your old
whiteboard if needed
• £10 donation to Barnardos for
each system or panel purchased
Supporting
Full page advert
E-marketing template
End user campaign
landing page
Web banners
www.prometheancashback.com
Image assets
All of the downloadable assets can be found on the Promethean Partner Portal
and at www.prometheancashback.com/reseller
4
HOW TO... PARTICIPATE IN THE
PROMETHEAN CASH BACK CAMPAIGN
CAMPAIGN TOOLKITS
Making the most
of the opportunity
This is a great chance to expand your net to capture the most interest from prospects. The offer has
a wide reach offering incentives and benefits to both ends of the market. High value interactive flat
panel customers and the smaller budget entry level interactive whiteboard purchasers. Drawing on the
promotional materials that are available for the ActivPanel Touch and the ActivBoard Touch you will be well
equipped to drive enquiries and achieve sales success.
Who to target:
Anywhere with a classroom or boardroom.
Promethean
Non Promethean
New Build
Academies
How do we and the end user
obtain our cash back?
1.Resellers and end users claim separately via different online forms.
Resellers submit claims via www.prometheancashback.com/reseller using their sales order number issued
by TD Maverick on purchase (begins with 60XXXXXXXX).
End users submit claims via www.prometheancashback.com using the serial number from their ActivPanel
or ActivBoard once delivered*.
2.Claims are independent of each other and neither party can claim for the others reward on their behalf
as the gesture of charity is each organisation's choice (UK only).
3.Each claimant, reseller and end user will receive an email response to confirm claim received.
4.Once approved by Promethean the same claimants will receive an email to confirm their claim is being
processed and cheques** will be despatched within 28 days. Claims in Republic Of Ireland will be paid in
€ via electronic bank transfer.
* Irish Resellers go to www.prometheancashback.com/ROIreseller. Irish End Users go to www.prometheanworld.com/ROI
**(bank transfers in ROI)
5
HOW TO... PARTICIPATE IN THE
PROMETHEAN CASH BACK CAMPAIGN
How does the end user receive/activate
THeir extended warranty?
TD Maverick will supply the Free ActivCare Plus - the upgraded warranty pack with ordered products. It is
then the end users responsibility to register their product via www.prometheanworld.com/warranty and the
Promethean Registration portal.
What if I haven't had an email
to notify me/my customer's claim has been approved?
There may be an issue with your claim which could be one or more of the following
A duplicate claim has previously approved.
We haven't been able verify your claim against data provided by Tech Data UK.
Due to the response to this campaign, claims may take longer to process. Please wait 14 days before
expecting to see an approval email.
To find out more about participating in the Promethean Cash Back Campaign or should you have any issues
or questions please contact Promethean International Marketing.
Full reseller terms and conditions are available on request.
Call: +44 (0)870 241 3194
Email: [email protected]
Visit: Partner.PrometheanWorld.com
Or
Blanka Bimi, Promethean Product Manager, TD Maverick, [email protected]
Call: +44 (0) 870 241 3194
Email: [email protected]
Visit: Partner.PrometheanWorld.com
6
HOW TO... PARTICIPATE IN THE
PROMETHEAN CASH BACK CAMPAIGN
©2014 Promethean Ltd. All Rights Reserved.

* Your assessment is very important for improving the work of artificial intelligence, which forms the content of this project