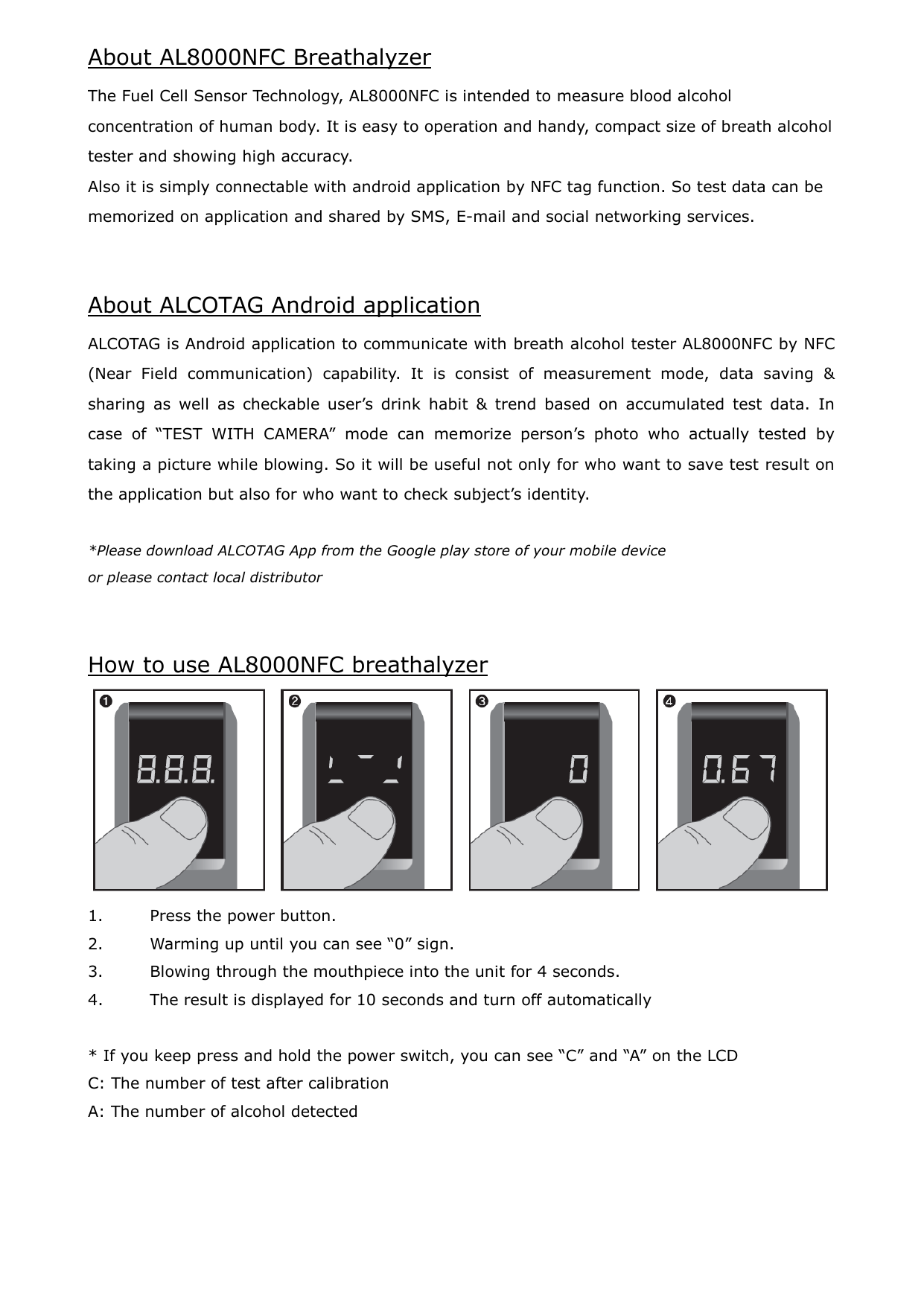 About AL8000NFC Breathalyzer
The Fuel Cell Sensor Technology, AL8000NFC is intended to measure blood alcohol
concentration of human body. It is easy to operation and handy, compact size of breath alcohol
tester and showing high accuracy.
Also it is simply connectable with android application by NFC tag function. So test data can be
memorized on application and shared by SMS, E-mail and social networking services.
About ALCOTAG Android application
ALCOTAG is Android application to communicate with breath alcohol tester AL8000NFC by NFC
(Near Field communication) capability. It is consist of measurement mode, data saving &
sharing as well as checkable user's drink habit & trend based on accumulated test data. In
case of "TEST WITH CAMERA" mode can memorize person's photo who actually tested by
taking a picture while blowing. So it will be useful not only for who want to save test result on
the application but also for who want to check subject's identity.
*Please download ALCOTAG App from the Google play store of your mobile device
or please contact local distributor
How to use AL8000NFC breathalyzer
1.
Press the power button.
2.
Warming up until you can see "0" sign.
3.
Blowing through the mouthpiece into the unit for 4 seconds.
4.
The result is displayed for 10 seconds and turn off automatically
* If you keep press and hold the power switch, you can see "C" and "A" on the LCD
C: The number of test after calibration
A: The number of alcohol detected
How to use AL8000NFC breathalyzer with ALCOTAG application
ALCOTAG have 2 operating mode.
Test with camera mode is taking picture of subject's face while he or her blowing so it can be
verifiable who tested actually.
Normal test mode is simply loading your test result to your mobile device from your AL800NFC
breathalyzer by NFC tagging.
*Before using ALCOTAG app, please make sure that;
-your mobile device must be installed Android operating system.
-checking NFC chip installed area of you mobile device before tagging it.
1.
Test with camera
Turn on the breathalyzer and
Tag breathalyzer to the
Camera will be turned
Tag breathalyzer with
Check your result on the
make sure the READY STATUS
mobile device back-to-
on and picture will be
a result to the mobile
mobile device
(display "0") is shown
back
taken automatically in
device back-to-back
5s while blowing
2.
Normal test
Turn on the breathalyzer
Tag breathalyzer with
Check your result on the
and make sure the READY
a result to the mobile
mobile device
STATUS (displaying "0")
device back-to-back
is shown
Blow
Components
Permanent mouthpiece
If you push the hook aside like above, you can use permanent mouthpiece.
Contents
Breathalyzer, Mouthpieces(x5), AAA Batteries(x2), Pouch and User's manual
Cautions
a.
Wait at least 20 minutes after eating or drinking before testing. Alcohol remaining in the mouth, or
even excess saliva, may interfere with testing. This includes alcohol-based mouthwash or similar
products.
b.
Avoid testing in high wind or enclosed spaces. Poor ventilation may also lengthen the time required
for warm up between tests.
c.
Do not blow smoke, saliva or other contaminants into the mouthpiece, as the sensor may become
damaged.
d.
Do NOT use Breathalyzer as a tool to drink and drive.
e.
Keep out of extreme temperatures and out of the reach of children.
Specifications
Indication of B.A.C
0.00 to 4.00 ‰ or
0.00 to 2.00 mg/ℓ or
0.00 to 0.40 %BAC by LCD Display
Warm up time
3 seconds ~ 4 minutes
Response time
within 10 seconds at 0.100 %BAC
Sensor
Power supply
weight
dimensions(mm)
Fuel Cell Sensor
Two 1.5V "AAA"size alkaline batteries
66g (Including Batteries)
100(height) X 44(width) X 15(thickness)
Ambient conditions
Operation : 5 to 40 ℃
Accuracy
± 5% at 0.050
%BAC
Storage
: 0 to
50 ℃
Warning display of AL8000NFC breathalyzer
Flo
If you see "Flo" in the display, the breath sample was not strong enough for
measurement. Please power on the unit again and make sure the breath is strong
and steady during sampling.
bAt
CAL
If you see "bAt" in the display, the battery power is low.
Please replace the batteries.
If you tested over 1,000 times, "CAL" will show in the display 3 seconds then
warming up for test. Unit needs recalibration service.
In a "TEST WITH CAMERA" mode, "Pt" will appear on the breathalyzer after
Pt
ready status tag, it means breathalyzer is communicated with App. under the
camera working mode and ready to accept blow sampling. So blow steadily 4
seconds with staring camera of the mobile device
Warranty
The manufacturer warrants the product to be free from defects in workmanship or material (excluding
calibration) under normal use for six (6) months from the date of purchase.
The manufacturer's obligation under this warranty is limited to replacing, adjusting or repairing the unit if
returned along with proof of purchase. This warranty is void if the unit has been tampered with or
maliciously damaged.
Recalibration & Service
For recalibration of breathalyzer and technical support, please contact local distributor or
authorized service agent.

* Your assessment is very important for improving the work of artificial intelligence, which forms the content of this project