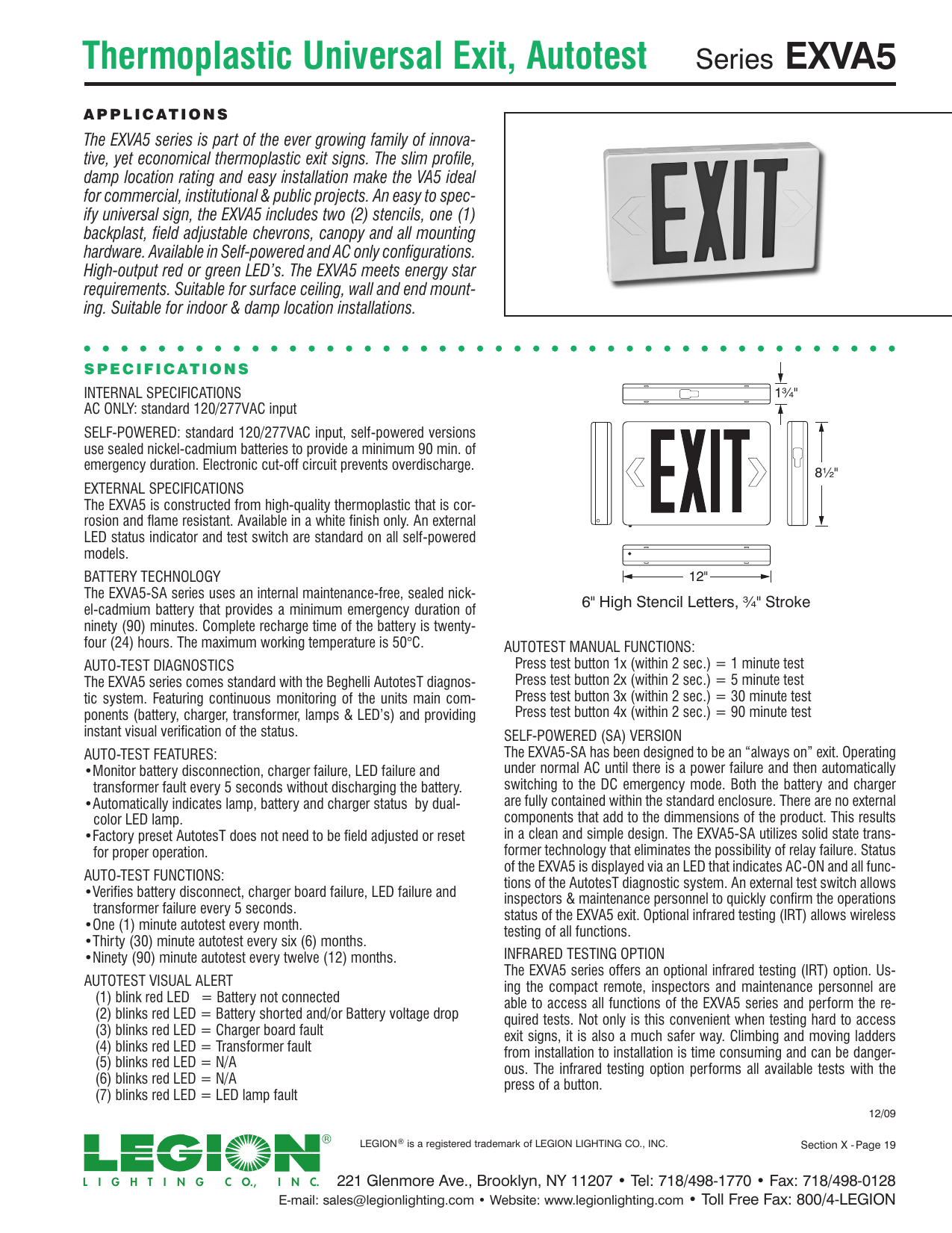 Thermoplastic Universal Exit, Autotest
Series
EXVA5
A P P L I C AT I O N S
The EXVA5 series is part of the ever growing family of innovative, yet economical thermoplastic exit signs. The slim profile,
damp location rating and easy installation make the VA5 ideal
for commercial, institutional & public projects. An easy to specify universal sign, the EXVA5 includes two (2) stencils, one (1)
backplast, field adjustable chevrons, canopy and all mounting
hardware. Available in Self-powered and AC only configurations.
High-output red or green LED's. The EXVA5 meets energy star
requirements. Suitable for surface ceiling, wall and end mounting. Suitable for indoor & damp location installations.
S P E C I F I C AT I O N S
INTERNAL SPECIFICATIONS
AC ONLY: standard 120/277VAC input
1¾"
SELF-POWERED: standard 120/277VAC input, self-powered versions
use sealed nickel-cadmium batteries to provide a minimum 90 min. of
emergency duration. Electronic cut-off circuit prevents overdischarge.
8½"
EXTERNAL SPECIFICATIONS
The EXVA5 is constructed from high-quality thermoplastic that is corrosion and flame resistant. Available in a white finish only. An external
LED status indicator and test switch are standard on all self-powered
models.
BATTERY TECHNOLOGY
The EXVA5-SA series uses an internal maintenance-free, sealed nickel-cadmium battery that provides a minimum emergency duration of
ninety (90) minutes. Complete recharge time of the battery is twentyfour (24) hours. The maximum working temperature is 50°C.
AUTO-TEST DIAGNOSTICS
The EXVA5 series comes standard with the Beghelli AutotesT diagnostic system. Featuring continuous monitoring of the units main components (battery, charger, transformer, lamps & LED's) and providing
instant visual verification of the status.
AUTO-TEST FEATURES:
•Monitor battery disconnection, charger failure, LED failure and
transformer fault every 5 seconds without discharging the battery.
•Automatically indicates lamp, battery and charger status by dual-
color LED lamp.
•Factory preset AutotesT does not need to be field adjusted or reset for proper operation.
AUTO-TEST FUNCTIONS:
•Verifies battery disconnect, charger board failure, LED failure and transformer failure every 5 seconds.
•One (1) minute autotest every month.
•Thirty (30) minute autotest every six (6) months.
•Ninety (90) minute autotest every twelve (12) months.
AUTOTEST VISUAL ALERT
(1) blink red LED = Battery not connected
(2) blinks red LED = Battery shorted and/or Battery voltage drop
(3) blinks red LED = Charger board fault
(4) blinks red LED = Transformer fault
(5) blinks red LED = N/A
(6) blinks red LED = N/A
(7) blinks red LED = LED lamp fault
12"
6" High Stencil Letters, ¾" Stroke
AUTOTEST MANUAL FUNCTIONS:
Press test button 1x (within 2 sec.) = 1 minute test
Press test button 2x (within 2 sec.) = 5 minute test
Press test button 3x (within 2 sec.) = 30 minute test
Press test button 4x (within 2 sec.) = 90 minute test
SELF-POWERED (SA) VERSION
The EXVA5-SA has been designed to be an "always on" exit. Operating
under normal AC until there is a power failure and then automatically
switching to the DC emergency mode. Both the battery and charger
are fully contained within the standard enclosure. There are no external
components that add to the dimmensions of the product. This results
in a clean and simple design. The EXVA5-SA utilizes solid state transformer technology that eliminates the possibility of relay failure. Status
of the EXVA5 is displayed via an LED that indicates AC-ON and all functions of the AutotesT diagnostic system. An external test switch allows
inspectors & maintenance personnel to quickly confirm the operations
status of the EXVA5 exit. Optional infrared testing (IRT) allows wireless
testing of all functions.
INFRARED TESTING OPTION
The EXVA5 series offers an optional infrared testing (IRT) option. Using the compact remote, inspectors and maintenance personnel are
able to access all functions of the EXVA5 series and perform the required tests. Not only is this convenient when testing hard to access
exit signs, it is also a much safer way. Climbing and moving ladders
from installation to installation is time consuming and can be dangerous. The infrared testing option performs all available tests with the
press of a button.
12/09
®
L I G H T I N G
C O.,
I N C.
LEGION ® is a registered trademark of LEGION LIGHTING CO., INC.
Section X - Page 19
221 Glenmore Ave., Brooklyn, NY 11207 • Tel: 718/498-1770 • Fax: 718/498-0128
E-mail: sales@legionlighting.com • Website: www.legionlighting.com • Toll Free Fax: 800/4-LEGION
Series EXVA5
Thermoplastic Universal Exit, Autotest
ORDE R I N G I N F O R M AT I O N
SERIES – LED COLOR – LETTER SIZE – MODEL – DIAGNOSTICS – OPTIONS
EXVA5
R (red)
G (green)
6" letters, ¾" stroke
HT (AC only)
SA (self powered)
ATX (auto test)
Note: SA versions only
IRT (infrared remote test)
B (black housing)
FAI (fire alarm interface)
EXVA 5 B U I L D E R
SERIES
LED COLOR
LETTER SIZE
MODEL
DIAGNOSTICS
OPTIONS
®
®
Information supplied primarily for illustrative purposes, subject to change.
Consult factory for verification and minimum quantity orders.
Section X - Page 20
L I G H T I N G
C O.,
I N C.

* Your assessment is very important for improving the work of artificial intelligence, which forms the content of this project