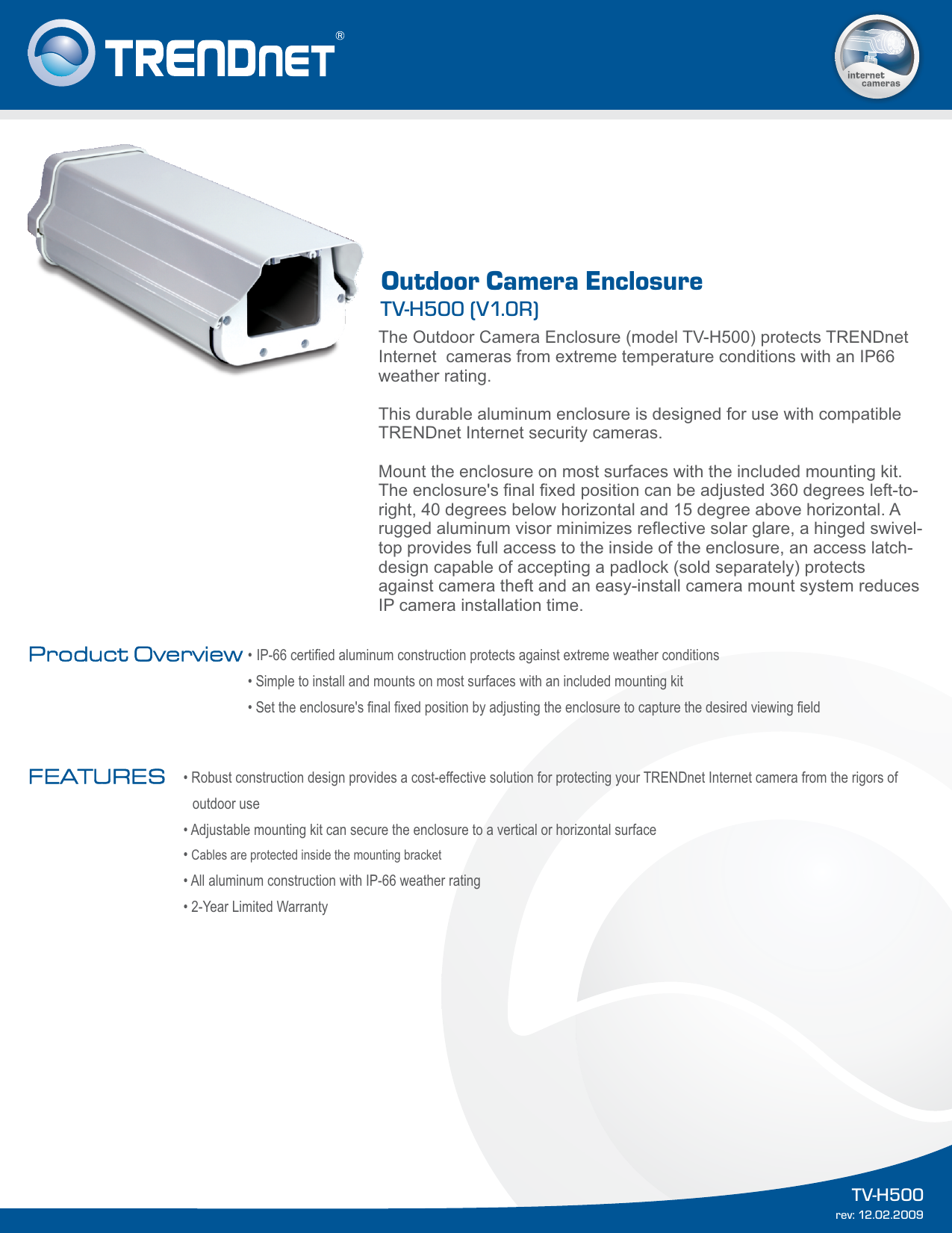 internet
cameras
Outdoor Camera Enclosure
TV-H500 (V1.0R)
The Outdoor Camera Enclosure (model TV-H500) protects TRENDnet
Internet cameras from extreme temperature conditions with an IP66
weather rating.
This durable aluminum enclosure is designed for use with compatible
TRENDnet Internet security cameras.
Mount the enclosure on most surfaces with the included mounting kit.
The enclosure's final fixed position can be adjusted 360 degrees left-toright, 40 degrees below horizontal and 15 degree above horizontal. A
rugged aluminum visor minimizes reflective solar glare, a hinged swiveltop provides full access to the inside of the enclosure, an access latchdesign capable of accepting a padlock (sold separately) protects
against camera theft and an easy-install camera mount system reduces
IP camera installation time.
Product Overview • IP-66 certified aluminum construction protects against extreme weather conditions
• Simple to install and mounts on most surfaces with an included mounting kit
• Set the enclosure's final fixed position by adjusting the enclosure to capture the desired viewing field
FEATURES
• Robust construction design provides a cost-effective solution for protecting your TRENDnet Internet camera from the rigors of
outdoor use
• Adjustable mounting kit can secure the enclosure to a vertical or horizontal surface
• Cables are protected inside the mounting bracket
• All aluminum construction with IP-66 weather rating
• 2-Year Limited Warranty
TV-H500
rev: 12.02.2009
Outdoor Camera Enclosure
TV-H500 (V1.0R)
SPECIFICATIONS
Hardware
Supported Devices
• TV-IP100-N, TV-IP100W-N, TV-IP201, TV-IP201P, TV-IP201W, TV-IP301, TV-IP301W, TV-IP501P, TV-IP501W, TV-IP512P,
TV-IP512WN
Protection Level
• IP66 weatherproof
Housing Material
• Aluminum body with Plastic front cover plate
Glass Window Size
• 76 x 92mm
Dimensions
• 390 x 142x 115mm (15.35 x 5.59 x 4.53 in.)
Weight
• Housing: 1.2kg(2.65lb)
Adjustment
• Tilt Angle - 55° Swivel Angle - 360°
• Bracket: 0.38kg (0.84lb)
PACKAGE CONTENTS
• TV-H500
• Quick Installation Guide
• Mounting bracket and hardware kit
RELATED PRODUCTS
TV-IP301/TV-IP301W
ProView Advanced Day/Night Internet Camera
Advanced Day/Night Wireless Internet Camera
Server with Audio
TV-IP501P/TV-IP501W
ProView PoE Internet Camera
ProView Wireless Internet Camera
TV-IP512P/TV-IP512WN
ProView PoE Internet Camera
ProView Wireless N Internet Camera
ORDERING INFORMATION
20675 Manhattan Place,Torrance, CA 90501 USA
Tel: 1-310-961-5500
Fax: 1-310-961-5511
Web: www.trendnet.com
Email: sales@trendnet.com
To Order Please Call:
1-888-326-6061
TRENDnet is a registered trademark. Other Brands and product names are trademarks of their respective holders. Information provided in this document pertain to TRENDnet
products and is subject to change at any time, without notice. For the most recent product information please visit http://www.trendnet.com.
Copyright © TRENDnet. All Rights Reserved.

* Your assessment is very important for improving the work of artificial intelligence, which forms the content of this project