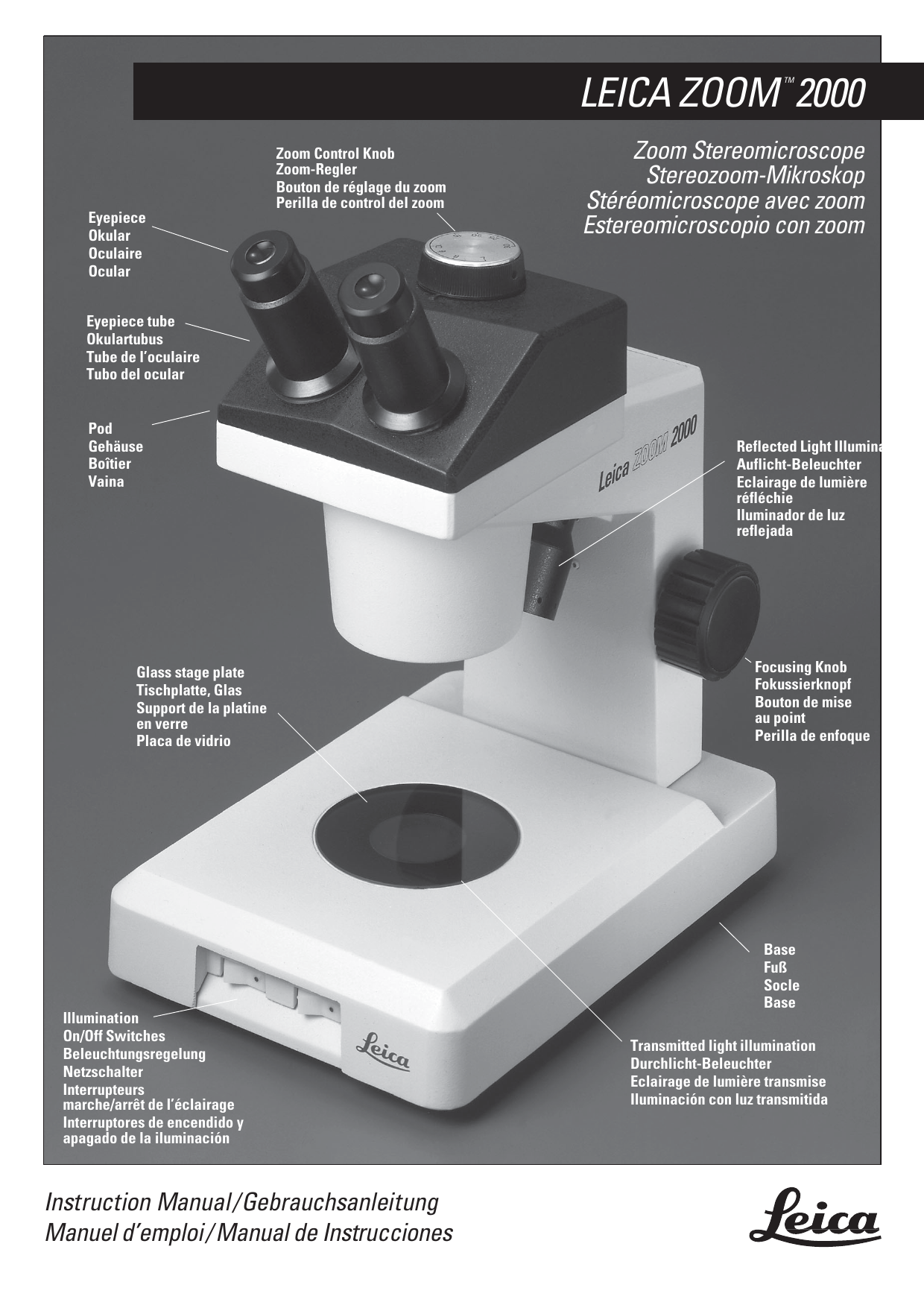 LEICA ZOOM 2000
TM
Eyepiece
Okular
Oculaire
Ocular
Zoom Control Knob
Zoom-Regler
Bouton de réglage du zoom
Perilla de control del zoom
Zoom Stereomicroscope
Stereozoom-Mikroskop
Stéréomicroscope avec zoom
Estereomicroscopio con zoom
Eyepiece tube
Okulartubus
Tube de l'oculaire
Tubo del ocular
Pod
Gehäuse
Boîtier
Vaina
Glass stage plate
Tischplatte, Glas
Support de la platine
en verre
Placa de vidrio
Reflected Light Illuminator
Auflicht-Beleuchter
Eclairage de lumière
réfléchie
Iluminador de luz
reflejada
Focusing Knob
Fokussierknopf
Bouton de mise
au point
Perilla de enfoque
Base
Fuß
Socle
Base
Illumination
On/Off Switches
Beleuchtungsregelung
Netzschalter
Interrupteurs
marche/arrêt de l'éclairage
Interruptores de encendido y
apagado de la iluminación
Instruction Manual /Gebrauchsanleitung
Manuel d'emploi / Manual de Instrucciones
Transmitted light illumination
Durchlicht-Beleuchter
Eclairage de lumière transmise
Iluminación con luz transmitida
LEICA ZOOM 2000
Zoom Stereomicroscope
Instruction Manual
LEICA ZOOM 2000
Stereozoom-Mikroskop
Gebrauchsanleitung
Table of Contents
Inhaltsverzeichnis
TM
TM
Section
1.0
2.0
3.0
4.0
5.0
6.0
6.1
7.0
8.0
9.0
10.0
11.0
11.1
11.2
11.3
Page
Introduction .................................................................. 2
Important Features........................................................ 2
Initial Set-Up ................................................................ 4
Magnification Systems ................................................. 4
Illumination Systems .................................................... 4
Electrical Considerations/Equipment Ratings .............. 4
Supply Voltage and Range Supply Frequency ............. 4
Range of Environmental Conditions ............................ 4
Operating Instructions .................................................. 6
Cleaning of Exposed Optical Surfaces ......................... 6
Care of the Stereomicroscope ....................................... 8
Lamp Replacement ....................................................... 8
For Transmitted Illumination........................................ 8
For Reflected Illumination ......................................... 10
Fuse Replacement ...................................................... 10
Explanation of Warning Symbols
CAUTION: Risk of
electric shock
Abschnitt
1.0
2.0
3.0
4.0
5.0
6.0
6.1
7.0
8.0
9.0
10.0
11.0
11.1
11.2
11.3
Seite
Einleitung ..................................................................... 2
Hauptmerkamale .......................................................... 2
Aufstellung ................................................................... 4
Vergrößerungssysteme ................................................. 4
Beleuchtungarten .......................................................... 4
Elektrische Anforderungen/Geräte - Nennwerte .......... 4
Netzspannung und Bereich/Frequenz ........................... 4
Bereich der Umweltbedingungen ................................. 4
Bedienungsanleitung .................................................... 6
Reinigung von offenen optischen Oberflächen ............ 6
Pflege des Mikroskops ................................................. 8
Auswechseln der Beleuchtungslampen ........................ 8
Beim Durchlicht-Beleuchter ......................................... 8
Beim Auflicht-Beleuchter .......................................... 10
Sicherungswechsel ..................................................... 10
Erläuterung für Warnungs Symbole
!
CAUTION: (Refer to
accompanying documents)
VORSICHT: Risiko von
elektrischem Schock
230V Models only: 5 X 20 Typ T 250mA 250V
!
VORSICHT: Bitte verweisen
sie zu begleitenden Dokumente
5 X 20 Typ T 250mA 250V
1.0 INTRODUCTION
1.0 EINFÜHRUNG
The LEICA ZOOM™ 2000 Stereomicroscope from Leica is built to
withstand years of heavy classroom use. From biology to botany,
entomology to geology, ecology to electronics education, the LEICA
ZOOM 2000 has applications wherever three dimensional viewing is
needed.
Das LEICA ZOOM 2000TM Mikroskop von Leica ist konstruiert, um
jahrelangen Belastungen im Unterricht standzuhalten. Von Biologie zu
Botanik, Entomologie zu Geologie, Ökologie zu Elektronik kann das
ZOOM 2000 überall dort eingesetzt werden, wo dreidimensionale
Betrachtung erforderlich ist.
2.0 IMPORTANT FEATURES
2.0 HAUPTMERKMALE
All LEICA ZOOM 2000 Stereomicroscopes have zoom magnification
systems. This means the stereomicroscope can zoom through an entire
magnification range of 7X - 30X or 10.5X - 45X depending on the
widefield eyepiece magnification (10X or 15X). Total magnification
power is the product of objective magnification multiplied by the
eyepiece magnification:
Alle LEICA ZOOM 2000 Stereomikroskope sind mit
Zoomvergrößerungssystemen ausgestattet. Das heißt, daß das
Mikroskop über einen ganzen Vergrößerungsbereich, von 7X - 30X
oder 10,5X - 45X je nach Vergrößerungsfaktor des Großfeldokulars
(10X oder 15X) verstellt werden kann. Die Gesamtvergrößerung
ergibt sich aus dem Produkt der Objektivvergrößerung multipliziert
mit der Okularvergrößerung.
Eyepieces X
Objectives
=
Zoom Magnification
10X
X
0.7X to 3.0X
=
7X to 30X
15X
X
0.7X to 3.0X
=
10.5X to 45X
Interlocked inclined eyepiece tubes allow adjustment for interpupillary
distances from 49mm to 73mm. All eyepieces are built-in to eliminate
breakage and loss.
The LEICA ZOOM 2000 comes with a three-way illumination system
which may be used to provide transmitted light, reflected light or a
combination of both. The built-in, dual on/off switches control the
type of illumination desired.
2
Okulare
X
Objektive
=
Zoomvergrößerung
10X
X
0,7X to 3,0X
=
7X to 30X
15X
X
0,7X to 3,0X
=
10,5X to 45X
Die miteinander verbundenen, schrägen Okulartuben ermöglichen eine
Einstellung des Pupillenabstands von 49 mm bis 73 mm. Um Verlust
oder Beschädigung zu vermeiden, sind alle Okulare fest eingebaut.
Das LEICA ZOOM 2000 ist mit einem dreifachen
Beleuchtungssystem versehen, das Durchlicht-, Auflicht- oder
Mischlicht-Beleuchtung bietet. Die erwünschte Beleuchtungsart wird
über die eingebauten zweifachen Ein/Ausschalter gewählt.
LEICA ZOOM 2000
Stéréomicroscope avec zoom
Manuel d'utilisation
LEICA ZOOM 2000
Estereomicroscopio con zoom
Manual de Instrucciones
Table des matières
Tabla de contenido
TM
TM
Section
1.0
2.0
3.0
4.0
5.0
6.0
6.1
7.0
8.0
9.0
10.0
11.0
11.1
11.2
11.3
Page
Introduction .................................................................. 3
Caractéristiques importantes ......................................... 3
Configuration initiale ................................................... 5
Systèmes de grossissement ........................................... 5
Systèmes d'éclairage .................................................... 5
Mises en garde et caractéristiques du matériel .............. 5
Tension d'alimentation et gamme de
fréquence de l'alimentation .......................................... 5
Conditions du milieu ambiant ...................................... 5
Instructions d'utilisation ............................................... 7
Nettoyage des surfaces optiques exposées ................... 7
Entretien du stéréomiscroscope .................................... 9
Remplacement de la lampe ........................................... 9
Eclairage transmis ........................................................ 9
Eclairage réfléchi........................................................ 11
Replacement du fusible .............................................. 11
Légende des symboles de mise en garde
ATTENTION: danger
de décharge électrique
!
Sección
1.0
2.0
3.0
4.0
5.0
6.0
6.1
7.0
8.0
9.0
10.0
11.0
11.1
11.2
11.3
Página
Introducción ................................................................. 3
Características importantes ........................................... 3
Configuración inicial .................................................... 5
Sistemas de magnificación ........................................... 5
Sistemas de iluminación ............................................... 5
Consideraciones sobre la electricidad y clasificación
del equipo ..................................................................... 5
Voltaje de alimentación eléctrica y rango de
frecuencia de la alimentación ....................................... 5
Rango de condiciones ambientales ............................... 5
Instrucciones de operación ........................................... 7
Limpieza de las superficies ópticas expuestas .............. 7
Cuidado del estereomicroscopio ................................... 9
Reemplazo de lámparas ................................................ 9
Para iluminación transmitida ........................................ 9
Para iluminación reflejada .......................................... 11
Reemplazo del fusible ................................................ 11
Explicación de los símbolos de advertencia
ATTENTION: (référezvous aux documents en
annexe)
PRECAUCIÓN: Riesgo
de choque eléctrico
5 X 20 Typ T 250mA 250V
!
PRECAUCIÓN: (Consulte
los documentos adjuntos)
5 X 20 Typ T 250mA 250V
1.0 INTRODUCTION
1.0 INTRODUCCIÓN
Le stéréomicroscope LEICA ZOOM™ 2000 de Leica est conçu pour
résister à des années d'utilisation intensive. Le LEICA ZOOM™ 2000
est utilisé aussi bien dans le domaine de la biologie, de la botanique,
de l'entomologie, de la géologie et de l'écologie que dans le domaine
de l'électronique.
El Estereomicroscopio LEICA ZOOM™ 2000 de Leica está diseñado
para soportar muchos años de uso en los salones de clase. Utilizado
en la enseñanza de todas las ramas, desde biología hasta botánica,
desde entomología hasta geología, desde ecología hasta electrónica, el
LEICA ZOOM 2000 tiene aplicaciones dondequiera que se necesite
una visualización tridimensional.
2.0 CARACTERISTIQUES IMPORTANTES
Tous les stéréomicroscopes LEICA ZOOM™ 2000 sont munis de
systèmes de grossissement zoom qui permettent une gamme de
grossissement de 7X à 30X ou de 10,5X à 45X en fonction du
grossissement de l'oculaire à grand champ (10X ou 15X). Pour obtenir
la puissance de grossissement totale, il suffit de multiplier le
grossissement de l'objectif par le grossissement de l'oculaire :
Oculaires X
Objectifs
= Grossissement du zoom
10X
X
0,7X à 3,0X
=
7X à 30X
15X
X
0,7X à 3,0X
=
10,5X à 45X
Il est possible de régler les tubes inclinés et verrouillés de l'oculaire à
des distances interpupillaires de 49mm à 73mm. Tous les oculaires
sont incorporés pour éviter de les abîmer ou de les perdre.
Le LEICA ZOOM™ 2000 est équipé d'un système à trois types
d'éclairages, permettant de fournir une lumière transmise, une lumière
réfléchie ou une combinaison des deux. Les deux interrupteurs
marche/arrêt permettent de contrôler le type d'éclairage souhaité.
2.0 CARACTERÍSTICAS IMPORTANTES
Todos los Estereomicroscopios LEICA ZOOM 2000 tienen sistemas
de magnificación por zoom. Esto significa que el estereomicroscopio
puede hacer magnificaciones en todo el rango de 7X - 30X o de
10,5X - 45X, según la magnificación del ocular de campo ancho
(10X ó 15X). La potencia de magnificación total es el producto
de la magnificación del objetivo por la magnificación del ocular:
Oculares
X
Objetivos
= Magnificación del zoom
10X
X
0,7X a 3,0X
=
7X a 30X
15X
X
0,7X a 3,0X
=
10,5X a 45X
Los tubos inclinados e interbloqueados del ocular permiten modificar
la distancia entre las pupilas desde 49 mm hasta 73 mm. Todos los
oculares están incorporados para eliminar la posibilidad de ruptura y
pérdida.
El Estereomicroscopio LEICA ZOOM 2000 viene con un sistema de
iluminación de tres vías que se puede usar para suministrar la luz
transmitida, la luz reflejada o una combinación de ambas. Los
interruptores incorporados duales de encendido y apagado controlan el
tipo de iluminación deseado.
3
The rugged, tamper-proof design will meet the challenges of today's
varied applications. The glass stage plate is cemented in place to
prevent leakage or damage to internal components. The ZOOM 2000's
locked-in eyepieces and strong, enclosed telescoping pillars all
contribute to the stereomicroscope's image stability and durability.
3.0 INITIAL SET-UP
The ZOOM 2000 comes completely assembled and ready for use. Just
follow the step-by-step operating procedure for years of use from your
stereomicroscope.
4.0 MAGNIFICATION SYSTEMS
There are two magnification ranges offered with the ZOOM 2000:
7X – 30X and 10.5X – 45X. The zoom control knob allows the user to
view specimens through the entire magnification range while
remaining in focus.
5.0 ILLUMINATION SYSTEMS
The LEICA ZOOM 2000 is equipped with a built-in, three-way
illuminator system. The convenient on/off switches are located on the
front of the instrument and control both reflected and transmitted
illumination. The illumination system utilizes tungsten and halogen
lamps which provide cool, white light for superior crisp image
viewing.
6.0 ELECTRICAL CONSIDERATIONS/EQUIPMENT
RATINGS
CAUTION: As a safety precaution, the power cord has
been grounded to the microscope base. Never use a 2prong adapter between the power cord and the power
source; it will render the grounding feature ineffective.
CAUTION: Removal of the bottom cover of the microscope exposes hazardous voltages, which if contacted,
could cause injury or death. Please refer servicing to
qualified personnel.
6.1 SUPPLY VOLTAGE AND RANGE SUPPLY FREQUENCY
Supply Voltage
Frequency
120V~ ±10%
60Hz
230V~ ±10%
50Hz
Die robuste, versiegelte Bauart erfüllt die Anforderungen der
verschiedenen Anwendungsbedürfnisse von heute. Der Objekttisch
aus Glas ist fest in den Beleuchtungsfuß eingekittet, um eine Beschädigung der internen Bauteile oder das Eindringen von
Feuchtigkeit zu verhindern. Die festeingebauten Okulare und die
starken, geschützten Triebsäulen des LEICA ZOOM 2000
gewährleisten eine gleichbleibende Abbildungsqualität und eine
einwandfreie Funktion über viele Jahre hinweg.
3.0 AUFSTELLUNG
Das LEICA ZOOM 2000 wird fertig montiert und gebrauchsfertig
geliefert. Für den jahrelangen Gebrauch Ihres Mikroskops richten Sie
sich einfach Schritt für Schritt nach der Bedienungsanleitung.
4.0 VERGRÖßERUNGSSYSTEME
Das LEICA ZOOM 2000 bietet zwei Vergrößerungsbereiche:
7X – 30X und 10,5X – 45X. Mit dem Zoom-Regler kann der
Benutzer eine Probe über den ganzen Vergrößerungsbereich bei
gleichbleibender Scharfeinstellung betrachten.
5.0 BELEUCHTUNGARTEN
Das LEICA ZOOM 2000 ist mit einem eingebauten DreifachBeleuchtungssystem ausgestattet. Die Ein/Ausschalter sind bequem an
der Vorderseite des Fußes zu finden und steuern die Auflicht- sowie
die Durchlicht-Beleuchtung. Die mit Wolfram- und Halogenlampen
bestückten Beleuchtungssysteme erzeugen ein kaltes, weißes Licht für
eine verbesserte, schärfere Abbildung.
6.0 ELEKTRISCHE ANFORDERUNGEN/GERÄTE NENNWERTE
ACHTUNG!: Als Sicherheitsmaßnahme ist der Fuß des
Mikroskops über ein dreipoliges Netzkabel mit einem
Schutzleiter versehen. Verwenden Sie nie einen
zweipoligen Adapter zwischen dem Netzkabel und der
Steckdose; dies würde zum Verlust des Schutzeffektes
führen.
ACHTUNG!: HOCHSPANNUNG! Das Entfernen der
Mikroskop-Bodenplatte setzt gefährliche Spannungen frei,
die bei Berührung zu Verletzungen, oder Tod führen
könnten, Wartung darf nur durch Fachpersonal
vorgenommen werden.
6.1 NETZSPANNUNG UND BEREICH/FREQUENZ
7.0 RANGE OF ENVIRONMENTAL CONDITIONS
• Indoor use only
• Temperatures 5°C to 40°C
• Maximum Relative Humidity - 80% for temperatures up
to 31°C decreasing linearly to 50% relative humidity at 40°C.
• Installation Category II (Overvoltage Category)
• Pollution Degree 2
4
Netzspannung und Bereich
Frequenz
120V ~±10%
60Hz
240V ~±10%
50Hz
7.0 BEREICH DER UMWELTBEDINGUNGEN
• nicht für den Einsatz im Freien
• Temperaturen von 5°C bis 40°C
• maximale relative Feuchte - 80% bei Temperaturen bis zu 31°,
linear absteigend bis 50% relative Feuchte bei 40°C
• Installationskategorie II (Kategorie Überspannung)
• Verschmutzungsgrad 2
Ce modèle de construction solide et inaltérable est à la hauteur des
exigences des nombreuses applications actuelles. Le support de la
platine en verre a été collé pour éviter les fuites et éviter
d'endommager les composants internes. Les oculaires incorporés ainsi
que les piliers de télescopage solides et enfermés reflètent la stabilité
et la résistance à l'usure du stéréomicroscope.
3.0 CONFIGURATION INITIALE
El diseño resistente a prueba de manipulaciones imprudentes
satisfacerá los desafíos de las variadas aplicaciones modernas. La
placa de vidrio del microscopio está adherida con cemento en su lugar
para evitar las fugas y el daño a los componentes internos. Los
oculares bloqueados y los fuertes pilares telescópicos acompañantes
del ZOOM 2000 contribuyen a la estabilidad de la imagen y la
durabilidad del aparato.
Le ZOOM 2000 ne nécessite aucun montage supplémentaire, il est
prêt à l'emploi. Il vous suffit de suivre correctement la procédure
d'utilisation pour que votre stéréomicroscope fonctionne pendant de
nombreuses années.
3.0 CONFIGURACIÓN INICIAL
4.0 SYSTEMES DE GROSSISSEMENT
4.0 SISTEMAS DE MAGNIFICACIÓN
Le ZOOM 2000 est muni de deux gammes de grossissement, à savoir
une gamme de 7X à 30X et une gamme de 10,5X à 45X. Grâce au
bouton de réglage du zoom, l'utilisateur peut visualiser les spécimens
durant toute la gamme de grossissement sans devoir refaire la mise au
point.
El ZOOM 2000 ofrece dos rangos de magnificación: 7X - 30X y
10,5X - 45X. La perilla de control del zoom le permite al usuario
visualizar muestras en todo el rango de magnificación manteniendo el
enfoque.
5.0 SYSTEMES D'ECLAIRAGE
El LEICA ZOOM 2000 cuenta con un sistema de iluminador de tres
vías incorporado. Los cómodos interruptores de encendido y apagado
están ubicados en la parte delantera del instrumento y controlan la
iluminación de la luz reflejada así como la de luz transmitida. El
sistema de iluminación utiliza lámparas de tungsteno y halógeno que
dan una luz blanca y fría, lo que produce una visualización nítida de
calidad superior.
Le LEICA ZOOM 2000 est muni d'un système à trois types
d'éclairage incorporé. Les interrupteurs marche/arrêt se trouvent sur le
devant de l'instrument, vous permettant ainsi de contrôler très
facilement l'éclairage réfléchi et l'éclairage transmis. Le système
d'éclairage utilise des lampes au tungstène et à halogène qui
produisent une lumière froide et blanche et donnent une définition de
l'image d'une qualité supérieure.
6.0 MISES EN GARDE ET CARACTERISTIQUES DU
MATERIEL
ATTENTION : par mesure de sécurité, le câble
d'alimentation a été mis à la masse à partir du socle du
microscope. N'utilisez jamais un adaptateur à deux fiches
entre le câble d'alimentation et la source d'alimentation,
ceci annulerait la mise à la masse.
ATTENTION : en enlevant le couvercle inférieur du
microscope, vous exposez des fils dont la tension est
dangereuse et qui, s'ils sont touchés peuvent entraîner
des blessures ou la mort. L'entretien doit être effectué par
du personnel qualifié.
6.1 TENSION D'ALIMENTATION ET GAMME DE
FREQUENCE DE L'ALIMENTATION
Tension d'alimentation
Fréquence
De 120V à ±10%
De 60Hz
De 230V à ±10%
De 50Hz
7.0 CONDITIONS DU MILIEU AMBIANT
• Utilisation intérieure uniquement
• Température comprise entre 5°C et 40°C
• Humidité relative maximum de 30% pour les températures jusqu'à
31°C avec une baisse linéaire à 50% d'humidité relative à 40°C.
• Installation de la catégorie II (catégorie de surtension)
• Degré de pollution 2
El ZOOM 2000 viene completamente armado y listo para usar. Para
obtener muchos años de uso de su estereomicroscopio, simplemente
siga el procedimiento de operación paso a paso.
5.0 SISTEMAS DE ILUMINACIÓN
6.0 CONSIDERACIONES SOBRE LA ELECTRICIDAD Y
CLASIFICACIÓN DEL EQUIPO
PRECAUCIÓN: Como medida de precaución, el cable
eléctrico se ha conectado a tierra mediante la base del
microscopio. No utilice nunca un adaptador de dos
espigas entre el cable y la fuente de alimentación ya que
esto haría que la conexión a tierra sea ineficaz.
PRECAUCIÓN: Quitar la cubierta inferior del
microscopio deja al descubierto voltajes peligrosos, los
cuales pueden producir lesiones serias o la muerte. Sólo
el personal calificado debe hacer las reparaciones.
6.1 VOLTAJE DE ALIMENTACIÓN ELÉCTRICA Y RANGO
DE LA FRECUENCIA DE LA ALIMENTACIÓN
Voltaje de entrada
Frecuencia
120V~ ±10%
60Hz
230V~ ±10%
50Hz
7.0 RANGO DE CONDICIONES AMBIENTALES
• Para uso en interiores solamente
• Temperaturas de 5°C a 40°C
• Humedad relativa máxima - 30% para temperaturas de hasta
31ºC, disminuyendo linealmente hasta una humedad relativa del
50% a 40ºC.
• Categoría de instalación II (Categoría de sobretensión)
• Grado de contaminación 2
5
8.0 OPERATING INSTRUCTIONS
8.0 BEDIENUNGSANLEITUNG
Follow these instructions to begin using the LEICA ZOOM 2000
Stereomicroscope.
Folgen Sie diesen Richtlinien, um das LEICA ZOOM 2000
Stereozoom-Mikroskop zu benutzen.
1.
1. Den Stecker in eine Schutzkontakt-Steckdose einstecken und die
der Probe gemäß erwünschte Beleuchtung anschalten. Das LEICA
ZOOM 2000 ist mit dreifacher Beleuchtungsart versehen:
Always use your stereomicroscope on a hard, stable surface.
2.
Plug the stereomicroscope power cord into a suitable
grounded
electrical outlet. A grounded 3-wire cord is
provided.
3.
Select the appropriate light switch for the specimen.
The ZOOM 2000 is equipped with three types of illumination:
• Transmitted Light - to view translucent specimens;
• Reflected Light - to view opaque specimens;
• Combination of both - to develop contrasting conditions
on any variety of specimens.
4. Place a specimen on the circular stage area directly below the center
of the stereomicroscope body. While looking through the eyepieces
with both eyes, slowly adjust the distance between the eyepiece tubes
until you see a complete circle of light at the same time without
moving your head. Eyepiece tubes are inclined at the proper angle for
comfortable viewing and do not require individual focusing. They are
factory adjusted for normal or corrected-to-normal vision.
5. Turn the zoom control knob until the lowest number on the knob is
opposite the index mark on the body. Now, while looking through the
eyepieces, bring the specimen into sharp focus by turning the focusing
knobs. The distance is about four inches from the specimen to the
bottom of the microscope body when focus is obtained.
In practice, it is always best to focus the zoom model microscopes at
the highest power and then turn the zoom control knob to the lower
powers. This will keep the specimen in close focus at any magnification. A slight turn of the focus knobs may be needed to sharpen the
focus.
• Durchlicht-Beleuchtung - um lichtdurchlässige Proben zu betrachten
• Auflicht-Beleuchtung - um lichtundurchlässige Proben zu betrachten
• Mischlicht-Beleuchtung - um kontrastreiche
Betrachtungsbedingungen für eine Vielfalt von Proben zu schaffen.
2. Eine Probe auf den Objekttisch gerade unter den Mittelpunkt des
Mikroskopgehäuses legen. Mit beiden Augen durch die Okulare
blicken, dabei den Abstand zwischen den Okulartuben langsam
verstellen, bis ein einziger vollständiger Lichtkreis ohne Bewegung
des Kopfes sichtbar wird. Die Okulartuben sind für bequemes
Betrachten passend abgewinkelt, und benötigen keine
Einzelfokussierung. Sie sind werksseitig der normalen oder
auskorrigierten Sehkraft abgeglichen.
3. Den Zoom-Regler drehen, bis die niedrigste Zahl auf dem
Reglerknopf der Ablesemarke auf dem Mikroskopfuß gegenüber steht.
Dann durch die Okulare schauen und das Bild mit den
Fokussierknöpfen scharf einstellen. Der Abstand zwischen der Probe
und der Unterseite des Mikroskoptubus beträgt im scharf eingestellten
Zustand ca. 10 cm.
In der Praxis wird immer empfohlen, Zoom-Mikroskope zuerst bei der
höchsten Vergrößerungsstärke einzustellen, und dann erst den ZoomRegler auf die niedrigeren Stufen zu drehen. Auf diese Weise bleibt
die Abbildung bei jeder Vergrößerung scharf. Es könnte lediglich
eines geringen Drehens der Fokusserknöpfe bedürfen, um das Bild
noch schärfer einzustellen.
9.0 CLEANING OF EXPOSED OPTICAL SURFACES
9.0 REINIGUNG VON OFFENEN OPTISCHEN
OBERFLÄCHEN
Do not attempt to disassemble the inclined binocular body
or focusing mechanisms. These have been factory aligned
and sealed for protection against dirt, dust or other particles.
Only exposed surfaces should require cleaning. To clean the
stereomicroscope:
Unter keinen Umständen darf der Binokulartubus oder der
Fokussiermechanismus auseinandergenommen werden. Diese sind
werksseitig ausgefluchtet und versiegelt, um vor Schmutz, Staub und
anderen Teilchen zu schützen. Nur offene Oberflächen sollen nach
Bedarf gereinigt werden. Um das Mikroskop zu reinigen:
• Blow dust particles from the lens surface with an ear syringe.
• Brush the surface with a clean camel's hair brush.
• Clean the lenses and eyepieces with moist lens paper and
cotton swabs. This technique also may be used to remove oily
smears and fingerprints. Such smears detract from the image
quality.
Clean glass surfaces very carefully and only when necessary.
6
• Staubteilchen von der Objektivoberfläche mit einer
Ohrenspritze abblasen.
• Die Oberfläche mit einem sauberen Kamelhaarpinsel abstauben.
• Die Linsen und Okulare mit einem feuchten Linsenputztuch und
Wattestäbchen säubern. Mit dieser Methode können auch
Ölschmieren und Fingerabdrücke entfernt werden, die die
Abbildungsqualität sonst vermindern würden.
Glasflächen sollen sehr vorsichtig und nur wenn nötig gereinigt
werden.
8.0 INSTRUCTIONS D'UTILISATION
8.0 INSTRUCCIONES DE OPERACIÓN
Pour utiliser le stéréomicroscope LEICA ZOOM 2000, suivez les
instructions ci-dessous :
Para comenzar a usar el Estereomicroscopio LEICA ZOOM 2000,
siga estas instrucciones.
1. Utilisez toujours le stéréomicroscope sur une surface dure et stable.
1. Siempre use el microscopio en una superficie firme y estable.
2. Branchez le câble d'alimentation dans une prise secteur
correctement mise à la masse. Un câble triphasé est fourni avec le
stéréomicroscope.
2. Enchufe el cable del estereomicroscopio en un tomacorriente
adecuado conectado a tierra. Se suministra un cable trifilar de
conexión a tierra.
3. Sélectionnez l'interrupteur d'éclairage approprié pour le spécimen.
Le LEICA ZOOM 2000 est muni de trois types d'éclairages.
3. Seleccione el interruptor de iluminación según la muestra.
El ZOOM 2000 cuenta con tres tipos de iluminación:
• Lumière transmise : pour visualiser les spécimens translucides
• Luz transmitida - para visualizar muestras traslúcidas;
• Lumière réfléchie : pour visualiser des spécimens opaques
• Combinaison des deux lumières : pour créer des conditions de
contraste sur toute sorte de spécimen.
• Luz reflejada - para visualizar muestras opacas;
• Combinación de ambas - para producir condiciones contrastantes
en cualquier tipo de muestra.
4. Placez un spécimen sur la platine circulaire directement en-dessous
du centre du corps du stéréomicroscope. Regardez à travers les
oculaires avec les deux yeux et réglez la distance entre les tubes des
oculaires jusqu'à ce que vous voyez un cercle complet de lumière
sans avoir à bouger la tête. Les tubes des oculaires sont inclinés au
bon angle pour permettre une visualisation confortable et n'ont pas
besoin d'êtres mis au point. Il sont réglés en usine pour une vision
normale ou corrigée.
4. Coloque una muestra en el área del disco redondo directamente
debajo del cuerpo del estereomicroscopio. Mientras mira por los
oculares con ambos ojos, ajuste lentamente la distancia entre los
tubos de los oculares hasta que vea un círculo de luz completo al
mismo tiempo sin mover la cabeza. Los tubos de los oculares están
inclinados en el ángulo correcto para una visualización cómoda y
no necesitan enfocarse individualmente. Vienen ajustados de
fábrica para visión normal o corregida.
5. Tournez le bouton de réglage du zoom jusqu'à ce que le numéro le
plus bas sur le bouton se trouve en face du repère du
stéréomicroscope. Ensuite, tout en regardant à travers les oculaires,
faites une mise au point sur le spécimen en tournant les boutons.
Une fois la mise au point effectuée, la distance entre le spécimen et
la partie inférieure du corps du microscope lors de la mise au point
est environ de 10 cm.
5. Gire la perilla de control del zoom hasta que el número más bajo de
la perilla quede opuesto a la marca indicadora en el cuerpo. Ahora,
mientras está mirando a través de los oculares, enfoque bien la
muestra girando las perillas de enfoque. Cuando se obtiene un buen
foco, la distancia es de aproximadamente cuatro pulgadas (diez cm)
desde la muestra hasta la parte inferior del cuerpo del microscopio.
Dans la pratique, il est préférable d'effectuer la mise au point des
microscopes munis de zooms à la puissance la plus élevée, puis de
tourner le bouton de contrôle du zoom vers des puissances plus
faibles. Vous garderez ainsi la mise au point du spécimen à n'importe
quel grossissement. Il vous faudra éventuellement régler les boutons
de mise au point.
9.0 NETTOYAGE DES SURFACES OPTIQUES EXPOSEES
Ne démontez pas le corps binoculaire incliné ni les mécanismes de
mise au point. Ils ont été alignés en usine et scellés pour les protéger
contre toute saleté, poussière ou toutes autres particules. Nettoyez
uniquement les surfaces exposées. Pour nettoyer le stéréomicroscope :
• Enlevez les particules de poussière de la surface des lentilles à l'aide
d'une petite poire en caoutchouc.
• Nettoyez la surface à l'aide d'une brosse en poils de chameau
propre.
• Nettoyez les lentilles et les oculaires à l'aide d'un papier pour
lentilles et de coton-tiges humectés. Vous pouvez également utiliser
cette méthode de nettoyage pour enlever des traces de graisse ou des
empreintes de doigt qui risquent de diminuer la qualité de l'image.
Faites très attention lorsque vous nettoyez les surfaces en verre, et
faites-le uniquement en cas de besoin.
En la práctica, siempre es mejor enfocar los microscopios con zoom
en su más alta potencia y luego girar la perilla de control de zoom a
las potencias menores. Esto hará que las muestras queden bien
enfocadas en cualquier magnificación. Es posible que se necesite un
leve giro de las perillas de enfoque para mejorar el foco.
9.0 LIMPIEZA DE LAS SUPERFICIES ÓPTICAS
EXPUESTAS
No intente desarmar el cuerpo binocular inclinado ni los mecanismos
de enfoque. Estos componentes vienen alineados de fábrica y están
sellados para proteger al instrumento de suciedad, polvo y otras
partículas. Para limpiar el estereomicroscopio, haga lo siguiente:
• Elimine las partículas de polvo de la superficie de la lente con una
jeringa para oídos.
• Limpie la superficie con un cepillo limpio de pelo de camello.
• Limpie las lentes y los oculares con papel para lentes humedecido y
bastoncillos con punta de algodón. Esta técnica también se puede
usar para eliminar manchas de aceite y huellas digitales. Dichas
manchas pueden perjudicar la calidad de la imagen.
Limpie las superficies de vidrio con mucho cuidado y sólo cuando sea
necesario.
7
10.0 CARE OF THE STEREOMICROSCOPE
10.0 PFLEGE DES MIKROSKOPS
The ZOOM 2000 stereomicroscope is a precision instrument and
should be handled with care. Keep the following tips in mind while
using your stereomicroscope.
Das LEICA ZOOM 2000 Mikroskop ist ein Präzisionsinstrument
und sollte vorsichtig behandelt werden. Während des Gebrauchs
sind die folgenden Hinweise zu beachten.
1. Always carry the stereomicroscope with two hands.
2. Clean the lenses and eyepieces with moist lens paper or a
cotton swab.
1. Das Mikroskop immer mit beiden Händen tragen.
2. Die Linsen und Okulare entweder mit einem feuchten
Linsenputztuch oder mit Wattestäbchen säubern.
3. When finished using the stereomicroscope, return the body
to the lowest position, turn off the illuminator and place
the dust cover over the instrument.
3. Nach Gebrauch das Gehäuse in die niedrigste Stellung
bringen, die Beleuchtung ausschalten und das Instrument mit
der Staubhaube überziehen.
4. The ZOOM 2000 has a durable finish. All non-optical parts of the
instrument can be cleaned with methanol, naptha or soap and water.
Avoid the use of all other organic solvents when cleaning the
instrument.
4. Das LEICA ZOOM 2000 hat eine dauerhafte Oberfläche.
Sämtliche nichtoptische Teile Können mit Methanol,
Reinigungsbenzin oder Seifenwasser gereinigt werden. Der
Gebrauch aller anderen organischen Reinigungsmittel ist bei der
Reinigung des Instruments zu vermeiden.
11.0 LAMP REPLACEMENT
If lamp replacement is necessary, follow these easy steps:
!
DANGER: The glass envelope of the lamp may be
extremely hot. Do not attempt to change the lamp before it
is completely cooled or without wearing adequate skin
protection.
11.1 FOR TRANSMITTED ILLUMINATION
CAUTION: Lamp is not user serviceable,
please refer service to qualified service person.
1. Unplug the electrical cord.
11.0 AUSWECHSELN DER BELEUCHTUNGSLAMPEN
Wenn es nötig ist, Lampen zu ersetzen, sind diese einfachen
Schritte zu befolgen:
!
VORSICHT!: Während Gebrauch wird die
Beleuchtungslampe sehr heiß. Unter keinen
Umständen sollte eine Lampe ersetzt werden,
ehe die Beleuchtungseinheit völlig abgekühlt ist.
11.1 BEIM DURCHLICHT-BELEUCHTER
ACHTUNG!: Muß die Lampe einmal gewechselt
werden, so wenden Sie sich an einen qualifizierten
Service-techniker oder an den Leica-Kundendienst.
2. Carefully lay the instrument on its back.
3. Unscrew the base assembly.
4. Unscrew the burned-out lamp, after it has cooled.
1. Den Stecker aus der Steckdose ziehen.
5. Screw in the new lamp and reattach the base.
3. Lockern Sie die Bodenplatte.
6. Never operate the instrument unless the base is securely attached.
Replacement lamps, Part Number 313125 (115V) or 313126 (230V)
can be purchased from a Leica dealer.
4. Nach Abkühlung der Lampe, die verbrauchte Lampe
herausdrehen.
2. Das Mikroskop sorgfältig auf die Rückseite legen.
5. Die neue Lampe einschrauben und die Bodenplate
schließen.
6. Die Beleuchtungseinheit des Mikroskops darf nur mit fest
geschlossener Bodenplatte benutzt werden.
Ersatzlampen, Artikelnummer 313125 (115V) oder 313126 (230V)
sind durch Ihren Leica-Vertragshändler erhältlich.
8
10.0 ENTRETIEN DU STEREOMICROSCOPE
10.0 CUIDADO DEL ESTEREOMICROSCOPIO
Le stéréomicroscope ZOOM 2000 est un instrument de précision et
doit être manié avec soin. Souvenez-vous des conseils suivants lorsque
vous utilisez le stéréomicroscope :
El Estereomicroscopio ZOOM 2000 es un instrumento de precisión y
debe manipularse con cuidado. Recuerde los siguientes consejos
cuando use el microscopio.
1. Utilisez toujours les deux mains lorsque vous portez le
stéréomicroscope.
1. Siempre mueva el microscopio con las dos manos.
2. Limpie las lentes y los oculares con papel para lentes humedecido o
con un bastoncillo con punta de algodón.
2. Nettoyez les lentilles et les oculaires avec un papier pour lentilles
ou un coton-tige humectés
3. Lorsque vous avez terminé d'utiliser le stéréomicroscope, ramenez
le corps à la position la plus basse, éteignez l'éclairage et couvrez
l'instrument avec le cache-poussière
4. Le ZOOM 2000 est protégé par une finition résistante. Vous pouvez
nettoyer toutes les pièces non optiques de l'instrument avec du
méthanol, du naphte ou du savon et de l'eau. Evitez d'utiliser tout
autre solvant organique pour le nettoyage de l'instrument
11.0 REMPLACEMENT DE LA LAMPE
S'il est nécessaire de remplacer la lampe, celle-ci est aisément
remplacée en suivant les étapes ci-dessous :
!
DANGER : l'ampoule de la lampe risque d'être
extrêmement chaude. Ne remplacez pas la lampe avant
qu'elle soit complètement refroidie ou sans porter une
protection adéquate.
11.1 ECLAIRAGE TRANSMIS
ATTENTION : l'entretien de la lampe ne doit pas être
fait par l'utilisateur. L'entretien doit être effectué par du
personnel qualifié.
3. Al terminar de usar el estereomicroscopio, vuelva a poner el cuerpo
en su posición inferior, apague el iluminador y cubra el instrumento
con su cubierta para polvo.
4. El ZOOM 2000 tiene un acabado duradero. Todas las piezas no
ópticas del instrumento se pueden limpiar con metanol, nafta o agua
y jabón. No utilice otros disolventes orgánicos para limpiar el
instrumento.
11.0 REEMPLAZO DE LAS LÁMPARAS
Si hay que reemplazar una lámpara, siga estos sencillos pasos:
!
PELIGRO: La envoltura de vidrio de la lámpara puede
estar extremadamente caliente. No intente cambiar la
lámpara antes de que se haya enfriado totalmente o sin
usar la protección cutánea adecuada.
11.1 PARA ILUMINACIÓN TRANSMITIDA
PRECAUCIÓN: La lámpara no puede ser reparada por
el usuario. Por favor, consulte con personal de servicio
calificado.
1. Desenchufe el cable.
2. Apoye el instrumento sobre su "espalda".
1. Débranchez le câble électrique.
3. Destornille la base.
2. En faisant très attention, posez l'instrument sur le dos.
4. Destornille la lámpara quemada una vez que se haya enfriado.
3. Dévissez le socle de l'unité.
4. Une fois que la lampe grillée n'est plus chaude, dévissez-la.
5. Vissez une nouvelle lampe et remontez le socle.
6. Ne faites jamais fonctionner l'instrument sans que le socle soit bien
installé.
Vous trouverez les lampes de rechange, numéro de référence 313125
(115V) ou 313126 (230V) auprès des représentants des produits Leica.
5. Atornille la nueva lámpara y vuelva a colocar la base.
6. Nunca encienda el instrumento a menos que la base esté bien
acoplada.
Las lámparas de repuesto, Pieza Número 313125 (115V) ó 313126
(230V) pueden adquirirse mediante un concesionario Leica.
9
11.2 FOR REFLECTED ILLUMINATION
11.2 BEIM AUFLICHT-BELEUCHTER
1. Unplug the electrical cord.
1. Den Stecker aus der Steckdose ziehen.
2. Das Gehäuse durch Drehen des Fokussierungsknopfes in die
höchste Stellung bringen.
2. Raise the body to the highest position by turning the focusing
mechanism.
3. Unscrew the lower portion of the illuminator housing being careful
to keep the lower portion intact (Figure 1). Set aside.
4. Carefully disconnect the reflector lamp from the connector socket.
Replace the burned out lamp with a new lamp making sure not to
bend the pins when inserting it (Figure 2).
5. Reattach the lower portion of the illuminator housing by screwing it
into the existing upper portion.
6. Rotate the chrome safety latch into the original position to secure
the illuminator housing.
7. Never operate the stereomicroscope illuminator unless the lamp
illuminator housing is securely in place.
Replacement lamp Part Number 630 (Phillips P/N 13528)
can be purchased from a Leica dealer.
11.3 FUSE REPLACEMENT (230V MODELS ONLY)
!
CAUTION: FUSE REPLACEMENT - THE FUSE IS
NOT USER SERVICEABLE. IT MUST BE REPLACED
BY QUALIFIED SERVICE PERSONNEL. THE FUSE
CAN BE REPLACED ONLY WITH THE SAME SIZE,
TYPE AND RATING OF FUSE.
5X20 TYPE T 250mA 250V
3. Den unteren Teil des Lampengehäuses abschrauben; dabei
darauf achten, daß dieser Teil unversehrt bleibt (Bild 1).
Auf die Seite legen.
4. Die Auflichtlampe vorsichtig aus der Lampenfassung nehmen.
Die verbrauchte Lampe durch eine neue Lampe ersetzen. Dabei
beachten, daß die Stifte beim Einstecken nicht verbiegen (Bild 2).
5. Den unteren Teil des Lampengehäuses wieder an den oberen Teil
anbringen und mit den Schrauben befestigen.
6. Den Chromsicherheitsriegel in die ursprüngliche Stellung
zurückdrehen, um das Lampengehäuses an seiner Stellung zu
befestigen.
7. Die Beleuchtungseinheit des Stereomikroskops darf nur bei fest
angeschlossenem Lampengehäuses benutzt werden.
Ersatzlampe Teilnummer 630 ist bei Ihrem Leica-Vertragshändler
erhältlich.
11.3 SICHERUNGSWECHSEL
!
VORSICHT!: DIE SICHERUNG DARF NUR VON
EINEM QUALIFIZIERTEN SERVICE-TECHNIKER
GEWECHSELT WERDEN. DER NENNWERT DER
SICHERUNG IST 5X20 TYP T 250MA 250V.
5X20 TYP T 250mA 250V
Figure 1 Unscrew the lower portion of the illuminator housing
Abb. 1 Den unteren Teil des Lampengehäuses abschrauben
Figure 1 Dévissez la partie inférieure du boîtier de l'éclairage en
prenant soin de garder intacte la partie inférieure
Figura 1 Destornille la porción inferior de la carcasa del iluminador
10
11.2 ECLAIRAGE RÉFLÉCHI
11.2 PARA ILUMINACIÓN REFLEJADA
1. Débranchez le câble électrique.
1. Desenchufe el cable.
2. Lleve el cuerpo a la posición más alta girando el mecanismo de
enfoque.
2. Faites monter le corps dans sa position la plus élevée en tournant le
mécanisme de mise au point.
3. Dévissez la partie inférieure du boîtier de l'éclairage en prenant soin
de garder intacte la partie inférieure (figure 1). Mettez-la de côté.
4. Déconnectez avec précaution la lampe à miroir incorporé du
connecteur. Remplacez la lampe grillée par une nouvelle lampe en
veillant à ne pas plier les broches lorsque vous l'insérez (figure 2).
5. Remettez la partie inférieure du boîtier de l'éclairage en la vissant
dans la partie supérieure.
6. Faites pivoter le loqueteau de sécurité en chrome dans la position
d'origine pour être sûr que le boîtier de l'éclairage est bien en place.
7. N'utilisez l'éclairage du stéréomicroscope que si le boîtier de
l'éclairage de la lampe est bien en place.
Vous trouverez la lampe de rechange, numéro de référence 630
(Phillips réf. 13528) auprès des représentants des produits Leica.
11.3 REMPLACEMENT DU FUSIBLE
!
ATTENTION: LE FUSIBLE NE DOIT PAS ETRE
REMPLACE PAR L'UTILISATEUR MAIS PAR UN
TECHNICIEN QUALIFIE. LE NOUVEAU FUSIBLE
DOIT ETRE DE MEME TAILLE, DE MEME TYPE ET
DE MEME CAPACITE QUE L'ANCIEN FUSIBLE.
5X20 TYPE T CAPACITE DE 250 mA 250V
3. Destornille la porción inferior de la carcasa del iluminador teniendo
cuidado de mantener intacta la porción inferior (Figura 1). Deje a
un lado.
4. Con cuidado desconecte la lámpara de reflexión del zócalo
conector. Reemplace la lámpara quemada por una nueva
asegurándose de no torcer las clavijas cuando la inserte (Figura 2).
5. Vuelva a acoplar la porción inferior de la carcasa del iluminador
atornillándolo a la porción superior existente.
6. Rote el pestillo de seguridad de cromo a su posición original para
afirmar la carcasa del iluminador.
7. Nunca haga funcionar el iluminador del estereomicroscopio a
menos que la carcasa del iluminador esté firmemente en su lugar.
La lámpara de repuesto, Pieza Número 630 (Phillips P/N 13528)
puede adquirirse mediante un concesionario Leica.
11.3 REEMPLAZO DEL FUSIBLE
!
PRECAUCIÓN. CAMBIO DEL FUSIBLE: EL
USUARIO NO PUEDE CAMBIAR EL FUSIBLE. EL
FUSIBLE DEBE SER CAMBIADO POR PERSONAL DE
SERVICIO IDÓNEO. EL FUSIBLE SÓLO SE PUEDE
REEMPLAZAR POR UNO DEL MISMO TAMAÑO,
TIPO Y CARACTERÍSTICAS ELÉCTRICAS.
TIPO T 5X20 250mA 250V
Figure 2 Carefully disconnect the reflector lamp from the
connector socket
Abb. 2 Die Auflichtlampe vorsichtig aus der Lampenfassung nehmen
Figure 2 Déconnectez avec précaution la lampe à miroir incorporé
du connecteur
Figura 2 Desconecte la lámpara de reflexión del zócalo conector
11
Educational and
Analytical Division
PO Box 123
Buffalo, NY 14240-0123
Telephone 716- 686-3000
Fax 716-686-3085
www.leica.com
©1998 Leica Microsystems Inc., Buffalo NY USA ISO-9001 Printed in USA 1/98 312594-100 Rev. G
Leica Microsystems Inc.