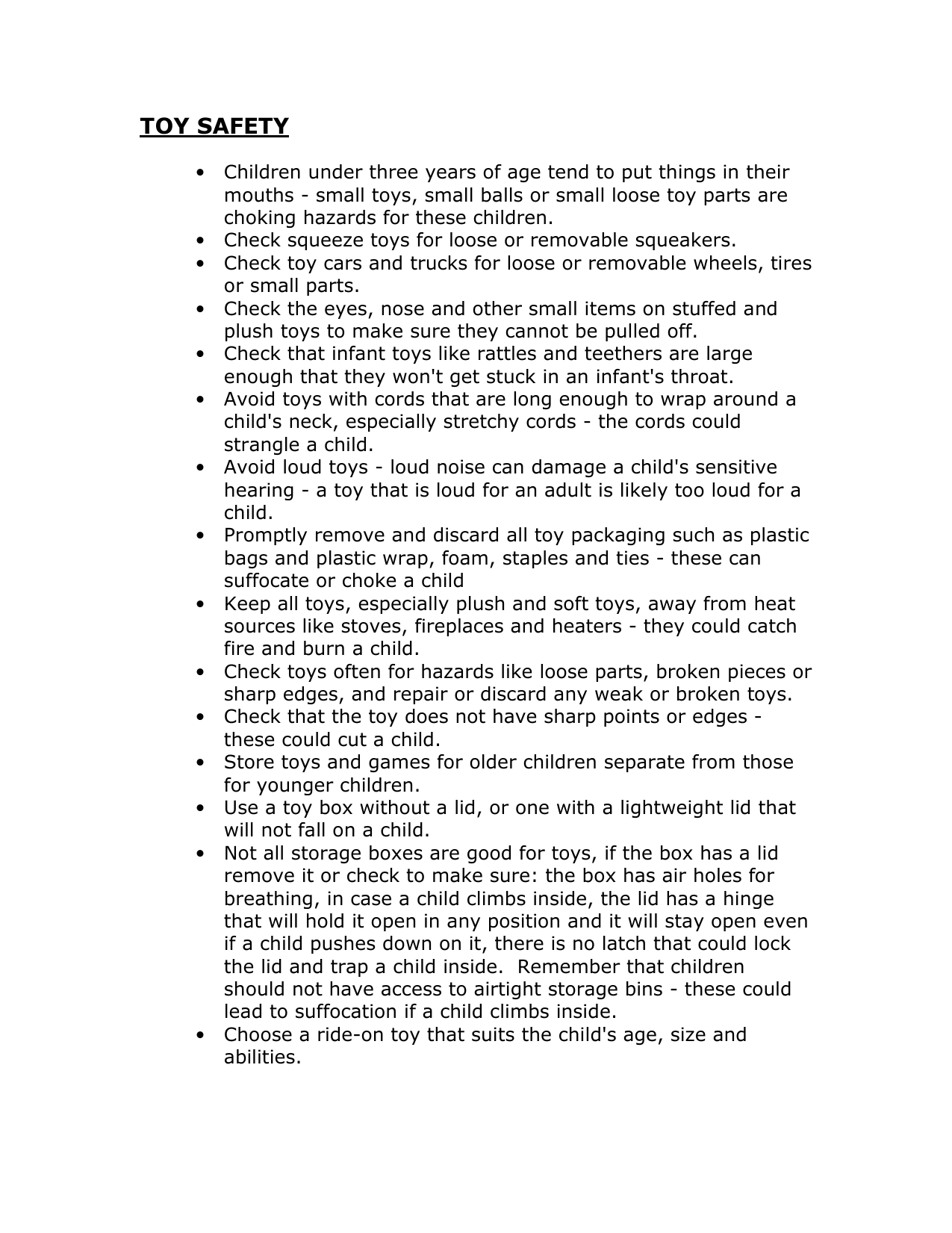 TOY SAFETY
•
•
•
•
•
•
•
•
•
•
•
•
•
•
•
Children under three years of age tend to put things in their
mouths - small toys, small balls or small loose toy parts are
choking hazards for these children.
Check squeeze toys for loose or removable squeakers.
Check toy cars and trucks for loose or removable wheels, tires
or small parts.
Check the eyes, nose and other small items on stuffed and
plush toys to make sure they cannot be pulled off.
Check that infant toys like rattles and teethers are large
enough that they won't get stuck in an infant's throat.
Avoid toys with cords that are long enough to wrap around a
child's neck, especially stretchy cords - the cords could
strangle a child.
Avoid loud toys - loud noise can damage a child's sensitive
hearing - a toy that is loud for an adult is likely too loud for a
child.
Promptly remove and discard all toy packaging such as plastic
bags and plastic wrap, foam, staples and ties - these can
suffocate or choke a child
Keep all toys, especially plush and soft toys, away from heat
sources like stoves, fireplaces and heaters - they could catch
fire and burn a child.
Check toys often for hazards like loose parts, broken pieces or
sharp edges, and repair or discard any weak or broken toys.
Check that the toy does not have sharp points or edges these could cut a child.
Store toys and games for older children separate from those
for younger children.
Use a toy box without a lid, or one with a lightweight lid that
will not fall on a child.
Not all storage boxes are good for toys, if the box has a lid
remove it or check to make sure: the box has air holes for
breathing, in case a child climbs inside, the lid has a hinge
that will hold it open in any position and it will stay open even
if a child pushes down on it, there is no latch that could lock
the lid and trap a child inside. Remember that children
should not have access to airtight storage bins - these could
lead to suffocation if a child climbs inside.
Choose a ride-on toy that suits the child's age, size and
abilities.
•
•
•
•
•
•
•
•
•
•
Check that the ride-on toy will not tip when the child is using
it - check that it is stable when weight is placed on any riding
point.
Use the ride-on toy far away from stairs, traffic, swimming
pools and other dangerous areas.
Be aware that a child on a wheeled ride-on toy can move very
quickly - look for hazards like furniture, lamps, cords,
decorations or appliances that could be knocked or pulled
down onto a child, and remove the hazards before play
begins.
Baby walkers are hazardous - do not use them.
Only adults should install batteries. Install batteries properly
- improper installation, or mixing different battery types, can
cause batteries to leak or overheat and this could injure a
child.
Check that young children cannot open a toy's battery
compartment.
Make sure that a child does not take a battery-operated toy
to bed - burns and other injuries could result from batteries
leaking or overheating.
Call a doctor or a poison control center immediately if a child
swallows a battery - batteries can be poisonous.
Latex balloons have caused a number of deaths - the balloon
can be inhaled and can block a child's airway.
Always keep un-inflated latex balloons or broken balloon
pieces out of reach of children.
HOUSEHOLD SAFETY
•
•
•
•
•
•
Keep electrical items away from small children especially in
the bathroom area near water.
Keep poison control center numbers close to the phone in
case of an emergency.
Child proof cabinets where cleaners and chemicals are stored.
Cover light sockets with safety covers, children are drawn to
these and will try to insert metal items such as paper clips
and nail files into them which can lead to electrical shock.
Never leave a small child alone in the kitchen when you are
cooking or making coffee and other hot refreshments.
Children love to reach up and pull things off the cabinet.
Never leave a child alone in the bath tube, not even for a
minute and not even in tubs with just an inch or two of water.
These fatal mistakes can take a child's life in a matter of
minutes.
Children should never be allowed to stand in the tube due to
the risk of falls.
• Keep candles and oil lamps out of reach of small hands.
• Be careful with folding closet doors, outside doors, and car
doors and windows. These will catch small fingers quickly,
often with some serious injuries.
• Keep children away from space heaters, and fireplaces.
• Never let children climb on stairs or chairs or tables, doing so
can result in serious injury from falls
•
HALLOWEEN SAFETY
Kids love Halloween, they get to dress up in cool costumes and get lots of
free candy. What a great holiday! But it is not as safe to go door-to-door
trick or treating as it once was. The excitement of children at this time of
year causes them to forget to be careful. Taking the time to go over safety
rules with you child can do a lot to stop a tragedy before it happens.
• Pick costumes that are safe, fire-resistant, with large eye slots for
good visibility. Make sure they are not so long that they will cause
tripping or falling.
• If you have jack-o-lanterns on the front with candles, make sure they
are away from where small children will be walking.
• Make sure and avoid props that have sharp points or jagged edges.
• Instruct you child to not eat candy that has not been inspected by an
adult. Many hospitals will X-ray Halloween treats for free as an
added safety for parents.
• Teach children to never get into a vehicle with anyone, and never talk
to strangers.
• Make sure children understand the importance of looking both ways
before crossing the street and not darting in between parked cars.
• Instruct children to stay out of alleys, backyards, parks and fields
during this time and stay in heavy populated well light areas.
• Provide flashlights and reflective clothing.
• There is a lot of information for alternatives to trick or treating now
available. Your child may actually enjoy having a Halloween party,
going on a hayride, attending a church carnival or just carving
pumpkins with the family as opposed to trick or treating this year.
BACK TO SCHOOL SAFETY
The American Academy of Pediatrics has issued the following
information on back to school safety.
School Bus
•
•
•
•
•
If your child's school bus has lap/shoulder seat belts, make sure your child
uses one at all times when in the bus. If your child's school bus does not
have lap/shoulder belts, encourage the school to buy or lease buses with
lap/shoulder belts.
Wait for the bus to stop before approaching it from the curb.
Do not move around on the bus.
Check to see that no other traffic is coming before crossing.
Make sure to always remain in clear view of the bus driver.
Car
•
•
•
•
•
All passengers should wear a seat belt or an appropriate car safety seat or
booster seat.
Your child should ride in a car safety seat with a harness as long as
possible and then ride in a belt-positioning booster seat. Your child is
ready for a booster seat when she has reached the top weight or height
allowed for her seat, her shoulders are above the top harness slots, or her
ears have reached the top of the seat.
Your child should ride in a belt-positioning booster seat until the vehicle's
seat belt fits properly (usually when the child reaches about 4' 9" in height
and is between 8 to 12 years of age). This means the shoulder belt lies
across the middle of the chest and shoulder, not the neck or throat; the lap
belt is low and snug across the thighs, not the stomach; and the child is
tall enough to sit against the vehicle seat back with her legs bent at the
knees and feet hanging down.
All children under 13 years of age should ride in the rear seat of vehicles.
If you must drive more children than can fit in the rear seat (when
carpooling, for example), move the front-seat passenger's seat as far back
as possible and have the child ride in a booster seat if the seat belts do
not fit properly without it.
Remember that many crashes occur while novice teen drivers are going to
and from school. You should limit the number of teen passengers to
prevent driver distraction; this is even required by law in many states. Do
not allow your teen to drive while eating, drinking, or talking on a cell
phone.
Bike
•
•
•
•
Always wear a bicycle helmet, no matter how short or long the ride.
Ride on the right, in the same direction as auto traffic.
Use appropriate hand signals, and respect traffic lights and stop signs.
Wear bright color clothing to increase visibility.
Walking to School
•
•
•
Make sure your child's walk to a school is a safe route with well-trained
adult crossing guards at every intersection.
Be realistic about your child's pedestrian skills. Because small children are
impulsive and less cautious around traffic, carefully consider whether or
not your child is ready to walk to school without adult supervision.
Bright colored clothing will make your child more visible to drivers.
POOL SAFETY
U.S. Consumer Product Safety Commission (CPSC) indicates that the
average number of drowning deaths involving children younger than 5 in
pools and spas has increased to an alarming yearly average of to 283. The
average number of emergency room treated pool and spa submersion injuries
is estimated at about 2,700. The report also shows that the majority of deaths
and injuries occur in residential settings and involve children ages 1-2.
Drowning is the leading cause of unintentional death to children ages 1-4.
Following these few safety tips could make the difference in child protection.
•
•
•
•
•
•
•
•
•
Have a plan in place in the event of an emergency. Make sure you
have a phone handy as well as phone numbers of emergency
contacts.
Don't leave floating objects in the pool, they attract small children.
Have the pool area enclosed within a fence, with a locking gate.
Remove ladders on above ground pools when not in use.
If a child is missing, check the pool first, seconds really do count in this
type of emergency.
Take CPR and First Aide classes.
Use alarms on doors leading to the pool area or keep them locked.
Repair or replace broken outlet covers.
Keep all electrical items away from the pool area to avoid shock.
Most importantly know where your child is at all times. It only takes a
second before a fun summer event turns into a parent's worse nightmare.