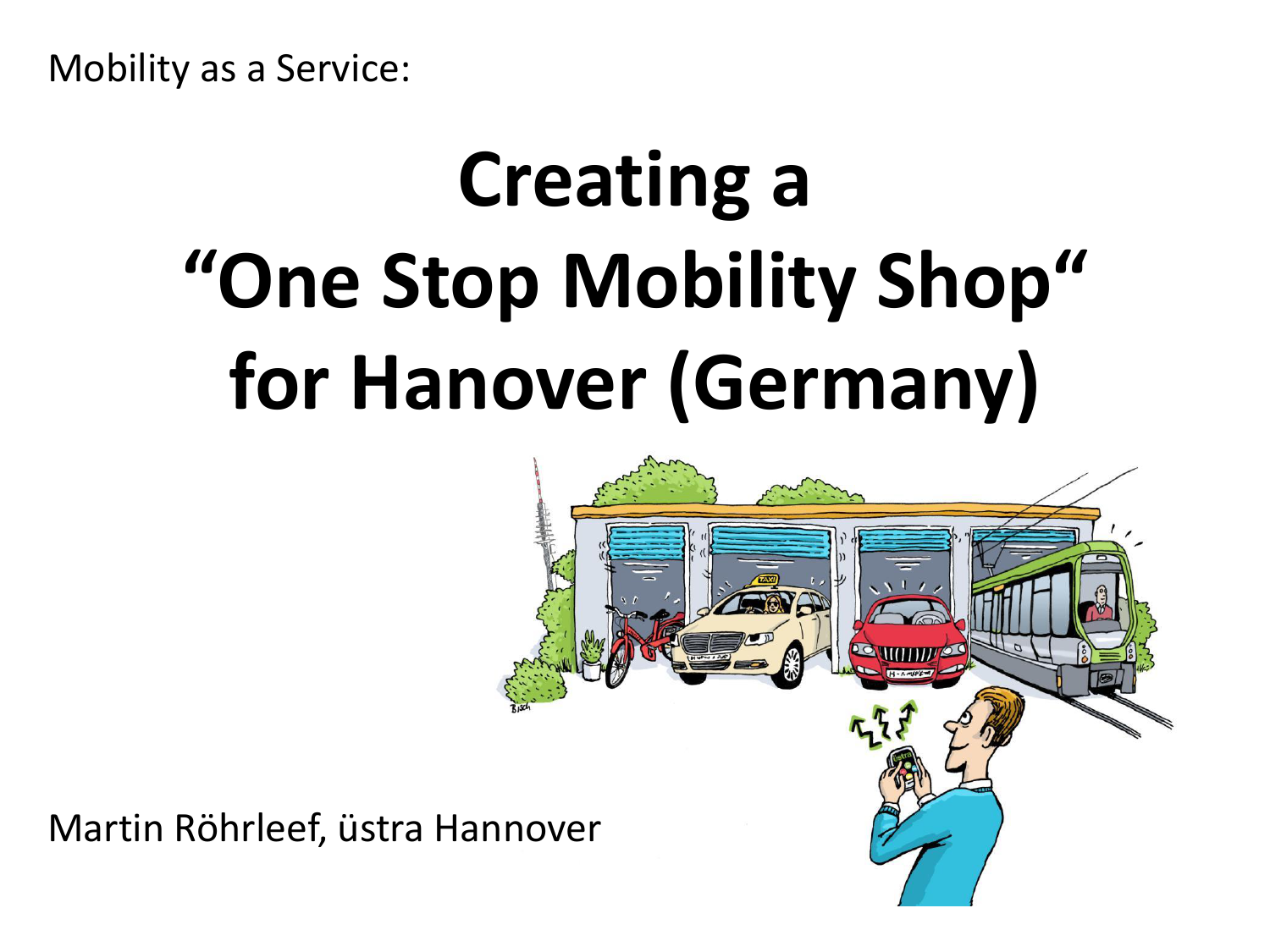 Mobility as a Service:
Creating a
"One Stop Mobility Shop"
for Hanover (Germany)
Martin Röhrleef, üstra Hannover
1. Starting point
Objectives
Car-ownership has a strong
(negative) effect on the mode choice
Create offers that supersede the need
for a private car
Different modes of PT are often not
very well connected
Make PT an integrated system
(joint ticketing, joint planning)
Public Transport is not an allrounder.
PT passengers also use other modes.
Connect PT with other modes and
make it an integrated system.
CarSharing and other new mobility
services (BikeSharing, RideSharing,…)
enter the market
Help to establish these new services
and make them a perfect supplement
to PT
Intermodal and multimodal combination
Intermodal:
Trip chain of different modes
("this and that")
A
Multimodal:
Different modes within
a period of time
("once this, once that")
B
Car
C
Airplane
Car
PT
PT
A
PT
B
Taxi
PT
D Bicycle
E
G
F
2. Institutional setting
Public Transport companies
Other Mobility Providers
●
üstra (Light Rail, Bus)
• Stadtmobil (CarSharing)
●
RegioBus (Bus)
• Quicar (CarSharing)
●
German Rail (Rail)
• Taxi-Operators
●
Erixx (Rail)
• Parking Provides
●
…..
• …..
Fully integrated PT system
Transport association (GVH):
joint ticketing, planning, marketing
for the Greater Hanover Area
Not integrated
3. Approach: Online Mobility Shop and App
• Information
• Registration (Contract)
• Multimodal Routing
• Booking/Ticketing, Access
• Billing
… for all different modes and services!
Mobility Shop Hanover: Multimodal Routing and Booking
4. Outputs/Effects
●
●
●
●
Car-ownership is the decisive factor for the mode split
Every second Hannovermobil user got rid of his car or stopped his
intention to buy a new one
Hannovermobil customers are using more PT and bike more
One carsharing-cars substitutes 7-10 private cars,
thus freeing up street space for green, cyclists and pedestrians
20%
62%
Trips by car
38%
Trips by public transport,
bicycle, walking
("environmental alliance")
80%
Car sharing
customers
Car owners
5. Lessons:
●
Need for actors (persons and institutions)
●
Long term development
●
Availability of mobility services / service providers
●
Open mindedness of people (planners and users)
"A developed country is not a place
where the poor have cars. It´s where the
rich use public transportation."
Mayor of Bogota
6. Transfer
●
Megatrend: Mobility as a Service
●
Concept has to be / can be adapted to different situations/needs
PT (Bus, Tram, Train), BikeSharing, CarSharing, RideSharing, Collective Taxi, ….
●
Development in stages
●
Will the internet transform the transportation sector?
●
Autonomous Car / Robot-Taxi…
●
Who will be the integrator?

* Your assessment is very important for improving the work of artificial intelligence, which forms the content of this project