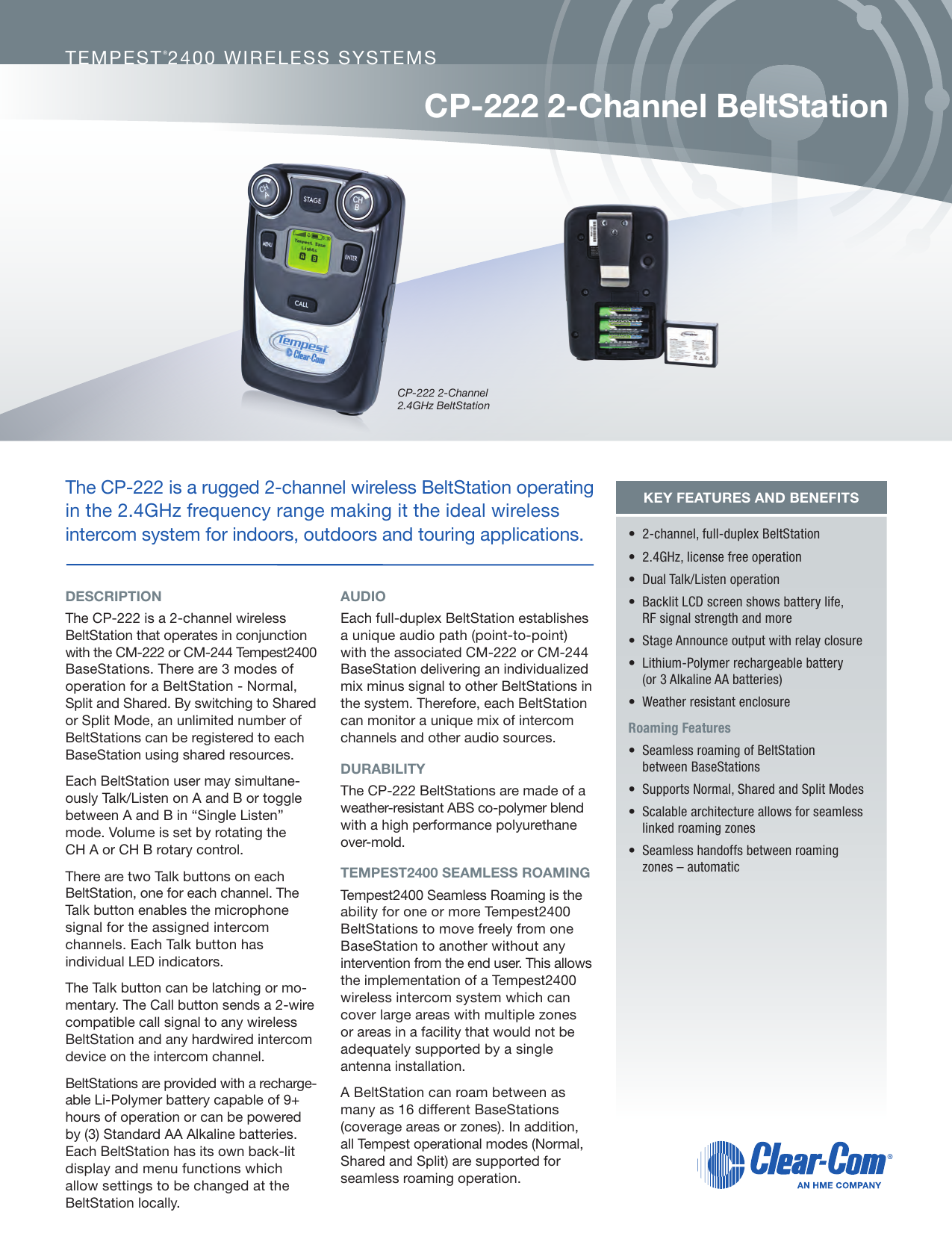 T empest 2 4 00 W ireless Sy stems
®
CP-222 2-Channel BeltStation
CP-222 2-Channel
2.4GHz BeltStation
The CP-222 is a rugged 2-channel wireless BeltStation operating
in the 2.4GHz frequency range making it the ideal wireless
intercom system for indoors, outdoors and touring applications.
Key Features And Benefits
• 2-channel, full-duplex BeltStation
• 2.4GHz, license free operation
• Dual Talk/Listen operation
Description
Audio
The CP-222 is a 2-channel wireless
BeltStation that operates in conjunction
with the CM-222 or CM-244 Tempest2400
BaseStations. There are 3 modes of
operation for a BeltStation - Normal,
Split and Shared. By switching to Shared
or Split Mode, an unlimited number of
BeltStations can be registered to each
BaseStation using shared resources.
Each full-duplex BeltStation establishes
a unique audio path (point-to-point)
with the associated CM-222 or CM-244
BaseStation delivering an individualized
mix minus signal to other BeltStations in
the system. Therefore, each BeltStation
can monitor a unique mix of intercom
channels and other audio sources.
Each BeltStation user may simultaneously Talk/Listen on A and B or toggle
between A and B in "Single Listen"
mode. Volume is set by rotating the
CH A or CH B rotary control.
There are two Talk buttons on each
BeltStation, one for each channel. The
Talk button enables the microphone
signal for the assigned intercom
channels. Each Talk button has
individual LED indicators.
The Talk button can be latching or momentary. The Call button sends a 2-wire
compatible call signal to any wireless
BeltStation and any hardwired intercom
device on the intercom channel.
BeltStations are provided with a rechargeable Li-Polymer battery capable of 9+
hours of operation or can be powered
by (3) Standard AA Alkaline batteries.
Each BeltStation has its own back-lit
display and menu functions which
allow settings to be changed at the
BeltStation locally.
Durability
The CP-222 BeltStations are made of a
weather-resistant ABS co-polymer blend
with a high performance polyurethane
over-mold.
Tempest2400 Seamless Roaming
Tempest2400 Seamless Roaming is the
ability for one or more Tempest2400
BeltStations to move freely from one
BaseStation to another without any
intervention from the end user. This allows
the implementation of a Tempest2400
wireless intercom system which can
cover large areas with multiple zones
or areas in a facility that would not be
adequately supported by a single
antenna installation.
A BeltStation can roam between as
many as 16 different BaseStations
(coverage areas or zones). In addition,
all Tempest operational modes (Normal,
Shared and Split) are supported for
seamless roaming operation.
• Backlit LCD screen shows battery life,
RF signal strength and more
• Stage Announce output with relay closure
• Lithium-Polymer rechargeable battery
(or 3 Alkaline AA batteries)
• Weather resistant enclosure
Roaming Features
• Seamless roaming of BeltStation between BaseStations
• Supports Normal, Shared and Split Modes
• Scalable architecture allows for seamless
linked roaming zones
• Seamless handoffs between roaming zones – automatic
CP-222 2-Channel BeltStation
1
2
3
2
1
8
7
9
4
6
5
10
11
14
BeltStation Legend
1. Volume Channels A/B
2. Channel A and B Talk Buttons
3. STAGE Button
4. ENTER Button
5. CALL Button
6. LCD
7. MENU Button
8. Belt Clip
9. Power ON/OFF Button
10. Battery Compartment
11. Headset Connector
12. BeltStation Pairing Connector
13. USB Mini B Connector
14. Rubberized Access Cover
13 12
Technical Specifications
System Specifications
RF Frequency:
2400 to 2480 GHz
RF Scheme:
FHSS with TDMA
Effective Radiated
Power:
100mW using 2dBi
antenna
Receiver Sensitivity: -93 dBm for 10-5 BER
Radio Certification: FCC Part 15.247 and ETS
300.328 rules, license free
Transmission Range: Up to 1,000ft (305m);
500 - 900ft (150 - 275m)
typical
Audio Dynamic Range:>94dB
Audio Frequency
Response:
300Hz - 3.8KHz with
proprietary audio voice shaping
BeltStation Specifications
Intercom Audio
Channels:
2
Headset Connector: 4-pin male XLR
MicrophoneType:
Dynamic or Electret,
Auto-Selected
+2 dBi patch
Antenna Internal:
Charger Input: 100-240V, 0.3A, 50-60Hz
Charger Output:
5V, 1.25A
via mini USB connector
Battery Charging:
using supplied charger
Battery Life,
Rechargeable
Lithium-Polymer:
Up to 9+ hours
Charge Time,
Rechargeable
Lithium-Polymer:
2 3/4 hours in BeltStation;
2 1/2 hours in charger
(from empty)
Optional Power:
3 Standard AA alkaline cells
Battery Life, Alkaline: Approximately 4 hours
www.clearcom.com
® Clear-Com and the Clear-Com logo are registered trademarks of HM Electronics, Inc.
Copyright © 2012. Clear-Com, LLC. All rights reserved.
Environmental
-4º – 122º F (-20º – 50º C)
Dimensions
4.0 in W x 6.1 in H x 1.75 in D
(102 mm x 156 mm x 44.5 mm)
Weight
14.3 oz (0.41 kg)
Notice About Specifications
While Clear-Com makes every attempt to maintain the accuracy of
the information contained in its product manuals, that information is
subject to change without notice. Performance specifications included
in this manual are design-center specifications and are included for
customer guidance and to facilitate system installation. Actual operating
performance may vary.

* Your assessment is very important for improving the work of artificial intelligence, which forms the content of this project