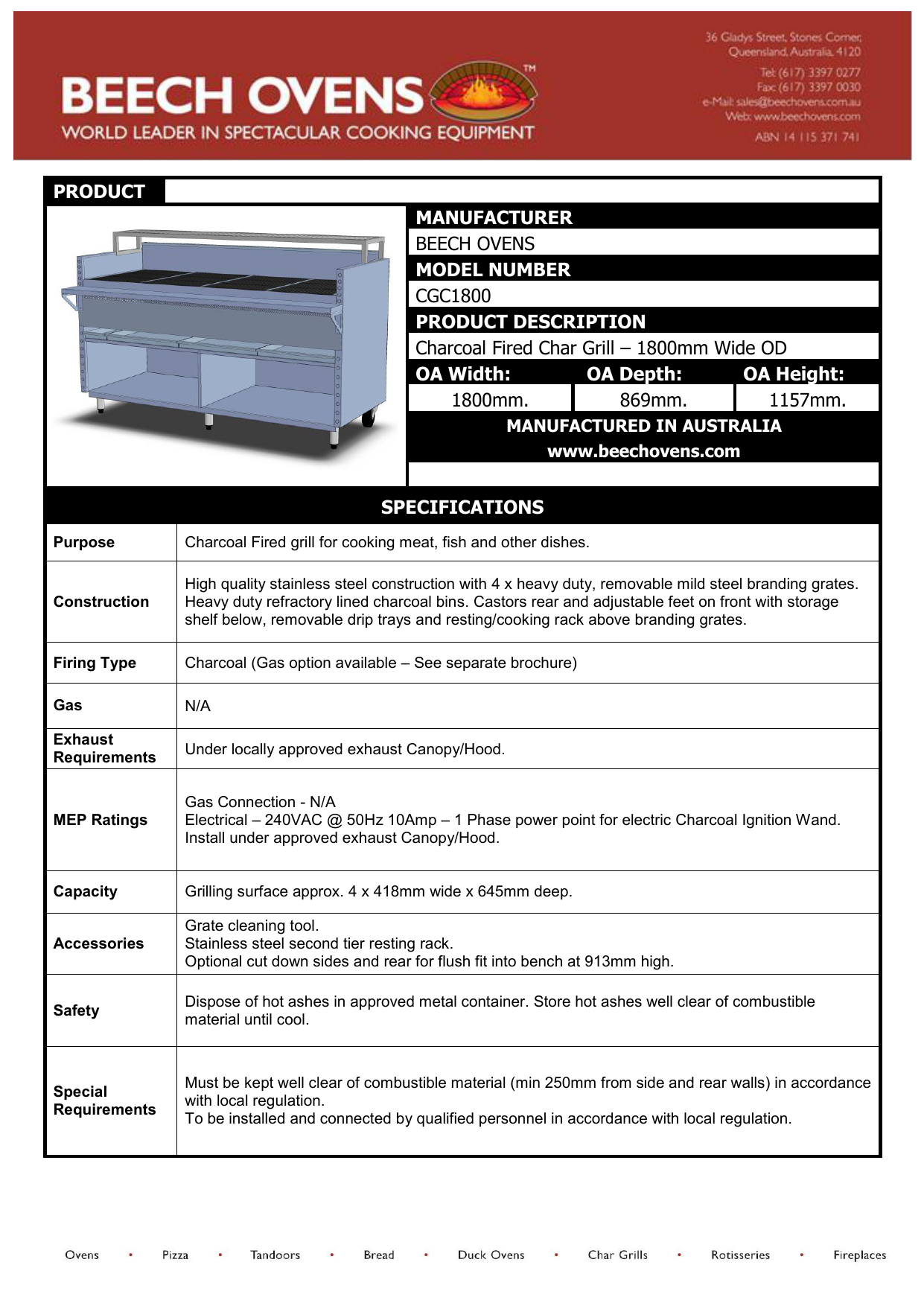 PRODUCT
MANUFACTURER
BEECH OVENS
MODEL NUMBER
CGC1800
PRODUCT DESCRIPTION
Charcoal Fired Char Grill – 1800mm Wide OD
OA Width:
OA Depth:
OA Height:
1800mm.
869mm.
1157mm.
MANUFACTURED IN AUSTRALIA
www.beechovens.com
SPECIFICATIONS
Purpose
Charcoal Fired grill for cooking meat, fish and other dishes.
Construction
High quality stainless steel construction with 4 x heavy duty, removable mild steel branding grates.
Heavy duty refractory lined charcoal bins. Castors rear and adjustable feet on front with storage
shelf below, removable drip trays and resting/cooking rack above branding grates.
Firing Type
Charcoal (Gas option available – See separate brochure)
Gas
N/A
Exhaust
Requirements
Under locally approved exhaust Canopy/Hood.
MEP Ratings
Gas Connection - N/A
Electrical – 240VAC @ 50Hz 10Amp – 1 Phase power point for electric Charcoal Ignition Wand.
Install under approved exhaust Canopy/Hood.
Capacity
Grilling surface approx. 4 x 418mm wide x 645mm deep.
Accessories
Grate cleaning tool.
Stainless steel second tier resting rack.
Optional cut down sides and rear for flush fit into bench at 913mm high.
Safety
Dispose of hot ashes in approved metal container. Store hot ashes well clear of combustible
material until cool.
Special
Requirements
Must be kept well clear of combustible material (min 250mm from side and rear walls) in accordance
with local regulation.
To be installed and connected by qualified personnel in accordance with local regulation.

* Your assessment is very important for improving the work of artificial intelligence, which forms the content of this project