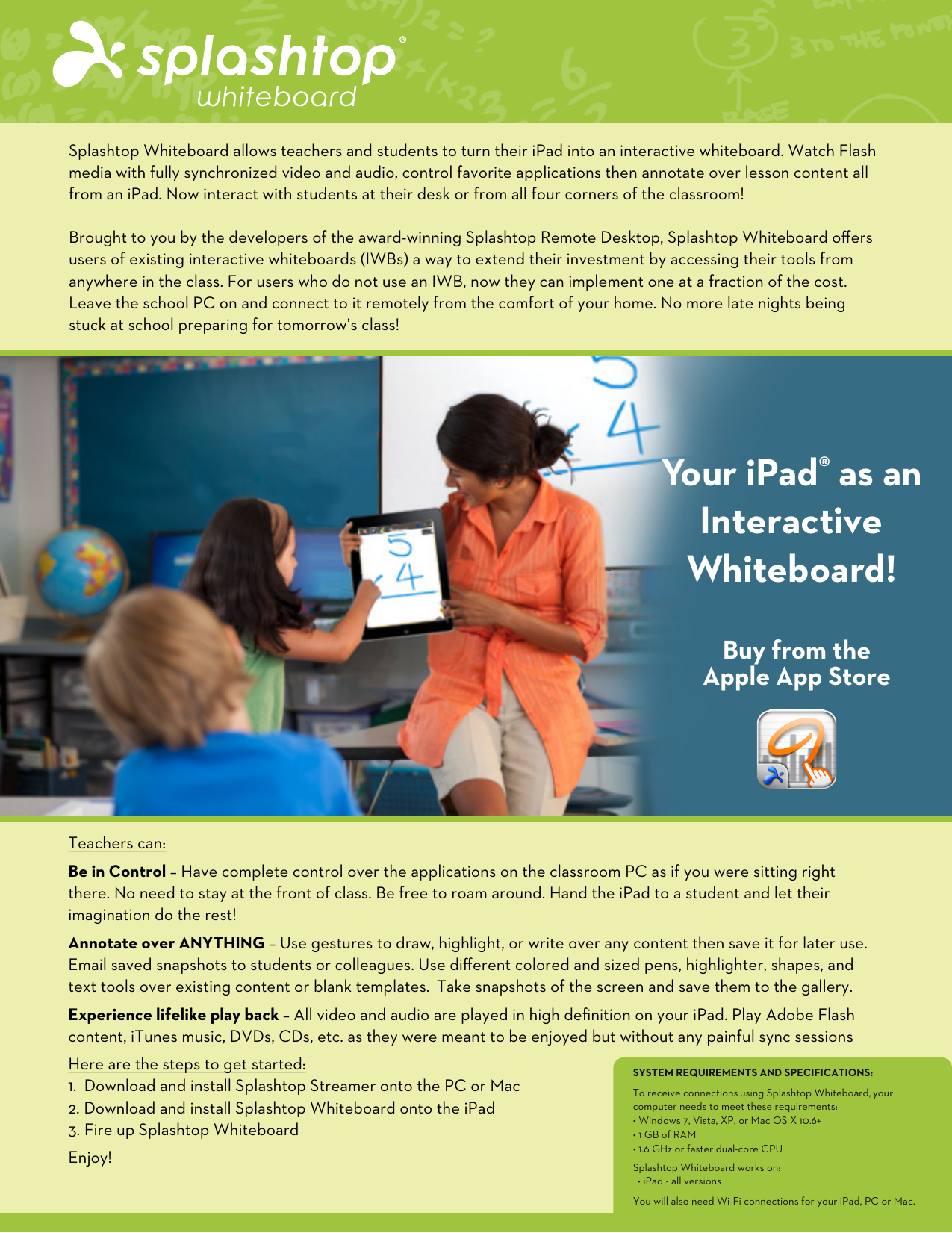 Splashtop Whiteboard allows teachers and students to turn their iPad into an interactive whiteboard. Watch Flash
media with fully synchronized video and audio, control favorite applications then annotate over lesson content all
from an iPad. Now interact with students at their desk or from all four corners of the classroom!
Brought to you by the developers of the award-winning Splashtop Remote Desktop, Splashtop Whiteboard offers
users of existing interactive whiteboards (IWBs) a way to extend their investment by accessing their tools from
anywhere in the class. For users who do not use an IWB, now they can implement one at a fraction of the cost.
Leave the school PC on and connect to it remotely from the comfort of your home. No more late nights being
stuck at school preparing for tomorrow's class!
Your iPad® as an
Interactive
Whiteboard!
Buy from the
Apple App Store
Teachers can:
Be in Control – Have complete control over the applications on the classroom PC as if you were sitting right
there. No need to stay at the front of class. Be free to roam around. Hand the iPad to a student and let their
imagination do the rest!
Annotate over ANYTHING – Use gestures to draw, highlight, or write over any content then save it for later use.
Email saved snapshots to students or colleagues. Use different colored and sized pens, highlighter, shapes, and
text tools over existing content or blank templates. Take snapshots of the screen and save them to the gallery.
Experience lifelike play back – All video and audio are played in high definition on your iPad. Play Adobe Flash
content, iTunes music, DVDs, CDs, etc. as they were meant to be enjoyed but without any painful sync sessions
Here are the steps to get started:
1. Download and install Splashtop Streamer onto the PC or Mac
2. Download and install Splashtop Whiteboard onto the iPad
3. Fire up Splashtop Whiteboard
Enjoy!
SYSTEM REQUIREMENTS AND SPECIFICATIONS:
To receive connections using Splashtop Whiteboard, your
computer needs to meet these requirements: • Windows 7, Vista, XP, or Mac OS X 10.6+
• 1 GB of RAM
• 1.6 GHz or faster dual-core CPU
Splashtop Whiteboard works on:
• iPad - all versions
You will also need Wi-Fi connections for your iPad, PC or Mac.
Be in Control like never before. Access and control all your PC or
Mac applications directly from your iPad. Using Splashtop Whiteboard
means you can use the same software you're used to using day in, day
out. Why purchase new apps with limited functionality when you can
make use of the ones you've already paid for. Splashtop Whiteboard
creates new opportunities to bring the lesson directly to the student.
Being desk-side allows for spontaneous and personal coaching not
possible from the front of the class.
• Press the pen icon to enter annotation mode, press it again to exit to
desktop mode.
• Use intuitive touch gestures to simulate your mouse on the desktop.
• Move between pages in PowerPoint, Excel, Word, Acrobat and
Keynote and annotate as you go using the Previous/Next Page
functions.
Annotate over ANYTHING. Everything you need appears on the
floating toolbar. Use gestures to draw, highlight, or write over any
content then save it for later use. Highlight text, circle an image,
make notes, and draw attention to graphics and video. Everything
you do is displayed on the projector connected to your PC or Mac!
• Pen, highlighter, shapes, text tools with redo/undo can be used
over existing content or backgrounds.
• Take snapshots of the screen and save them to the gallery then
email saved snapshots to students, parents or colleagues.
• Background templates offer a quick way to create blank, graphed
or ruled sheets, so you can quickly jot down your ideas.
• Virtual keyboard allows you to type in a URL or edit a document
directly on your iPad without walking back to your computer.
• Keyboard will change based on whether you are connecting to a
PC or Mac.
Experience lifelike play back. Enjoy Flash videos from your
favorite educational website or PC/Mac software in real time.
Splashtop Whiteboard allows you to see what's happening in
real-time – no jerky video or out-of-sync audio. Using the
Splashtop patent pending streaming technology, you'll feel like
you're sitting in front of your actual multimedia content! No need
to sync with iTunes or other media libraries. Just leave them
where they are and simply connect, listen, or watch.
• Play YouTube and other Flash videos.
• Use your favorite PC or Mac application without purchasing an
iPad version.
• Listen to your music. No additional setup is required!
Splashtop Inc. • 1054 S. De Anza Blvd, Suite 200 • San Jose, CA 95129 USA • +1.408.861.1088 • www.splashtop.com
Splashtop and its logo are trademarks of Splashtop Inc. in the U.S. and other countries. All other trademarks are property of their respective owners.
Copyright © 2011 Splashtop Inc. All Rights Reserved.

* Your assessment is very important for improving the work of artificial intelligence, which forms the content of this project