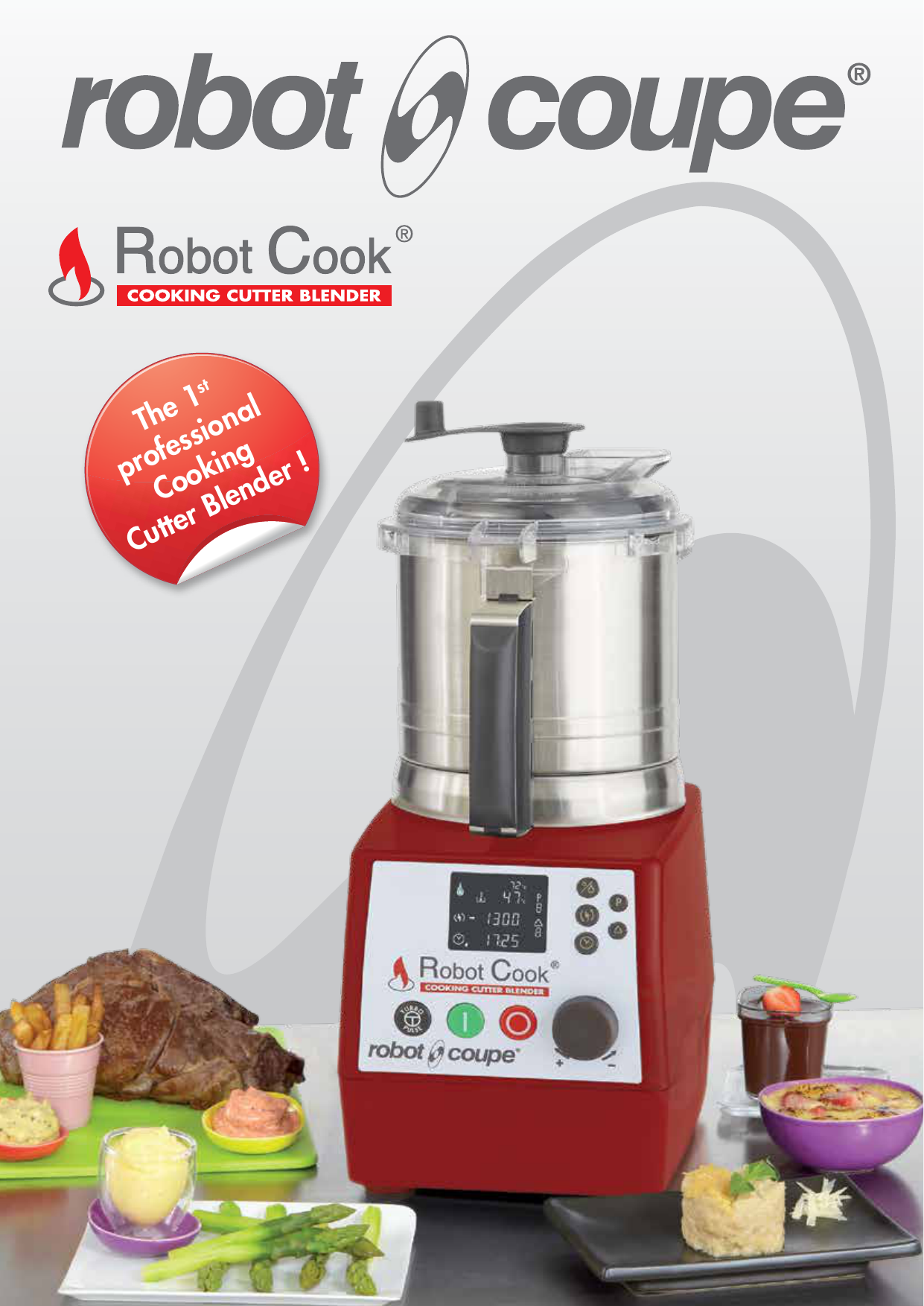 st
1
l
The siona
es ng
f
o
pr ooki
r!
e
d
C
len
B
ter
t
u
C
Being creatively
a step ahead
The Robot Cook® stimulates the imagination of chefs.
It is the ideal assistant when innovating and preparing a
multitude of attractive, hot and cold, savoury or sweet recipes.
The Kitchen Assistant for Chefs
A meticulous assistant
• Easy to use with its variable speed function of 100 to 3,500 rpm.
• Refined dishes prepared in no time with its Turbo (/Pulse) rotary speed
reaching 4,500 rpm per minute.
• Optimum control of food preparations possible with the high precision Pulse
function.
• A mix of delicate products prepared without cutting due to the inverse rotation
of the blade: the R-Mix® function
• Keeps the food preparation hot thanks to the intermittent function.
An autonomous assistant
Using the programming function, entrust your secret preparations to Robot Cook®
and effortlessly reproduce your favourite recipes.
A dependable assistant
The powerful Robot Cook® relies on a very robust industrial induction motor.
A silent assistant
In the hive of kitchen activity, the chefs will appreciate its silence.
Anti-vapour lid
ensuring constant visibility
SYSTEM OF BLADE
RETENTION
SCRAPER ARM
texture always
homogeneous
Cooking
precision
up to 140°C
3.7 L GRAND FORMAT BOWL
with micro-serrated blade
to the nearest
degree
PROGRAMMING
9 programmable
recipes
INDUCTION MOTOR
robust and silent
TURBO
4,500 rpm
Being a step ahead
every day
A concentration of technology and innovation,
the Robot Cook® is the solution for minimising
the preparation time of your recipes.
Emulsifying, grinding, mixing, chopping,
blending and kneading are among the many
functions Robot Cook® carries out to perfection.
Example of a recipe
Béchamel Sauce
Fold in the butter
+115°C
200 rpm
2 min.
Unique performance
• The large capacity bowl produces sufficient quantities for
professional needs.
• Equipped with a high precision blade in the bottom of the bowl.
• Its modular heat capacity up to 140°C is accurate to the nearest
degree.
Full of ingenuity
• The Robot Cook® bowl is equipped with a removable scraper arm, thus
avoiding any manual manipulation and ensuring homogeneous food
texture.
• An anti-vapour lid wiper ensures perfect visibility during processing.
• An opening in the centre of the lid allows you to add extra
ingredients into the bowl without having to stop the preparation
of the recipe.
Add the flour
+120°C
200 rpm
5 min.
A model of simplicity
The Robot Cook® is designed to facilitate all manipulation during
operations.
• A novel system of blade retention allows you to safely empty the
bowl of its contents.
• All parts in contact with food are easily removed and are
dishwasher safe.
• The lid is watertight and is fitted with a safety device.
Add the milk and spices
+100°C
500 rpm
15 min.
Robot Coupe,
inventor and leader in food preparation
equipment, presents the Robot Cook®.
It is the only cooking cutter blender which satisfies
the demands and trends of the traditional catering
sector.
Emulsify
G
Mix
Ma
int
a
3.7 L
to the nearest degree
4 500 rpm
N
T
To
r AMBIE
in C°
up to 140°C
Knead
d
Ble
nd
n
ri
H
O
C
p
ho
Béchamel Sauce
Béarnaise Sauce
Hollandaise Sauce
Beurre blanc
Risotto
Crème pâtissière
Custard
Choux pastry
Zabaione
Chocolate frosting
Foie gras royal
Seafood bisque
Tapenade spread
Pesto sauce
Purée
Flavoured butters
...
The of Robot Cook®
HOT or AMBIENT
Autonomy
High speed
Emulsify
Grind
Mix
Chop
Blend
Knead
Maintain C°
Heat
Cook
Technology
Programming
Silent
Powerful
Precision
Dimensions (in mm)
Robot-Cook®
CE
mark
Robot-Cook®
A
B
C
D
522
338
226
264
Electrical data
Speed
(rpm)
Power
(Watts)
100 to
4,500
Maximum heating capacity:
1,200W
Motor power: 1,000W
Nominal machine power:
1,800W
Weight (kg)
Stainless
Intensity*
steel bowl
(Amp.)
capacity
8
3.7 L
Liquid
capacity
Net
2.5 L
13.5
A
Gross
D
15
C
*Other voltages available.
DISTRIBUTOR
Réf : 450 884 - 12/2014 - Anglais
Head Office, French, Export and Marketing Department:
Tel.: + 33 1 43 98 88 33 - Fax: + 33 1 43 74 36 26
email: international@robot-coupe.com
Robot Coupe Australia: Tel.: (02) 9478 0300 - Fax: (02) 9460 7972
New Zealand: Tel.: 0800 716161 - Fax: 0800 716162
email: orders@robotcoupe.com.au
Robot Coupe U.K. LTD: Tel.: 020 8232 1800 - Fax: 020 8568 4966
2, Fleming Way, Isleworth, Middlesex TW7 6EU
email: sales@robotcoupe.co.uk
Robot Coupe U.S.A.: Tel.: 1-800-824-1646 - Fax: 601-898-9134
email: info@robotcoupeusa.com - website: www.robotcoupeusa.com
www.robot-coupe.com
B
STANDARDS:
Machines in compliance with:
• The essential requirements of the following
European directives and with the corresponding national regulations: 2006/42/EC,
2006/95/EC, 2004/108/EC, 1935/2004/
EC, 10/2011/EU, «RoHS» 2002/95/EC,
«WEEE» 2002/96/EC.
• The requirements of the European harmonized standards and with the standards
specifying the hygiene and safety requirements: EN 12100-1 and 2 - 2004, EN
60204- 1 - 2006, EN 12852, EN 605292000: IP 55, IP 34.

* Your assessment is very important for improving the work of artificial intelligence, which forms the content of this project