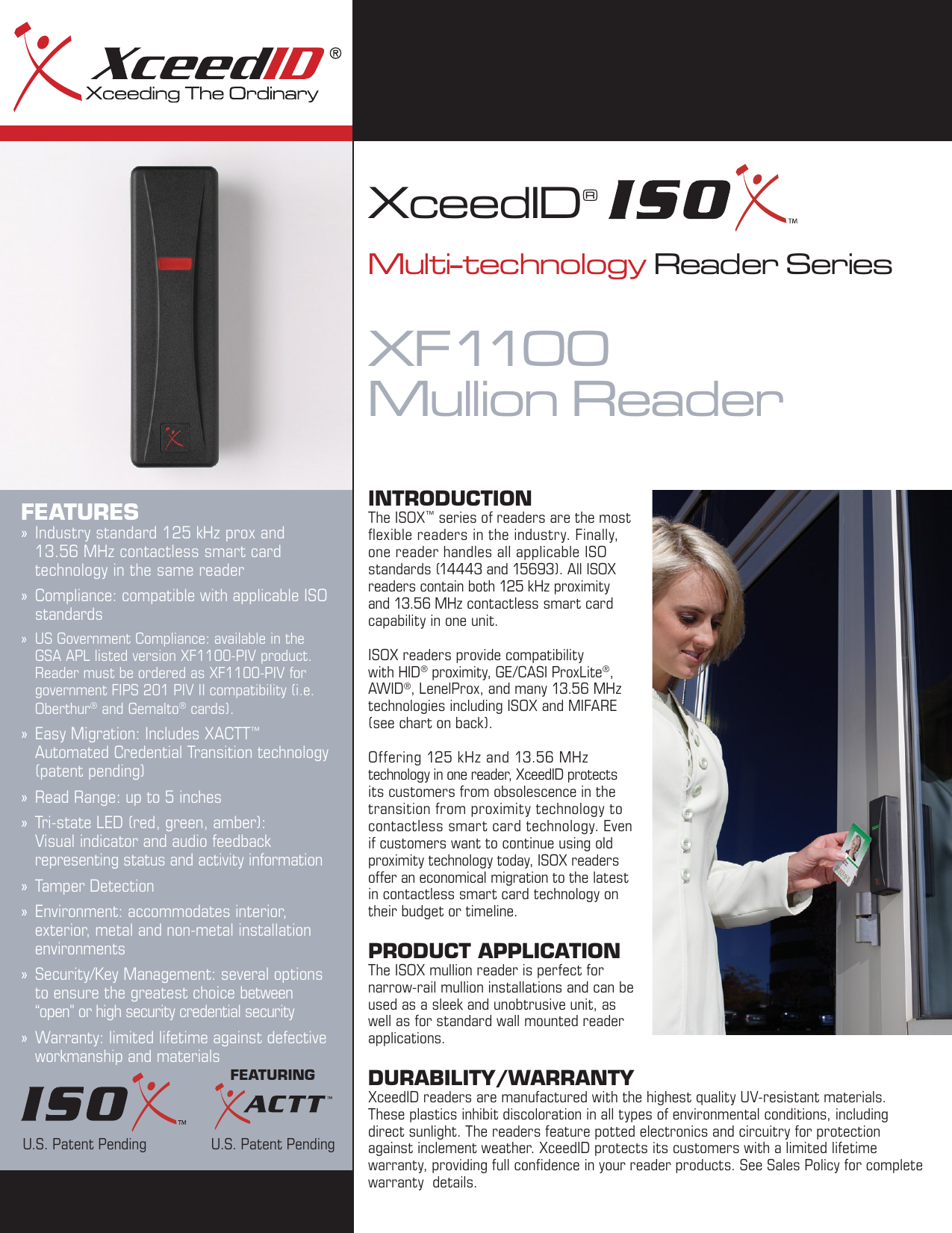 XceedID
®
Multi-technology Reader Series
XF1100
Mullion Reader
INTRODUCTION
FEATURES
» Industry standard 125 kHz prox and
13.56 MHz contactless smart card
technology in the same reader
» Compliance: compatible with applicable ISO
standards
» US Government Compliance: available in the
GSA APL listed version XF1100-PIV product.
Reader must be ordered as XF1100-PIV for
government FIPS 201 PIV II compatibility (i.e.
Oberthur® and Gemalto® cards).
» Easy Migration: Includes XACTT™
Automated Credential Transition technology
(patent pending)
» Read Range: up to 5 inches
» Tri-state LED (red, green, amber):
Visual indicator and audio feedback
representing status and activity information
» Tamper Detection
» Environment: accommodates interior,
exterior, metal and non-metal installation
environments
» Security/Key Management: several options
to ensure the greatest choice between
"open" or high security credential security
» Warranty: limited lifetime against defective
workmanship and materials
FEATURING
U.S. Patent Pending
U.S. Patent Pending
The ISOX™ series of readers are the most
flexible readers in the industry. Finally,
one reader handles all applicable ISO
standards (14443 and 15693). All ISOX
readers contain both 125 kHz proximity
and 13.56 MHz contactless smart card
capability in one unit.
ISOX readers provide compatibility
with HID® proximity, GE/CASI ProxLite®,
AWID®, LenelProx, and many 13.56 MHz
technologies including ISOX and MIFARE
(see chart on back).
Offering 125 kHz and 13.56 MHz
technology in one reader, XceedID protects
its customers from obsolescence in the
transition from proximity technology to
contactless smart card technology. Even
if customers want to continue using old
proximity technology today, ISOX readers
offer an economical migration to the latest
in contactless smart card technology on
their budget or timeline.
PRODUCT APPLICATION
The ISOX mullion reader is perfect for
narrow-rail mullion installations and can be
used as a sleek and unobtrusive unit, as
well as for standard wall mounted reader
applications.
DURABILITY/WARRANTY
XceedID readers are manufactured with the highest quality UV-resistant materials.
These plastics inhibit discoloration in all types of environmental conditions, including
direct sunlight. The readers feature potted electronics and circuitry for protection
against inclement weather. XceedID protects its customers with a limited lifetime
warranty, providing full confidence in your reader products. See Sales Policy for complete
warranty details.
SPECIFICATIONS
XceedID ISOX™ model XF1100 Mullion Reader
FREQUENCY
» 125 kHz and 13.56 MHz
STANDARDS
» ISO 15693 and ISO 14443
CERTIFICATIONS
» FCC Certification
» Canadian FCC Certification
» UL 294 Listed
» R&TTE Directive
(15 EU Countries)
» CE Mark
VOLTAGE RANGE
» 6-16 VDC
POWER SUPPLY
» Linear DC (recommended)
MAX. CURRENT REQUIREMENT
» Average 95 mA DC
» Peak 254 mA DC
Note: Compatibility chart is applicable to
readers with firmware revision X02_21
and above. For firmware versions X02_20
and below, please see www.xceedid.com for
complete details.
CABLE SPECIFICATION
» Recommended cable is 22AWG (18AWG
preferred), minimum 5 conductor shielded (4
plus shield) in retrofit installs. See installation
manual for wiring guide and applicable
functionality.
SYSTEM INTERFACE
» Wiegand (Standard)
CABLING DISTANCE
» Wiegand Output: 500 ft. (152m)
OPERATING TEMPERATURE
» -31 to 151F (-35 to 67C)
PHYSICAL DIMENSIONS (HWD)
» 5.85" x 1.72" x 1.14"
» 14.9 cm x 4.3 cm x 2.9 cm
WEIGHT
» 0.6 lbs.
MATERIAL
» PBT Polymer
COLOR OPTIONS
» Black (standard)
» Charcoal (optional)
» Light Gray (optional)
MAXIMUM READ RANGE*
125 kHz:
» up to 5" (12.7 cm)
13.56 MHz:
» ISO 15693: up to 4.5" (11.43 cm)
» ISO 14443 MIFARE® Standard:
up to 2" (5.08 cm)
» ISO 14443 MIFARE DESFire®:
up to 1.5" (3.81 cm)
* Maximum read range depends on credential
type/form factor and installation conditions
Available RF Technologies
Details
Default reader features
(any combination of these features can be disabled upon request)
13.56 MHz Smart Card Applications
1
Secure MIFARE®
2
Secure ISOX™
3
Secure ISOX Lite™
5
DESFire® Application
13.56 MHz Smart Card CSN
6
CSN HID® iClass®
CSN Inside® Picotag®
Card Serial Number (CSN) means NO
ability to read data application areas
125 kHz Technologies
7
HID® Prox
8
GE®/CASI® Prox
9
AWID® Prox, LenelProx
Other reader features
(these features can be enabled upon request but require other features to be disabled)
13.56 MHz Smart Card CSN
Card Serial Number (CSN) means NO
ability to read data application areas
10
CSN 14443-A (Cascade 1) MIFARE® 1K, 4K
only possible if features 1 and 3 are
disabled
11
CSN 14443-A (Cascade 2) DESFire®
only possible if feature 5 is disabled
12
CSN 15693 (TI, ST, my-d)
only possible if feature 2 is disabled
XceedID Corporation
Phone: (303) 273-9930
Fax: (303) 273-9937
www.xceedid.com
Specifications subject to change without notice. Revised 4/2007.
XceedID, XACTT, ISOX, and ISOX Lite are trademarks of XceedID Corporation. GE, CASI, and ProxLite are registered trademarks of
General Electric Corporation. MIFARE, I-Code and DESFire are registered trademarks of NXP Semiconductors. HID and iCLASS are
registered trademarks of HID Corporation. my-d is a registered trademark of Infineon. Other product names mentioned herein may be
trademarks and / or registered trademarks of other companies. Copyright © 2007, XceedID Corporation. All rights reserved.

* Your assessment is very important for improving the work of artificial intelligence, which forms the content of this project