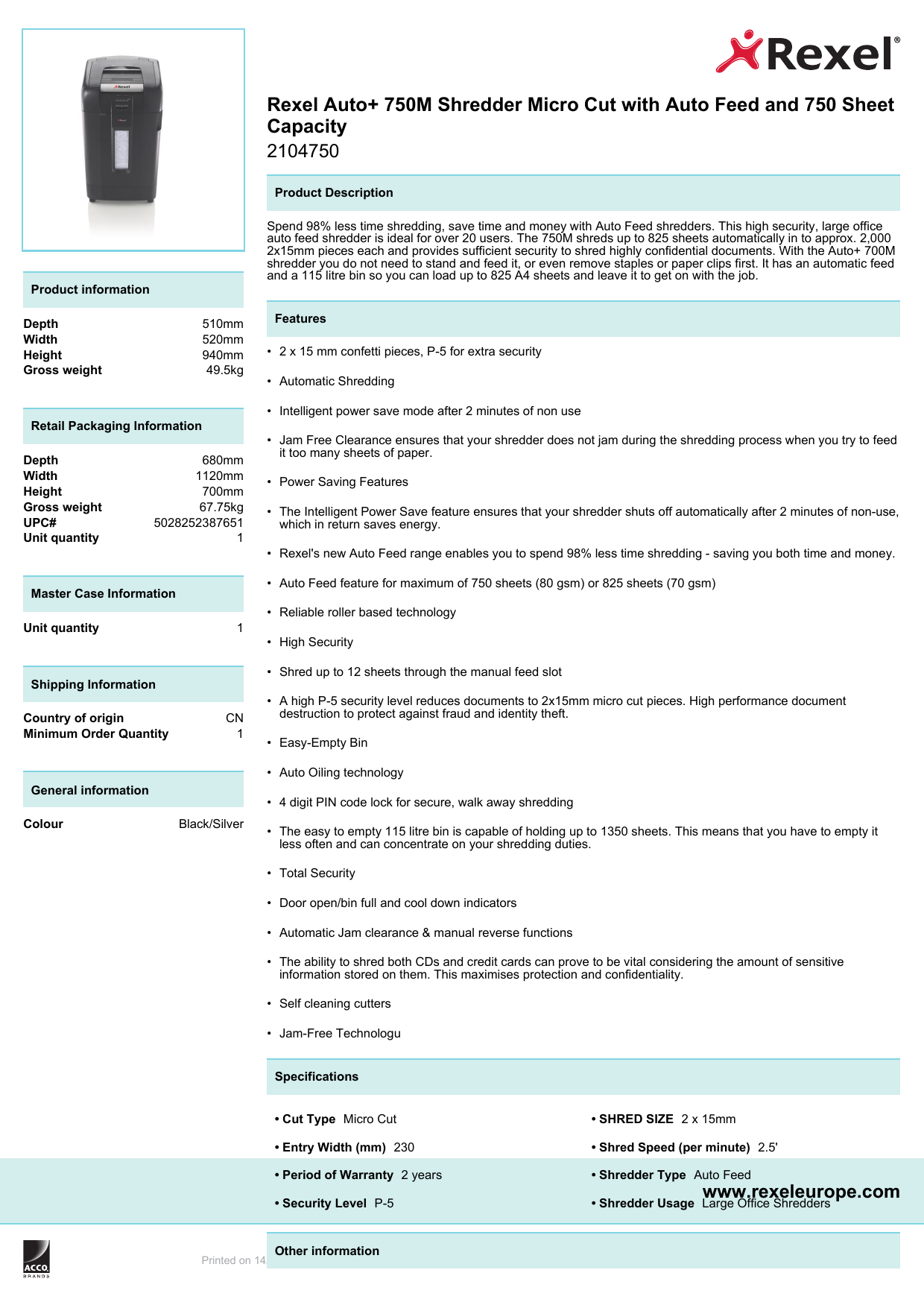 Rexel Auto+ 750M Shredder Micro Cut with Auto Feed and 750 Sheet
Capacity
2104750
Product Description
Spend 98% less time shredding, save time and money with Auto Feed shredders. This high security, large office
auto feed shredder is ideal for over 20 users. The 750M shreds up to 825 sheets automatically in to approx. 2,000
2x15mm pieces each and provides sufficient security to shred highly confidential documents. With the Auto+ 700M
shredder you do not need to stand and feed it, or even remove staples or paper clips first. It has an automatic feed
and a 115 litre bin so you can load up to 825 A4 sheets and leave it to get on with the job.
Product information
Depth
Width
Height
Gross weight
510mm
520mm
940mm
49.5kg
Features
• 2 x 15 mm confetti pieces, P-5 for extra security
• Automatic Shredding
• Intelligent power save mode after 2 minutes of non use
Retail Packaging Information
Depth
Width
Height
Gross weight
UPC#
Unit quantity
680mm
1120mm
700mm
67.75kg
5028252387651
1
• Jam Free Clearance ensures that your shredder does not jam during the shredding process when you try to feed
it too many sheets of paper.
• Power Saving Features
• The Intelligent Power Save feature ensures that your shredder shuts off automatically after 2 minutes of non-use,
which in return saves energy.
• Rexel's new Auto Feed range enables you to spend 98% less time shredding - saving you both time and money.
• Auto Feed feature for maximum of 750 sheets (80 gsm) or 825 sheets (70 gsm)
Master Case Information
• Reliable roller based technology
Unit quantity
1
• High Security
• Shred up to 12 sheets through the manual feed slot
Shipping Information
Country of origin
Minimum Order Quantity
CN
1
• A high P-5 security level reduces documents to 2x15mm micro cut pieces. High performance document
destruction to protect against fraud and identity theft.
• Easy-Empty Bin
• Auto Oiling technology
General information
• 4 digit PIN code lock for secure, walk away shredding
Colour
Black/Silver
• The easy to empty 115 litre bin is capable of holding up to 1350 sheets. This means that you have to empty it
less often and can concentrate on your shredding duties.
• Total Security
• Door open/bin full and cool down indicators
• Automatic Jam clearance & manual reverse functions
• The ability to shred both CDs and credit cards can prove to be vital considering the amount of sensitive
information stored on them. This maximises protection and confidentiality.
• Self cleaning cutters
• Jam-Free Technologu
Specifications
• Cut Type Micro Cut
• SHRED SIZE 2 x 15mm
• Entry Width (mm) 230
• Shred Speed (per minute) 2.5'
• Period of Warranty 2 years
• Shredder Type Auto Feed
• Security Level P-5
• Shredder Usage Large Office Shredders
Other information
Printed on 14/05/2015
www.rexeleurope.com
Confidential and proprietary to ACCO Brands. Images are for illustrative purposes only. Errors and omissions excepted.

* Your assessment is very important for improving the work of artificial intelligence, which forms the content of this project