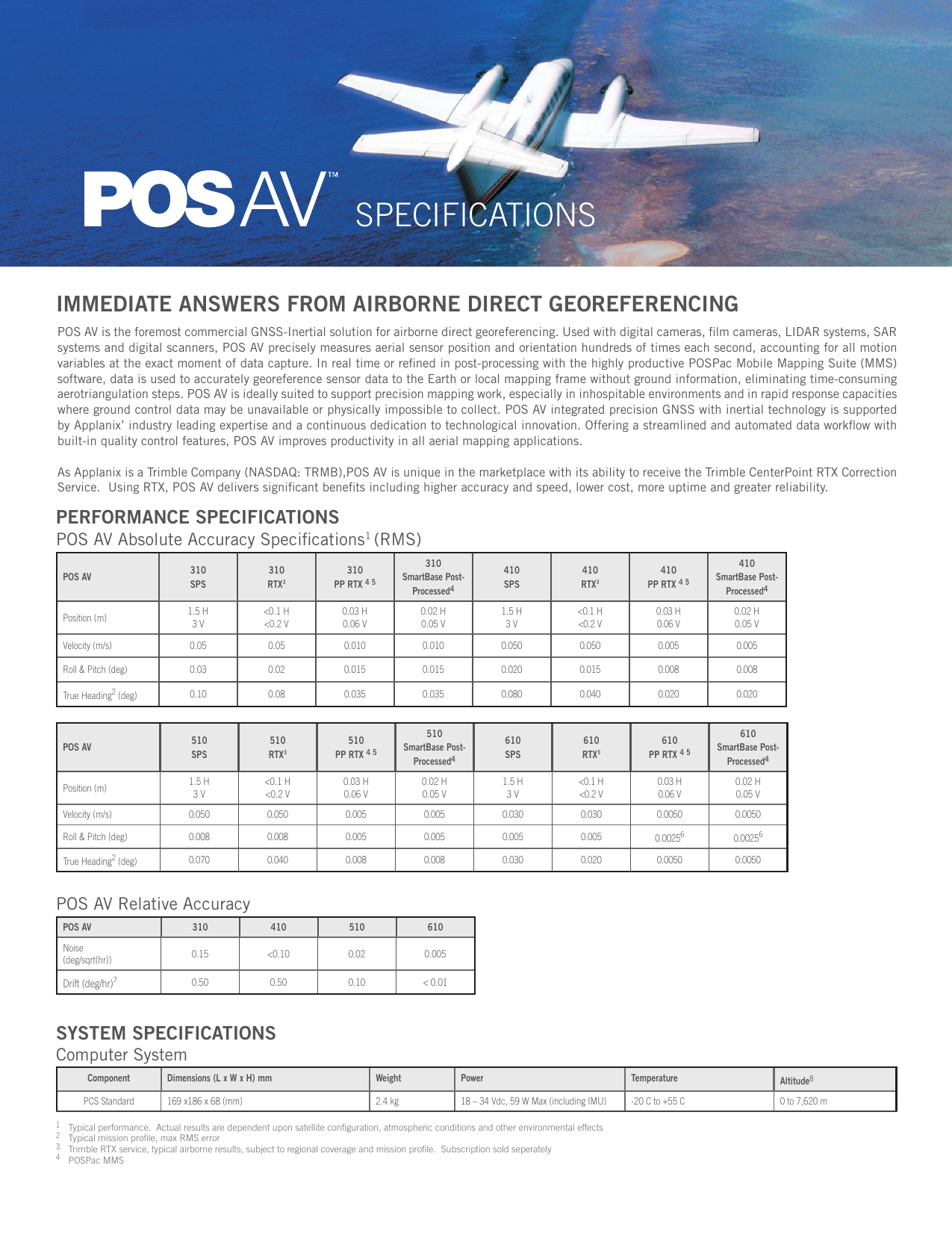 SPECIFICATIONS
IMMEDIATE ANSWERS FROM AIRBORNE DIRECT GEOREFERENCING
POS AV is the foremost commercial GNSS-Inertial solution for airborne direct georeferencing. Used with digital cameras, film cameras, LIDAR systems, SAR
systems and digital scanners, POS AV precisely measures aerial sensor position and orientation hundreds of times each second, accounting for all motion
variables at the exact moment of data capture. In real time or refined in post-processing with the highly productive POSPac Mobile Mapping Suite (MMS)
software, data is used to accurately georeference sensor data to the Earth or local mapping frame without ground information, eliminating time-consuming
aerotriangulation steps. POS AV is ideally suited to support precision mapping work, especially in inhospitable environments and in rapid response capacities
where ground control data may be unavailable or physically impossible to collect. POS AV integrated precision GNSS with inertial technology is supported
by Applanix' industry leading expertise and a continuous dedication to technological innovation. Offering a streamlined and automated data workflow with
built-in quality control features, POS AV improves productivity in all aerial mapping applications.
As Applanix is a Trimble Company (NASDAQ: TRMB),POS AV is unique in the marketplace with its ability to receive the Trimble CenterPoint RTX Correction
Service. Using RTX, POS AV delivers significant benefits including higher accuracy and speed, lower cost, more uptime and greater reliability.
PERFORMANCE SPECIFICATIONS
POS AV Absolute Accuracy Specifications1 (RMS)
POS AV
310
SPS
310
RTX3
310
PP RTX 4 5
310
SmartBase PostProcessed4
410
SPS
410
RTX3
410
PP RTX 4 5
410
SmartBase PostProcessed4
Position (m)
1.5 H
3V
<0.1 H
<0.2 V
0.03 H
0.06 V
0.02 H
0.05 V
1.5 H
3V
<0.1 H
<0.2 V
0.03 H
0.06 V
0.02 H
0.05 V
Velocity (m/s)
0.05
0.05
0.010
0.010
0.050
0.050
0.005
0.005
Roll & Pitch (deg)
0.03
0.02
0.015
0.015
0.020
0.015
0.008
0.008
True Heading (deg)
0.10
0.08
0.035
0.035
0.080
0.040
0.020
0.020
POS AV
510
SPS
510
RTX3
510
PP RTX 4 5
510
SmartBase PostProcessed4
610
SPS
610
RTX3
610
PP RTX 4 5
610
SmartBase PostProcessed4
Position (m)
1.5 H
3V
<0.1 H
<0.2 V
0.03 H
0.06 V
0.02 H
0.05 V
1.5 H
3V
<0.1 H
<0.2 V
0.03 H
0.06 V
0.02 H
0.05 V
Velocity (m/s)
0.050
0.050
0.005
0.005
0.030
0.030
0.0050
0.0050
6
2
Roll & Pitch (deg)
0.008
0.008
0.005
0.005
0.005
0.005
0.0025
0.00256
True Heading2 (deg)
0.070
0.040
0.008
0.008
0.030
0.020
0.0050
0.0050
POS AV Relative Accuracy
POS AV
310
410
510
610
Noise
(deg/sqrt(hr))
0.15
<0.10
0.02
0.005
Drift (deg/hr)7
0.50
0.50
0.10
< 0.01
SYSTEM SPECIFICATIONS
Computer System
Component
PCS Standard
1
2
3
4
Dimensions (L x W x H) mm
Weight
Power
Temperature
Altitude8
169 x186 x 68 (mm)
2.4 kg
18 – 34 Vdc, 59 W Max (including IMU)
-20 C to +55 C
0 to 7,620 m
Typical performance. Actual results are dependent upon satellite configuration, atmospheric conditions and other environmental effects
Typical mission profile, max RMS error
Trimble RTX service, typical airborne results, subject to regional coverage and mission profile. Subscription sold seperately
POSPac MMS
5 Post-processed CenterPoint RTX, typical mission performance. Subscription sold separately
6 May require local gravity model to achieve full accuracy
7 Attitude will drift at this rate up to a maximum error defined by absolute accuracy in table above
8 Unpressurized operation
Inertial Measurement Unit (IMU)
Type
AV Model
Dimensions (L x W x H) mm
Operational Temperature
Weight
POS AV 310
120 x 120 x 110 (in tophat, provided)
-45 C to +55 C
1.25 kg
IMU-7
IMU-89
POS AV 410
POS AV 510
95 x 95 x 107
-54 ºC to +71 ºC
1.0 kg
IMU-6410
POS AV 410
120 x 120 x 110 (in tophat, provided)
-45 ºC to +55 ºC
1.25 kg
IMU-8010
POS AV 510
161 x 120 x 126
-20 ºC to +55 ºC
1.9 kg
IMU-5710
POS AV 610
179 x 126 x 127
-40ºC to +55 ºC11
2.6 kg
IMU-219
POS AV 610
163 x 165 x 163
-40 ºC to +70 ºC
4.49 kg
IMU-4210
9
9 These IMUs require US government approvals for all exports, a Canadian export permit for all destinations outside the US, and may be subject to local export restrictions internationally. Contact your Applanix
representative for further information
These IMUs are exportable worldwide subject to statutory export declarations, and standard restrictions relating to certain international destinations. Contact your Applanix representative for further information
10
11 IMU must be at -20 ºC or higher at power-on
12 Developed under the License of European Union and European Space Agency
Global Navigation Satellite System (GNSS)
Option
Signals
Data Rate
GPS-17
GPS: L1 C/A, L2C, L2E, L5
GLONASS : L1 C/A , L1 P, L2 C/A, L2 P
GALILEO12 : L1 BOC, E5A, E5B, E5AltBOC
QZSS: L1 C/A, L1 SAIF, L2C, L5
SBAS: Simultaneous L1 C/A and L5
L-Band: OmniSTAR VBS, XP, HP and G2, Trimble CenterPoint RTX
BeiDou: B1, B2
5 Hz (raw)
ETHERNET INPUT OUTPUT
RS232 INPUT INTERFACES
Parameters
Parameter
Display Port
Control Port
Primary Port
Secondary Port
Time tag, status, position, attitude, velocity, track and speed,
dynamics, performance metrics, raw IMU data (at IMU
rate), raw GNSS data
Low rate (1 Hz) UDP protocol output
TCP/IP input for system commands
Real-time (up to 200 Hz) TCP/IP protocol output
Buffered TCP/IP protocol output for data logging to external device
Rate
OTHER I/O
1PPS
Event Input (6)
LOGGING
Parameters
Media
Time tag, status, position, attitude, velocity, track and speed,
dynamics, performance metrics, raw IMU data (at IMU rate), raw
GNSS data
External: Removable 4 Gbyte Flash Disk (2 supplied)
Internal: Embedded 4 Gbyte Flash Disk for redundant logging
RS232 NMEA ASCII OUTPUT
Parameters
Rate
NMEA Standard ASCII messages:
Position ($INGGA), Heading ($INHDT),
Track and Speed ($INVTG), Statistics ($INGST)
Up to 50 Hz (user selectable)
RS232 HIGH RATE BINARY OUTPUT
Parameters
Rate
User selectable binary messages:
Time, position, attitude, speed, track,
PAV30 output, Yaw Drift Correction,
Up to IMU Data Rate (user selectable)
Gimbal encoder input, AUX GPS Input (RTK, NavCom
Starfire, OmniStar HP), RTCM104 DGPS Corrections Input
1 to IMU Data Rate
1 pulse-per-second Time Sync output, normally high, active
low pulse
Six time mark of external events.
TTL pulses > 1 msec width, max rate 100 Hz.
USER SUPPLIED EQUIPMENT
PC for POS Controller and Operator Client Software
•
•
•
•
•
Atom 1.6 GHz or equivalent (minimum)
Intel Graphics media accelerator 500 or equivalent (minimum)
2 GB RAM, 32 GB HDD (minimum)
Ethernet adapter (RJ45 100 base T), USB Port
Windows 7
PC for Mission Planning and optional POSPac Post-processing
•
•
•
•
Pentium 4 (32 bits) at 2 GHz or equivalent (recommended minimum)
1 GB RAM, 100 GB Free disk space (recommended minimum)
2 X USB 2.0 ports for security keys
Internet Access (for installation, DEM download, optional SmartBase
processing)
• Windows 7
Specifications subject to change without notice.
For more information on POS AV
simply scan the QR code with your
mobile device to access our site.
85 Leek Crescent Richmond Hill, ON Canada L4B 3B3 T: 1.905.709.4600 F: 1.905.709-6027
www.applanix.com
February 2017
© 2017, Applanix, A Trimble Company. All rights reserved. Applanix and the Applanix logo are trademarks of Applanix Corporation registered in the Canadian Patent and Trademark Office and other countries.
POSAV, POSTrack and POSPac are registered trademarks of Applanix Corporation. All other trademarks are the property of their respective owners.