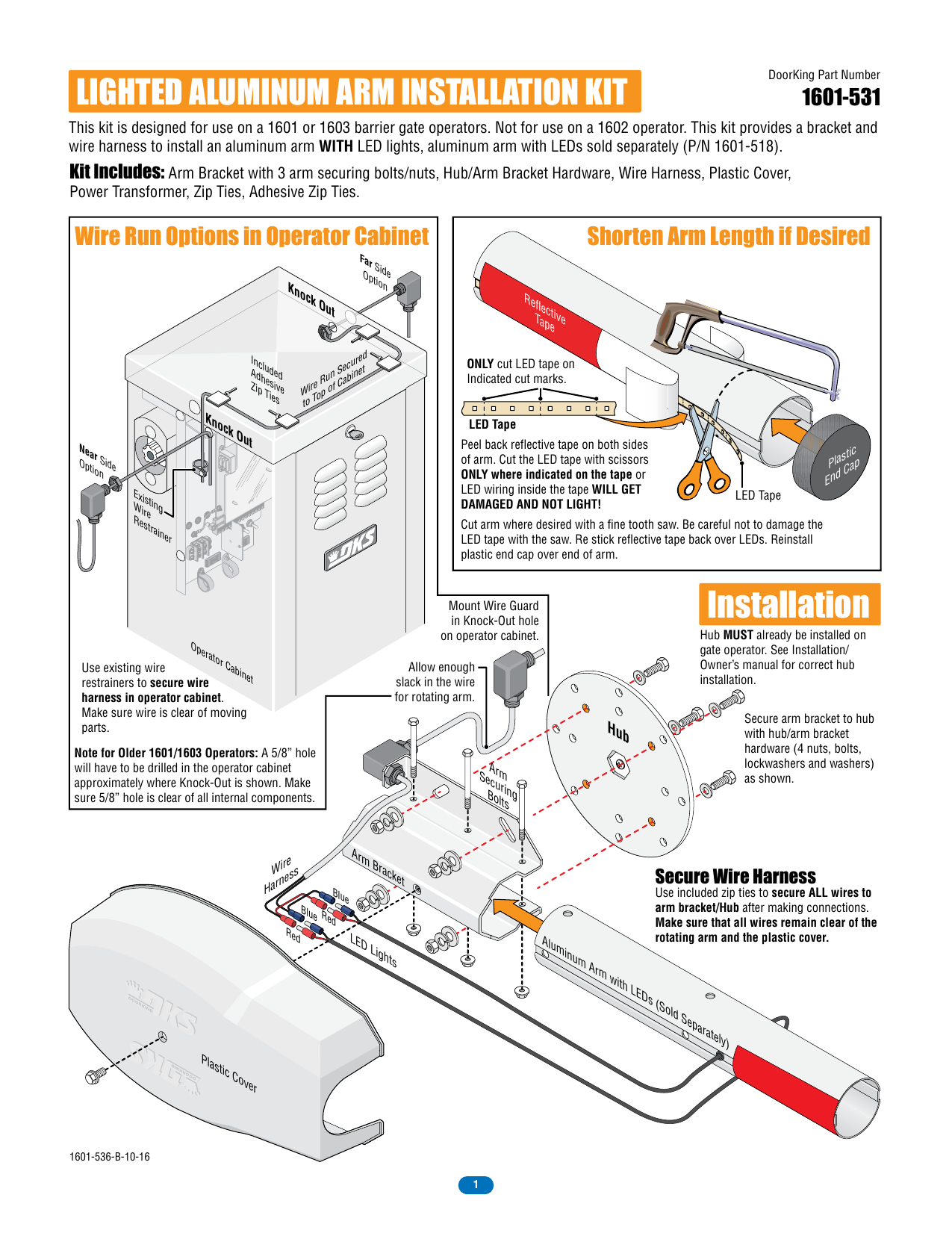 DoorKing Part Number
LIGHTED ALUMINUM ARM INSTALLATION KIT
1601-531
This kit is designed for use on a 1601 or 1603 barrier gate operators. Not for use on a 1602 operator. This kit provides a bracket and
wire harness to install an aluminum arm WITH LED lights, aluminum arm with LEDs sold separately (P/N 1601-518).
Kit Includes: Arm Bracket with 3 arm securing bolts/nuts, Hub/Arm Bracket Hardware, Wire Harness, Plastic Cover,
Power Transformer, Zip Ties, Adhesive Zip Ties.
Wire Run Options in Operator Cabinet
Shorten Arm Length if Desired
Far
S
Op ide
tion
Kn
ock
Re
Ou
flec
Tap tive
e
t
ed
cur
Se inet
n
Ru ab
re f C
Wi op o
T
to
Inc
l
Ad uded
h
Zip esive
Tie
s
ONLY cut LED tape on
Indicated cut marks.
Kn
ock
Ne
ar
Op Side
tion
LED Tape
Ou
t
Peel back reflective tape on both sides
of arm. Cut the LED tape with scissors
ONLY where indicated on the tape or
LED wiring inside the tape WILL GET
DAMAGED AND NOT LIGHT!
Exi
s
Wi ting
re
Re
str
ain
er
stic
Pla Cap
d
En
LED Tape
Cut arm where desired with a fine tooth saw. Be careful not to damage the
LED tape with the saw. Re stick reflective tape back over LEDs. Reinstall
plastic end cap over end of arm.
Installation
Op
Mount Wire Guard
in Knock-Out hole
on operator cabinet.
Hub MUST already be installed on
gate operator. See Installation/
Owner's manual for correct hub
installation.
era
tor
Cab
Use existing wire
ine
t
restrainers to secure wire
harness in operator cabinet.
Make sure wire is clear of moving
parts.
Allow enough
slack in the wire
for rotating arm.
Secure arm bracket to hub
with hub/arm bracket
hardware (4 nuts, bolts,
lockwashers and washers)
as shown.
Hu
b
Note for Older 1601/1603 Operators: A 5/8" hole
will have to be drilled in the operator cabinet
approximately where Knock-Out is shown. Make
sure 5/8" hole is clear of all internal components.
A
Secrm
ur
Bo ing
lts
Arm
re
Wi ss
e
n
r
Ha
Bra
c
Secure Wire Harness
ket
Blu
Use included zip ties to secure ALL wires to
arm bracket/Hub after making connections.
Make sure that all wires remain clear of the
rotating arm and the plastic cover.
e
Blu
e Red
Re
d
LED
Alu
min
Lig
hts
um
Arm
wit
hL
ED
s(
So
ld S
epa
rat
Pla
stic
Co
ver
1601-536-B-10-16
1
ely
)
DoorKing Part Number
Power Arm LEDs from Operator
01
Connect power transformer to 115 VAC power.
Use existing wire restrainers and included zip ties to secure wire.
Make sure all wires are clear of moving parts.
Wire
Harness
1601-531
16
Plug power transformer into wire harness.
/16
03
re
i
gW
stin ner
i
x
E trai
s
Re
AC e
5 V nc
11 venie
n
Co et
tl
Ou
BlackRed+
Tra
n
sfo
rm
r er
we
Po sform
n
Tra
er
Plu
g
Wire Schematic for LEDs to Operator
Wire Guard
115 VAC
Convenience Outlet
Wire Harness
Blue-
Power
Transformer
Red+
Allow enough
slack in wire
for rotating arm.
Blue-
LED Lights
Black-
Red+
12 V
Red+
LED Lights are on Arm P/N 1601-518 (Sold Separately)
Plastic Cover
Manual Release when NO "convenience open" or "manual release kit" are used
To manually release an aluminum arm when
NO convenience open or manual release kit
are being used:
Hu
1
2
b
3
W
Gu ire
ard
Wi
r
Ha e
rn
ess
Po
w
Tra er
nsf
orm
er
Un-plug power transformer
from wire harness.
1601-536-B-10-16
Un-bolt arm from the hub
(4 bolts) and remove arm.
Ha Wire
rne
ss
Un-screw wire guard and remove
wire harness from operator.
Copyright 2016 DoorKing, Inc. All rights reserved.
2
120 S. Glasgow Avenue
Inglewood, California 90301 U.S.A.

* Your assessment is very important for improving the work of artificial intelligence, which forms the content of this project