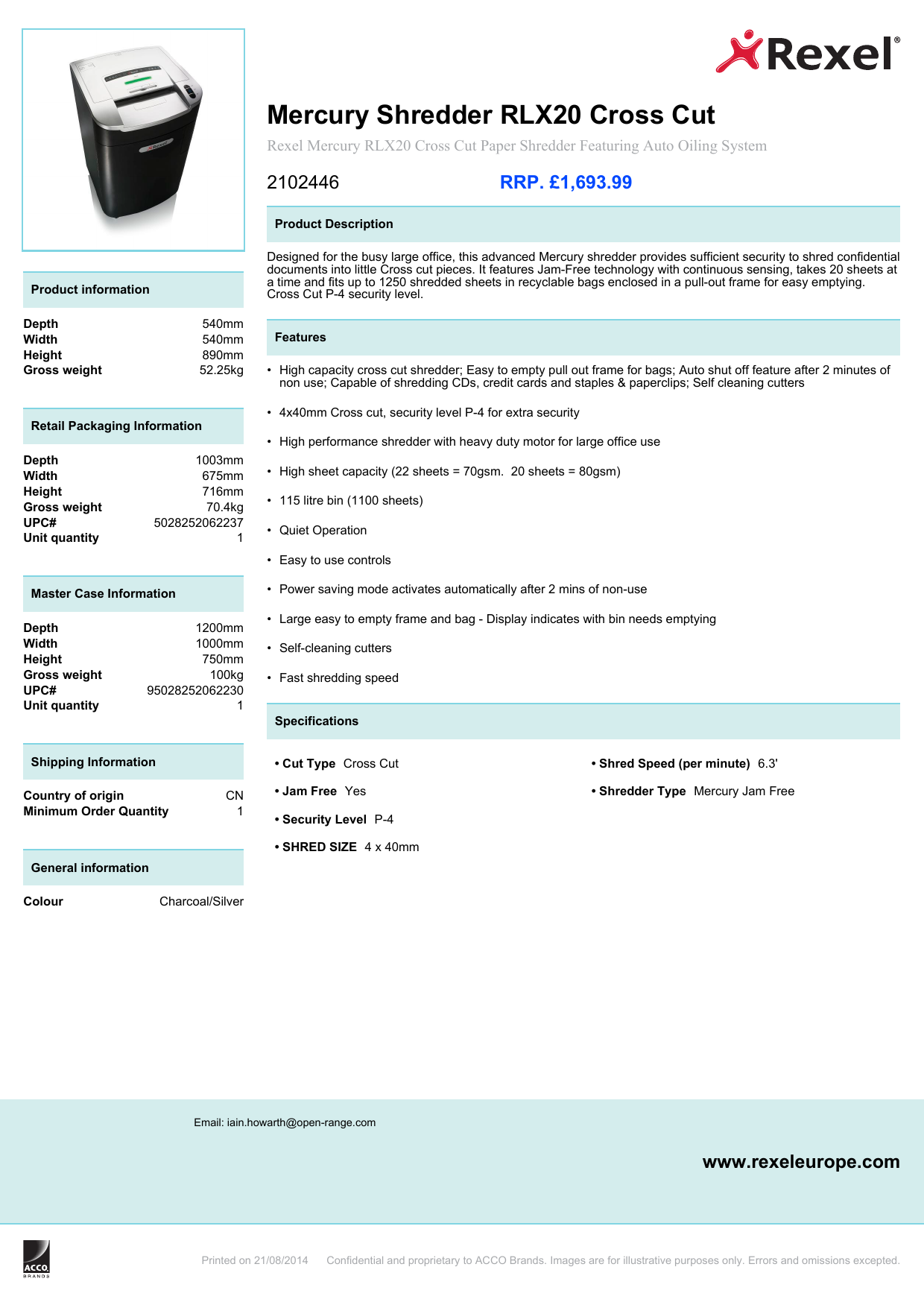 Mercury Shredder RLX20 Cross Cut
Rexel Mercury RLX20 Cross Cut Paper Shredder Featuring Auto Oiling System
2102446
RRP. £1,693.99
Product Description
Designed for the busy large office, this advanced Mercury shredder provides sufficient security to shred confidential
documents into little Cross cut pieces. It features Jam-Free technology with continuous sensing, takes 20 sheets at
a time and fits up to 1250 shredded sheets in recyclable bags enclosed in a pull-out frame for easy emptying.
Cross Cut P-4 security level.
Product information
Depth
Width
Height
Gross weight
540mm
540mm
890mm
52.25kg
Features
• High capacity cross cut shredder; Easy to empty pull out frame for bags; Auto shut off feature after 2 minutes of
non use; Capable of shredding CDs, credit cards and staples & paperclips; Self cleaning cutters
• 4x40mm Cross cut, security level P-4 for extra security
Retail Packaging Information
• High performance shredder with heavy duty motor for large office use
Depth
Width
Height
Gross weight
UPC#
Unit quantity
1003mm
675mm
716mm
70.4kg
5028252062237
1
• High sheet capacity (22 sheets = 70gsm. 20 sheets = 80gsm)
• 115 litre bin (1100 sheets)
• Quiet Operation
• Easy to use controls
• Power saving mode activates automatically after 2 mins of non-use
Master Case Information
Depth
Width
Height
Gross weight
UPC#
Unit quantity
1200mm
1000mm
750mm
100kg
95028252062230
1
• Large easy to empty frame and bag - Display indicates with bin needs emptying
• Self-cleaning cutters
• Fast shredding speed
Specifications
Shipping Information
Country of origin
Minimum Order Quantity
CN
1
• Cut Type Cross Cut
• Shred Speed (per minute) 6.3'
• Jam Free Yes
• Shredder Type Mercury Jam Free
• Security Level P-4
• SHRED SIZE 4 x 40mm
General information
Colour
Charcoal/Silver
Email: iain.howarth@open-range.com
www.rexeleurope.com
Printed on 21/08/2014
Confidential and proprietary to ACCO Brands. Images are for illustrative purposes only. Errors and omissions excepted.

* Your assessment is very important for improving the work of artificial intelligence, which forms the content of this project