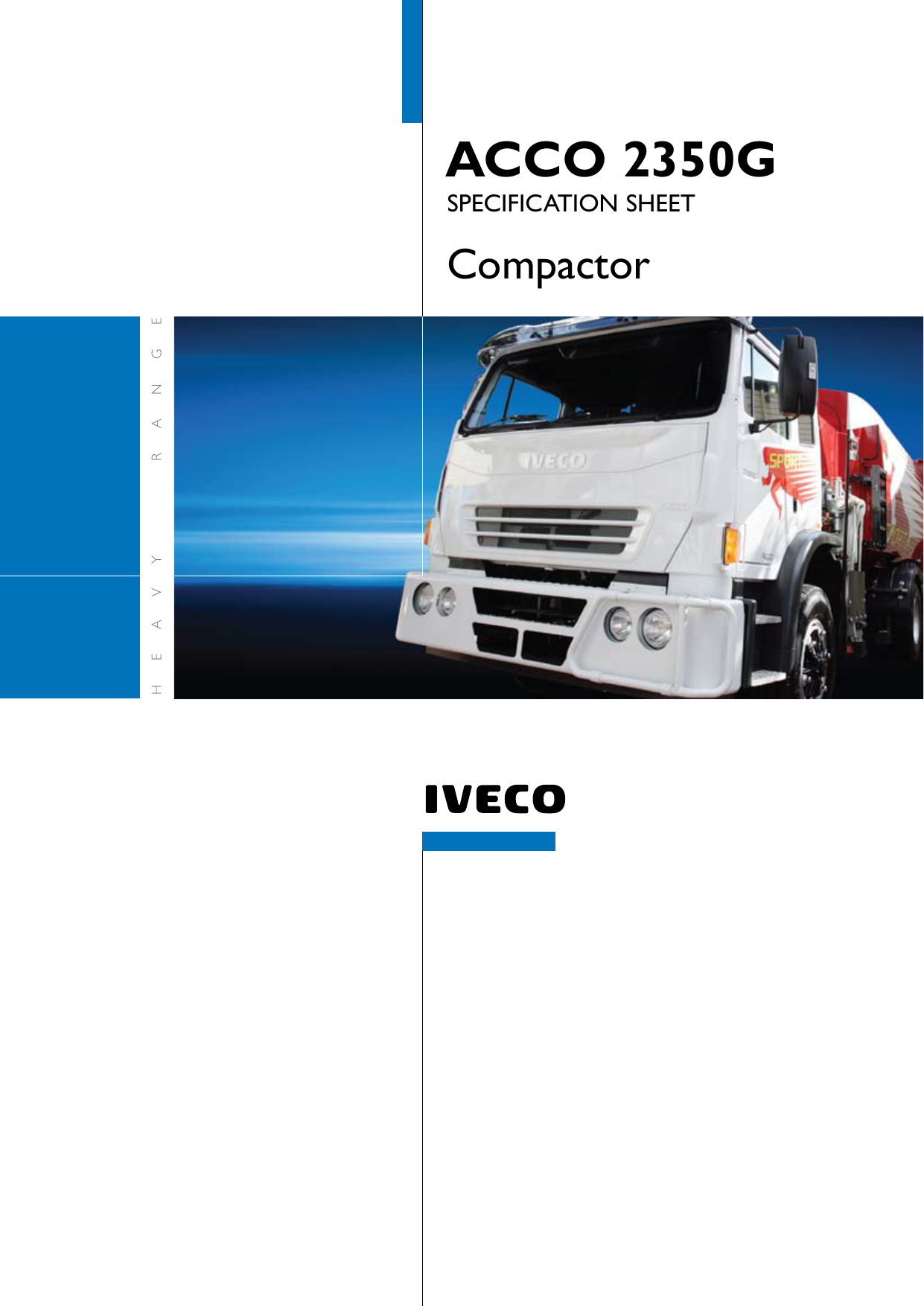 ACCO 2350G
specification sheet
H
E
A
V
Y
r
a
n
g
e
Compactor
ACCO 2350G Compactor - Single and Dual Control
ENGINE
Cummins ISC-05 (ADR80/02 approved)
Type: Turbocharged, constant pressure direct injected diesel engine
with cruise control and programmable hand throttle/ PTO control.
Number of cylinders
6
RAC HP rating 48.4
Total displacement
8.3 litre
Maximum output 260hp (194kW) @ 2000rpm
Maximum torque
800 lb ft (1085Nm) @ 1300rpm
Maximum output 285hp (213kW) @ 2000rpm
Maximum torque
800 lb ft (1085Nm) @ 1300rpm
Maximum output 315hp (235kW) @ 2000rpm
Maximum torque
950 lb ft (1288Nm) @ 1300rpm
Governed engine speed: 2200rpm.
Clutch engagement torque: 678Nm.
Road speed limiting to 100kmh.
Idle timer. Perforated muffler heat shield.
Donaldson Cyclopac 356mm dry element air cleaner.
Optional: Exhaust brake.
TRANSMISSIONS
Allison Gen 4 3000 5 speed automatic in 4x2.
Allison Gen 4 3500 5 speed automatic in 6x4.
Allison Gen 4 3500 6 speed automatic in 8x4.
Allison Gen 4 3200 6 speed automatic with 315hp.
Eaton RTLO-12913 13 speed constant mesh.
Rear engine PTO with pump mounting bracket (manual only).
Transmission-mounted Chelsea PTO, 1.16 times engine speed with
pump mounting brackets (automatic only).
REAR AXLE
Meritor RS23-161 (for 4x2)
Capacity: 10.4 tonne.
Ratios: 5.38
Optional: Driver-controlled differential locks.
Meritor MT20-145G (for 6x4 or 8x4) (Same as RT40-145G)
Capacity: 18.1 tonne.
Ratios: 5.29, 6.43.
Optional: Driver controlled differential locks both axles.
REAR SUSPENSION
International 3 Rod Vari-rate (for 4x2)
Type: Mechanical Spring with variable rate
Capacity: 11.0 tonne.
Hendrickson PRIMAAX PAX230 (for 4x2)
Type: Air with shock absorbers and dump control.
Capacity: 10.0 tonne.
Hendrickson PRIMAAX PAX460 (for 6x4 or 8x4)
Type: Air with shock absorbers and dump control.
Capacity: 18.0 tonne.
Hendrickson HN402 (for 6x4 or 8x4)
Type: Walking Equalizing beam with rubber bolster VariRate
springs and shock absorbers.
Capacity: 18.0 tonne.
FRONT AXLE
Dana I-140SG
Type: Forged steel I beam.
Capacity: 6.6 tonne.
FRONT SUSPENSION
Single steer type: HD Multi-leaf springs with threaded pins and bushes
and double acting shock absorbers.
Capacity: 7.2 tonne.
Twin Steer type: HD Multi-leaf springs with threaded pins and bushes
and double acting shock absorbers.
Capacity: 13.4 tonne.
Optional:
Airtek: Air suspension with integrated axle, leaf springs and shock
absorbers.
Capacity: 6.6 tonne (single steer) 13.2 tonne (twin steer)
BRAKES
Type: Dual air S cam.
Front: Meritor Q-Plus 419mm diameter x 152mm drum brakes.
Rear: Meritor Q-Plus 419mm diameter x 178mm drum brakes.
Park: Front park brake on 4x2.
Automatic slack adjusters. Truckmaster air drier with timed interval
moisture ejection. Air exhaust mufflers.
STEERING
Sheppard M110 power steering with gear-driven pump.
Tilting and telescoping steering column with 463mm diameter
steering wheel (right-hand drive models only).
FUEL SYSTEM
270-litre cylindrical aluminium tanks mounted right hand side of
chassis. Engine mounted paper element fuel filter.
CHASSIS
Type: High tensile, heat treated, alloy steel channel.
Yield strength: 760 MPa.
Standard chassis dimensions: 257mm x 89mm x 8mm.
Standard section modulus: 243cm3 per side.
Heavy-duty centrally-mounted front towing pin.
Square end of frame.
Steel bumper bar.
Nudge bar fitted to left hand side (dual control only).
FUPD for all 4x2 and 6x4 models.
Localised L-wrap reinforcement (8x4 models only) for fixed bodies
Mounting bracket for hydraulic pump (automatic models only).
Optional: Mounting bracket for hydraulic pump (manual models only)
Full channel reinforcement for tipping bodies 8x4 models only
Inverted L reinforcement for applications requiring additional frame
reinforcement.
ELECTRICAL SYSTEM
Type: 12 volt, negative to earth.
Batteries: 3 x 12V, 550amp SAE cold cranking current, maintenance
free.
Alternator: 12V 100amp.
Headlamps: 60/55 watt circular quartz halogen.
Driving lights: 55 watt circular quartz halogen.
Reverse warning buzzer.
Isolation switch (Iveco Two Pole) mounted on battery box
Front left hand indicator guard.
Optional: Cab roof mounted revolving amber light.
CLUTCH
Eaton SAS 1402 twin plate ceramic with manual transmission.
Diameter: 356mm.
Lining area: 1208cm2.
WHEELS & TYRES
Wheels: 6-spoke cast hubs with 8.25 x 22.5 DC,
Front tyres: Michelin XZE2+ 295/80R22.5 (6.5 tonne FA rating.)
11R22.5 for 8x4. Tubeless radial
Rear tyres: Michelin XDE2+ 11R22.5 tubeless radial.
Spare rim supplied loose.
Optional:
335PCD steel 10-stud disc wheels.
Spare wheel carrier (supplied loose).
Alternative Michelin tyre sizes and tread patterns available.
COOLING SYSTEM
Radiator area: 5049cm2.
Charge cooler frontal area: 4461cm2 up to 285Hp &
5015 cm2 for 315Hp.
Air to oil transmission cooler for automatic models
mounted on the chassis.
Viscous drive fan, crankshaft driven.
Supplementary cooling fan.
Heavy duty radiator guard and stone shield.
DRIVESHAFTS
Spicer 1810 Series main shaft with Eaton transmission.
Spicer 1710 Series main shaft with Allison transmission.
Spicer 1710 Series inter-axle shaft with all transmissions.
CAB
Construction
2180mm wide galvanized steel cab with hydraulic lift and latch.
Four-point cab mounting system with rubber block front and air
springs dampers at the rear.
Double-sided zinc steel exterior and floor panels.
Electro-phoretic deposited undercoat with acrylic hi-bake enamel
finishing coat.
Laminated safety glass windscreen, toughened safety glass elsewhere.
ACCO 2350G Compactor - Single and Dual Control
MASS RATINGS
GVM 4x2
16.5 tonne
GCM 4x2
25.0 tonne
GVM 6x4
24.5 tonne
GCM 6x4
30.0 tonne
GVM 8x4
30.0 tonne
GCM 8x4
30.0 tonne
All ratings apply with suitably rated engine, transmission, suspension and
tyres. GVM, GCM, driveline, frame, and suspension combinations are
subject to application engineering review.
Chassis DIMENSIONS (dimensions in mm)
4x2
WB
4400
5000
5500
AF
1720
1440
1440
CA
4030
4630
5130
L
7630
7950
8450
14690
16980
18700
Turning circle£
Features
Isringhausen air-suspended driver's seat with integral lap/sash
seat belt, fore aft isolator and adjustable lumbar support.
Isringhausen fixed passenger's seat with integral lap/sash seat belt.
Air suspended seat standard on dual control.
Power Windows.
Air conditioning with pollen filter.
Triple electric 2-speed windscreen wipers/washers with
intermittent speed.
Heater-demister with 3-speed fan including face level vents.
Twin speaker, AM/FM radio/CD with auto tune, digital clock and
removable face security.
Heated west coast type heated mirrors with convex section.
Jack, rim wrench, handle and extension.
Interior and exterior sunvisors.
Chassis-mounted dual air horns.
In-cab body builder electrical and air supplies including remote
PTO throttle wiring connectors and 12V accessory socket.
Heavy duty trim package comprising heavy duty Urathane floor
mats, passenger foot rest, door scuff plates.
Optional:
Remotely operated motorised mirrors (standard on dual control
models).
Fixed double (bench) passenger seat (single control only).
Overhead console.
Chassis prepared for key suppliers.
CAB Optional:
6x4
WB
AF
CA
L Turning circle£
8x4
WB
AF
CA
L
Turning circle£
Chassis Width: Standard 867
Dual control pack
Standard ACCO cab with dual controls and air suspended
driver and passenger seats. Comprising dual instrument panel,
transmission temperature gauge, water temperature gauge, heated
and motorised mirrors, air suspended seat and unique wiper
pattern on left-hand side of vehicle.
Instrumentation
Gauges: Electronic speedometer and tachometer, dual needle
air pressure, coolant temperature, engine oil pressure, automatic
transmission temperature (RHS only), voltmeter, hour meter and
fuel level.
Warning lights: Brake failure, park brake activated, low engine oil
pressure, turn signal on, hazard lights activated, high beam activated,
cab latch insecure, power divider lock activated, driver controlled
diff locks activated, PTO activated, cruise control activated, engine
ECU failure and low coolant level.
Warning buzzer: Low brake air pressure, low oil pressure, low auto
transmission coolant level and park brake on with door open.
4800
1870
4430
8180
19740
5000
1740
4630
8250
20560
5840
2100
5470
9450
21430
With reinforcement 883
£For unladen cab-chassis. For wall-to-wall turning circle add 1740 mm. Refer
to
Bodybuilder diagrams for fuel tank lengths, locations and further details.
Suspension (dimensions in mm)
B
C
D
Laden Unladen
International 3 Rod VariRate 4x2
Hendrickson PAX230 4x2 Hendrickson PAX460 6x4 & 8x4 Hendrickson HN402 6x4 & 8x4 5200
1640
4830
8350
21390
-
-
664
650
-
-
669
694
944
987 987
964
1037
987
987
1041
E
105
105
114
172
ACCO 2350G
Important
Compactor
The specifications and images ("material") in this brochure were correct at the time
of publication but are subject to change without notice. The material is provided by
way of general description only and all measurements and specifications should be
regarded as approximate. Images are for illustration purposes only and may show
non-standard options and aftermarket accessories. Availability of vehicles and all
other items referred to in this brochure will depend on local and overseas supply
conditions and vary from time to time. Accordingly, before placing an order you
should consult your nearest authorised Iveco dealer to obtain accurate and up to
date information on model specifications, features, availability and pricing.
Iveco Trucks
Australia Limited
ABN 86 004 065 061
Princes Hwy,
Dandenong Victoria 3175
www.iveco.com.au
email: iveco@iveco.com.au
2350GC SS (February 08)
The information in this literature is intended to be of general
nature only. Iveco reserves the right to modify or change
specifications at any time. For more detailed information
refer to your dealer.