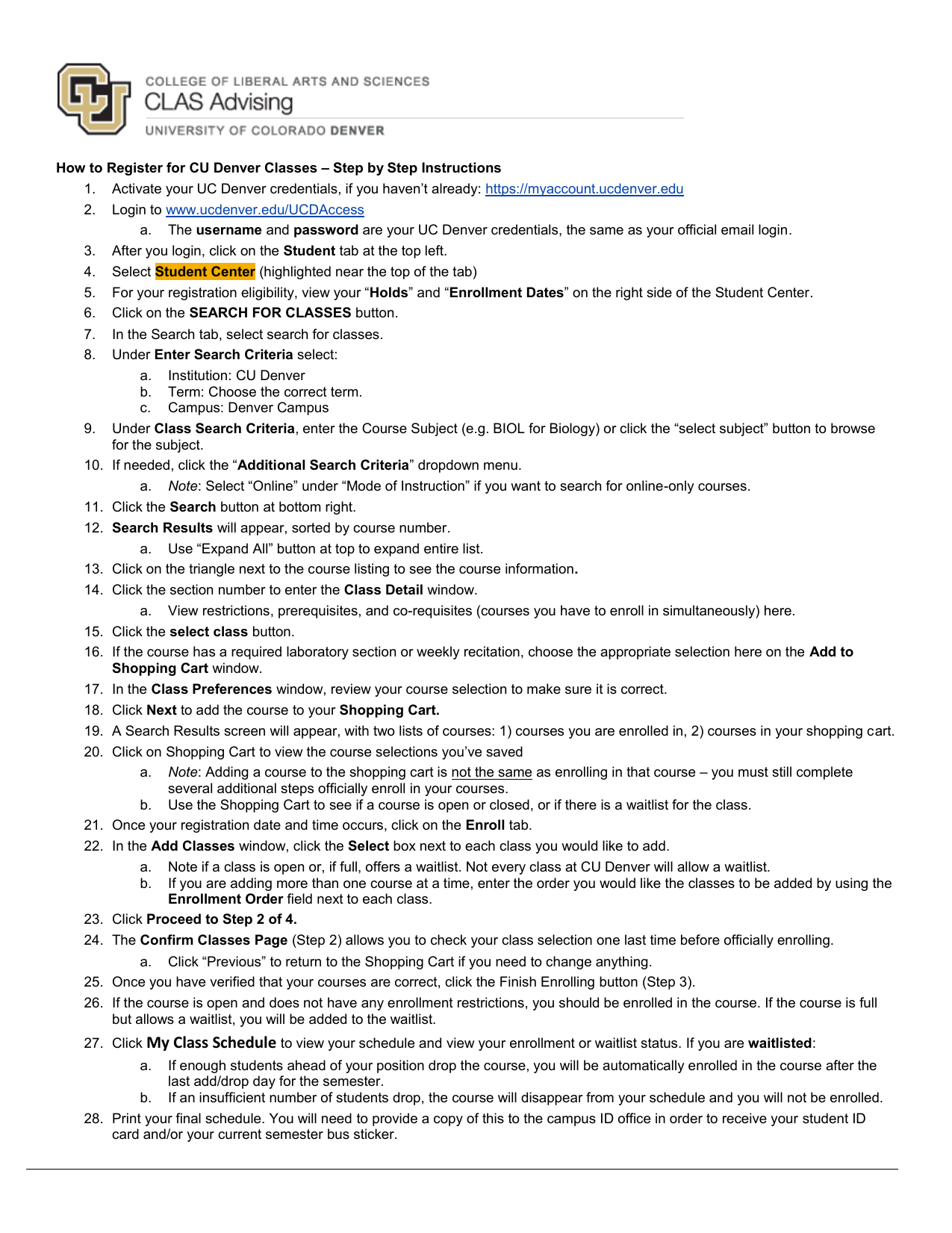 How to Register for CU Denver Classes – Step by Step Instructions
3.
4.
5.
6.
Activate your UC Denver credentials, if you haven't already: https://myaccount.ucdenver.edu
Login to www.ucdenver.edu/UCDAccess
a. The username and password are your UC Denver credentials, the same as your official email login.
After you login, click on the Student tab at the top left.
Select Student Center (highlighted near the top of the tab)
For your registration eligibility, view your "Holds" and "Enrollment Dates" on the right side of the Student Center.
Click on the SEARCH FOR CLASSES button.
7.
8.
In the Search tab, select search for classes.
Under Enter Search Criteria select:
1.
2.
a. Institution: CU Denver
b. Term: Choose the correct term.
c. Campus: Denver Campus
9. Under Class Search Criteria, enter the Course Subject (e.g. BIOL for Biology) or click the "select subject" button to browse
for the subject.
10. If needed, click the "Additional Search Criteria" dropdown menu.
a. Note: Select "Online" under "Mode of Instruction" if you want to search for online-only courses.
11. Click the Search button at bottom right.
12. Search Results will appear, sorted by course number.
a. Use "Expand All" button at top to expand entire list.
13. Click on the triangle next to the course listing to see the course information.
14. Click the section number to enter the Class Detail window.
15.
16.
17.
18.
a. View restrictions, prerequisites, and co-requisites (courses you have to enroll in simultaneously) here.
Click the select class button.
If the course has a required laboratory section or weekly recitation, choose the appropriate selection here on the Add to
Shopping Cart window.
In the Class Preferences window, review your course selection to make sure it is correct.
Click Next to add the course to your Shopping Cart.
19. A Search Results screen will appear, with two lists of courses: 1) courses you are enrolled in, 2) courses in your shopping cart.
20. Click on Shopping Cart to view the course selections you've saved
a. Note: Adding a course to the shopping cart is not the same as enrolling in that course – you must still complete
several additional steps officially enroll in your courses.
b. Use the Shopping Cart to see if a course is open or closed, or if there is a waitlist for the class.
21. Once your registration date and time occurs, click on the Enroll tab.
22. In the Add Classes window, click the Select box next to each class you would like to add.
a.
b.
Note if a class is open or, if full, offers a waitlist. Not every class at CU Denver will allow a waitlist.
If you are adding more than one course at a time, enter the order you would like the classes to be added by using the
Enrollment Order field next to each class.
23. Click Proceed to Step 2 of 4.
24. The Confirm Classes Page (Step 2) allows you to check your class selection one last time before officially enrolling.
a. Click "Previous" to return to the Shopping Cart if you need to change anything.
25. Once you have verified that your courses are correct, click the Finish Enrolling button (Step 3).
26. If the course is open and does not have any enrollment restrictions, you should be enrolled in the course. If the course is full
but allows a waitlist, you will be added to the waitlist.
27. Click My Class Schedule to view your schedule and view your enrollment or waitlist status. If you are waitlisted:
a.
If enough students ahead of your position drop the course, you will be automatically enrolled in the course after the
last add/drop day for the semester.
b. If an insufficient number of students drop, the course will disappear from your schedule and you will not be enrolled.
28. Print your final schedule. You will need to provide a copy of this to the campus ID office in order to receive your student ID
card and/or your current semester bus sticker.

* Your assessment is very important for improving the work of artificial intelligence, which forms the content of this project