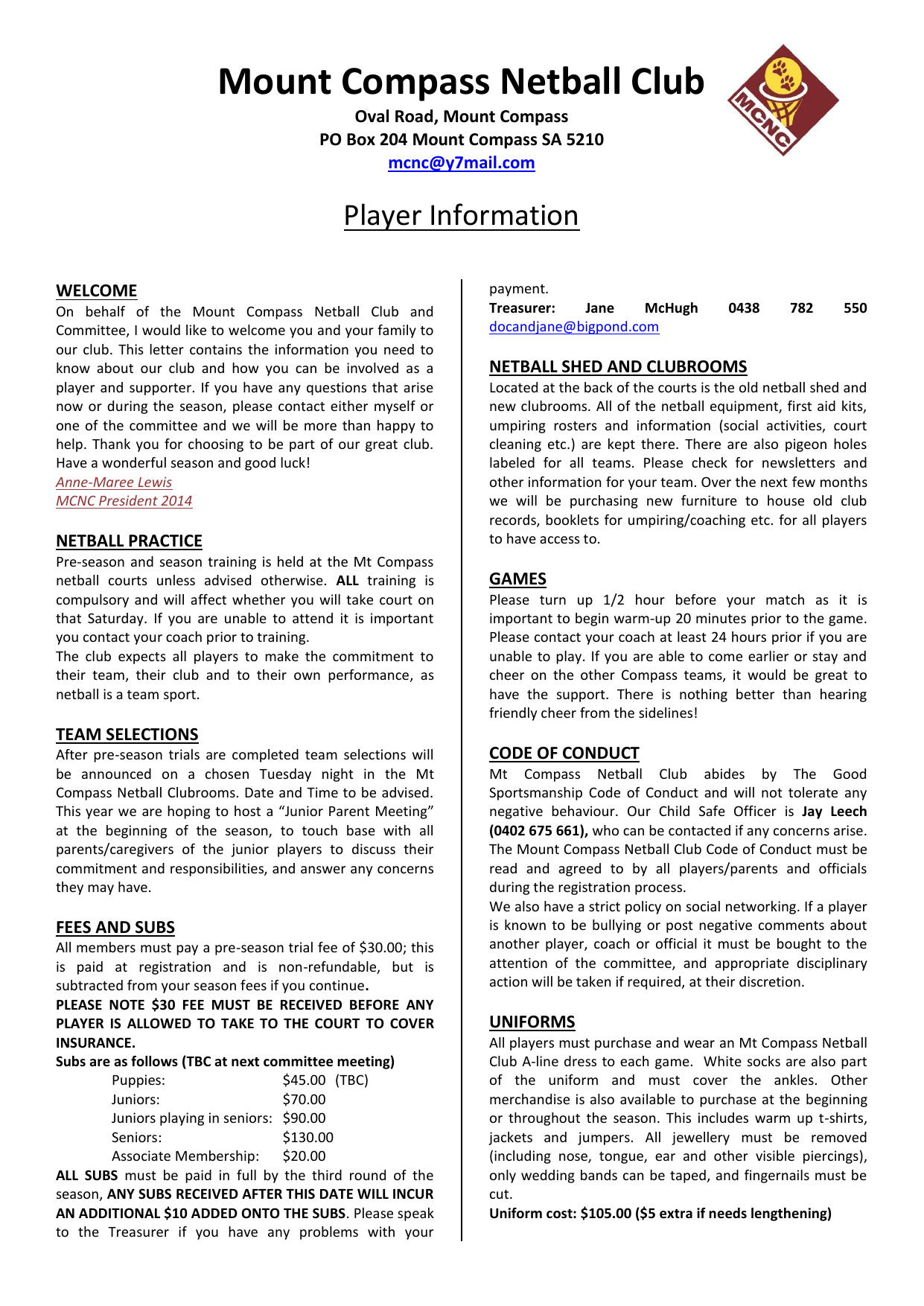 Mount Compass Netball Club
Oval Road, Mount Compass
PO Box 204 Mount Compass SA 5210
mcnc@y7mail.com
Player Information
WELCOME
On behalf of the Mount Compass Netball Club and
Committee, I would like to welcome you and your family to
our club. This letter contains the information you need to
know about our club and how you can be involved as a
player and supporter. If you have any questions that arise
now or during the season, please contact either myself or
one of the committee and we will be more than happy to
help. Thank you for choosing to be part of our great club.
Have a wonderful season and good luck!
Anne-Maree Lewis
MCNC President 2014
NETBALL PRACTICE
Pre-season and season training is held at the Mt Compass
netball courts unless advised otherwise. ALL training is
compulsory and will affect whether you will take court on
that Saturday. If you are unable to attend it is important
you contact your coach prior to training.
The club expects all players to make the commitment to
their team, their club and to their own performance, as
netball is a team sport.
payment.
Treasurer:
Jane
McHugh
docandjane@bigpond.com
0438
782
550
NETBALL SHED AND CLUBROOMS
Located at the back of the courts is the old netball shed and
new clubrooms. All of the netball equipment, first aid kits,
umpiring rosters and information (social activities, court
cleaning etc.) are kept there. There are also pigeon holes
labeled for all teams. Please check for newsletters and
other information for your team. Over the next few months
we will be purchasing new furniture to house old club
records, booklets for umpiring/coaching etc. for all players
to have access to.
GAMES
Please turn up 1/2 hour before your match as it is
important to begin warm-up 20 minutes prior to the game.
Please contact your coach at least 24 hours prior if you are
unable to play. If you are able to come earlier or stay and
cheer on the other Compass teams, it would be great to
have the support. There is nothing better than hearing
friendly cheer from the sidelines!
TEAM SELECTIONS
After pre-season trials are completed team selections will
be announced on a chosen Tuesday night in the Mt
Compass Netball Clubrooms. Date and Time to be advised.
This year we are hoping to host a "Junior Parent Meeting"
at the beginning of the season, to touch base with all
parents/caregivers of the junior players to discuss their
commitment and responsibilities, and answer any concerns
they may have.
FEES AND SUBS
All members must pay a pre-season trial fee of $30.00; this
is paid at registration and is non-refundable, but is
subtracted from your season fees if you continue.
PLEASE NOTE $30 FEE MUST BE RECEIVED BEFORE ANY
PLAYER IS ALLOWED TO TAKE TO THE COURT TO COVER
INSURANCE.
Subs are as follows (TBC at next committee meeting)
Puppies:
$45.00 (TBC)
Juniors:
$70.00
Juniors playing in seniors: $90.00
Seniors:
$130.00
Associate Membership:
$20.00
ALL SUBS must be paid in full by the third round of the
season, ANY SUBS RECEIVED AFTER THIS DATE WILL INCUR
AN ADDITIONAL $10 ADDED ONTO THE SUBS. Please speak
to the Treasurer if you have any problems with your
CODE OF CONDUCT
Mt Compass Netball Club abides by The Good
Sportsmanship Code of Conduct and will not tolerate any
negative behaviour. Our Child Safe Officer is Jay Leech
(0402 675 661), who can be contacted if any concerns arise.
The Mount Compass Netball Club Code of Conduct must be
read and agreed to by all players/parents and officials
during the registration process.
We also have a strict policy on social networking. If a player
is known to be bullying or post negative comments about
another player, coach or official it must be bought to the
attention of the committee, and appropriate disciplinary
action will be taken if required, at their discretion.
UNIFORMS
All players must purchase and wear an Mt Compass Netball
Club A-line dress to each game. White socks are also part
of the uniform and must cover the ankles. Other
merchandise is also available to purchase at the beginning
or throughout the season. This includes warm up t-shirts,
jackets and jumpers. All jewellery must be removed
(including nose, tongue, ear and other visible piercings),
only wedding bands can be taped, and fingernails must be
cut.
Uniform cost: $105.00 ($5 extra if needs lengthening)
UMPIRES
Our Club MUST supply one umpire for all games, which is
why EVERY senior player is required to umpire 1 game
during the season. Umpire rosters are on the information
board in the netball shed. This year we will be trialing a new
system, which will encourage players to nominate which
game they would like to umpire during the year, making it
easier to fit in to everyone's lifestyle. Any problems with
the roster must be dealt with between the player and the
executive committee, prior to the game day. There will be a
$15 fee if you choose not to do your umpiring shift.
If you are interested in becoming a club umpire we can help
train you and offer umpiring courses through the GSNA.
SATURDAY NIGHT PRESENTATION
Every Saturday night we meet in the Mt Compass Sports
and Social Club at 6:30pm, in conjunction with the Football
Club to announce all the scores for the day and The Players
Auction Award (Best players - senior grades only). Awards
st
nd
are given for that game for the 1 and 2 best players and
are usually vouchers for meals, haircuts, bottles of wine etc.
To claim these awards you must be there.
Meals are available from 6pm till 8.30pm and are very well
priced, kids menu is available and are welcomed.
NEWSLETTER
A newsletter is distributed on a regular basis to all players,
coaches and officials throughout the season. They will be
emailed, placed on court shed information boards as well
distributed to players on training nights if required. These
detail information about coming events, rosters, successful
players etc. If you have anything that needs a mention,
please contact the secretaries at mcnc@y7mail.com **This
is one of our main forms or communication, especially to
parents.
presented with their team awards. All partners are
welcome and of late we have been going out to a local
winery or golf club to celebrate. Not to be missed! Our
Junior Presentations are held the next day for lunch with
everyone asked to bring a plate of food to share.
COMMITTEE MEETING
Every month on a Tuesday (date and time advertised in the
MCNC newsletter) the MCNC Committee meets in the
clubrooms. Come and have a say or just come to hear
what's happening in your club. All are welcome and
encouraged to attend!
Please feel free at any time to approach your coach or a
committee member with any questions or concerns. All
concerns can be confidential if required.
Enjoy your season
Most of all have FUN, PLAY HARD and FAIR and support
your club
COMMITTEE MEMBERS
President
Anne-Maree Lewis
0405 444 441
Vice President
Katie McHugh
0417 896 468
Treasurer
Jane McHugh
0438 782 550
Secretaries
Susan McKenzie
Megan Smith
0417 843 896
0418 809 278
Recording Secretary
Heather Mitchell
0438 814 037
Senior Coaches Coordinator
EVENTS & FUNDRAISING
Throughout the season there will be a number of fantastic
events and fundraising we have organized to raise money
for the netball club we encourage you all to support these
events. If anyone has some ideas for events or fundraising
we welcome their suggestions. A Calendar of the season's
events will be given out at the beginning of the season.
VOLUNTEERING
Volunteers are an extremely important part of the Mount
Compass Netball Club so we therefore require each of you
to contribute to not only playing but behind the scene
activities as well. During the season we require players to
volunteer some of their time to help with the running of
the club. Some of these jobs are money raisers, so by
pitching in we all benefit. Also, by making the Saturday's
run smoothly by helping in the canteen, cleaning courts,
being a team manager etc. are all beneficial. Working bees
are usually held around the club a couple of times
throughout the year, and help is always needed.
END OF SEASON PRESENTATIONS
This is held after the finals each year, hopefully to celebrate
a win but also a great season of sport, fun and friendship.
The seniors have a sit down dinner where all grades are
Olivia Binns
0423 220 748
Junior Coaches Coordinators
Jay Leech
0402 675 661
Child Safe Officer
Jay Leech
0402 675 661
General Committee Kylie Connor, Olivia Binns, Kiara
Edwards, Kelly Hicks, Ruth Harvey, Nancy Kleining, Jay
Leech, Mandy Brokenshire
SPONSORS
Thank you to the following sponsors for their continuing
support
Compass Feeds
Cleland Veal
Fleurieu Milk
Fox Creek Wines
Gary Slade Master Plumbers
Mt Compass Gourmet Country Butchers
Mount Compass Tavern
Mt Compass Mechanical
Hair Compass
RL Brokenshire – Family First
Please support the businesses that support us!