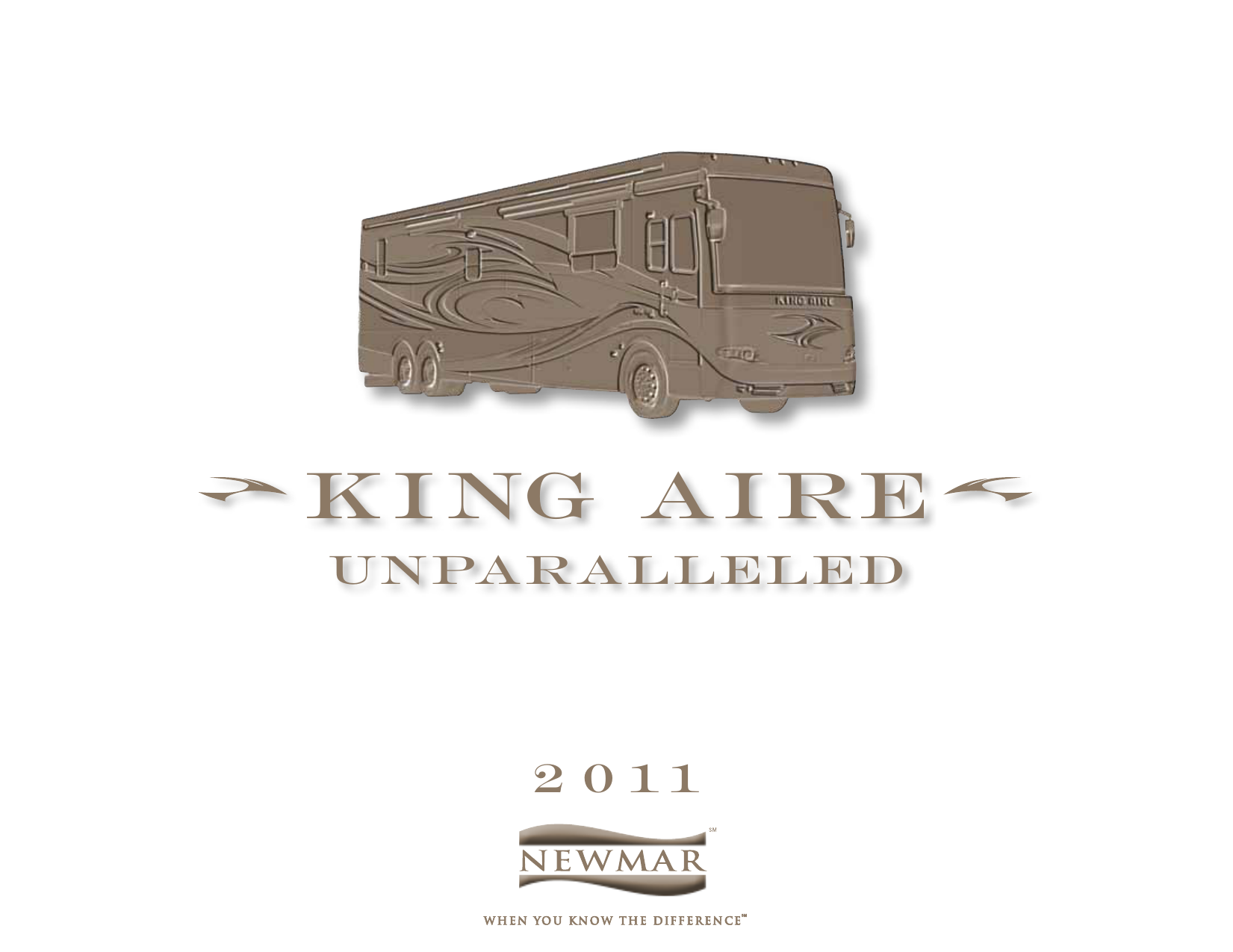 K I NG A I RE
UNPARALLELED
2 0 11
THE COACH F I T F O R R OYA LT Y.
When you are ready for the ultimate in fine motor coaching, King Aire is ready for you. From its 650
horsepower diesel pusher to its fully appointed coach, you'll feel pampered at every stop along the way
– and on every mile in between. Its sophisticated contemporary styling envelops you in understated
elegance. As you luxuriate in each thoughtful appointment, sit back and smile. This is truly your time.
!"#
With this much power behind
you, King Aire's Comfort
DriveTM Steering gives you
full control. Dual monitors
and Sirius* Satellite Radio®,
standard, of course.
!"#
*Does not include Sirius subscription
EXPANSIVE LUXURY.
Your King Aire kitchen is ready for even the most discriminating picure, with
(featured finish) hardwood cabinets, solid polished Corian® countertops and
a tile and glass designer backsplash.
!"#
King Aire feels like
a custom built home,
with top of the line
appliances, designer
hardwood cabinets
and a luxurious
Kimona Silk® tile floor.
!"#
The ultimate spa on wheels, at
your service. Relax in the splendor
of your roomy radius door shower
with designer tile details.
A powered dinette table transforms
from coffee table to breakfast nook.
And a 40" Sony® LCD TV with
Dolby Digital surround sound and
Blu Ray DVD player can also power
up your evenings.
*optional
A UNIQUE ARRAY OF FIRST-CLASS FINISHES
We've carefully selected the finest materials for your King Aire. Ultra Leather®, Corian®, fine
designer tiles and peerless hardwoods, in tasteful combinations from rich blacks to deep wines
and soothing taupes. Now comes the hard part. You have to choose.
!"#
Metro
!"#
!"#
Porcelain
!"#
!"#
Portico
!"#
!"#
Vintage
!"#
Soho Cherry - Standard
Rattan Glazed Maple
Ginger Glazed Cherry
Suede Glazed Maple
!"#
As you lounge in your king
size Sleep Number Bed*
with radius corners, you might
want to nudge up the volume
on the remote for your 40"
Sony® flatscreen TV with
Bose Wave® surround sound
with Blu Ray DVD player.
!"#
*Sleep Number Bed is optional.
*All wood finishes are high gloss and interchangeable between decor schemes.
S TA N DA R D F E AT U R E S A N D O P T I O N S
FULLY CONSIDERED FLOORPLANS
2011 STANDARD FEATURES
Each King Aire floorplan has been carefully designed to give you the ultimate in luxury,
comfort and storage amenities. Combine your floorplan selection with your decor and finish
options for the perfect King Aire experience.
CHASSIS FEATURES
UÊSpartan® K3 Chassis with IFS
UÊCummins® ISX 650 hp
UÊAllison® 4000 MH Transmission
UÊTag Axle
UÊAutomatic Traction Control
UÊComfort Drive™ Steering with Power
Column and Adjustable Control
UÊAccuride® ACCU-SHIELD™ NonPolish Aluminum Wheels
UÊHWH® Four-Point Hydraulic Jacks with Single
Touch Control and Chassis Air Leveling
UÊPower Tilt-and-Telescope VIP Smart
Wheel® with Black Leather
UÊMemory Settings for Driver's Seat, Pedals,
Steering Wheel and Exterior Mirrors
UÊCruise Control
UÊRecessed Fuel Fills with Crossover
to Fill from Either Side
UÊBack-Up Alarm
UÊAnti-Lock Braking System
UÊFront and Rear/Tag Disc Brakes
UÊElectronic Chassis Information Display in Dash
UÊTire Pressure Monitor System
UÊChassis Service Center
UÊLeece-Neville 200-Amp Alternator
UÊ200 Gal. Fuel Tank
UÊ55-Degree Cramp Angle
AIR CONDITIONING & HEATING
UÊThree 15M Penguin™ Heat Pump Central Air
Conditioners with Remote Control Thermostat
UÊHydronic Zone Heating System
UÊRoof Air Conditioning Drainage System
APPLIANCES & ACCESSORIES
UÊGE® 30" Profile Advantium™ Microwave Oven
UÊTwo-Burner Recessed Gas Cooktop
UÊPolished Corian® Range Cover
UÊNorcold® 17 Cu.Ft. 4-Door Refrigerator with
Auto Defrost, Icemaker and Water Dispenser
UÊNorcold Freezer on Pullout Tray
UÊWasher/Dryer Prep
UÊSony® 40" LCD TV in Living Area
UÊSony® 40" LCD TV in Bedroom
UÊTrip Tek™ Electronic Travel Information
(Displayed on Rearview Monitor)
UÊSecondary Multiple Touch Screen
UÊVideo Security Cameras with Monitor
UÊSurround Sound System with CD/
DVD/Blu-Ray Player
UÊExterior Entertainment Center with 32" Sony®
LCD TV and AM/FM Radio with CD Player
UÊBose® Wave Radio with CD Player
and Alarm Clock in Bedroom
UÊGarmin® Navigation System Displayed
on Dash Touch Screen Monitor
UÊHigh Definition Component Wiring and
HD-ready Video Switching System
UÊKenwood® AM/FM /Sirius® Satellite Radioready with CD and Touch Screen Monitor (Does
not include SIRIUS® Monthly Subscription)
UÊSony® Blu-Ray CD/DVD Player in Bedroom
UÊ8.5" X 11" Safe
UÊPre-programmed Universal Remote Control
UÊCentral Vacuum with Deluxe Tool Kit
CABINETS & FURNITURE
UÊSoho High Gloss Cherry Hardwood Cabinets
with Fully Overlayed Cabinet Doors
UÊHidden Leaf-Dinette Table with Corian® Top
and Four Chairs (Two Fixed, Two Folding) *
UÊPolished Corian® Countertop in Kitchen
with Undermounted Stainless Steel
Sink and Flush Sink Covers
UÊPolished Corian® Countertop in Bathroom
UÊPolished Corian® Countertop on
Bedroom Nightstands
UÊResidential Style Full Extension
Ball Bearing Drawer Guides
UÊDrawers with Dove Tailed Sides
UÊVilla™ Furniture
UÊUltraleather/Vinyl Heated Driver Seat with EightWay Power, Power Lumbar and Power Recline
UÊUltraleather/Vinyl Heated Passenger Seat
with Eight-Way Power, Power Lumbar,
Power Recline and Power Footrest
UÊCedar Paneling in Rear Wardrobe
UÊKing Bed with Hardwood Raised-Panel Bed Base
ELECTRICAL FEATURES
UÊ12.5 kW Cummins Onan® Diesel Quiet Generator
on Hydraulic Slide and Auto Changeover
UÊ50 Amp Electrical Service with Flexible
Cord on Power Cord Rewind Reel
UÊFour AGM House Batteries on Pullout Tray
UÊ5 Watt Solar Panel
UÊ2,800 Watt Pure Sine Wave-Inverter
with Automatic Generator Start
UÊMidship Side Turn Signals
UÊRecessed Docking Lights
UÊSwitched Receptacle for Engine Block Heater
UÊRecessed Halogen Lights in Ceiling
and Overhead Cabinets
UÊLighted Wardrobes with Automatic Switches
UÊICC Light Flasher Switch
UÊMood Light in Lambrequins, Kitchen
Valance and Bed Base
UÊDaylight Headlight System
EXTERIOR FEATURES
UÊFull-Paint Masterpiece™ Finish with Super
Clear Coat & Front Protective Film
UÊOne-Piece Bonded Windshield
UÊConvex Exterior Chrome Mirrors with
Remote Control, Defrost and Turn Signals
UÊDual Latch Front Door with Power Flush
Stepwell Cover
UÊPower Locking Baggage Doors
UÊ15,000 lb. Towing Hitch with Two
Extra 14 Gauge Wires
UÊHolding Tank Levels Displayed in
Exterior Water Works Compartment
UÊMud Flaps
INTERIOR FEATURES
UÊSculpted Padded Vinyl Ceiling
UÊPower Duo Day/Night Privacy Window Shades
(Windshield and Driver/Passenger Side Windows)
UÊLined Day/Night Pleated Window
Shades and Lambrequins
UÊPolished Corian® Window Sills
UÊPolished Porcelain Floor Tile in Kitchen,
Bathroom, and Entrance Areas
UÊRaised-Panel Interior Passage Doors
UÊPower-Activated Sun Visors
PLUMBING & BATH FEATURES
UÊDemand Water System with Aquajet™ "ES" Pump
UÊThetford™ Aria Sculptured China Stool
(Thetford Vacuum Flush Stool in Rear Baths)
UÊCorian® Shower Walls with Ceramic Tile
Inserts and Solid Surface Shower Pan
UÊThree Monitor Panels (Two in
Front and One in Bedroom)
UÊMANABLOC® Plumbing System
UÊMonoplex Water-Pump Switches Located in
Bathroom, Kitchen and Near Gate Valves
UÊAuto Water-Fill System
UÊWhole House Water Filter
UÊPower Rewind Water-Hose Reel
CONSTRUCTION FEATURES
UÊPower Lock Arms on All Slideout Rooms
WINDOWS, AWNINGS, & VENTS
UÊFrameless Double-Pane Tinted
Safety-Glass Windows
UÊFan-Tastic® Vent with Rain Sensor in
Kitchen Area and Bathroom
UÊDriver's Side Power Window
UÊGirard® Power Bedroom and
Slideout Window Awnings
UÊTwo Girard® Integrated Power Box Side
Awnings with Wind Sensor and Remote
UÊGirard® Power Front Entrance Door Awning
UÊKeyless Entry with Doorbell and Touch Pad
2011 OPTIONAL FEATURES
AIR CONDITIONING & HEATING
UÊElectric Heat Under Floor Tile
APPLIANCES & ACCESSORIES
UÊStackable Washer/240 Volt Dryer
in Full Length Cabinet *
UÊFisher Paykel® Dishdrawer *
UÊAll-Electric Unit; with Whirlpool®
Refrigerator and Four Extra Batteries
UÊSony® 40" LCD TV in Front Overhead Cabinet
UÊRemote-Controlled Rearview Color Camera
UÊKVH R-6 In-Motion Satellite without Receiver
UÊCentral Vacuum with Deluxe Tool Kit
UÊCB Radio with Antenna
UÊSecurity System
UÊExtra Monitor for Navigation
System on Passenger Side
CABINETS & FURNITURE
UÊSuede Glazed Maple High Gloss
Hardwood Cabinets
UÊRattan Maple Glazed High Gloss
Hardwood Cabinets
UÊGinger Glazed Cherry High Gloss
Hardwood Cabinets
UÊUltraleather Hide-A-Bed with Air Mattress/
Dinette Ensemble with Two Folding Chairs *
UÊTwo Leather/Vinyl Recliners *
UÊSleep Number® Air Mattress for Main Bed
UÊTraditional Interior Styling Package:
Cabinet Doors, Passage Doors, Slideout
Fascia, Plumbing Hardware and Sinks
4567
4570
4571
4572
ELECTRICAL FEATURES
UÊRoof-Mounted Spot Light
EXTERIOR FEATURES
UÊLarge Storage Tray with Access
from One Side or Either Side
UÊPower Sliding Storage Tray
INTERIOR FEATURES
UÊPower Silhouette Window Shades
UÊPolished Porcelain Floor Tile
Extended into Bedroom
PLUMBING & BATH FEATURES
UÊAssist Handle in Tub/Shower
*CHECK WITH DEALERSHIP ON FLOORPLAN AVAILABILITY AND COMPLETE LISTING OF FEATURES.
4574
UNRIVALED KING AIRE CONSTRUCTION
No doubt about it. The Spartan® K3 chassis, with its hefty 20,000 lb. IFS (Independent Front Suspension), is
the strongest, highest performing coach ever built. Its web of tubular truss frames and substructure support
beams form a foundation stable enough to allow extensive passthrough storage. This and King Aire's GVWR
of 54,000 pounds, with a 14,000 pound tag axle, allows the coach to expand beyond the chassis footprint,
giving you precious extra living space. And with its powerful Cummins® ISX 650 Hp engine, you get the
ultimate power to maneuver, handle turns and pass easily, even on steep inclines. Rest assured – in case
of emergency – that its roadside assistance program will be in place for the entire warranty period.
a
1
c
p
e
d
g
a.
c.
d.
e.
f.
g.
h.
i.
Fiberglass Roof
Fiberglass Batten Insulation
A/C Ducting
Aluminum Rafter Framing
Kraft Paper Vapor Barrier
5/8" Bead Foam
3/16" Panel
Padded Vinyl Overlay
SIDEWALL R-VALUE = 11
j.
k.
l.
m.
n.
o.
p.
q.
r.
s.
t.
u.
v.
i
h
ROOF R-VALUE = 16
3/16" Plywood Interior Wall
5/8" Bead Foam
Kraft Paper Vapor Barrier
Fiberglass Batten Insulation
3/16" Plywood Exterior Wall
Composite One-Piece Gelcoat Exterior Sidewall
Aluminum Framing with
3 1/2" Header Above
FLOOR R-VALUE = 16
f
Carpet/Tile
Carpet Padding
5/8" Floor Decking
Fiberglass Batten Insulation
2"x 3" Wood Framing
Polyethylene Moisture Barrier
BASEMENT R-VALUE = 4
o
y.
z.
aa.
bb.
cc.
n
q
m
l
k
r
j
2
w
t
s
v
x
4
u
5
cc
bb
aa
z
F LO O R P L A N S PE C I F I CAT I O N S
Cargo Liner
3/8" Floor Decking
3/16" Luan Panel
1 1/2" Bead Foam
Aluminum Sheeting with Steel Support Rails to
Prevent Bowing and Flexing
1. 15M Penguin™ Heat Pump Central Air
Conditioners (3)
2. One-Piece Bonded Windshield
3. Coated Aluminum Wheels
4. Frameless, Double-Pane, Tinted Safety-Glass
Windows
5. Side-Hinged Baggage Doors
with Optional Storage Tray
Floorplan
App.
Overall
Length
4567
NEWMAR EXPRESS LIMITED
WARRANTY
Width
App.
Overall
Height
Interior
Width
Interior
Height
Grey
Sewage
Water
Propane
Furnace
44' 11''
101.5"
13' 4''
95.5"
84"
80 gal.
60 gal.
140 gal.
32 gal.
50,000 btu
4570
44' 11''
101.5"
13' 4''
95.5"
84"
80 gal.
60 gal.
140 gal.
32 gal.
50,000 btu
4571
44' 11''
101.5"
13' 4''
95.5"
84"
80 gal.
60 gal.
140 gal.
32 gal.
50,000 btu
4572
44' 11''
101.5"
13' 4''
95.5"
84"
80 gal.
60 gal.
140 gal.
32 gal.
50,000 btu
4574
44' 11''
101.5"
13' 4''
95.5"
84"
80 gal.
60 gal.
140 gal.
32 gal.
50,000 btu
C H A S S I S S P E C I F I C AT I O N S
Floor- Engine
plan
HP
Axle
Ratio
Fuel
Cap.
Wheelbase
Front
GAWR*
Rear
GAWR*
Tag
GAWR*
GVWR*
GCWR*
App.
UVW
App.
NCC
4567
650
4.3
200 gal.
294+TAG
20,000 lb.
20,000 lb.
14,000 lb.
54,000 lb.
69,000 lb.
44,450 lb.
9,550 lb.
4570
650
4.3
200 gal.
294+TAG
20,000 lb.
20,000 lb.
14,000 lb.
54,000 lb.
69,000 lb.
44,400 lb.
9,600 lb.
4571
650
4.3
200 gal.
294+TAG
20,000 lb.
20,000 lb.
14,000 lb.
54,000 lb.
69,000 lb.
44,850 lb.
9,150 lb.
4572
650
4.3
200 gal.
294+TAG
20,000 lb.
20,000 lb.
14,000 lb.
54,000 lb.
69,000 lb.
44,250 lb.
9,750 lb.
4574
650
4.3
200 gal.
294+TAG
20,000 lb.
20,000 lb.
14,000 lb.
54,000 lb.
69,000 lb.
45,400 lb.
8,600 lb.
Lengths, heights, widths and dry weights are approximate. Weight will vary based on optional equipment added
to the above base weight.
GAWR: Gross Axle Weight Rating is the maximum permissible weight for an axle.
GVWR: Gross Vehicle Weight Rating is the maximum permissible weight for a fully loaded motor coach.
GCWR: Gross Combination Weight Rating is the value specified by the manufacturer of the vehicle as the
maximum allowable loaded weight of this motor coach and any towed trailer or towed vehicle.
y
3
UVW: Unloaded Vehicle Weight is the weight of this motorcoach as built at the factory with full fuel, engine oil
and coolants. The UVW does not include cargo, fresh water, propane gas or dealer-installed accessories.
NCC: Net Carrying Capacity is the maximum weight of all occupants, including the driver, personal belongings,
food, fresh water, waste water, propane gas, tools, tongue weight of towed vehicle, dealer-installed accessories, etc.,
that can be carried by the motorcoach.
*Specifications supplied by the chassis manufacturer.
Every King Aire Diesel Pusher is
backed by Newmar s one-year limited
warranty/unlimited miles. Ask your
Newmar dealer for details.
LIMITED FIVE-YEAR STRUCTURAL
WARRANTY
If any part of your Newmar
recreational vehicle superstructure
(which is the steel/aluminum structure
of the sidewall, roof or frame) fails to
perform properly within five years from
the date of purchase because of faulty
workmanship or material supplied by
Newmar, it will be repaired without
charge for either parts or labor by
Newmar. This structural warranty is
available only to the original purchaser
and is non-transferable.
The Newmar Kountry Klub is an
exclusive club for owners of fine
Newmar products that offers
many advantages and benefits to its
members. Learn more at
www.newmarkountryklub.com.
The quiet, energetic farm town of
Nappanee, Indiana is home to Newmar's
owners, the Miller family. They are
actively engaged in its operations,
embracing employees, suppliers, dealers
and customers as part of the Newmar
Established over 40 years ago,
Newmar is an innovator and leader
in the RV manufacturing industry. Its
quality craftsmanship is recognized
nationally. The Newmar dealer
network spans across the United
States and Canada.
family. The family has grown since 1968
but continues to strive for faithfulness
to the tenets of its founders, including
a strong community,
bearing burdens for
others, forgiveness,
fairness, honesty,
integrity, and
peace with one's
neighbors.
Please be our guest for a Newmar factory
tour. Call 1-800-860-0086 to learn more.
(Please affix dealer stamp in this area.)
Mahlon Miller, Newmar Corp. owner
Matthew Miller, Newmar Corp. president.
© 2010 Newmar Corp. All rights reserved.