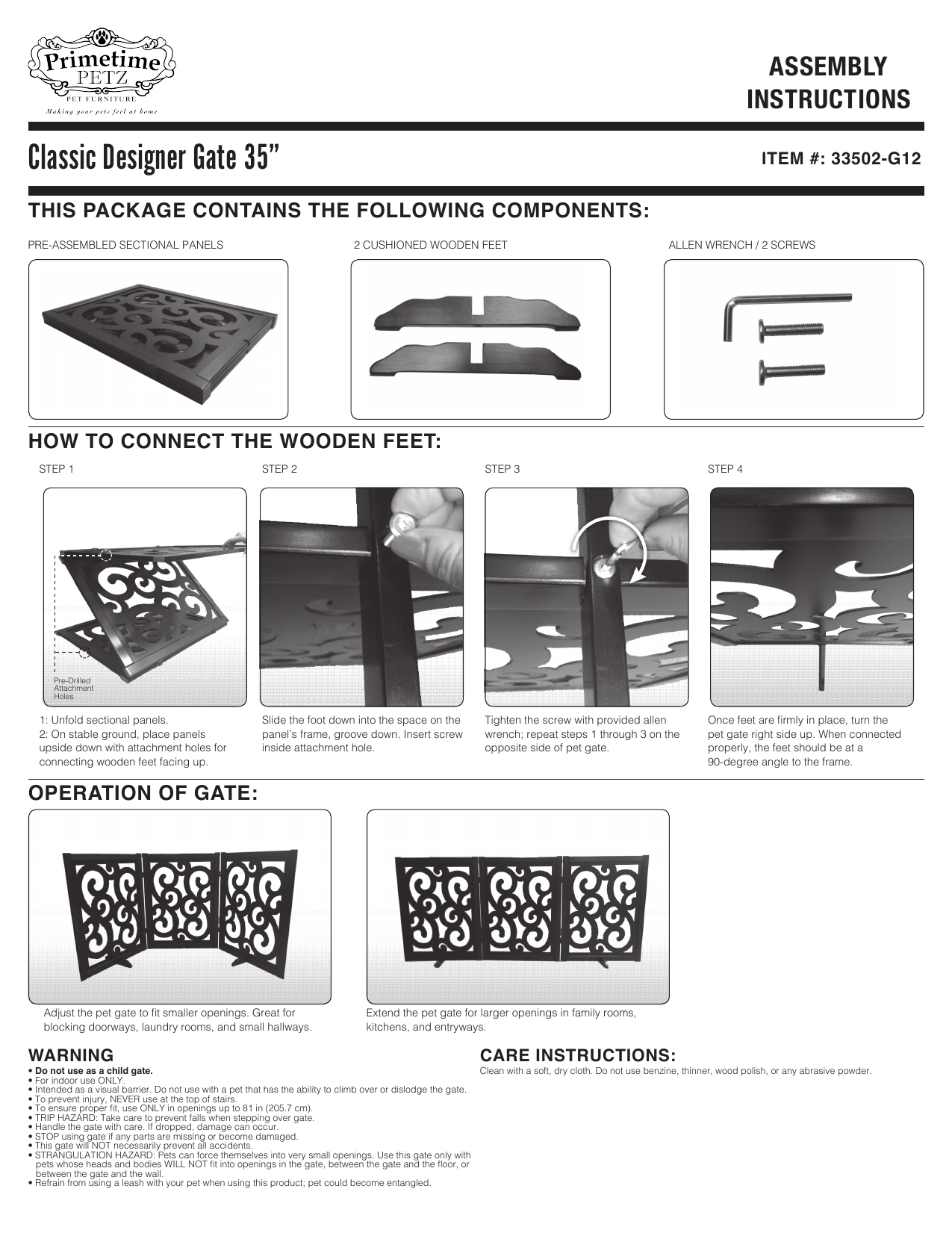 ASSEMBLY
INSTRUCTIONS
Classic Designer Gate 35"
ITEM #: 33502-G12
THIS PACKAGE CONTAINS THE FOLLOWING COMPONENTS:
PRE-ASSEMBLED SECTIONAL PANELS
2 CUSHIONED WOODEN FEET
ALLEN WRENCH / 2 SCREWS
HOW TO CONNECT THE WOODEN FEET:
STEP 1
STEP 2
STEP 3
STEP 4
Slide the foot down into the space on the
panel's frame, groove down. Insert screw
inside attachment hole.
Tighten the screw with provided allen
wrench; repeat steps 1 through 3 on the
opposite side of pet gate.
Once feet are firmly in place, turn the
pet gate right side up. When connected
properly, the feet should be at a
90-degree angle to the frame.
Pre-Drilled
Attachment
Holes
1: Unfold sectional panels.
2: On stable ground, place panels
upside down with attachment holes for
connecting wooden feet facing up.
OPERATION OF GATE:
Adjust the pet gate to fit smaller openings. Great for
blocking doorways, laundry rooms, and small hallways.
WARNING
Extend the pet gate for larger openings in family rooms,
kitchens, and entryways.
CARE INSTRUCTIONS:
Clean with a soft, dry cloth. Do not use benzine, thinner, wood polish, or any abrasive powder.
• Do not use as a child gate.
• For indoor use ONLY.
• Intended as a visual barrier. Do not use with a pet that has the ability to climb over or dislodge the gate.
• To prevent injury, NEVER use at the top of stairs.
• To ensure proper fit, use ONLY in openings up to 81 in (205.7 cm).
• TRIP HAZARD: Take care to prevent falls when stepping over gate.
• Handle the gate with care. If dropped, damage can occur.
• STOP using gate if any parts are missing or become damaged.
• This gate will NOT necessarily prevent all accidents.
• STRANGULATION HAZARD: Pets can force themselves into very small openings. Use this gate only with pets whose heads and bodies WILL NOT fit into openings in the gate, between the gate and the floor, or between the gate and the wall.
• Refrain from using a leash with your pet when using this product; pet could become entangled.

* Your assessment is very important for improving the work of artificial intelligence, which forms the content of this project