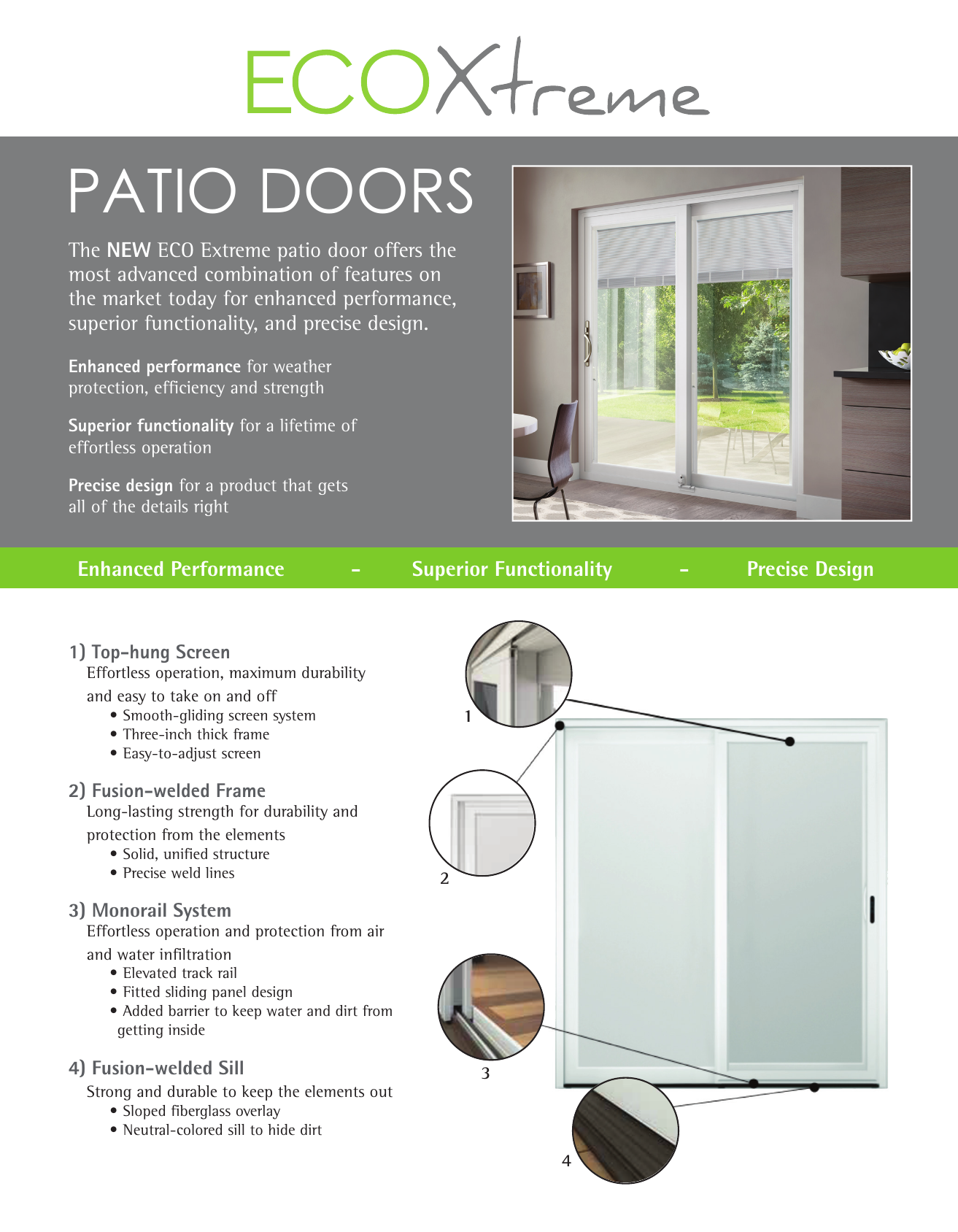 PATIO DOORS
The NEW ECO Extreme patio door offers the
most advanced combination of features on
the market today for enhanced performance,
superior functionality, and precise design.
Enhanced performance for weather
protection, efficiency and strength
Superior functionality for a lifetime of
effortless operation
Precise design for a product that gets
all of the details right
Enhanced Performance
-
Superior Functionality
1) Top-hung Screen
Effortless operation, maximum durability
and easy to take on and off
1
• Smooth-gliding screen system
• Three-inch thick frame
• Easy-to-adjust screen
2) Fusion-welded Frame
Long-lasting strength for durability and
protection from the elements
• Solid, unified structure
• Precise weld lines
2
3) Monorail System
Effortless operation and protection from air
and water infiltration
• Elevated track rail
• Fitted sliding panel design
• Added barrier to keep water and dirt from
getting inside
4) Fusion-welded Sill
Strong and durable to keep the elements out
3
• Sloped fiberglass overlay
• Neutral-colored sill to hide dirt
4
-
Precise Design
PATIO
DOORS
Help Customers Customize
their Ideal Door
GLASS
Options to Fit Your Style
• Meets thermal performance requirements,
including ENERGY STAR©, with ProSolar© and
ProSolar© Shade Low E glass packages.
• Customize the look of your door by adding
optional grid, tint, and obscure features.
• Enjoy a comfortable, quiet home with a
sound and security glass package featuring
impact-resistant KeepSafe glass.
STANDARD COLORS
VINYL
White
Tan
Driftwood
LOCKS
PREMIUM EXTERIOR COLORS
Brick
Bronze
Cream
Pine
• Keyed Multi Point Locking System
• Ergonomically designed handles are available
in three standard finishes and three premium
finishes.
• Undeniable peace of mind with the
touch activated footbolt.
Chocolate
SCREEN
HANDLES
• Enjoy fresh air without the bugs with
durable fiberglass mesh that creates a barrier
from the outdoors.
• Maximize your view with new high-visibility
screen mesh that is less visible than the
standard screen.
• Ultimate protection against screen wear and
tear from pets and children with new highdurability screen mesh.
PREMIUM FINISHES
STANDARD FINISHES
BLINDS BETWEEN THE GLASS
White
Tan
Driftwood
Brushed
nickel
Oil-rubbed
bronze
Polished brass
• Increase privacy without the hassle of
hanging blinds! Blinds between the glass
provide privacy without taking up additional
space and make cleaning your door a breeze.

* Your assessment is very important for improving the work of artificial intelligence, which forms the content of this project