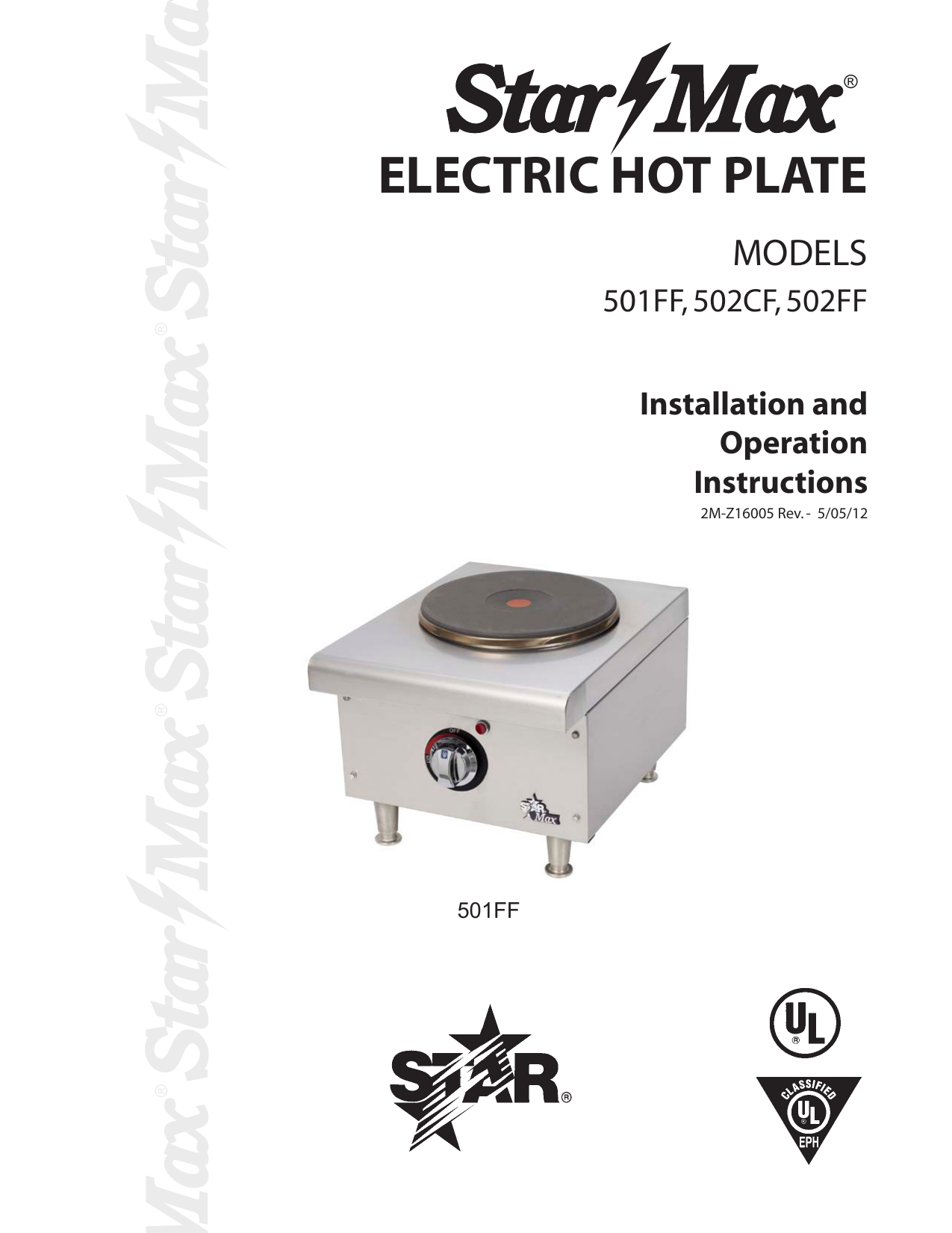 ®
ELECTRIC HOT PLATE
MODELS
®
501FF, 502CF, 502FF
Installation and
Operation
Instructions
®
2M-Z16005 Rev. - 5/05/12
®
501FF
SAFETY SYMBOL
These symbols are intended to alert the user to the presence of
important operating and maintenance instructions in the manual
accompanying the appliance.
RETAIN THIS MANUAL FOR FUTURE REFERENCE
NOTICE
Using any part other than genuine Star factory supplied parts relieves the
manufacturer of all liability.
Star reserves the right to change specifications and product design without
notice. Such revisions do not entitle the buyer to corresponding changes,
improvements, additions or replacements for previously purchased
equipment.
Due to periodic changes in designs, methods, procedures, policies and
regulations, the specifications contained in this sheet are subject to change
without notice. While Star International Holdings Inc., Company exercises
good faith efforts to provide information that is accurate, we are not
responsible for errors or omissions in information provided or conclusions
reached as a result of using the specifications. By using the information
provided, the user assumes all risks in connection with such use.
MAINTENANCE AND REPAIRS
Contact your local authorized service agent for service or required maintenance.
Please record the model number, serial number, voltage and purchase date in the area below and have it ready when
you call to ensure a faster service.
Model No.
Serial No.
Voltage
Authorized Service Agent Listing
Reference the listing provided with the unit
or
for an updated listing go to:
Website:
E-mail www.star-mfg.com
Service@star-mfg.com
Purchase Date
Service Help Desk
Business
Hours:
8:00 am to 4:30 p.m. Central Standard Time
Telephone:
(314) 678-6303
Fax:
(314) 781-2714
E-mail
Parts@star-mfg.com
Service@star-mfg.com
Warranty@star-mfg.com
Website:
www.star-mfg.com
Mailing Address:
Star International Holdings Inc., Company
10 Sunnen Drive
St. Louis, MO 63143
U.S.A
2
Specifications
Electrical Specifications
Model
501FF
501FF-208V
502CF
Voltage
kW
208/240
1.95/2.6
208V
2.6
208/240
502FF
Dimensions
3.1/4.2
3.9/5.2
Width
Depth
Height
12" (30.4cm)
17.25"
(43.8cm)
10.7"
(27.2cm)
12" (30.5cm) 28 (71.1cm)
11 5/8"
(29.5cm)
GENERAL OPERATING INSTRUCTIONS
CAUTION
This equipment is designed and sold for commercial use only by personnel trained and experienced
in its operation and is not sold for consumer use in and around the home nor for use directly by the
general public in food service locations. For equipment to be used by the general public, please
contact the factory.
The Star-Max Electric Hot Plates are equipped for the voltage indicated on the nameplate mounted
on the front panel. This unit is designed to operate on alternating current (A.C.), two wire single phase
service only.
DO NOT CONNECT TO DIRECT CURRENT (D.C.).
WARNING
Total Connected Load:
502FF: 502CF: at 240 Volts, Wattage is 5,200.
at 208 Volts, Wattage is 3,900.
at 240 Volts, Wattage is 4,200.
at 208 Volts, Wattage is 3,150.
INSTALLATION
For your protection, we recommend that a qualified electrician install this appliance. The electrician
should be familiar with electrical installations and your local electrical requirements. The external
wiring should be in conduit or an approved type of flexible cable and of suitable size to carry the load.
The supply circuit should be properly fused and equipped with a means of disconnecting as required
by local electrical code. The body of the hot plate should be grounded (Do not ground to a gas
supply pipe). The connections are made in this unit at the pigtail leads located in the junction box on
the back of the unit. To gain access to the pigtail leads remove cover on junction box.
LOCATE THE UNIT
Do not install the unit closer than 1 inch from a side wall and/or closer than 1 inch from a rear wall.
LEVELING UNIT
Level unit by adjusting the (4) feet for accurate and perfect line up with other Star-Max series units.
DO NOT INSTALL WITHOUT FEET.
CAUTION USE ONLY FLAT BOTTOM PANS AND POTS! DO NOT USE RAISED BOTTOM UTENSILS
OR BUCKETS! GOOD HEAT TRANSFER DEPENDS UPON GOOD CONTACT BETWEEN
THE ELEMENT AND POT.
CAUTION
NOTE: Using a 12" diameter or larger pan/pot may cause damage to the element or internal wiring.
Such damages are not covered by warranty.
Two (2) heating elements are used. For the 502FF each element draws 2,600 Watts on 240 Volts and
1,950 Watts on 208 Volts. For the 502CF element draws 2,100 Watts on 240 Volts and 1,575 Watts on
208 Volts. Each element is controlled by an infinite position switch. The right control knob controls the
rear cooking element and the left control knob controls the front cooking element. On "HI" the element
delivers uninterrupted full heat. Between "LO" and "5" any desired amount of heat can be obtained
between 6% and 60% of full heat.
Signal lights are provided above the control knobs to give a visual check if either one or both heating
units are turned on.
CLEANING
The exterior surfaces can be kept clean and attractive by regularly wiping with a clean soft cloth. Any
discoloration can be removed with a non-abrasive cleaner.
For models 502D and 502DS, the heating elements may be raised for access to the drip pans, which
may be removed for cleaning and the bottom pan may be removed by sliding pan forward.
REPLACEMENT OF INFINITE CONTROL
BE SURE POWER IS DISCONNECTED BEFORE ATTEMPTING TO SERVICE UNIT.
1. Pull control knobs on front panel forward to remove.
2. Remove 8 screws from front panel and tilt front panel forwards.
3. Remove the nut that mounts the inoperative control and pull the control to the side.
4. Remove one wire at a time from the inoperative control and connect at the same terminal on the
new control. Carefully check to see that proper wires have been connected to the terminals of the
control. See attached wiring diagram.
5. Assemble new control to the front panel.
MAINTENANCE AND REPAIRS
Contact the factory or one of its representatives or a local service company for service or maintenance
if required.

* Your assessment is very important for improving the work of artificial intelligence, which forms the content of this project