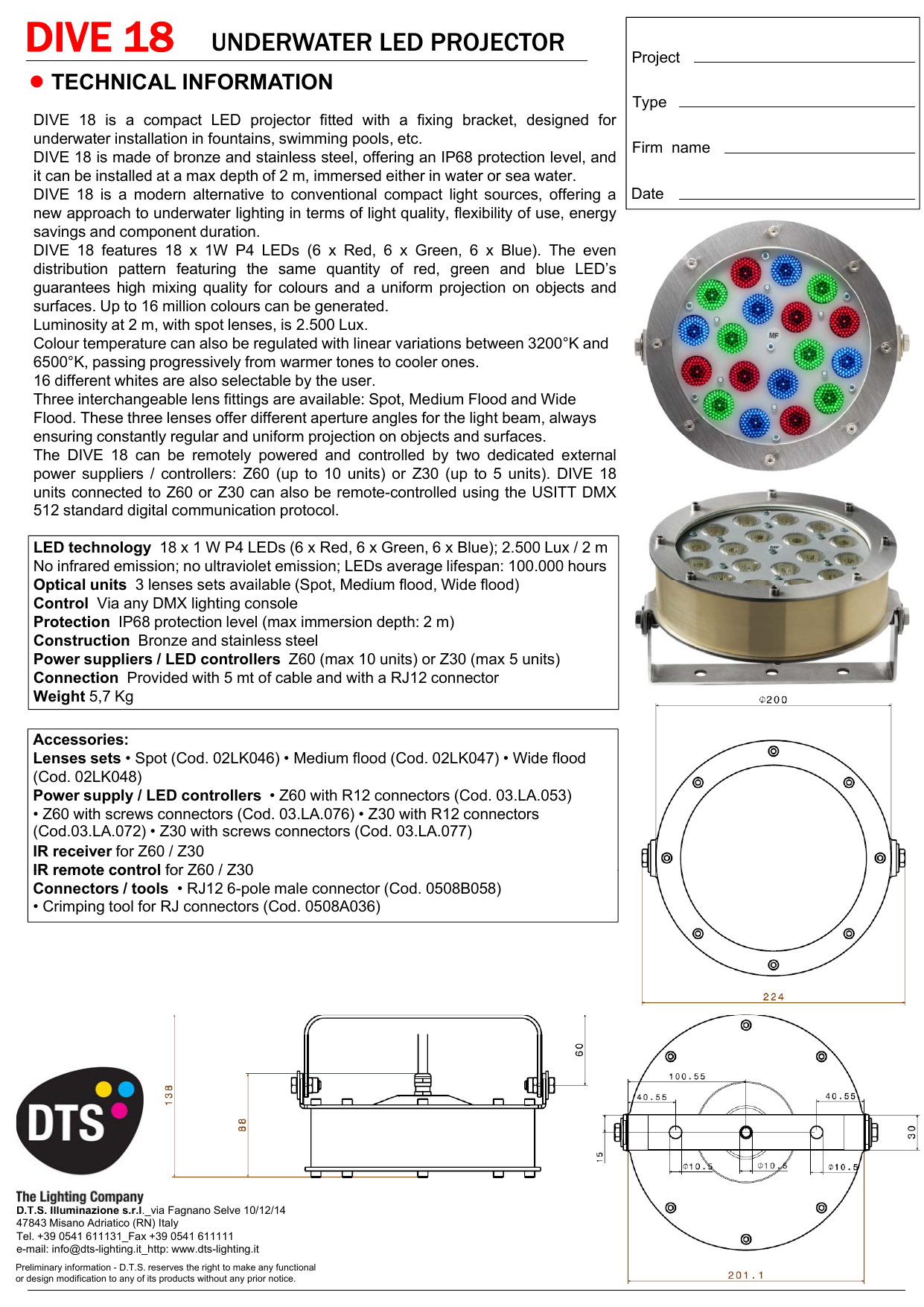 DIVE 18
UNDERWATER LED PROJECTOR
● TECHNICAL INFORMATION
Project
Type
DIVE 18 is a compact LED projector fitted with a fixing bracket, designed for
underwater installation in fountains,, swimming
gp
pools,, etc.
Firm name
DIVE 18 is made of bronze and stainless steel, offering an IP68 protection level, and
it can be installed at a max depth of 2 m, immersed either in water or sea water.
DIVE 18 is a modern alternative to conventional compact light sources, offering a Date
new approach to underwater lighting in terms of light quality, flexibility of use, energy
savings and component duration.
DIVE 18 features 18 x 1W P4 LEDs (6 x Red, 6 x Green, 6 x Blue). The even
distribution pattern featuring the same quantity of red, green and blue LED's
guarantees high mixing quality for colours and a uniform projection on objects and
surfaces. Up to 16 million colours can be generated.
Luminosity at 2 m, with spot lenses, is 2.500 Lux.
Colour temperature can also be regulated with linear variations between 3200°K and
6500°K, passing progressively from warmer tones to cooler ones.
16 different whites are also selectable by the user.
Three interchangeable lens fittings are available: Spot, Medium Flood and Wide
Flood. These three lenses offer different aperture angles for the light beam, always
ensuring constantly regular and uniform projection on objects and surfaces.
surfaces
The DIVE 18 can be remotely powered and controlled by two dedicated external
power suppliers / controllers: Z60 (up to 10 units) or Z30 (up to 5 units). DIVE 18
units connected to Z60 or Z30 can also be remote-controlled using the USITT DMX
512 standard digital communication protocol.
LED technology 18 x 1 W P4 LEDs (6 x Red, 6 x Green, 6 x Blue); 2.500 Lux / 2 m
No infrared emission; no ultraviolet emission; LEDs average lifespan: 100.000 hours
O ti l units
Optical
it 3 llenses sets
t available
il bl (S
(Spot,
t Medium
M di
flood,
fl d Wid
Wide flflood)
d)
Control Via any DMX lighting console
Protection IP68 protection level (max immersion depth: 2 m)
Construction Bronze and stainless steel
Power suppliers / LED controllers Z60 (max 10 units) or Z30 (max 5 units)
Connection Provided with 5 mt of cable and with a RJ12 connector
Weight 5,7 Kg
Accessories:
Lenses sets • Spot (Cod. 02LK046) • Medium flood (Cod. 02LK047) • Wide flood
(Cod. 02LK048)
Power supply / LED controllers • Z60 with R12 connectors (Cod. 03.LA.053)
• Z60 with screws connectors (Cod. 03.LA.076) • Z30 with R12 connectors
(Cod.03.LA.072) • Z30 with screws connectors (Cod. 03.LA.077)
IR receiver for Z60 / Z30
IR remote control for Z60 / Z30
Connectors / tools • RJ12 6-pole male connector (Cod. 0508B058)
• Crimping tool for RJ connectors (Cod. 0508A036)
D.T.S. Illuminazione s.r.l._via Fagnano Selve 10/12/14
47843 Misano Adriatico (RN) Italy
Tel. +39 0541 611131_Fax +39 0541 611111
e-mail: info@dts-lighting.it_http: www.dts-lighting.it
Preliminary information - D.T.S. reserves the right to make any functional
or design modification to any of its products without any prior notice.

* Your assessment is very important for improving the work of artificial intelligence, which forms the content of this project