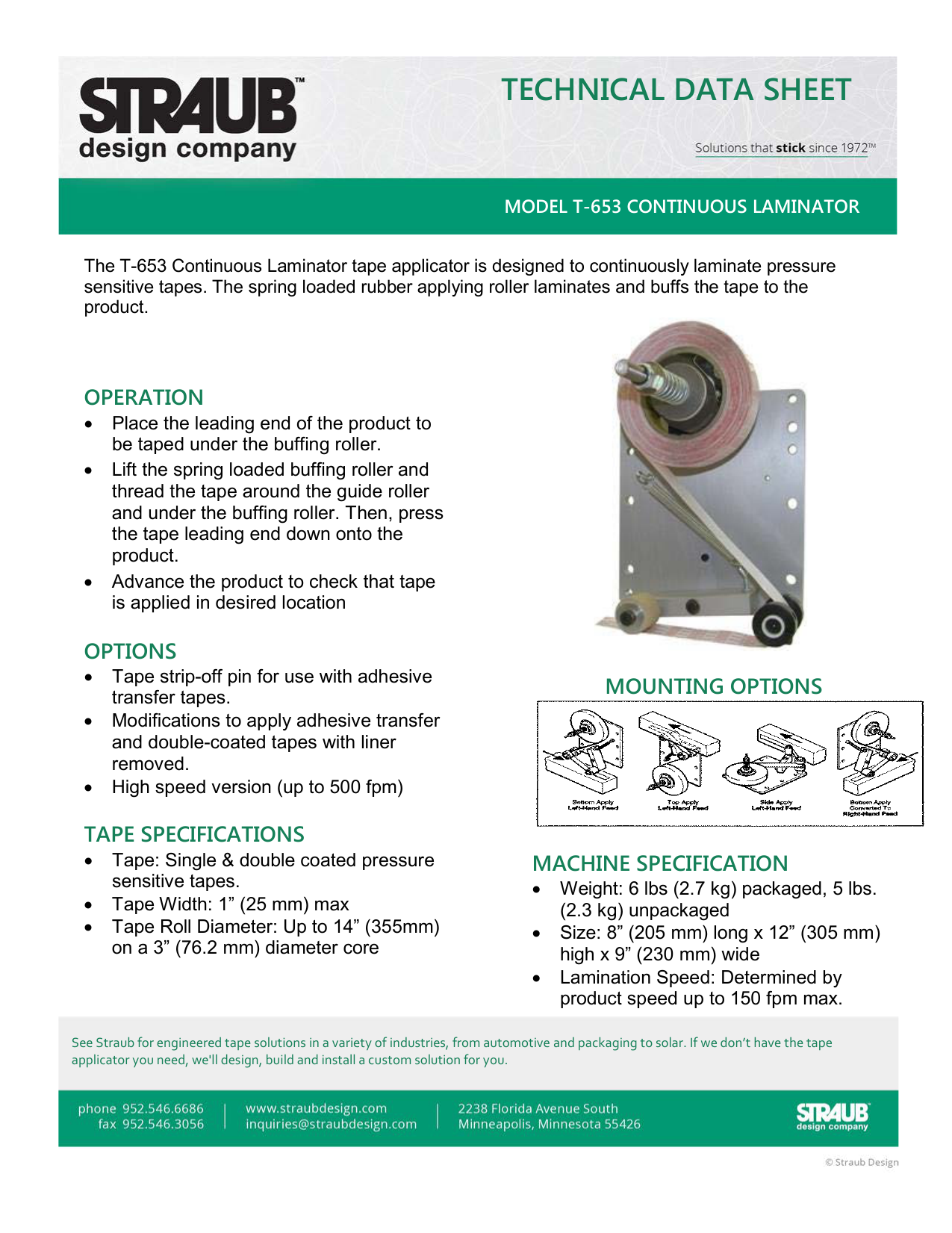 TECHNICAL DATA SHEET
MODEL T-653 CONTINUOUS LAMINATOR
The T-653 Continuous Laminator tape applicator is designed to continuously laminate pressure
sensitive tapes. The spring loaded rubber applying roller laminates and buffs the tape to the
product.
OPERATION
•
•
•
Place the leading end of the product to
be taped under the buffing roller.
Lift the spring loaded buffing roller and
thread the tape around the guide roller
and under the buffing roller. Then, press
the tape leading end down onto the
product.
Advance the product to check that tape
is applied in desired location
OPTIONS
•
•
•
Tape strip-off pin for use with adhesive
transfer tapes.
Modifications to apply adhesive transfer
and double-coated tapes with liner
removed.
High speed version (up to 500 fpm)
MOUNTING OPTIONS
TAPE SPECIFICATIONS
•
•
•
Tape: Single & double coated pressure
sensitive tapes.
Tape Width: 1" (25 mm) max
Tape Roll Diameter: Up to 14" (355mm)
on a 3" (76.2 mm) diameter core
MACHINE SPECIFICATION
•
•
•
Weight: 6 lbs (2.7 kg) packaged, 5 lbs.
(2.3 kg) unpackaged
Size: 8" (205 mm) long x 12" (305 mm)
high x 9" (230 mm) wide
Lamination Speed: Determined by
product speed up to 150 fpm max.
See Straub for engineered tape solutions in a variety of industries, from automotive and packaging to solar. If we don't have the tape
applicator you need, we'll design, build and install a custom solution for you.

* Your assessment is very important for improving the work of artificial intelligence, which forms the content of this project