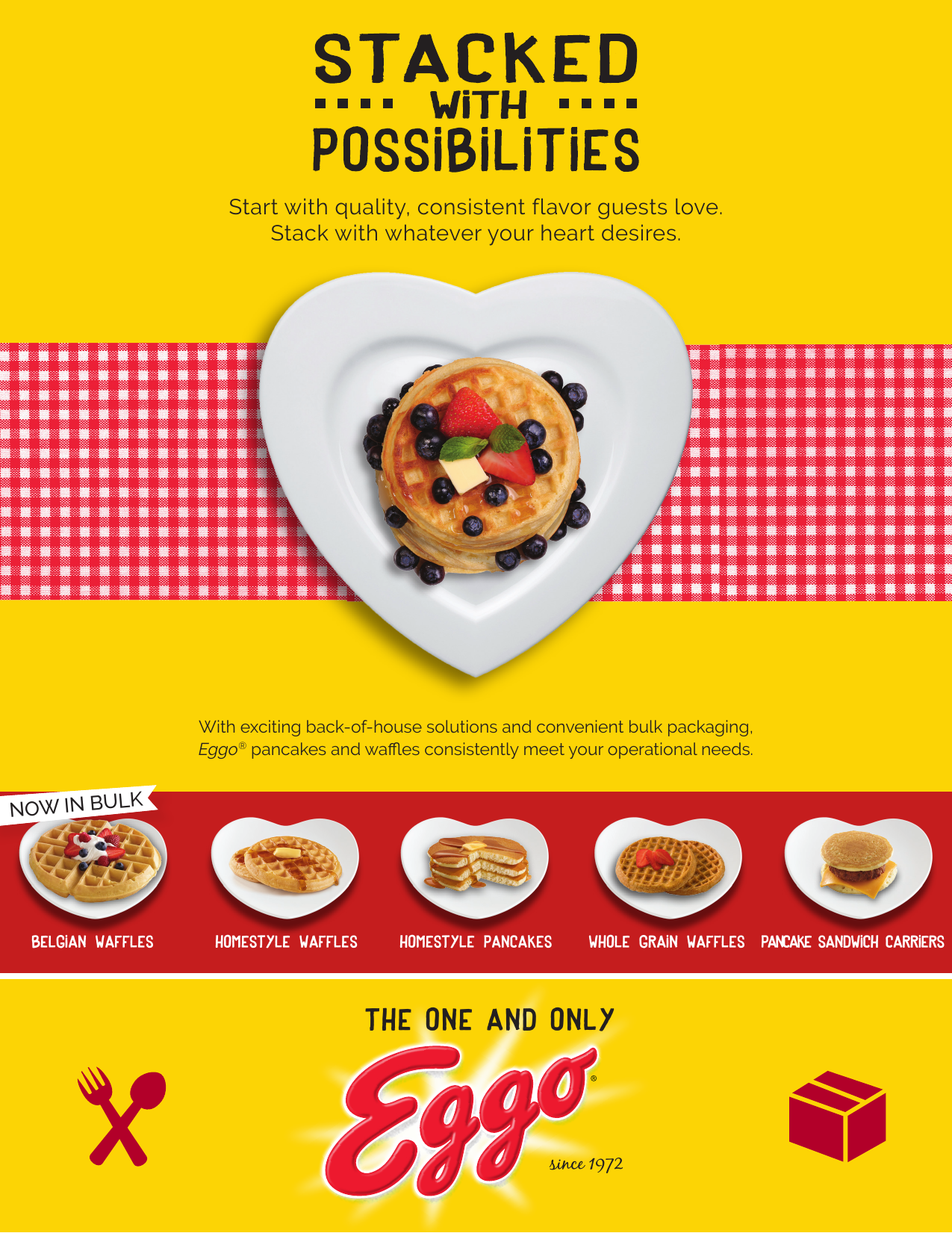 Start with quality, consistent flavor guests love.
Stack with whatever your heart desires.
With exciting back-of-house solutions and convenient bulk packaging,
Eggo® pancakes and waffles consistently meet your operational needs.
K
NOW IN BUL
BelgiAN Waffles
Homestyle Waffles
Homestyle Pancakes
Whole Grain Waffles Pancake SANDWich Carriers
The one and only
since 1972
Consistent quality means you can confidently creatE.
Every time you use an Eggo® waffle or pancake, you know it will look and taste just right.
So no matter what you top, stack, stuff or serve them with, you'll know guests will love it.
A Consistent Favorite
Consumers have demonstrated their preference for the taste of Eggo®
products, which outsell the next leading brand in retail by more than 10 to 1.1
DID YOU KNOW ?
A Growing Opportunity
Nearly 1 out of
every 5 griddle
items is consumed
outside of the
morning meal! 3
As all-day applications like waffle sandwiches and chicken & waffles
become more prevalent on menus, waffles and pancakes continue to grow
in popularity—up 8% since last year.2
A Simple Solution
Ready in minutes, Eggo® waffles and pancakes save labor, waste and cleanup time compared to scratch preparation, providing quicker service that
makes guests happy.
What can we create together?
By partnering with Kellogg's® you get access to business-building tools, like innovative
recipes and menu applications to impress your guests at breakfast and beyond.
Classic
Contemporary
Creative
Find these recipes, nutritional information and more at www.KelloggsSpecialtyChannels.com/Home/Eggo
Product Name
Description
Item #
Case GTIN
Units/Case Case Pack
Eggo® 4" Waffles Homestyle
The #1 selling waffle flavor in retail1, it's
golden, crispy, warm and fluffy.
38000-14690 000-38000-14690-9
144
12/12ct
Eggo® 4" Waffles Made with
Whole Grain
Made with 8 grams of whole wheat.
38000-14689 000-38000-14689-3
144
12/12ct
Eggo® 7" Belgian Waffle Original
Light, airy Belgian waffles ready
in minutes.
38000-14846 000-38000-14846-0
24
Bulk
Eggo® 4" Pancakes Buttermilk
#1 selling pancake flavor in retail1, it's light
38000-14688 000-38000-14688-6
and fluffy with delicious buttermilk flavor.
144
12/12ct
Eggo® 3" Pancakes Buttermilk
Sandwich & Dessert Carriers
Popular buttermilk pancakes sized for
sandwich applications.
38000-14852 000-38000-14852-1
180
9/20ct
Eggo® 3" Pancakes Maple
Sandwich & Dessert Carriers
Sweet maple syrup baked into these
pancake sandwich carriers.
38000-14855 000-38000-14855-2
180
9/20ct
For more information, visit www.KelloggsSpecialtyChannels.com/Home/Eggo
Nielsen, Total US xAOC, 52 weeks ending 1/16/16
The NPD Group, Eating Patterns In America, September 2015
The NPD Group, Foodservice Performance Update, February 2016
1
2
3
®, TM, ©, 2016 Kellogg NA Co.

* Your assessment is very important for improving the work of artificial intelligence, which forms the content of this project