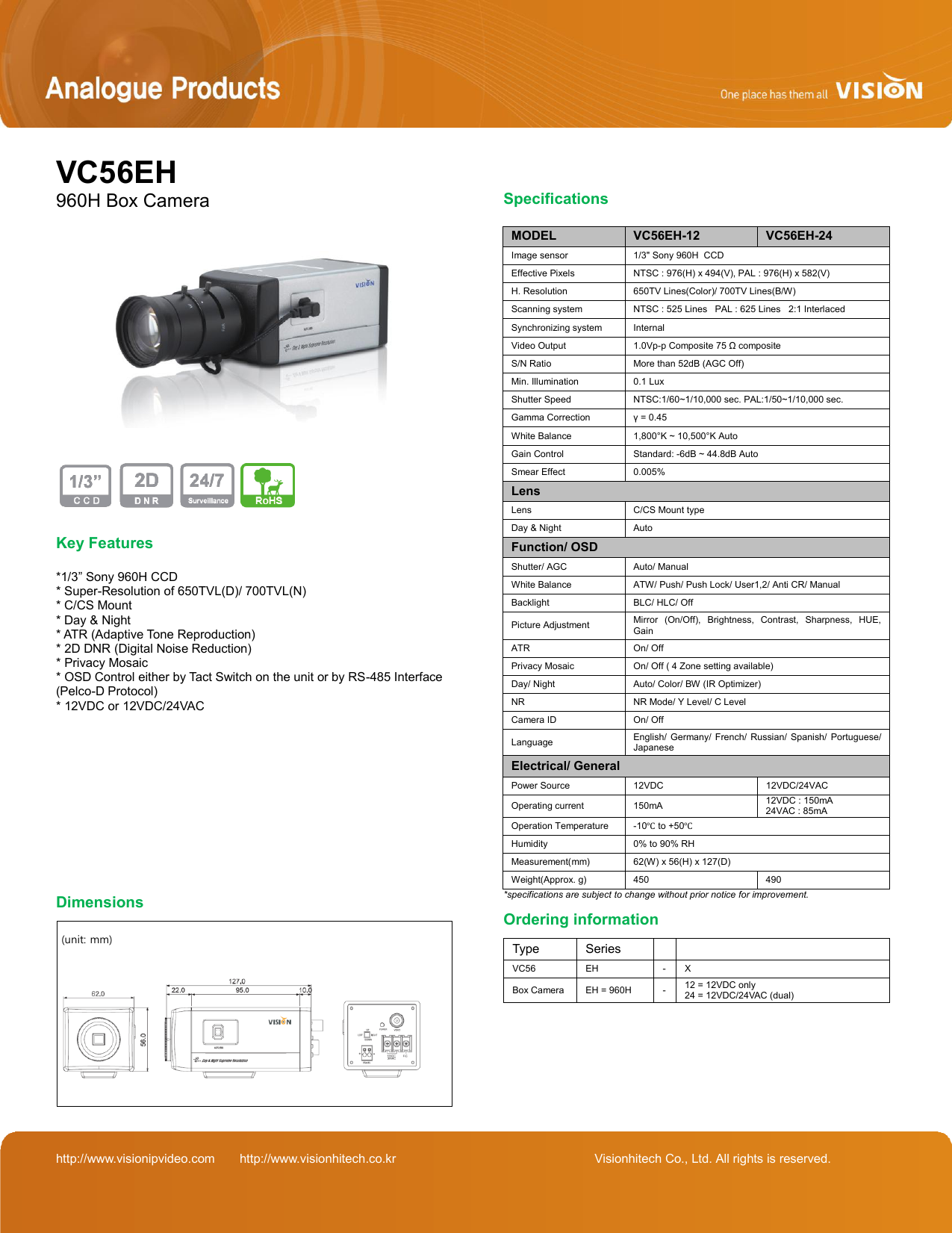 VC56EH
Specifications
960H Box Camera
MODEL
VC56EH-12
Image sensor
1/3" Sony 960H CCD
VC56EH-24
Effective Pixels
NTSC : 976(H) x 494(V), PAL : 976(H) x 582(V)
H. Resolution
650TV Lines(Color)/ 700TV Lines(B/W)
Scanning system
NTSC : 525 Lines PAL : 625 Lines 2:1 Interlaced
Synchronizing system
Internal
Video Output
1.0Vp-p Composite 75 Ω composite
S/N Ratio
More than 52dB (AGC Off)
Min. Illumination
0.1 Lux
Shutter Speed
NTSC:1/60~1/10,000 sec. PAL:1/50~1/10,000 sec.
Gamma Correction
γ = 0.45
White Balance
1,800°K ~ 10,500°K Auto
Gain Control
Standard: -6dB ~ 44.8dB Auto
Smear Effect
0.005%
Lens
Key Features
Lens
C/CS Mount type
Day & Night
Auto
Function/ OSD
*1/3" Sony 960H CCD
* Super-Resolution of 650TVL(D)/ 700TVL(N)
* C/CS Mount
* Day & Night
* ATR (Adaptive Tone Reproduction)
* 2D DNR (Digital Noise Reduction)
* Privacy Mosaic
* OSD Control either by Tact Switch on the unit or by RS-485 Interface
(Pelco-D Protocol)
* 12VDC or 12VDC/24VAC
Shutter/ AGC
Auto/ Manual
White Balance
ATW/ Push/ Push Lock/ User1,2/ Anti CR/ Manual
Backlight
BLC/ HLC/ Off
Picture Adjustment
Mirror (On/Off), Brightness, Contrast, Sharpness, HUE,
Gain
ATR
On/ Off
Privacy Mosaic
On/ Off ( 4 Zone setting available)
Day/ Night
Auto/ Color/ BW (IR Optimizer)
NR
NR Mode/ Y Level/ C Level
Camera ID
On/ Off
Language
English/ Germany/ French/ Russian/ Spanish/ Portuguese/
Japanese
Electrical/ General
Power Source
12VDC
12VDC/24VAC
Operating current
150mA
12VDC : 150mA
24VAC : 85mA
Operation Temperature
-10℃ to +50℃
Humidity
0% to 90% RH
Measurement(mm)
62(W) x 56(H) x 127(D)
Weight(Approx. g)
450
490
*specifications are subject to change without prior notice for improvement.
Dimensions
Ordering information
(unit: mm)
http://www.visionipvideo.com
http://www.visionhitech.co.kr
Type
Series
VC56
EH
-
X
Box Camera
EH = 960H
-
12 = 12VDC only
24 = 12VDC/24VAC (dual)
Visionhitech Co., Ltd. All rights is reserved.

* Your assessment is very important for improving the work of artificial intelligence, which forms the content of this project