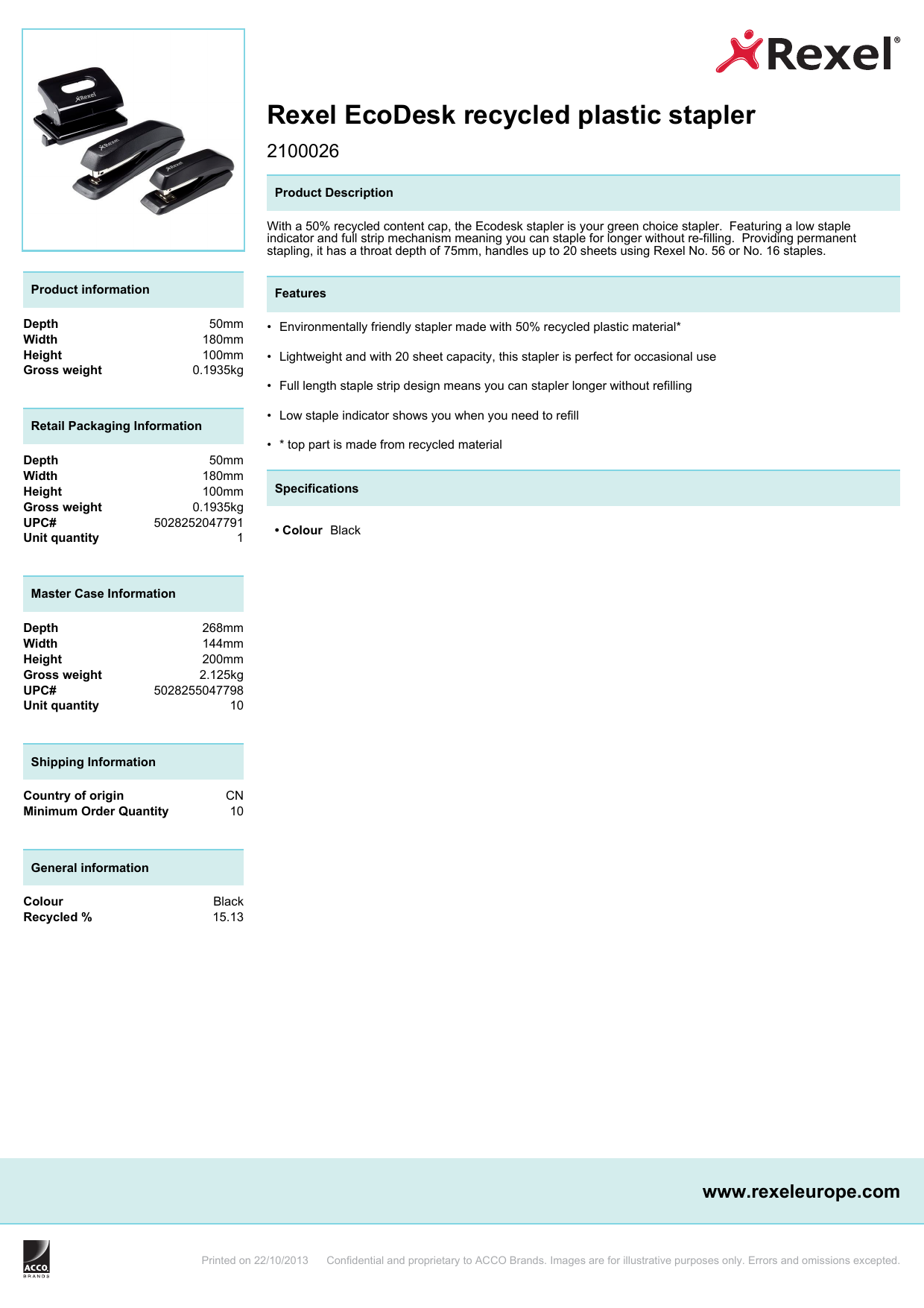 Rexel EcoDesk recycled plastic stapler
2100026
Product Description
With a 50% recycled content cap, the Ecodesk stapler is your green choice stapler. Featuring a low staple
indicator and full strip mechanism meaning you can staple for longer without re-filling. Providing permanent
stapling, it has a throat depth of 75mm, handles up to 20 sheets using Rexel No. 56 or No. 16 staples.
Product information
Features
Depth
Width
Height
Gross weight
50mm
180mm
100mm
0.1935kg
• Environmentally friendly stapler made with 50% recycled plastic material*
• Lightweight and with 20 sheet capacity, this stapler is perfect for occasional use
• Full length staple strip design means you can stapler longer without refilling
• Low staple indicator shows you when you need to refill
Retail Packaging Information
• * top part is made from recycled material
Depth
Width
Height
Gross weight
UPC#
Unit quantity
50mm
180mm
100mm
0.1935kg
5028252047791
1
Specifications
• Colour Black
Master Case Information
Depth
Width
Height
Gross weight
UPC#
Unit quantity
268mm
144mm
200mm
2.125kg
5028255047798
10
Shipping Information
Country of origin
Minimum Order Quantity
CN
10
General information
Colour
Recycled %
Black
15.13
www.rexeleurope.com
Printed on 22/10/2013
Confidential and proprietary to ACCO Brands. Images are for illustrative purposes only. Errors and omissions excepted.

* Your assessment is very important for improving the work of artificial intelligence, which forms the content of this project