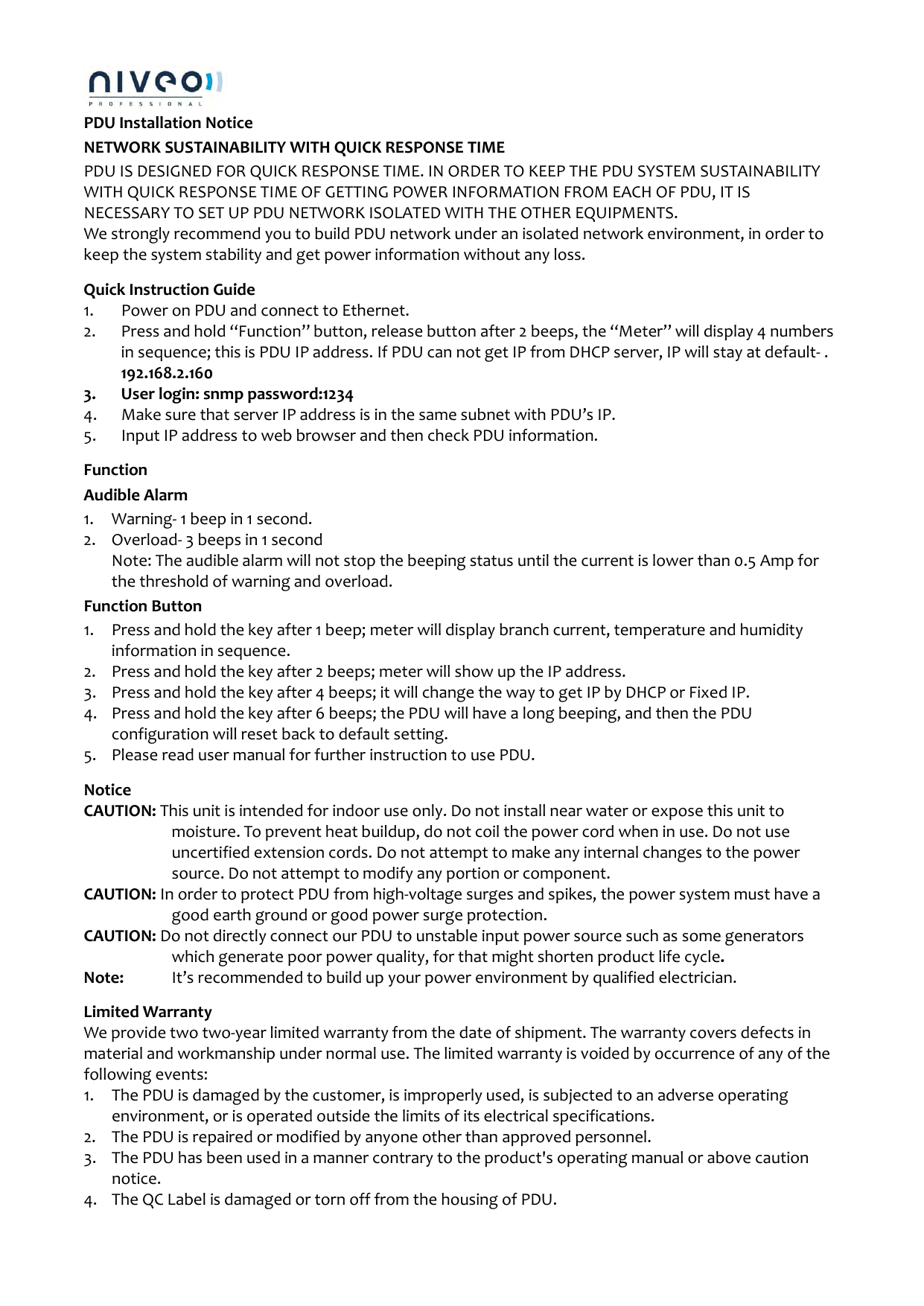 PDU Installation Notice
NETWORK SUSTAINABILITY WITH QUICK RESPONSE TIME
PDU IS DESIGNED FOR QUICK RESPONSE TIME. IN ORDER TO KEEP THE PDU SYSTEM SUSTAINABILITY
WITH QUICK RESPONSE TIME OF GETTING POWER INFORMATION FROM EACH OF PDU, IT IS
NECESSARY TO SET UP PDU NETWORK ISOLATED WITH THE OTHER EQUIPMENTS.
We strongly recommend you to build PDU network under an isolated network environment, in order to
keep the system stability and get power information without any loss.
Quick Instruction Guide
1.
Power on PDU and connect to Ethernet.
2. Press and hold "Function" button, release button after 2 beeps, the "Meter" will display 4 numbers
in sequence; this is PDU IP address. If PDU can not get IP from DHCP server, IP will stay at default- .
192.168.2.160
3. User login: snmp password:1234
4. Make sure that server IP address is in the same subnet with PDU's IP.
5. Input IP address to web browser and then check PDU information.
Function
Audible Alarm
1. Warning- 1 beep in 1 second.
2. Overload- 3 beeps in 1 second
Note: The audible alarm will not stop the beeping status until the current is lower than 0.5 Amp for
the threshold of warning and overload.
Function Button
1. Press and hold the key after 1 beep; meter will display branch current, temperature and humidity
information in sequence.
2. Press and hold the key after 2 beeps; meter will show up the IP address.
3. Press and hold the key after 4 beeps; it will change the way to get IP by DHCP or Fixed IP.
4. Press and hold the key after 6 beeps; the PDU will have a long beeping, and then the PDU
configuration will reset back to default setting.
5. Please read user manual for further instruction to use PDU.
Notice
CAUTION: This unit is intended for indoor use only. Do not install near water or expose this unit to
moisture. To prevent heat buildup, do not coil the power cord when in use. Do not use
uncertified extension cords. Do not attempt to make any internal changes to the power
source. Do not attempt to modify any portion or component.
CAUTION: In order to protect PDU from high-voltage surges and spikes, the power system must have a
good earth ground or good power surge protection.
CAUTION: Do not directly connect our PDU to unstable input power source such as some generators
which generate poor power quality, for that might shorten product life cycle.
Note:
It's recommended to build up your power environment by qualified electrician.
Limited Warranty
We provide two two-year limited warranty from the date of shipment. The warranty covers defects in
material and workmanship under normal use. The limited warranty is voided by occurrence of any of the
following events:
1. The PDU is damaged by the customer, is improperly used, is subjected to an adverse operating
environment, or is operated outside the limits of its electrical specifications.
2. The PDU is repaired or modified by anyone other than approved personnel.
3. The PDU has been used in a manner contrary to the product's operating manual or above caution
notice.
4. The QC Label is damaged or torn off from the housing of PDU.

* Your assessment is very important for improving the work of artificial intelligence, which forms the content of this project