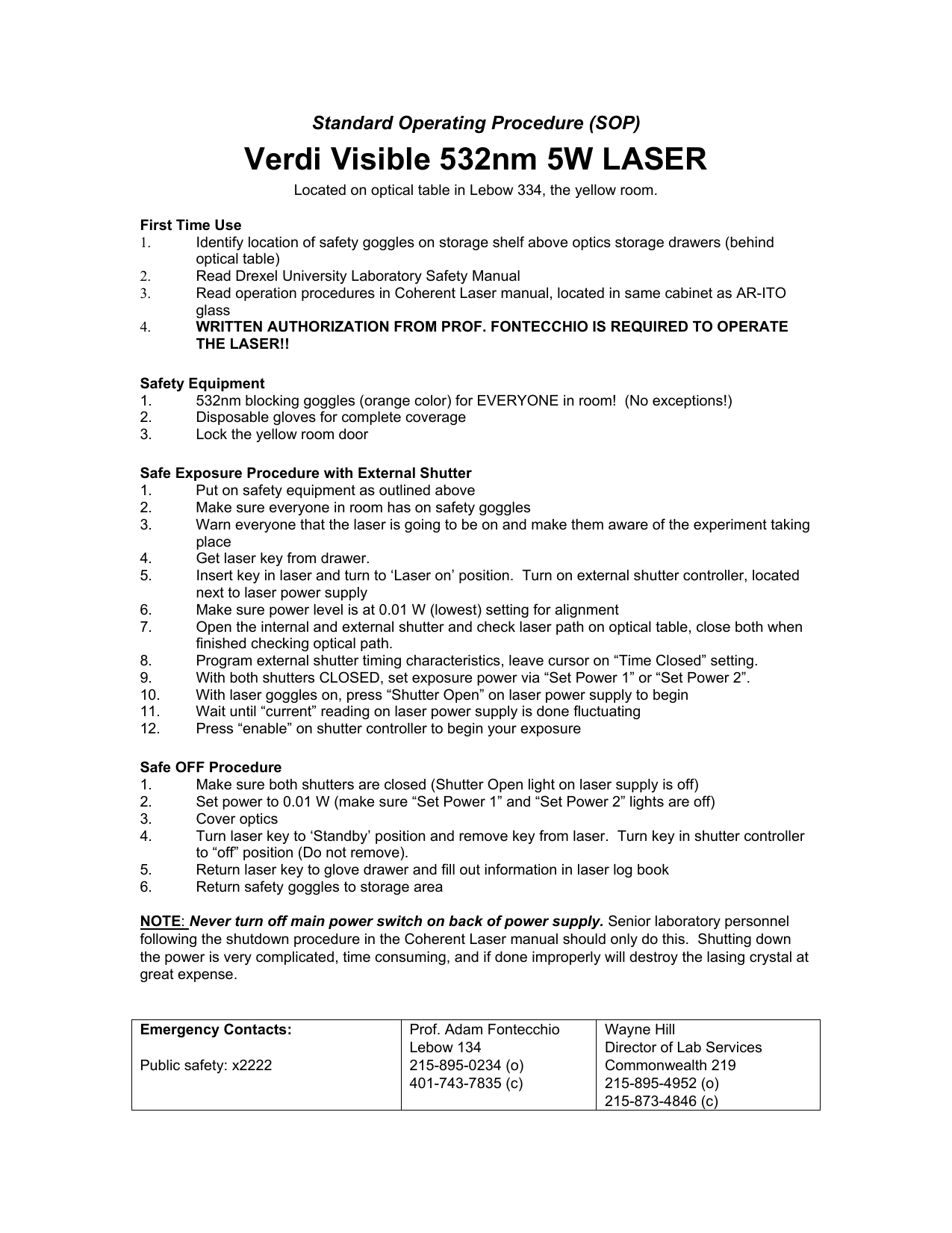 Standard Operating Procedure (SOP)
Verdi Visible 532nm 5W LASER
Located on optical table in Lebow 334, the yellow room.
First Time Use
1.
Identify location of safety goggles on storage shelf above optics storage drawers (behind
optical table)
2.
Read Drexel University Laboratory Safety Manual
3.
Read operation procedures in Coherent Laser manual, located in same cabinet as AR-ITO
glass
4.
WRITTEN AUTHORIZATION FROM PROF. FONTECCHIO IS REQUIRED TO OPERATE
THE LASER!!
Safety Equipment
1.
532nm blocking goggles (orange color) for EVERYONE in room! (No exceptions!)
2.
Disposable gloves for complete coverage
3.
Lock the yellow room door
Safe Exposure Procedure with External Shutter
1.
Put on safety equipment as outlined above
2.
Make sure everyone in room has on safety goggles
3.
Warn everyone that the laser is going to be on and make them aware of the experiment taking
place
4.
Get laser key from drawer.
5.
Insert key in laser and turn to 'Laser on' position. Turn on external shutter controller, located
next to laser power supply
6.
Make sure power level is at 0.01 W (lowest) setting for alignment
7.
Open the internal and external shutter and check laser path on optical table, close both when
finished checking optical path.
8.
Program external shutter timing characteristics, leave cursor on "Time Closed" setting.
9.
With both shutters CLOSED, set exposure power via "Set Power 1" or "Set Power 2".
10.
With laser goggles on, press "Shutter Open" on laser power supply to begin
11.
Wait until "current" reading on laser power supply is done fluctuating
12.
Press "enable" on shutter controller to begin your exposure
Safe OFF Procedure
1.
Make sure both shutters are closed (Shutter Open light on laser supply is off)
2.
Set power to 0.01 W (make sure "Set Power 1" and "Set Power 2" lights are off)
3.
Cover optics
4.
Turn laser key to 'Standby' position and remove key from laser. Turn key in shutter controller
to "off" position (Do not remove).
5.
Return laser key to glove drawer and fill out information in laser log book
6.
Return safety goggles to storage area
NOTE: Never turn off main power switch on back of power supply. Senior laboratory personnel
following the shutdown procedure in the Coherent Laser manual should only do this. Shutting down
the power is very complicated, time consuming, and if done improperly will destroy the lasing crystal at
great expense.
Emergency Contacts:
Public safety: x2222
Prof. Adam Fontecchio
Lebow 134
215-895-0234 (o)
401-743-7835 (c)
Wayne Hill
Director of Lab Services
Commonwealth 219
215-895-4952 (o)
215-873-4846 (c)
Senior Personnel: Mike Ermold, Lebow 132, 215-895-1498, 610-781-9721 (c)
Hemang Shah, Lebow 132, 215-895-1498, 267-608-6488 (c)
Greg Fridman, Hess 117, 215-895-0576, 312-371-7947 (c)
This document is available online at http://www.ece.drexel.edu/photonics/Facilities.html or by clicking
the Laser Safety icon on any laboratory computer desktop.

* Your assessment is very important for improving the work of artificial intelligence, which forms the content of this project