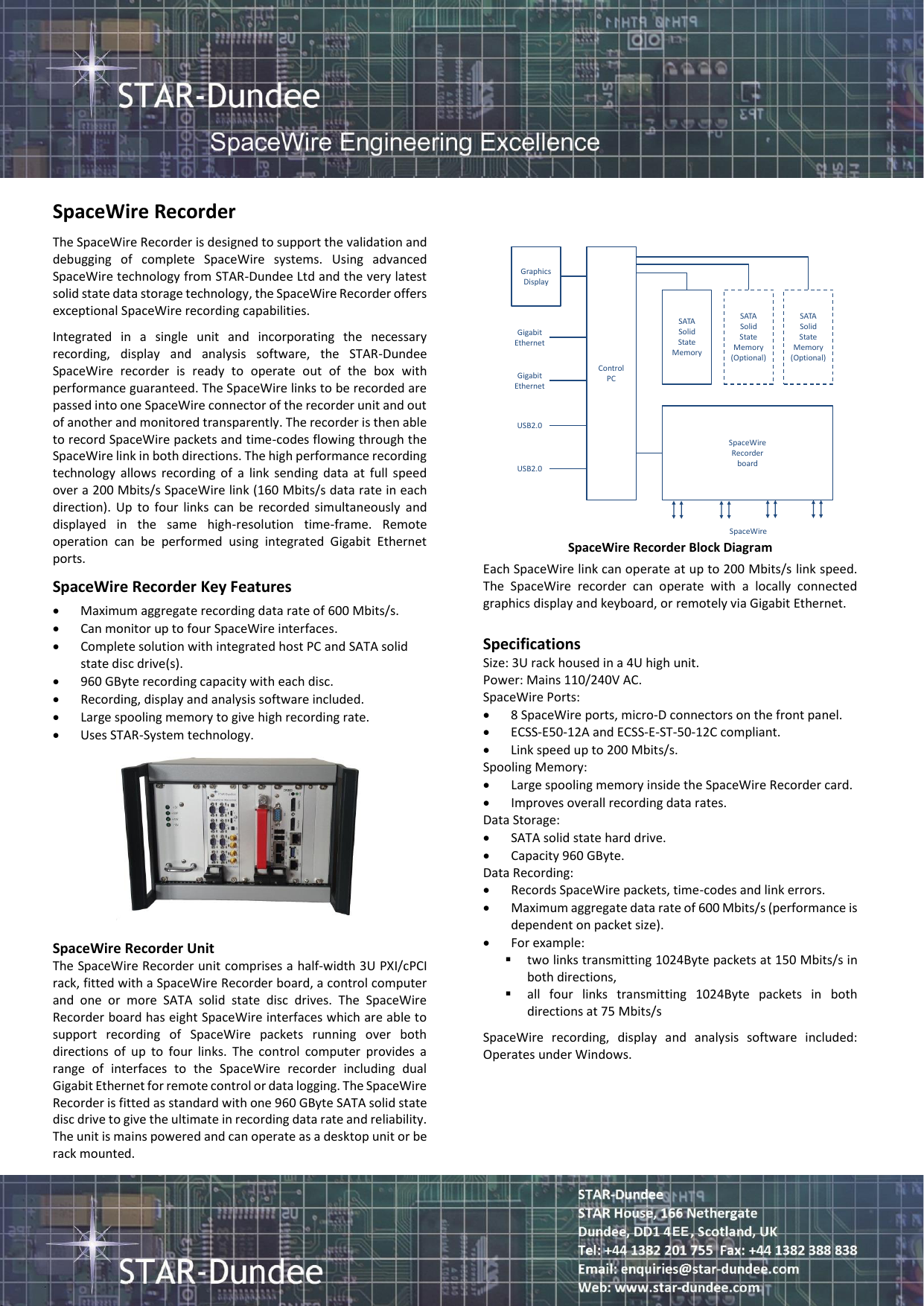 SpaceWire Recorder
The SpaceWire Recorder is designed to support the validation and
debugging of complete SpaceWire systems. Using advanced
SpaceWire technology from STAR-Dundee Ltd and the very latest
solid state data storage technology, the SpaceWire Recorder offers
exceptional SpaceWire recording capabilities.
Integrated in a single unit and incorporating the necessary
recording, display and analysis software, the STAR-Dundee
SpaceWire recorder is ready to operate out of the box with
performance guaranteed. The SpaceWire links to be recorded are
passed into one SpaceWire connector of the recorder unit and out
of another and monitored transparently. The recorder is then able
to record SpaceWire packets and time-codes flowing through the
SpaceWire link in both directions. The high performance recording
technology allows recording of a link sending data at full speed
over a 200 Mbits/s SpaceWire link (160 Mbits/s data rate in each
direction). Up to four links can be recorded simultaneously and
displayed in the same high-resolution time-frame. Remote
operation can be performed using integrated Gigabit Ethernet
ports.
SpaceWire Recorder Key Features







Maximum aggregate recording data rate of 600 Mbits/s.
Can monitor up to four SpaceWire interfaces.
Complete solution with integrated host PC and SATA solid
state disc drive(s).
960 GByte recording capacity with each disc.
Recording, display and analysis software included.
Large spooling memory to give high recording rate.
Uses STAR-System technology.
SpaceWire Recorder Unit
The SpaceWire Recorder unit comprises a half-width 3U PXI/cPCI
rack, fitted with a SpaceWire Recorder board, a control computer
and one or more SATA solid state disc drives. The SpaceWire
Recorder board has eight SpaceWire interfaces which are able to
support recording of SpaceWire packets running over both
directions of up to four links. The control computer provides a
range of interfaces to the SpaceWire recorder including dual
Gigabit Ethernet for remote control or data logging. The SpaceWire
Recorder is fitted as standard with one 960 GByte SATA solid state
disc drive to give the ultimate in recording data rate and reliability.
The unit is mains powered and can operate as a desktop unit or be
rack mounted.
Graphics
Display
SATA
Solid
State
Memory
Gigabit
Ethernet
SATA
Solid
State
Memory
(Optional)
SATA
Solid
State
Memory
(Optional)
Control
PC
Gigabit
Ethernet
USB2.0
SpaceWire
Recorder
board
USB2.0
SpaceWire
SpaceWire Recorder Block Diagram
Each SpaceWire link can operate at up to 200 Mbits/s link speed.
The SpaceWire recorder can operate with a locally connected
graphics display and keyboard, or remotely via Gigabit Ethernet.
Specifications
Size: 3U rack housed in a 4U high unit.
Power: Mains 110/240V AC.
SpaceWire Ports:

8 SpaceWire ports, micro-D connectors on the front panel.

ECSS-E50-12A and ECSS-E-ST-50-12C compliant.

Link speed up to 200 Mbits/s.
Spooling Memory:

Large spooling memory inside the SpaceWire Recorder card.

Improves overall recording data rates.
Data Storage:

SATA solid state hard drive.

Capacity 960 GByte.
Data Recording:

Records SpaceWire packets, time-codes and link errors.

Maximum aggregate data rate of 600 Mbits/s (performance is
dependent on packet size).

For example:
 two links transmitting 1024Byte packets at 150 Mbits/s in
both directions,
 all four links transmitting 1024Byte packets in both
directions at 75 Mbits/s
SpaceWire recording, display and analysis software included:
Operates under Windows.

* Your assessment is very important for improving the work of artificial intelligence, which forms the content of this project