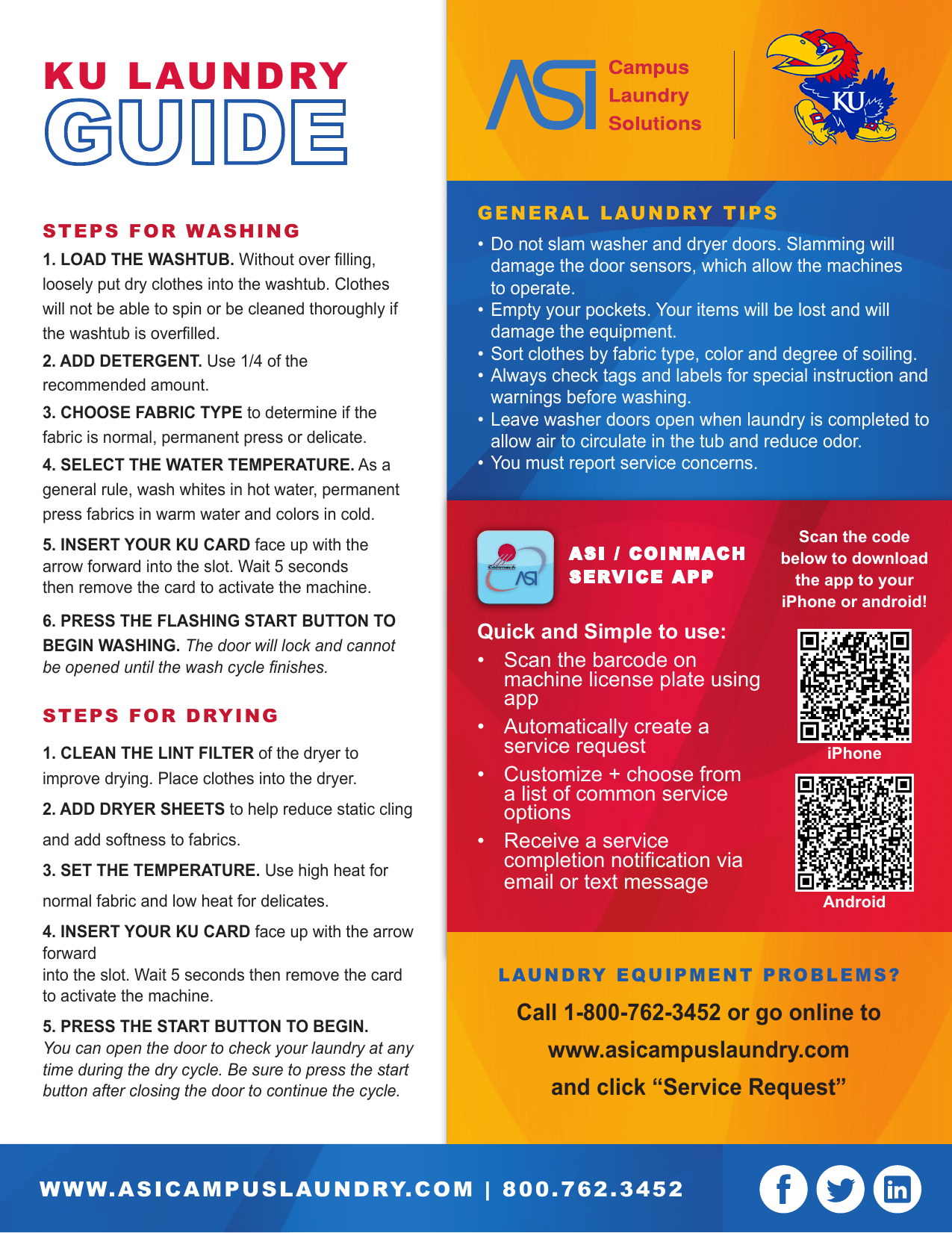 KU LAUNDRY
STEPS FOR WASHING
1. LOAD THE WASHTUB. Without over filling,
loosely put dry clothes into the washtub. Clothes
will not be able to spin or be cleaned thoroughly if
the washtub is overfilled.
2. ADD DETERGENT. Use 1/4 of the recommended amount.
3. CHOOSE FABRIC TYPE to determine if the
fabric is normal, permanent press or delicate.
4. SELECT THE WATER TEMPERATURE. As a
general rule, wash whites in hot water, permanent
press fabrics in warm water and colors in cold.
5. INSERT YOUR KU CARD face up with the
arrow forward into the slot. Wait 5 seconds then remove the card to activate the machine.
6. PRESS THE FLASHING START BUTTON TO
BEGIN WASHING. The door will lock and cannot
be opened until the wash cycle finishes.
S T E P S F O R D RY I N G
1. CLEAN THE LINT FILTER of the dryer to
improve drying. Place clothes into the dryer.
2. ADD DRYER SHEETS to help reduce static cling
and add softness to fabrics.
3. SET THE TEMPERATURE. Use high heat for
normal fabric and low heat for delicates.
4. INSERT YOUR KU CARD face up with the arrow
forward into the slot. Wait 5 seconds then remove the card
to activate the machine.
5. PRESS THE START BUTTON TO BEGIN.
You can open the door to check your laundry at any
time during the dry cycle. Be sure to press the start
button after closing the door to continue the cycle.
G E N E R A L L A U N D RY T I P S
• Do not slam washer and dryer doors. Slamming will damage the door sensors, which allow the machines to operate.
• Empty your pockets. Your items will be lost and will damage the equipment.
• Sort clothes by fabric type, color and degree of soiling.
• Always check tags and labels for special instruction and
warnings before washing.
• Leave washer doors open when laundry is completed to
allow air to circulate in the tub and reduce odor.
• You must report service concerns.
ASI / COINMACH
SERVICE APP
Quick and Simple to use:
• Scan the barcode on
machine license plate using
app
• Automatically create a
service request
• Customize + choose from
a list of common service
options
• Receive a service
completion notification via
email or text message
Scan the code
below to download
the app to your
iPhone or android!
iPhone
Android
L A U N D RY E Q U I P M E N T P R O B L E M S ?
Call 1-800-762-3452 or go online to
www.asicampuslaundry.com
and click "Service Request"
W W W. A S I C A M P U S L AU N D RY. C O M | 8 0 0 . 7 6 2 . 3 4 5 2
LaundryAlert™
SIGN UP TO RECEIVE LAUNDRYALERT
NOTIFCATIONS VIA TEXT MESSAGE!
On the LaundryAlert™ web site, in the e-mail
notification box, enter your cell phone number
followed by your mobile carrier's string for SMS text
GO TO: WWW.LAUNDRYALERT.COM
AND ENTER THE CODE: JAYHAWK
See which machines are available or how much time is left on the machine(s)
messages. For example, if your carrier is AT&T and
in-use. Receive an e-mail notification or text
your phone number is (123) 456-7890 you would
alert when your laundry is done or when
enter 1234567890@txt.att.net. Other (SMS) strings
machines become available.
can be found by either contacting your cell phone
company or looking it up on Google, MSN, etc.
A link is provided in Laundryalert FAQ section to
easily find the user's cell provider's SMS address.
T-Mobil
1234567890@tmomail.net
Sprint
1234567890@messaging.sprintpcs.com
ATT Wireless
1234567890@txt.att.net
Boost Mobile
1234567890@myboostmobile.com
Cingular
1234567890@cingularme.com
Nextel
1234567890@messaging.nextel.com
Sprint PCS
1234567890@messaging.sprintpcs.com
Verizon
1234567890@vzwpix.com
Virgin Mobile
1234567890@vmobl.com
W W W. A S I C A M P U S L AU N D RY. C O M | 8 0 0 . 7 6 2 . 3 4 5 2
SCAN WITH YOUR
SMART PHONE
TO BE TAKEN
DIRECTLY TO
LAUNDRYALERT.

* Your assessment is very important for improving the work of artificial intelligence, which forms the content of this project