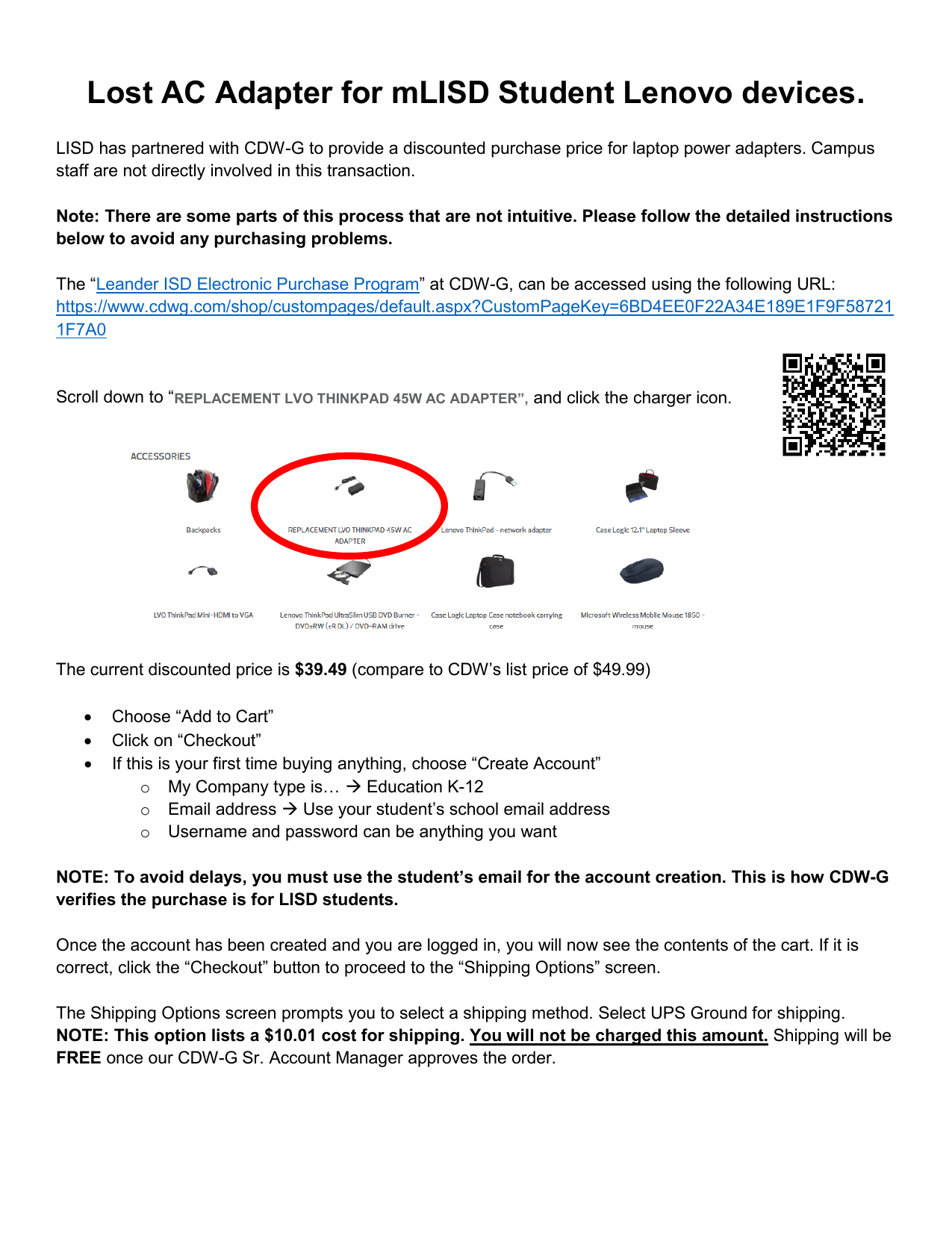 Lost AC Adapter for mLISD Student Lenovo devices.
LISD has partnered with CDW-G to provide a discounted purchase price for laptop power adapters. Campus
staff are not directly involved in this transaction.
Note: There are some parts of this process that are not intuitive. Please follow the detailed instructions
below to avoid any purchasing problems.
The "Leander ISD Electronic Purchase Program" at CDW-G, can be accessed using the following URL:
https://www.cdwg.com/shop/custompages/default.aspx?CustomPageKey=6BD4EE0F22A34E189E1F9F58721
1F7A0
Scroll down to "REPLACEMENT LVO THINKPAD 45W AC ADAPTER", and click the charger icon.
The current discounted price is $39.49 (compare to CDW's list price of $49.99)
•
•
•
Choose "Add to Cart"
Click on "Checkout"
If this is your first time buying anything, choose "Create Account"
o My Company type is…  Education K-12
o Email address  Use your student's school email address
o Username and password can be anything you want
NOTE: To avoid delays, you must use the student's email for the account creation. This is how CDW-G
verifies the purchase is for LISD students.
Once the account has been created and you are logged in, you will now see the contents of the cart. If it is
correct, click the "Checkout" button to proceed to the "Shipping Options" screen.
The Shipping Options screen prompts you to select a shipping method. Select UPS Ground for shipping.
NOTE: This option lists a $10.01 cost for shipping. You will not be charged this amount. Shipping will be
FREE once our CDW-G Sr. Account Manager approves the order.
Click the "Continue" button to continue to the Payment screen. Please provide Billing Address information and
enter your credit card information. NOTE: Please be sure to include a phone number on this page, so
CDW-G can contact you in case of any problems.
Click the "Continue" button to proceed to the "Order Review" screen. NOTE: You WILL see charges for
Shipping AND Sales Tax. These will be removed once our CDW-G Sr. Account Manager approves the
order.
Click the "Place Order" button
Any order placed through this website will be reviewed by our CDW-G Sr. Account Manager, to verify the
purchase is for an LISD student. Once approved, the order will be processed. Shipping and Sales Tax will be
removed, and you will receive confirmation of your purchase in email showing the correct charge to
your card.
Items purchased will be shipped directly to your address. Please allow a few days for receipt of the items.

* Your assessment is very important for improving the work of artificial intelligence, which forms the content of this project