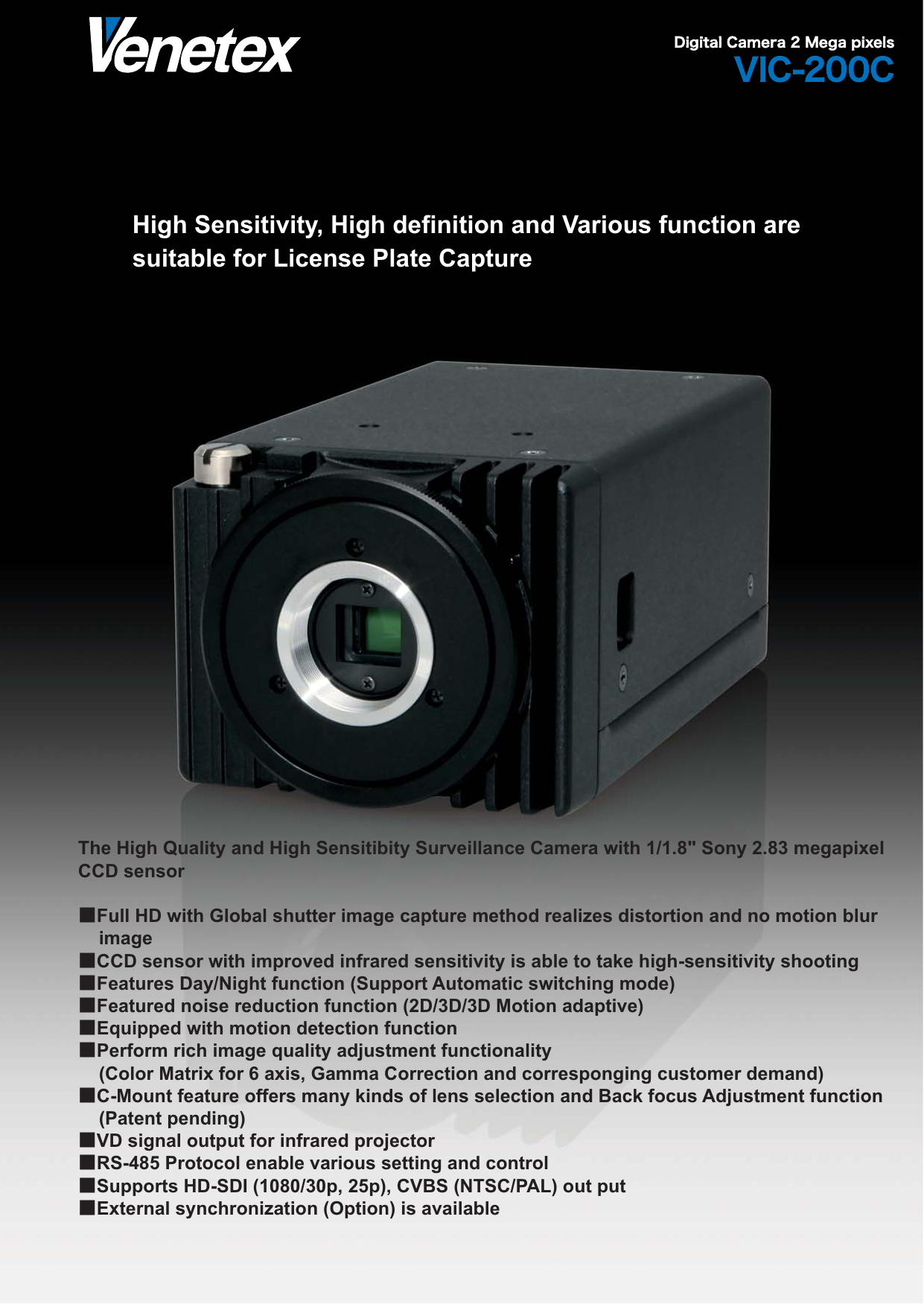 High Sensitivity, High definition and Various function are
suitable for License Plate Capture
The High Quality and High Sensitibity Surveillance Camera with 1/1.8" Sony 2.83 megapixel
CCD sensor
■Full HD with Global shutter image capture method realizes distortion and no motion blur
image
■CCD sensor with improved infrared sensitivity is able to take high-sensitivity shooting
■Features Day/Night function (Support Automatic switching mode)
■Featured noise reduction function (2D/3D/3D Motion adaptive)
■Equipped with motion detection function
■Perform rich image quality adjustment functionality
(Color Matrix for 6 axis, Gamma Correction and corresponging customer demand)
■C-Mount feature offers many kinds of lens selection and Back focus Adjustment function
(Patent pending)
■VD signal output for infrared projector
■RS-485 Protocol enable various setting and control
■Supports HD-SDI (1080/30p, 25p), CVBS (NTSC/PAL) out put
■External synchronization (Option) is available
Specification
Image sensor
Sensor
Sony 1/1.8 inch CCD
Effective pixels
Number of output pixels
Optical system
Main function
Lens mount
C-mount (Back focus function)
IR-cut filter mount
Built-in switching mechanism with mechanical IR switching function
Shutter
1/30 sec to 1/50,000 sec
Frame rate
Color 0.35 lx / Black & White 0.001 lx (1/30 sec, AGC HIGH, F1.4) *
Minimum Illumination
3D DNR
Motion adaptive noise reduction
Aperture, Shutter, AGC correction function
At night can be switched to monochrome mode by IR switching function
Backlight compensation is possible (Changing the metering area)
White balance
Privacy mask
8 positions setting are available (Location and size can be set arbitrarily)
Electronic zoom
Maximum 64 times
Motion detection
3 positions setting are available (Location and size can be set arbitrarily)
External control
External interface
HD Video output
SD Video output
VD output
Input / output terminal
Negative polarity 0 to 4v, Low impedance (It works as AND function with the Day / Night function)
Sync signal input
Option (Black burst signal)
Alarm output
Motion detection output, Day/Night mode change output
Alarm input
Day/Night mode change input, Freeze function input
RS-485 communication
Venetex standard / PELCO (P,D is standard equipped)
Monitor output
SD output (composite)
HD Video output
SD Video output
VD output
Terminal (Use of 2-pole form 10-pole connector)
BNCx1 (Available as an option)
Alarm input / output
Terminal (Use of 8-pole form 10-pole connector)
RS-485 communication
Terminal with Screw fixation
Power
Power supply
Power consumption
Environmental condition
Operating temperature
35% ∼ 90%RH (No condensation)
Operating humidity
Storage temperature
10% ∼ 90%RH (No condensation)
Storage humidity
External mounting
One 1/4 UNC Screw (Can be switched to the upper mounting)
Dimensions
81(W) x 65(H) x 145(D) mm (Excluding protrusions)
Weight
*JEITA TTR-4602B
PC
Camera (VIC-200C)
SD Monitor
C-mount lens
HD Monitor
RS-485 Remote controller
Infrared floodlight
*Specifications as of February, 2013. Features and specifications subject to change without notice.
*Actual color of the device may be different from the image.

* Your assessment is very important for improving the work of artificial intelligence, which forms the content of this project