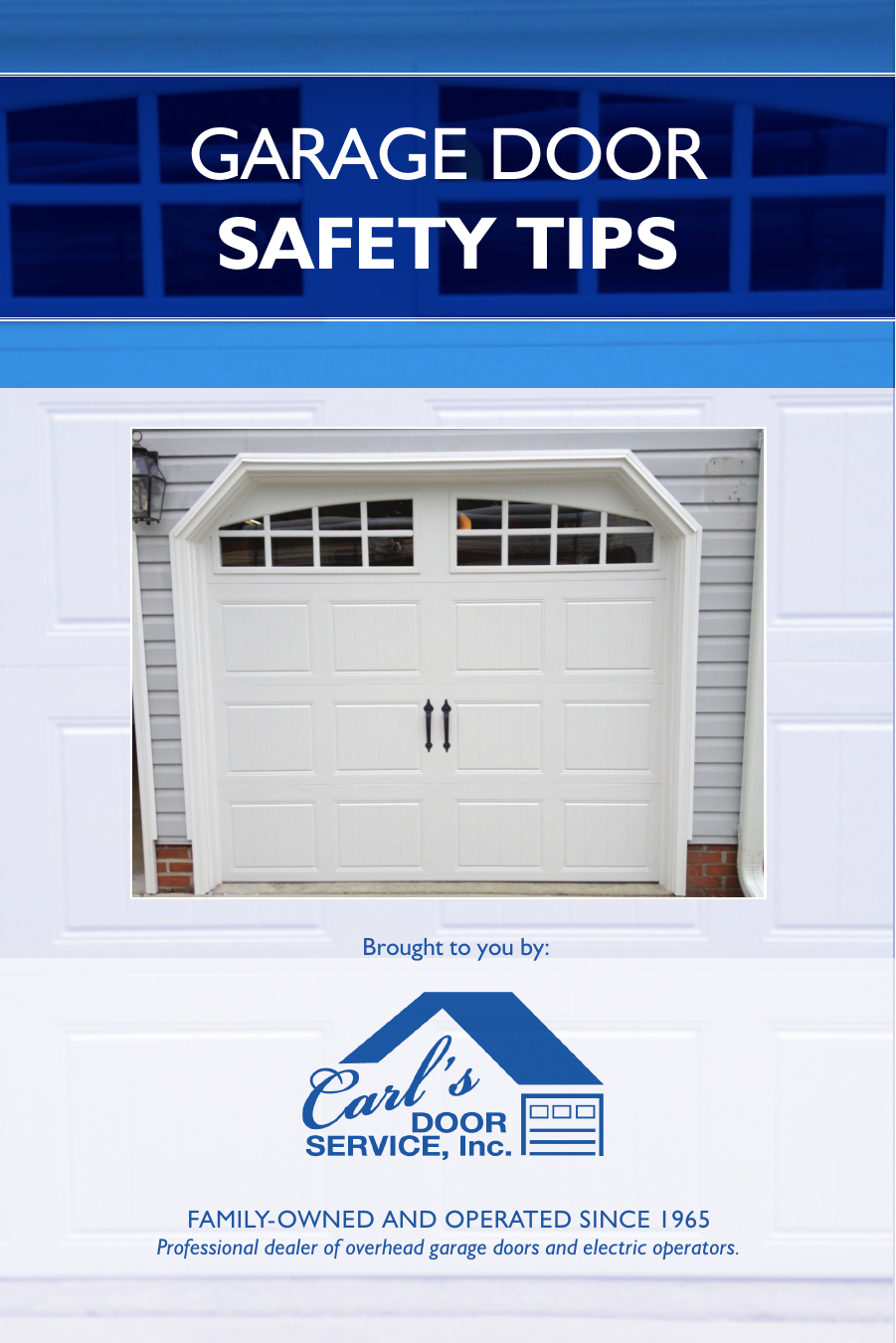 GARAGE DOOR
SAFETY TIPS
Brought to you by:
FAMILY-OWNED AND OPERATED SINCE 1965
Professional dealer of overhead garage doors and electric operators.
Table of Contents
Purpose of the Booklet ..........................................................3
Get to Know Your Garage Door ............................................4
Safety and Maintenance Guidelines ........................................5
Resources ..........................................................................11
Carl's Door Safety Booklet
2
The Purpose of This Booklet
A garage door is likely the largest piece of movable machinery in
your home. It is a complicated system of panels, tracks, springs,
motors, hooks, cables and hinges that work together to open
and close at the click of a button. But are you sure that all of
those parts are in good working order? A garage door that is
not functioning properly can pose danger to you and your loved
ones. And the only way to know for sure that everything is
operating to standard is to hire a professional to come out for an
inspection.
At Carl's it is our passion to ensure that your garage door is
never a safety hazard, but always a thing of beauty that enhances
your home and quality of life.
The following pages offer some information on why and how
to check your garage door to ensure safe operation. When in
doubt, always consult a professional technician. Carl's offers
garage door safety inspections starting at $95 (price varies by
location.) Please call the office if you would like to schedule a
service call: 410.557.8700.
When in doubt,
always consult a
professional
technician.
www.carlsdoorservice.com
3
Get to Know Your Garage Door
Let's get oriented with the many working parts of modern
garage doors. Below is a diagram of the parts present in most
door systems.
Source: http://www.garagedoorpartsguide.net/garage-door-parts-diagram/
1. Bearing Plates
2. Cables
3. Pulleys & Sheaves
4. Locks & Handles
5. Rollers
6. Garage Door Rail Components
7. Garage Door Openers
8. Extension Springs
9. Springs
10. Panel Hinges
11. Weatherstripping
12. Bottom Fixtures
13. Graduated Hinges
Carl's Door Safety Booklet
14. Top Fixtures
15. Quick Disconnect Arts
16. Garage Door Torsion Springs
17. Torsion Spring Shafts
18. Angle Iron Brackets
19. Track
20. Bracket
21. Flag Bracket
22. Vertical Tracks
23. Track Brackets
24. Sensors
25. Garage Door Remotes
26. Garage Door Keypads
4
Automatic Garage Door Opener
Safety & Maintenance Guide
SAFETY IS EVERYONE'S BUSINESS
Automatic garage door openers are installed in millions of households. Proper installation, operation, maintenance and testing of
the garage door and automatic opener are necessary to provide
a safe, trouble-free product. An improperly adjusted garage door
opener can exert deadly force when the door closes. This could
lead to serious injury or death from being hit by a closing garage
door or from becoming trapped under the door.
Careless operation and allowing children to play with or use
garage door opener controls are alo dangerous situations that
can lead to tragic results. A few simple precautions can protect
your family and friends from potential harm. Please take a few
minutes to read the following maintenance and safety tips. Then
check the operation of your garage door and opener to ensure
they function in a safe and trouble-free manner.
A garage door is the largest moving object in the home. An improperly adjusted
garage door opener can exert deadly force when the door closes – which could
lead to entrapment of children or adults and subsequent injury or death from
asphyxiation.
www.carlsdoorservice.com
5
Garage Door Openers Are NOT Toys
SAFETY IS EVERYONE'S BUSINESS
Do not stand or walk under a moving door! Do not let children
play "beat the door." It is very dangerous and can result in
serious injury or death. Adults should set a good example.
Keep transmitters and remote controls out of reach of
children. Do not let children play with or use the transmitters
or remote controls.
Carl's Door Safety Booklet
6
Teach Your Children About
Garage Door Safety
SAFETY IS EVERYONE'S BUSINESS
Discuss garage door safety with your children. Explain the danger
of being trapped under the door. Do not let children play with or
use the pushbutton or transmitter.
The pushbutton wall control should be out of reach of children
(at least 5 feet from the floor) and away from all moving
parts. Mount and use the button where you can clearly see
the closing garage door.
www.carlsdoorservice.com
7
Teach Your Children About
Garage Door Safety
SAFETY IS EVERYONE'S BUSINESS
When using the pushbutton or transmitter, keep the door in sight until it completely
closes. Teach children to never play under or near an open garage door. Do not allow
children to run under a closing door.
Testing the Opener
Make sure your opener has a reversing feature and test the reversing feature every
month. With the door open, place a one inch thick piece of wood, laid flat, on the
floor in the door's path at approximately the center of the door. While a 1 inch piece
of wood is best, if you don't have one, use a 2 x 4 laid flat. Test the balance of the
doo before performing the reversal test.
Carl's Door Safety Booklet
8
Testing the Opener
SAFETY IS EVERYONE'S BUSINESS
Push the control button to close the door. The door opener must
reverse and open the door when it strikes the wood. If the opener does not reverse, have it repaired or replaced. Also consider
replacement of the garage door opener if it is an older model.
Have a qualified individual adjust, repair or replace the parts.
Test the force setting of your garage door opener by holding up
the bottom of the door as it closes. If the door does not reverse
readily, the force is excessive and needs adjusting. Your garage
door opener owner's manual will explain how to adjust the force
sensitivity. A qualified individual should adjust it. To avoid entrapment, be sure to perform the 1 inch reversing test after any
repairs or adjustments are made to the garage door or opener.
Many garage door openers can be equipped with accessory safety
devices. Consider adding an electric eye or edge sensor as an
extra measure of safety to protect against entrapment.
www.carlsdoorservice.com
9
Routine Maintenance Can
Prevent Tragedies
SAFETY IS EVERYONE'S BUSINESS
There are routine maintenance steps that you should follow once
a month. Review your owner's manual for both the door and
door opener. If you don't have the owner's manuals, contact the
manufacturer(s) and request a copy for your specific model(s).
Look for the opener model number on the back of the power
unit.
Look at the garage door springs, cables, rollers, pulleys and other
door hardware for signs of wear. If you suspect any problems,
have a qualified person make repairs. The springs and related
hardware are under high tension and can cause severe injury
when handled improperly.
WARNING: Springs are under high tension. Only qualified
individuals should adjust them.
Rollers and hinges of a garage door require periodic
lubrication. Use a spray silicone or lightweight household oil
according to the instructions in your owner's manual.
Carl's Door Safety Booklet
10
Peridoically test the balance of your door. Start with your door
closed. Disconnect the garage door opener release mechanism
so you can operate the door by hand. You should be able to lift
the door smoothly and with little resistance. It should stay open
around three to four feet above the floor. If it does not, it is out
of balance. Have it adjusted by a professional.
Garage Door Opener Safety
An Automatic Decision
Take a few minutes to inspect and test your garage door system. Make monthly inspection and testing a part of your regular
routine. Safety is everyone's business. Make garage door opener
safety automatic in your home.
This important information is provided by the U.S. Consumer Product Safety Commission, the National Safety Council and the Industry Coalition for Automatic
Garage Door Opener Safety.
www.carlsdoorservice.com
11
Additional Resources
For more Garage Door Safety Tips, visit:
International Door Association
(www.doors.org)
Door & Access Systems Manufacturers Association
(www.DASMA.com)
2502 Greene Road
Baldwin, MD 21013
(410) 557-8700
www.carlsdoorservice.com
Like us on Facebook!

* Your assessment is very important for improving the work of artificial intelligence, which forms the content of this project