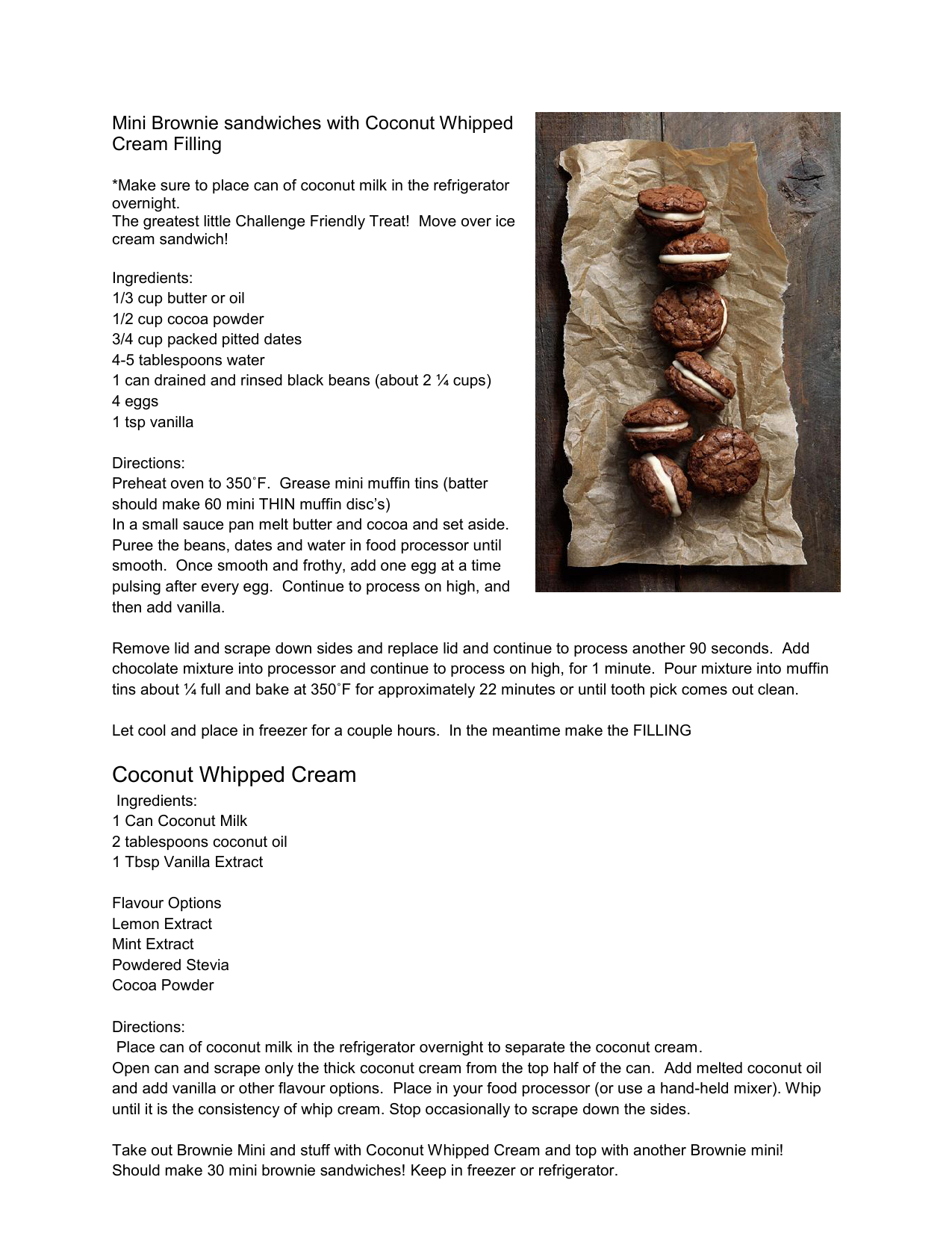 Mini Brownie sandwiches with Coconut Whipped
Cream Filling
*Make sure to place can of coconut milk in the refrigerator
overnight.
The greatest little Challenge Friendly Treat! Move over ice
cream sandwich!
Ingredients:
1/3 cup butter or oil
1/2 cup cocoa powder
3/4 cup packed pitted dates
4-5 tablespoons water
1 can drained and rinsed black beans (about 2 ¼ cups)
4 eggs
1 tsp vanilla
Directions:
Preheat oven to 350˚F. Grease mini muffin tins (batter
should make 60 mini THIN muffin disc's)
In a small sauce pan melt butter and cocoa and set aside.
Puree the beans, dates and water in food processor until
smooth. Once smooth and frothy, add one egg at a time
pulsing after every egg. Continue to process on high, and
then add vanilla.
Remove lid and scrape down sides and replace lid and continue to process another 90 seconds. Add
chocolate mixture into processor and continue to process on high, for 1 minute. Pour mixture into muffin
tins about ¼ full and bake at 350˚F for approximately 22 minutes or until tooth pick comes out clean.
Let cool and place in freezer for a couple hours. In the meantime make the FILLING
Coconut Whipped Cream
Ingredients:
1 Can Coconut Milk
2 tablespoons coconut oil
1 Tbsp Vanilla Extract
Flavour Options
Lemon Extract
Mint Extract
Powdered Stevia
Cocoa Powder
Directions:
Place can of coconut milk in the refrigerator overnight to separate the coconut cream.
Open can and scrape only the thick coconut cream from the top half of the can. Add melted coconut oil
and add vanilla or other flavour options. Place in your food processor (or use a hand-held mixer). Whip
until it is the consistency of whip cream. Stop occasionally to scrape down the sides.
Take out Brownie Mini and stuff with Coconut Whipped Cream and top with another Brownie mini!
Should make 30 mini brownie sandwiches! Keep in freezer or refrigerator.

* Your assessment is very important for improving the work of artificial intelligence, which forms the content of this project