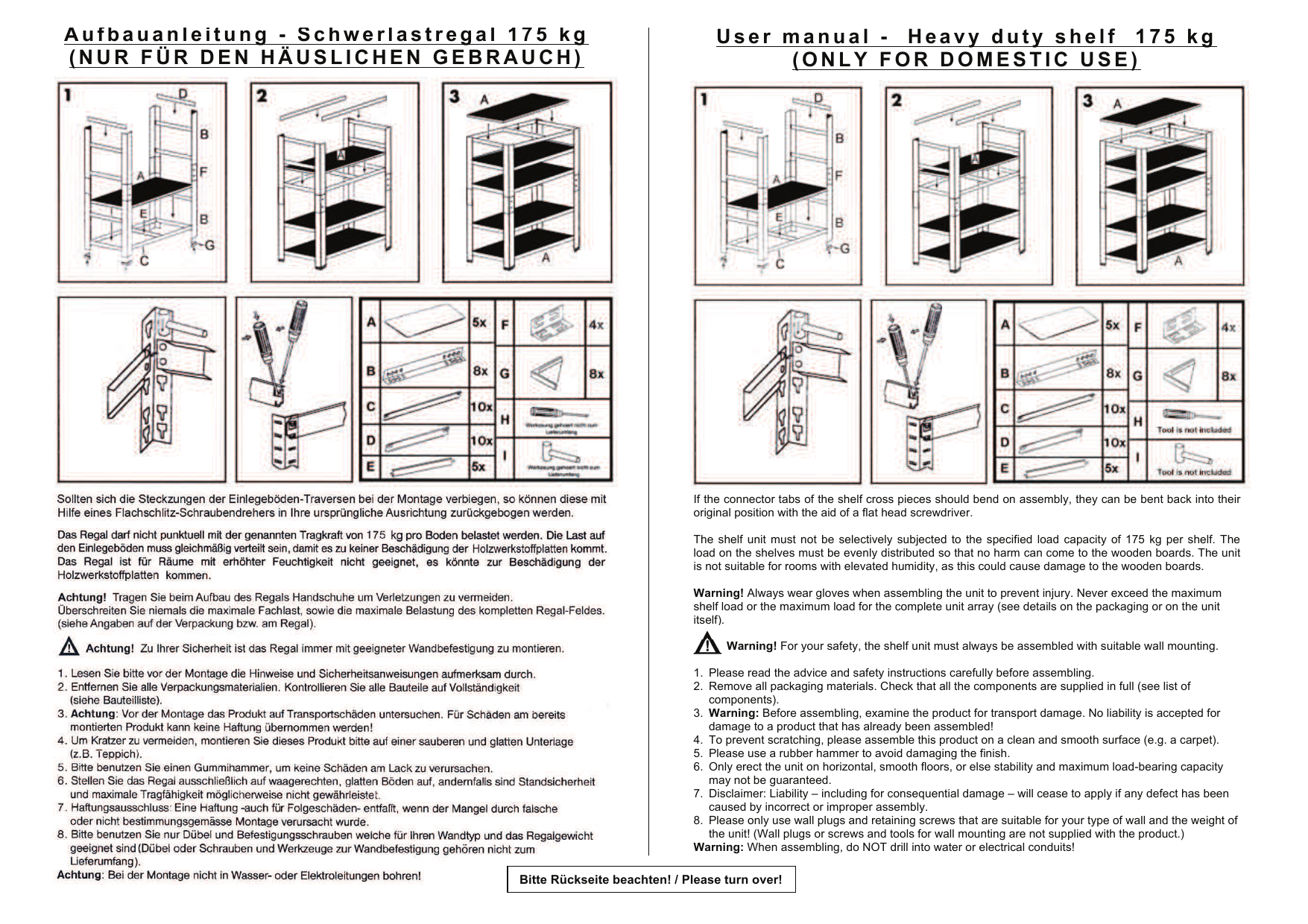 Aufbauanleitung - Schwerlastregal 175 kg
(NUR FÜR DEN HÄUSLICHEN GEBRAUCH)
User manual - Heavy duty shelf 175 kg
(ONLY FOR DOMESTIC USE)
If the connector tabs of the shelf cross pieces should bend on assembly, they can be bent back into their
original position with the aid of a flat head screwdriver.
The shelf unit must not be selectively subjected to the specified load capacity of 175 kg per shelf. The
load on the shelves must be evenly distributed so that no harm can come to the wooden boards. The unit
is not suitable for rooms with elevated humidity, as this could cause damage to the wooden boards.
Warning! Always wear gloves when assembling the unit to prevent injury. Never exceed the maximum
shelf load or the maximum load for the complete unit array (see details on the packaging or on the unit
itself).
Warning! For your safety, the shelf unit must always be assembled with suitable wall mounting.
1. Please read the advice and safety instructions carefully before assembling.
2. Remove all packaging materials. Check that all the components are supplied in full (see list of
components).
3. Warning: Before assembling, examine the product for transport damage. No liability is accepted for
damage to a product that has already been assembled!
4. To prevent scratching, please assemble this product on a clean and smooth surface (e.g. a carpet).
5. Please use a rubber hammer to avoid damaging the finish.
6. Only erect the unit on horizontal, smooth floors, or else stability and maximum load-bearing capacity
may not be guaranteed.
7. Disclaimer: Liability – including for consequential damage – will cease to apply if any defect has been
caused by incorrect or improper assembly.
8. Please only use wall plugs and retaining screws that are suitable for your type of wall and the weight of
the unit! (Wall plugs or screws and tools for wall mounting are not supplied with the product.)
Warning: When assembling, do NOT drill into water or electrical conduits!!
Bitte Rückseite beachten! / Please turn over!
2.1
Art.-Nr. 10076
!
!
Technische Daten
" Maße (H x B x T): ca. 180 x 90 x 40 cm
" Gewicht: ca. 20,1 kg
" 5 Einlegeböden à 175 kg Tragkraft
bei gleichmäßig verteilter Last
"
verzinkt!
!
Art.-No. 10076
Technical information
- Size (H x W x D): ca. 180 x 90 x 40 cm
- Weight: ca. 20,1 kg
- 5 boards with 175 kg of load capacity,
if evenly distributed
- galvanized
!

* Your assessment is very important for improving the work of artificial intelligence, which forms the content of this project