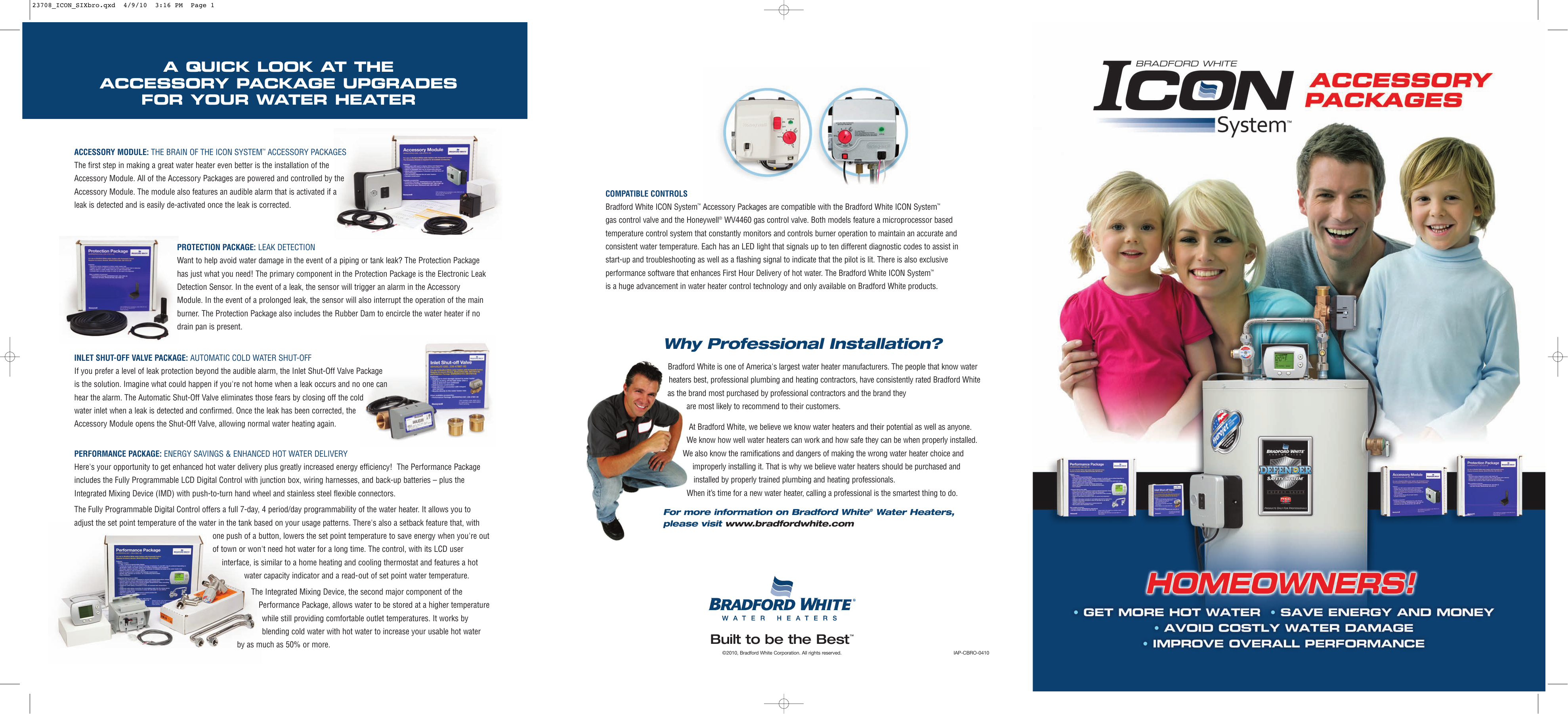 23708_ICON_SIXbro.qxd
4/9/10
3:16 PM
Page 1
A QUICK LOOK AT THE
ACCESSORY PACKAGE UPGRADES
FOR YOUR WATER HEATER
ACCESSORY MODULE: THE BRAIN OF THE ICON SYSTEM™ ACCESSORY PACKAGES
The first step in making a great water heater even better is the installation of the
Accessory Module. All of the Accessory Packages are powered and controlled by the
Accessory Module. The module also features an audible alarm that is activated if a
COMPATIBLE CONTROLS
leak is detected and is easily de-activated once the leak is corrected.
Bradford White ICON System™ Accessory Packages are compatible with the Bradford White ICON System™
gas control valve and the Honeywell® WV4460 gas control valve. Both models feature a microprocessor based
temperature control system that constantly monitors and controls burner operation to maintain an accurate and
PROTECTION PACKAGE: LEAK DETECTION
consistent water temperature. Each has an LED light that signals up to ten different diagnostic codes to assist in
Want to help avoid water damage in the event of a piping or tank leak? The Protection Package
start-up and troubleshooting as well as a flashing signal to indicate that the pilot is lit. There is also exclusive
has just what you need! The primary component in the Protection Package is the Electronic Leak
performance software that enhances First Hour Delivery of hot water. The Bradford White ICON System™
Detection Sensor. In the event of a leak, the sensor will trigger an alarm in the Accessory
is a huge advancement in water heater control technology and only available on Bradford White products.
Module. In the event of a prolonged leak, the sensor will also interrupt the operation of the main
burner. The Protection Package also includes the Rubber Dam to encircle the water heater if no
drain pan is present.
Why Professional Installation?
INLET SHUT-OFF VALVE PACKAGE: AUTOMATIC COLD WATER SHUT-OFF
If you prefer a level of leak protection beyond the audible alarm, the Inlet Shut-Off Valve Package
is the solution. Imagine what could happen if you're not home when a leak occurs and no one can
hear the alarm. The Automatic Shut-Off Valve eliminates those fears by closing off the cold
water inlet when a leak is detected and confirmed. Once the leak has been corrected, the
Accessory Module opens the Shut-Off Valve, allowing normal water heating again.
Bradford White is one of America's largest water heater manufacturers. The people that know water
heaters best, professional plumbing and heating contractors, have consistently rated Bradford White
as the brand most purchased by professional contractors and the brand they
are most likely to recommend to their customers.
At Bradford White, we believe we know water heaters and their potential as well as anyone.
We know how well water heaters can work and how safe they can be when properly installed.
PERFORMANCE PACKAGE: ENERGY SAVINGS & ENHANCED HOT WATER DELIVERY
We also know the ramifications and dangers of making the wrong water heater choice and
Here's your opportunity to get enhanced hot water delivery plus greatly increased energy efficiency! The Performance Package
improperly installing it. That is why we believe water heaters should be purchased and
includes the Fully Programmable LCD Digital Control with junction box, wiring harnesses, and back-up batteries – plus the
installed by properly trained plumbing and heating professionals.
Integrated Mixing Device (IMD) with push-to-turn hand wheel and stainless steel flexible connectors.
The Fully Programmable Digital Control offers a full 7-day, 4 period/day programmability of the water heater. It allows you to
adjust the set point temperature of the water in the tank based on your usage patterns. There's also a setback feature that, with
When it's time for a new water heater, calling a professional is the smartest thing to do.
For more information on Bradford White® Water Heaters,
please visit www.bradfordwhite.com
one push of a button, lowers the set point temperature to save energy when you're out
of town or won't need hot water for a long time. The control, with its LCD user
interface, is similar to a home heating and cooling thermostat and features a hot
water capacity indicator and a read-out of set point water temperature.
The Integrated Mixing Device, the second major component of the
Performance Package, allows water to be stored at a higher temperature
while still providing comfortable outlet temperatures. It works by
blending cold water with hot water to increase your usable hot water
by as much as 50% or more.
Built to be the Best
©2010, Bradford White Corporation. All rights reserved.
™
IAP-CBRO-0410
23708_ICON_SIXbro.qxd
4/9/10
3:16 PM
Page 2
Bradford White®, a manufacturer of the highest quality water heaters since 1881, is pleased to
INTEGRATED MIXING DEVICE**
offer you Bradford White ICON System™ Accessory Packages! This exclusive selection of water
The Integrated Mixing Device allows water in the tank to be stored at higher
heater accessories is only available from your Plumbing and Heating Professional.
temperatures, but delivers a safe and comfortable outlet temperature by
blending in cold water. This increases useable hot water by as much as 50%
Why put Bradford White ICON System Accessory Packages to work in your home?
®
Here are a few simple, but very good reasons!
1. For the first time, you'll have the ability to program your water heater in the same way you program the heating and cooling
thermostat in your home. Your water heater will then provide hot water when you need it. Based on your hot water usage,
you can save up to 36% in energy costs.
2. You can increase your useable hot water up to 50% or more. That's more hot water when you need it…however you want
or more. Bradford White's unique design incorporates a cold water outlet,
ACCESSORY MODULE
The Accessory Module powers and monitors the Accessory
an alternate hot water outlet, and a recirculation port inlet. Ask your
plumbing or heating contractor how these features can benefit you.
Packages and features an audible alarm and a multi-color
LED display to signal the status of the gas control valve,
Leak Detection Sensor, and Inlet Shut-Off Valve.
COLD WATER INLET SHUT-OFF VALVE
to use it!
The Inlet Shut-Off Valve closes the cold water inlet when a
leak is detected and confirmed. This will greatly reduce the
3. No water heater ever built will last forever. Wouldn't you like to know exactly when a leak occurs? The Leak Detection Sensor will
extent of possible water damage if a leak occurs.
trigger an alarm if water is detected. You'll know when it's time to call your plumbing or heating contractor.
The Accessory Module will automatically re-open the
4. What if you're not home if there is a leak and the alarm sounds? The Cold Water Inlet Shut-Off Valve can automatically close off
Shut-Off Valve once the leak is corrected.*
the incoming water supply further limiting the potential damage from a leak.
ELECTRONIC LEAK DETECTION SENSOR
The sensor will trigger the Accessory Module alarm in the event a leak is
detected and confirmed. It will also send a signal to the Accessory Module
to interrupt gas flow and main burner operation. Once the leak is
corrected the system automatically silences the alarm and resumes
normal operation.*
FULLY PROGRAMMABLE LCD DIGITAL CONTROL
The control offers full 7-day, 4 period/day control of the water heater.
Now you can program your water heater based on your usage patterns
and save up to 36% on energy costs. This easy-to-use control can be
attached directly to the water heater or mounted remotely.
WARRANTY UPGRADE
You can extend your Bradford White water heater warranty from the
standard six years to a full 10 years. Your plumbing or heating
RUBBER DAM
contractor has access to Bradford White Warranty Upgrade Kits for the
If there is no drain pan under the water heater,
most popular residential models. Ask your contractor about a warranty
Bradford White has provided a Rubber Dam to
upgrade and get the peace of mind 10-year coverage can provide.
encircle the water heater. The dam will hold enough
water to activate the sensor in the event of a leak.
*In the event that a water heater must be replaced, all components are re-useable and can be installed on a new water heater.
**The Integrated Mixing Device is ASSE and UPC (IAPMO) certified and complies with applicable CSA/NSF standards.
NOTE: Bradford White ICON System™ Accessory Packages are meant to complement the water heating system and do not replace existing National/State/Local code(s) and/or manufacturer's
installation instructions. All ICON System™ Accessory Package components on residential model water heaters are covered under a six-year limited warranty. Accessory Packages used with
light duty commercial models are covered by a three-year limited warranty.

* Your assessment is very important for improving the work of artificial intelligence, which forms the content of this project