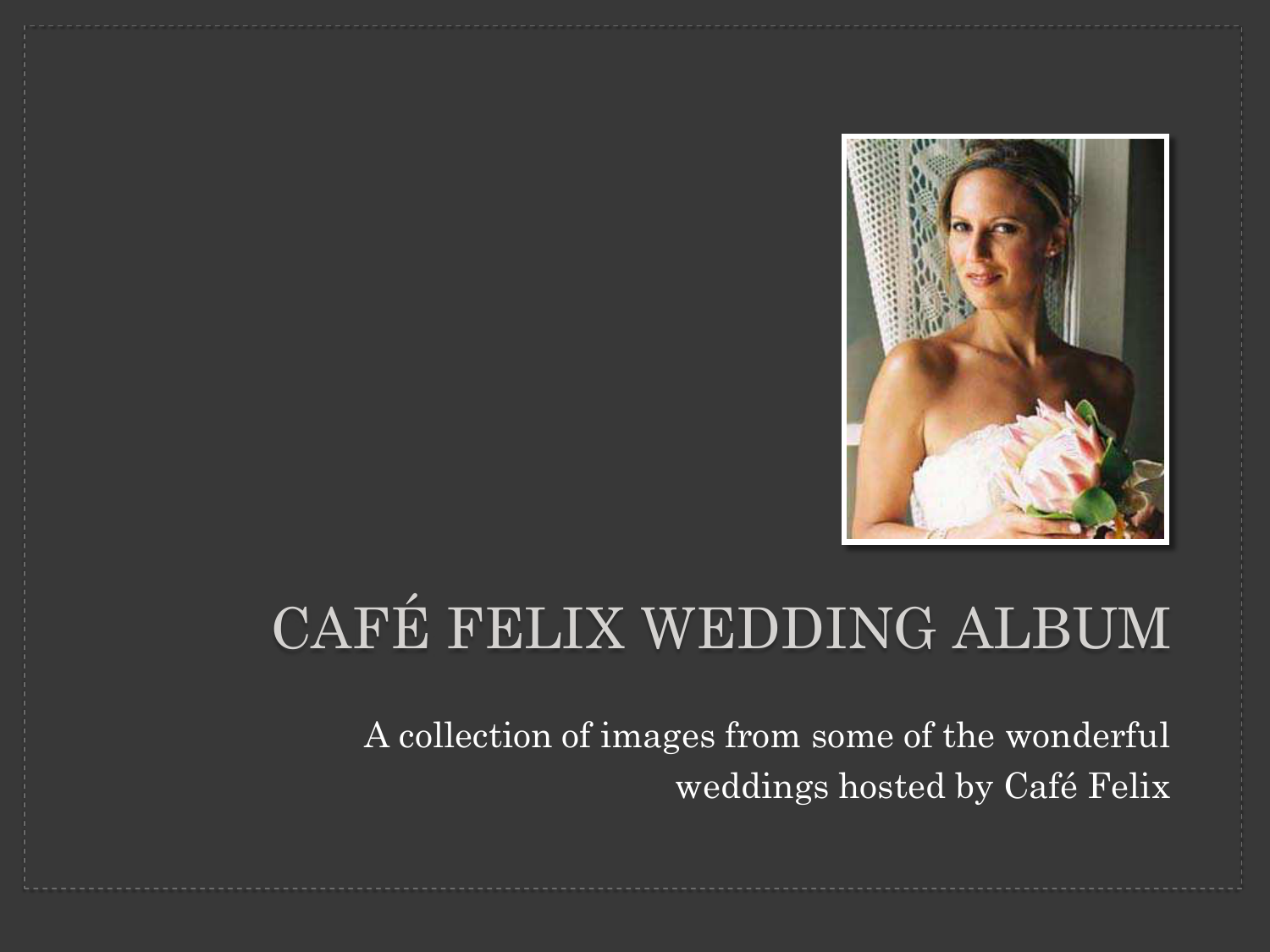 CAFÉ FELIX WEDDING ALBUM
A collection of images from some of the wonderful
weddings hosted by Café Felix
The beauty of a
country wedding
is indescribable.
The colour palette endless.
Pale pinks, greens, violets or even deep reds. Set your
mind free.
Whichever colour you theme your wedding
…………nature will compliment it.
Your Wedding Ceremony
Whether you choose to marry at the church
down the road………
…..or with us
……..you can be sure that your ceremony in Riebeek
Kasteel will be a memory you will treasure for the
rest of your life.
"Wow, where do I start. This was
one of my favourite weddings
this for year! Lande and Jurgen
got married in Riebeek Kasteel at
Cafe Felix and what a beautiful
wedding it was."
What greater thing is there for two human souls than to feel that they are joined...
to strengthen each other... to be at one with each other in silent unspeakable
memories.
~ George Eliot
"… ...when I arrived at the venue my mind was taken over by all the detail. It
was absolutely magical!"
Your Reception
From the simple to the extravagant, we have the know-how to assist you however
large or intimate your wedding. Our events company, Unique Events, has many
years of experience at organising special occasions from VIP dinners for 10 to
silver service Gala Events for 800 guests. We can offer full wedding coordination
or wedding day only coordination - whichever suits your budget.
If it's a cake you need, we can help.
We specialise in CupCake Wedding
Cakes.
So, come and
say "I do" at
Café Felix.

* Your assessment is very important for improving the work of artificial intelligence, which forms the content of this project