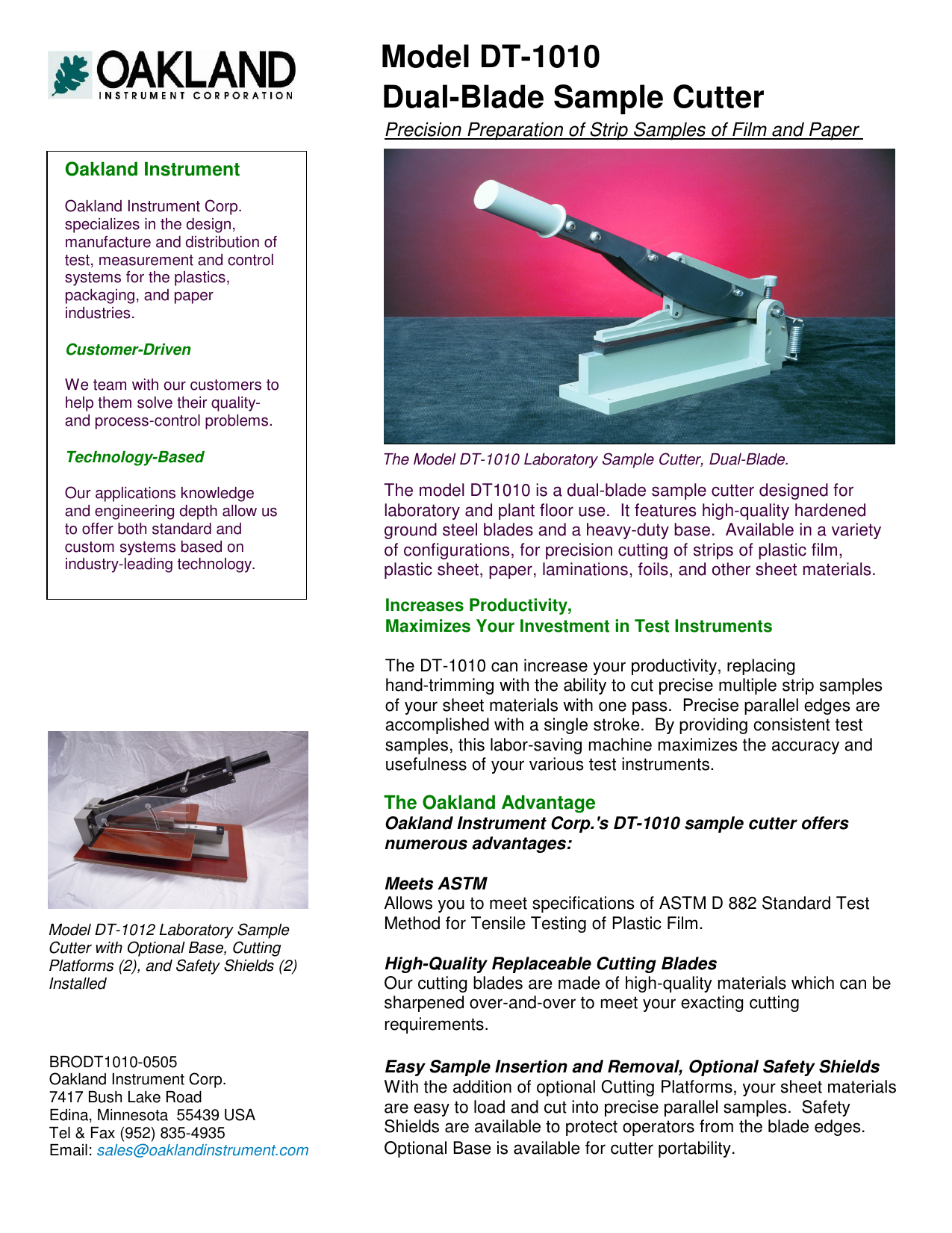 Model DT-1010
Dual-Blade Sample Cutter
Precision Preparation of Strip Samples of Film and Paper
Oakland Instrument
Oakland Instrument Corp.
specializes in the design,
manufacture and distribution of
test, measurement and control
systems for the plastics,
packaging, and paper
industries.
Customer-Driven
We team with our customers to
help them solve their qualityand process-control problems.
Technology-Based
The Model DT-1010 Laboratory Sample Cutter, Dual-Blade.
Our applications knowledge
and engineering depth allow us
to offer both standard and
custom systems based on
industry-leading technology.
The model DT1010 is a dual-blade sample cutter designed for
laboratory and plant floor use. It features high-quality hardened
ground steel blades and a heavy-duty base. Available in a variety
of configurations, for precision cutting of strips of plastic film,
plastic sheet, paper, laminations, foils, and other sheet materials.
Increases Productivity,
Maximizes Your Investment in Test Instruments
The DT-1010 can increase your productivity, replacing
hand-trimming with the ability to cut precise multiple strip samples
of your sheet materials with one pass. Precise parallel edges are
accomplished with a single stroke. By providing consistent test
samples, this labor-saving machine maximizes the accuracy and
usefulness of your various test instruments.
The Oakland Advantage
Oakland Instrument Corp.'s DT-1010 sample cutter offers
numerous advantages:
Model DT-1012 Laboratory Sample
Cutter with Optional Base, Cutting
Platforms (2), and Safety Shields (2)
Installed
BRODT1010-0505
Oakland Instrument Corp.
7417 Bush Lake Road
Edina, Minnesota 55439 USA
Tel & Fax (952) 835-4935
Email: sales@oaklandinstrument.com
Meets ASTM
Allows you to meet specifications of ASTM D 882 Standard Test
Method for Tensile Testing of Plastic Film.
High-Quality Replaceable Cutting Blades
Our cutting blades are made of high-quality materials which can be
sharpened over-and-over to meet your exacting cutting
requirements.
Easy Sample Insertion and Removal, Optional Safety Shields
With the addition of optional Cutting Platforms, your sheet materials
are easy to load and cut into precise parallel samples. Safety
Shields are available to protect operators from the blade edges.
Optional Base is available for cutter portability.

* Your assessment is very important for improving the work of artificial intelligence, which forms the content of this project