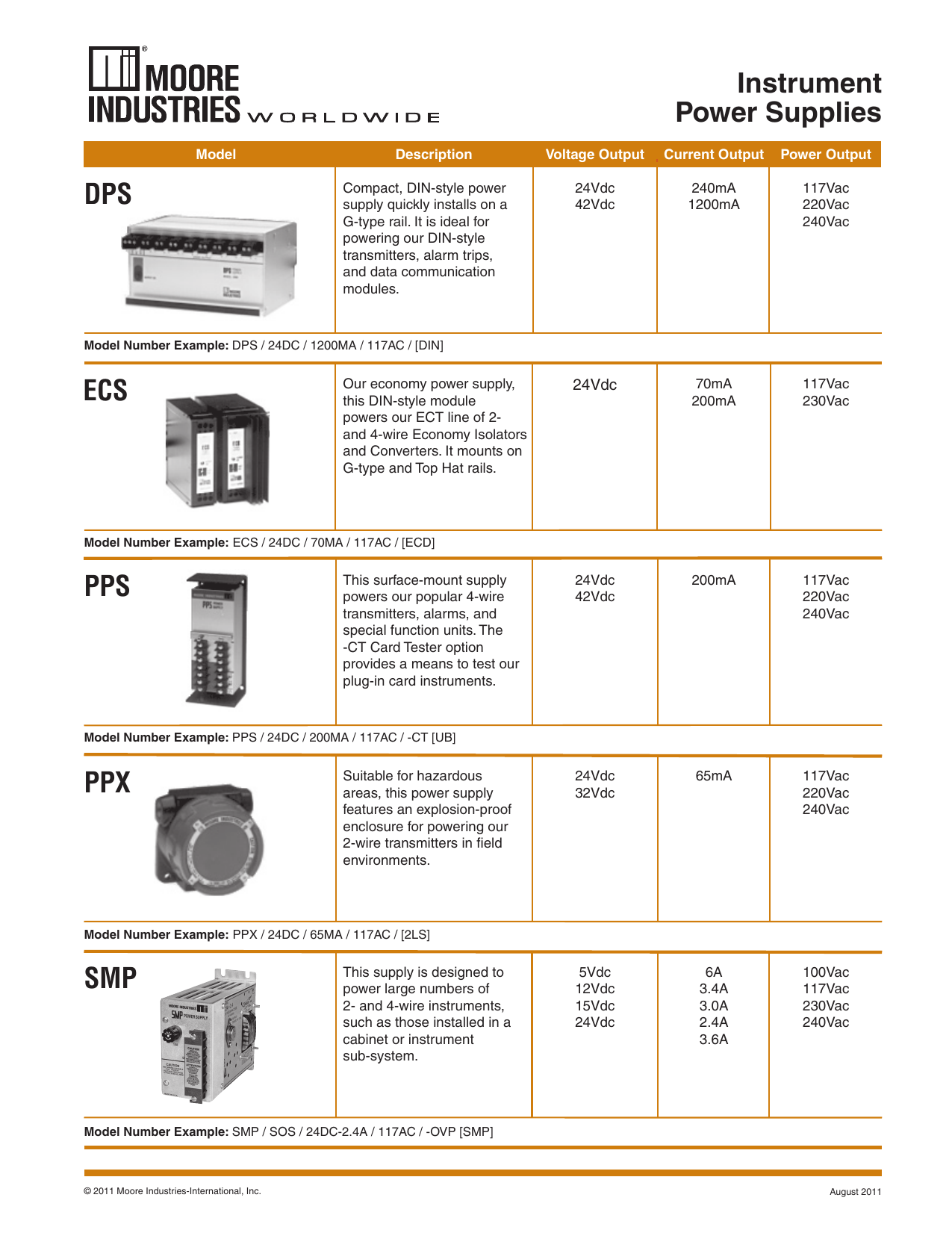 Instrument
Power Supplies
Model
DPS
Description
Compact, DIN-style power
supply quickly installs on a
G-type rail. It is ideal for
powering our DIN-style
transmitters, alarm trips,
and data communication
modules.
Voltage Output
Current Output
Power Output
24Vdc
42Vdc
240mA
1200mA
117Vac
220Vac
240Vac
24Vdc
70mA
200mA
117Vac
230Vac
24Vdc
42Vdc
200mA
117Vac
220Vac
240Vac
24Vdc
32Vdc
65mA
117Vac
220Vac
240Vac
5Vdc
12Vdc
15Vdc
24Vdc
6A
3.4A
3.0A
2.4A
3.6A
100Vac
117Vac
230Vac
240Vac
Model Number Example: DPS / 24DC / 1200MA / 117AC / [DIN]
ECS
Our economy power supply,
this DIN-style module
powers our ECT line of 2and 4-wire Economy Isolators
and Converters. It mounts on
G-type and Top Hat rails.
Model Number Example: ECS / 24DC / 70MA / 117AC / [ECD]
PPS
This surface-mount supply
powers our popular 4-wire
transmitters, alarms, and
special function units. The
-CT Card Tester option
provides a means to test our
plug-in card instruments.
Model Number Example: PPS / 24DC / 200MA / 117AC / -CT [UB]
PPX
Suitable for hazardous
areas, this power supply
features an explosion-proof
enclosure for powering our
2-wire transmitters in field
environments.
Model Number Example: PPX / 24DC / 65MA / 117AC / [2LS]
SMP
This supply is designed to
power large numbers of
2- and 4-wire instruments,
such as those installed in a
cabinet or instrument
sub-system.
Model Number Example: SMP / SOS / 24DC-2.4A / 117AC / -OVP [SMP]
© 2011 Moore Industries-International, Inc.
August 2011
Instrument
Instrument
Power
PowerSupplies
Supplies
Sizing Power Supplies
2-Wire (loop-powered) Instruments
The majority of 2-wire transmitters output a 4-20mA
signal when using a 24Vdc power supply. The typical
transmitter has a lift off voltage of 12Vdc. By using
Ohms Law, E (voltage) = I (current) x R (resistance),
it can be determined that the total allowable resistance
in the control loop is R = E/I or 24-12V/0.02A = 600
ohms. Note that by increasing the power supply voltage
to 32Vdc, the total loop load is increased by 1000 ohms.
2400
Power a Transmitter
with a Signal Converter
With the -TX option, our 4-wire signal transmitters,
isolators, converters and alarm trips provide 24V power
to a 2-wire, output-loop powered instrument. This
eliminates the need for an additional power supply.
LOOP POWER
2-Wire
Transmitter
ECT
4-20mA
Receiver
mA, V
Relay
2200
4-20mA
LIMIT 60Vdc MAXIMUM WITHOUT DAMAGE
Load Capability (ohms)
2000
1800
1600
R (Load) =
1400
E-12
1500Ω with
42Vdc Supply
I
1200
42Vdc Maximum (based
on CSA listing) measured
at the input terminals
1000
10-50mA
800
600
600Ω with
24Vdc Supply
600Ω with
42Vdc Supply
Moore Industries Signal Converter
with Transmitter Excitation
400
200
240Ω with
24Vdc Supply
12Vdc
0
10
20
30
40
Power Supply (Volts dc)
50
60
4-Wire (line-powered) Instruments
To determine the required power supply amperage, use
the formula:
P (power, watts) = I (current, amps) x E (voltage)
Add the wattage of each instrument to be powered by
the supply and divide by the power supply voltage
(normally 24Vdc).
24Vdc
Additional
Instruments
DPS
4-Wire
Transmitter
4-Wire
Isolator
4-Wire
Alarm
Moore Industries
Power Supply
United States • info@miinet.com
Tel: (818) 894-7111 • FAX: (818) 891-2816
Australia • sales@mooreind.com.au
Tel: (02) 8536-7200 • FAX: (02) 9525-7296
Belgium • info@mooreind.be
Tel: 03/448.10.18 • FAX: 03/440.17.97
The Netherlands • sales@mooreind.nl
Tel: (0)344-617971 • FAX: (0)344-615920
China • sales@mooreind.sh.cn
Tel: 86-21-62491499 • FAX: 86-21-62490635
United Kingdom • sales@mooreind.com
Tel: 01293 514488 • FAX: 01293 536852
Specifications Subject to Change. Printed in U.S.A.

* Your assessment is very important for improving the work of artificial intelligence, which forms the content of this project