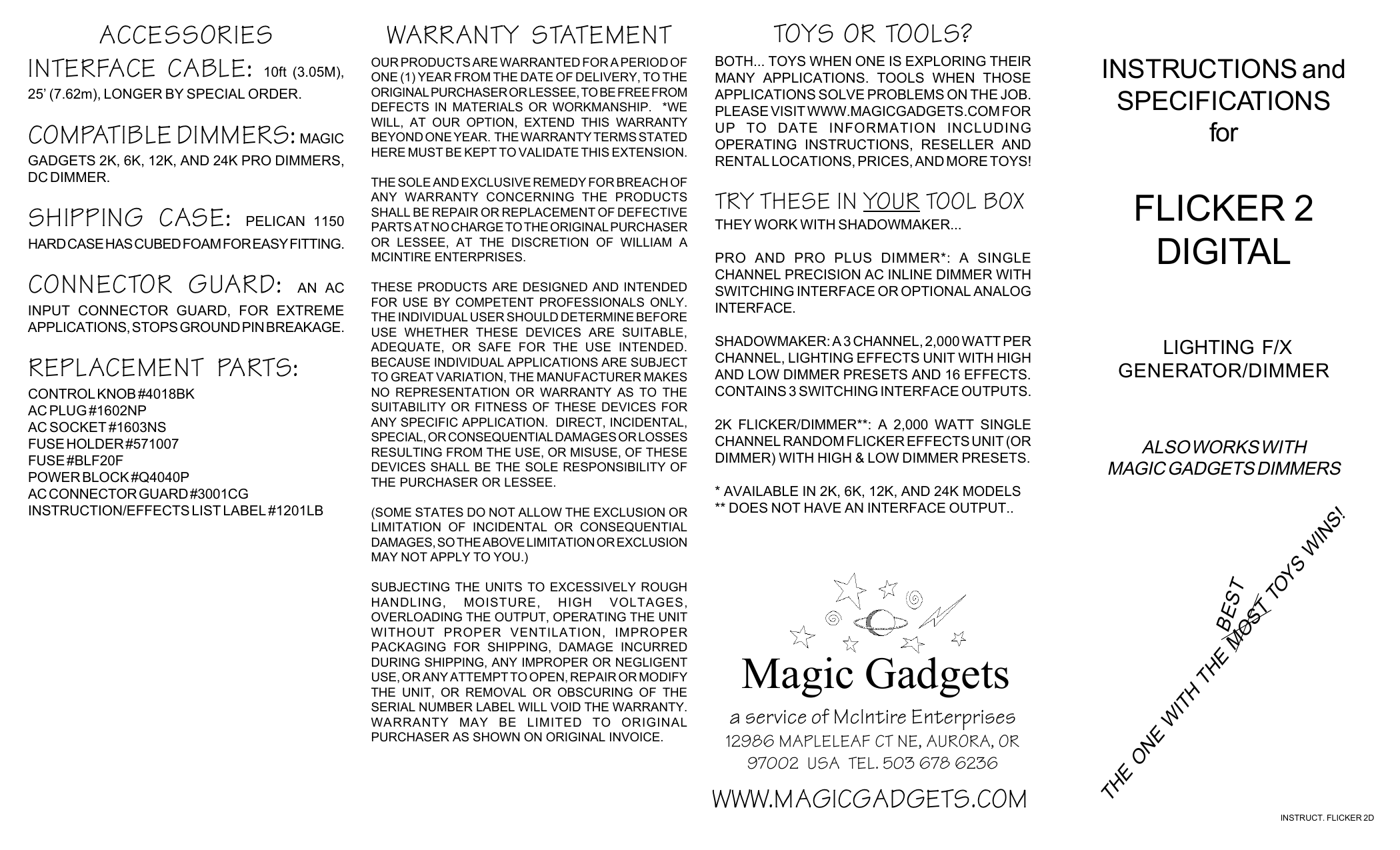 COMPATIBLE DIMMERS: MAGIC
GADGETS 2K, 6K, 12K, AND 24K PRO DIMMERS,
DC DIMMER.
SHIPPING CASE:
PELICAN 1150
HARD CASE HAS CUBED FOAM FOR EASY FITTING.
CONNECTOR GUARD:
AN AC
INPUT CONNECTOR GUARD, FOR EXTREME
APPLICATIONS, STOPS GROUND PIN BREAKAGE.
REPLACEMENT PARTS:
CONTROL KNOB #4018BK
AC PLUG #1602NP
AC SOCKET #1603NS
FUSE HOLDER #571007
FUSE #BLF20F
POWER BLOCK #Q4040P
AC CONNECTOR GUARD #3001CG
INSTRUCTION/EFFECTS LIST LABEL #1201LB
TOYS OR TOOLS?
OUR PRODUCTS ARE WARRANTED FOR A PERIOD OF
ONE (1) YEAR FROM THE DATE OF DELIVERY, TO THE
ORIGINAL PURCHASER OR LESSEE, TO BE FREE FROM
DEFECTS IN MATERIALS OR WORKMANSHIP. *WE
WILL, AT OUR OPTION, EXTEND THIS WARRANTY
BEYOND ONE YEAR. THE WARRANTY TERMS STATED
HERE MUST BE KEPT TO VALIDATE THIS EXTENSION.
BOTH... TOYS WHEN ONE IS EXPLORING THEIR
MANY APPLICATIONS. TOOLS WHEN THOSE
APPLICATIONS SOLVE PROBLEMS ON THE JOB.
PLEASE VISIT WWW.MAGICGADGETS.COM FOR
UP TO DATE INFORMATION INCLUDING
OPERATING INSTRUCTIONS, RESELLER AND
RENTAL LOCATIONS, PRICES, AND MORE TOYS!
THE SOLE AND EXCLUSIVE REMEDY FOR BREACH OF
ANY WARRANTY CONCERNING THE PRODUCTS
SHALL BE REPAIR OR REPLACEMENT OF DEFECTIVE
PARTS AT NO CHARGE TO THE ORIGINAL PURCHASER
OR LESSEE, AT THE DISCRETION OF WILLIAM A
MCINTIRE ENTERPRISES.
THESE PRODUCTS ARE DESIGNED AND INTENDED
FOR USE BY COMPETENT PROFESSIONALS ONLY.
THE INDIVIDUAL USER SHOULD DETERMINE BEFORE
USE WHETHER THESE DEVICES ARE SUITABLE,
ADEQUATE, OR SAFE FOR THE USE INTENDED.
BECAUSE INDIVIDUAL APPLICATIONS ARE SUBJECT
TO GREAT VARIATION, THE MANUFACTURER MAKES
NO REPRESENTATION OR WARRANTY AS TO THE
SUITABILITY OR FITNESS OF THESE DEVICES FOR
ANY SPECIFIC APPLICATION. DIRECT, INCIDENTAL,
SPECIAL, OR CONSEQUENTIAL DAMAGES OR LOSSES
RESULTING FROM THE USE, OR MISUSE, OF THESE
DEVICES SHALL BE THE SOLE RESPONSIBILITY OF
THE PURCHASER OR LESSEE.
(SOME STATES DO NOT ALLOW THE EXCLUSION OR
LIMITATION OF INCIDENTAL OR CONSEQUENTIAL
DAMAGES, SO THE ABOVE LIMITATION OR EXCLUSION
MAY NOT APPLY TO YOU.)
SUBJECTING THE UNITS TO EXCESSIVELY ROUGH
HANDLING, MOISTURE, HIGH VOLTAGES,
OVERLOADING THE OUTPUT, OPERATING THE UNIT
WITHOUT PROPER VENTILATION, IMPROPER
PACKAGING FOR SHIPPING, DAMAGE INCURRED
DURING SHIPPING, ANY IMPROPER OR NEGLIGENT
USE, OR ANY ATTEMPT TO OPEN, REPAIR OR MODIFY
THE UNIT, OR REMOVAL OR OBSCURING OF THE
SERIAL NUMBER LABEL WILL VOID THE WARRANTY.
WARRANTY MAY BE LIMITED TO ORIGINAL
PURCHASER AS SHOWN ON ORIGINAL INVOICE.
TRY THESE IN YOUR TOOL BOX
THEY WORK WITH SHADOWMAKER...
PRO AND PRO PLUS DIMMER*: A SINGLE
CHANNEL PRECISION AC INLINE DIMMER WITH
SWITCHING INTERFACE OR OPTIONAL ANALOG
INTERFACE.
SHADOWMAKER: A 3 CHANNEL, 2,000 WATT PER
CHANNEL, LIGHTING EFFECTS UNIT WITH HIGH
AND LOW DIMMER PRESETS AND 16 EFFECTS.
CONTAINS 3 SWITCHING INTERFACE OUTPUTS.
2K FLICKER/DIMMER**: A 2,000 WATT SINGLE
CHANNEL RANDOM FLICKER EFFECTS UNIT (OR
DIMMER) WITH HIGH & LOW DIMMER PRESETS.
INSTRUCTIONS and
SPECIFICATIONS
for
FLICKER 2
DIGITAL
LIGHTING F/X
GENERATOR/DIMMER
ALSO WORKS WITH
MAGIC GADGETS DIMMERS
* AVAILABLE IN 2K, 6K, 12K, AND 24K MODELS
** DOES NOT HAVE AN INTERFACE OUTPUT..
T
25' (7.62m), LONGER BY SPECIAL ORDER.
WARRANTY STATEMENT
BES
ACCESSORIES
INTERFACE CABLE: 10ft (3.05M),
Magic Gadgets
a service of McIntire Enterprises
12986 MAPLELEAF CT NE, AURORA, OR
97002 USA TEL. 503 678 6236
WWW.MAGICGADGETS.COM
E
H
T
E
N
O
H
IT
W
E
TH
T
S
O
M
S
Y
TO
!
S
IN
W
INSTRUCT. FLICKER 2D
SAFETY
SPECIFICATIONS
OPERATION
THE INTERFACE
GENERAL SAFETY: DO NOT USE
PHYSICAL: SIZE 3.62" (92mm) WIDE, 6.0"
WHEN WET. DO NOT USE IN EXPLOSIVE
ENVIRONMENT. FOR PROPER INDICATOR
OPERATION, USE GROUNDED POWER SOURCE.
PROVIDE ADEQUATE VENTILATION AND MAINS
CIRCUIT BREAKER. ELECTRONIC POWER
SWITCHING IS USED BY THIS DEVICE.
DISCONNECT FROM POWER BEFORE MAKING
CONNECTIONS OR HANDLING CONNECTED
EQUIPMENT AS OUTPUT MAY STILL BE
ENERGIZED EVEN WHEN THE UNIT APPEARS TO
BE OFF! DO NOT USE WITHOUT GROUND
CONNECTED. DO NOT MAKE OR BREAK
CONNECTION WITH THE UNIT ON.
(152mm) LONG, 2.75" (70mm) HIGH (APPX.).
PROVIDE ADEQUATE VENTILATION AND MAINS
BREAKER. SET EFFECT SELECT SWITCHES 1
THRU 4 UP (NO FLICKER), PRESS "ON", LAMPS
SHOULD LIGHT, SET "HIGH" KNOB FOR HIGHEST
LIGHT LEVEL. SELECT EFFECT, SET "LOW" KNOB
FOR LOWEST LIGHT LEVEL. EFFECT WILL TAKE
PLACE BETWEEN THE TWO SETTINGS. ADJUST
SPEED TO DESIRED RATE. GREEN LAMP
FLASHES AT 1 HZ IF UNIT IS GROUNDED (NO
INTERFACE CONNECTED) & VOLTAGE IS 120.
THE INTERFACE OUTPUT ON THE UNIT FOLLOWS
ON AND OFF AT THE SAME RELATIVE RATE AS
THE LAMP. THAT OUTPUT CAN CONTROL ONE
DIMMER, OR SEVERAL, BY USING THE INPUT
LOOP ON THE DIMMER. BY CONNECTING ONE
INTERFACE LOOP TO THE NEXT, MANY DIMMERS
CAN BE ENABLED BY THE SAME OUTPUT.
WEIGHT 1.7 lb (0.75kg), 2.0 lb (0.911kg) READY TO
SHIP, 3.8 lb (1.71kg) IN 1150 PELICAN HARD CASE.
2 3/4" H
3 5/8" W
GROUND INDICATOR: THIS UNIT
HAS A GROUND/VOLTAGE INDICATOR LIGHT
WHICH FLASHES ONLY WHEN A GROUND IS
DETECTED, HOWEVER, THE INTERFACE
CONNECTION CAN CAUSE A FALSE GROUND
INDICATION. ALSO, EVEN WHEN THE GROUND
INDICATOR IS WORKING IT MAY NOT INDICATE
A HIGH CURRENT GROUND WHICH IS
NECESSARY FOR SAFE GROUNDING. THE
INDICATOR IS PROVIDED AS A CONVENIENCE
RATHER THAN AN ABSOLUTE INDICATOR OF A
SAFE GROUNDED CONDITION.
VOLTAGE INDICATOR:
THE
GROUND/VOLTAGE INDICATOR LIGHT SHOWS
CORRECT APPROXIMATE SOURCE VOLTAGE
WITH A ONE FLASH PER SECOND RATE. A
HIGHER VOLTAGE WILL CAUSE A FASTER
FLASH AND LOWER VOLTAGE A SLOWER
FLASH. IT ALSO INDICATES CORRECT INPUT
POLARITY EXISTS BETWEEN THE "HOT"
CONDUCTOR OF THE AC INPUT CONNECTOR
AND THE EARTH/GROUND CONDUCTOR. NO
INDICATION SHOWS POSSIBLE HOT/NEUTRAL
REVERSAL ON 150 VOLT UNITS ONLY.
6" L
ELECTRICAL:
POWER SOURCE: US &
CANADA 150 VOLTS MAXIMUM (EUROPE 250
VOLTS MAXIMUM), AC ONLY. 2,000 WATTS
MAXIMUM. USE ONLY TYPE BLF 20 AMP FAST
BLOW FUSE (250 VOLT UNITS USE BLF 10). FUSE
IS LOCATED IN THE HOLDER NEAR THE OUTPUT
CONNECTOR.
INTERFACE OUTPUT: 0.125" (3.5 mm), 2
CONDUCTOR PHONE PLUG. 10 VOLTS DC
NOMINAL, 15 VOLTS MAXIMUM, 50 MILLIAMPS
PER CHANNEL PEAK. TIP NEGATIVE, SLEEVE
POSITIVE. SLEEVE COMMON WITH AC
CONNECTOR GROUND PIN.
TECHNICAL:
THE DIAGRAM BELOW
ILLUSTRATES THE HIGH RESOLUTION OUTPUT
OF THE UNIT DURING THE SEQUENCE OF THE
SELECTED PROGRAM.
HIGH DIMMER SETTING
SEVERAL
LEVEL
CHANGES
LOW DIMMER SETTING
SWITCH
1
2
ON ON
OFF ON
ON OFF
ON ON
ON ON
OFF OFF
OFF ON
OFF ON
ON OFF
ON OFF
ON ON
OFF OFF
OFF OFF
OFF ON
ON OFF
OFF OFF
NUMBER
3
4
ON ON
ON ON
ON ON
OFF ON
ON OFF
ON ON
OFF ON
ON OFF
OFF ON
ON OFF
OFF OFF
OFF ON
ON OFF
OFF OFF
OFF OFF
OFF OFF
TO NEXT DIMMER IN CHAIN
EFFECT SELECTED
FULL ON (NO FLICKER)
TV/FILM LIGHT 1
TV/FILM LIGHT 2
TV/FILM LIGHT 3
TV/FILM LIGHT 4
FIRELIGHT 1
FIRELIGHT 2
FIRELIGHT 3
FIRELIGHT 4
FIRELIGHT 5
FIRELIGHT 6
LIGHTNING 1
LIGHTNING 2
PULSATING LIGHT 1
PULSATING LIGHT 2
BLINKING LIGHT
DIMMERS CONNECTED TO THE INTERFACE MUST
HAVE THE RESIDENT ON/OFF SWITCH TURNED
OFF BEFORE THE INTERFACE WILL OPERATE.
TRICKS
THE INTERFACE ENABLES THE RESIDENT
DIMMER CONTROL IN OUR 2K, 6K, AND 12K PRO
DIMMERS. BY PRESETTING THE DIMMER THEN
APPLYING THE INTERFACE CONTROL VOLTAGE
THE DIMMER TURNS ON TO THE LEVEL THAT
WAS PREVIOUSLY SET.
CAUTION:
CONNECT INTERFACE OUTPUT ONLY TO MAGIC
GADGETS DEVICES WITH AN INTERFACE INPUT.
CONNECTING OTHER LOAD DEVICES TO THE
OUTPUTS CAN DAMAGE THE UNITS CONNECTED.