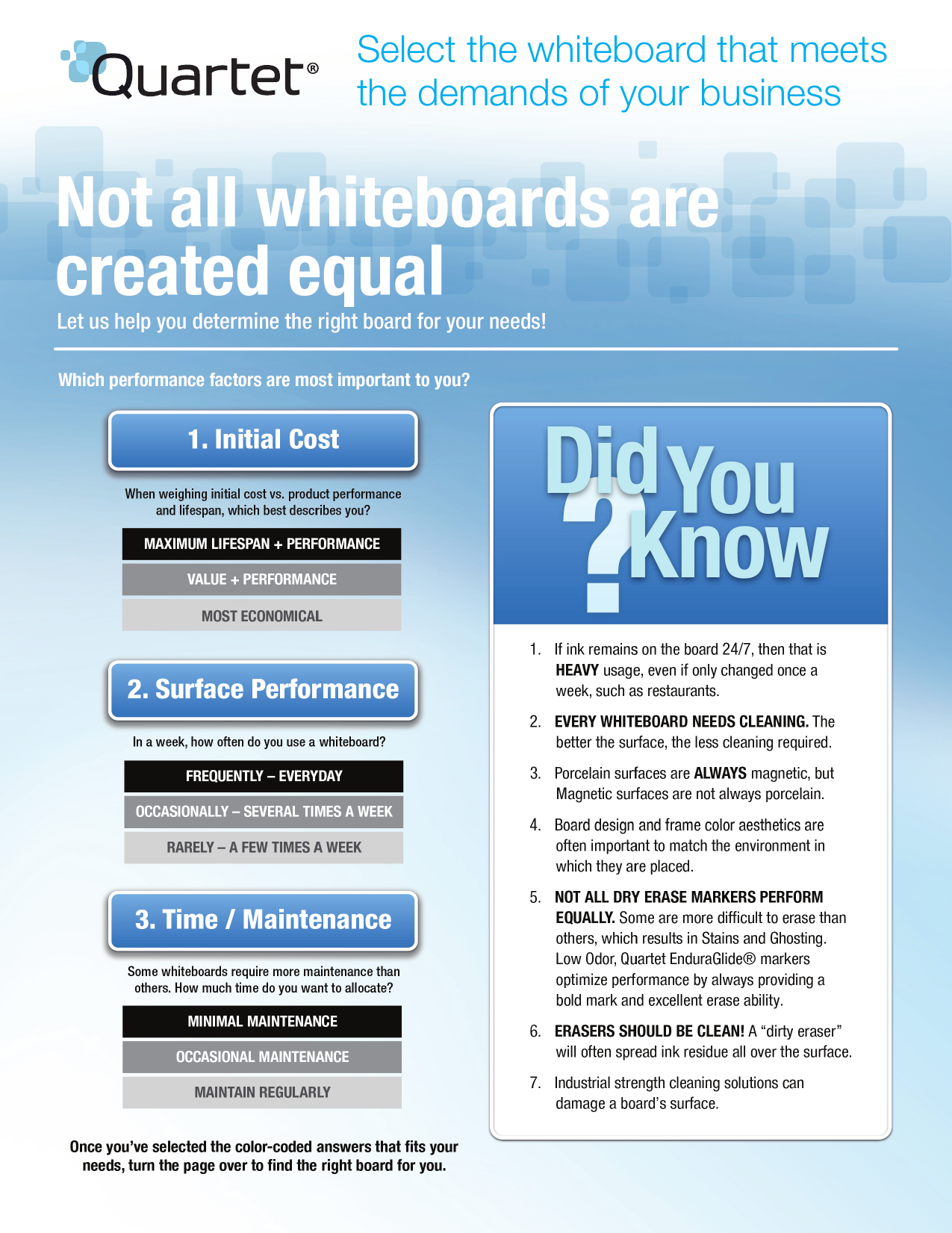 Select the whiteboard that meets
the demands of your business
Premium Performance
MAXIMUM LIFESPAN + PERFORMANCE
A "must" for every classroom and high traffic conference room
FREQUENTLY – EVERYDAY
• Porcelain & Glass will not stain or ghost / Total Erase resists ghosting & staining
• Porcelain surface will not scratch or dent
Ideal for conference rooms, common areas, factory floors
and heavy-use personal boards
MINIMAL MAINTENANCE
25
PROTECTED BY
NANO-CLEAN
TECHNOLOGY
YEAR
WARRANTY
*
Prestige® 2 Porcelain Magnetic Whiteboard
Fusion Nano-Clean Whiteboards
Infinity™ Glass Magnetic Dry Erase Board
*Frosted glass is non-magnetic
Enhanced Performance
VALUE + PERFORMANCE
Excellent choice for popular conference rooms or shared environments
OCCASIONALLY – SEVERAL TIMES A WEEK
• Total Erase resists staining & ghosting
• Total Erase includes subtle grid pattern helps guide writing
Ideal for public spaces and personal heavy use
Prestige® 2 Magnetic Total Erase® Whiteboard
OCCASIONAL MAINTENANCE
Classic Series Magnetic Whiteboard
Prestige® 2 Total Erase® Whiteboard
Standard Performance
MOST ECONOMICAL
Popular for personal workspaces
RARELY – A FEW TIMES A WEEK
Ideal for low-frequency, personal use or public areas
3
YEAR
WARRANTY
MAINTAIN REGULARLY
3
YEAR
WARRANTY
Classic Series Melamine Whiteboard
Matrix® Magnetic Whiteboard
Premium
magnetic
surface
Communicate with
precision. Guided by
a light grid pattern viewable
only from a close distance.
Economy Melamine Whiteboard
Cradle to Cradle CertifiedCM This whiteboard
has been certified for its material content,
recyclability and manufacturing
characteristics.
Mounts horizontal or vertical.
Tray can be mounted and used
in either orientation.
Quartet® Whiteboards
Enhanced
Performance
Standard
Performance
Magnetic
Total Erase®
Total Erase®
Melamine
•
•
•
•
•
•
•
•
•
•
•
•
Premium Performance
Duramax® Porcelain
Glass
Nano
Magnetic for dual functionality
•
•*
•
Cradle to Cradle CM Silver certified
•
Features and benefits
Subtle grid pattern to keep writing aligned
Will not scratch or dent
•
Will not stain or ghost
•
•
Patented easy installation system
•
•
Assorted sizes for any location
•
•
•
Performance and cleaning
Heavy usage
•
•
Frequent usage
•
Light usage
•
Easy to clean
•
•
•
•
•
Occasional use of cleaners recommended
•
•
•
•
•
HHHHH
HHHHH
HHHHH
HHHH
HHHH
•
Requires frequent use of cleaners for optimal performance
Stain-resistant performance over time
•
HH
Select the right board for the location
Conference rooms/board rooms
•
•
Executive offices
•
•
Training rooms
•
•
•
•
•
•
•
•
Personal workspaces/offices
•
Reception areas
•
•
•
•
Common areas
•
•
•
•
•
•
•
•
•
•
•
•
•
Break rooms/factory floors
Accessories included
Accessory tray**
•
Quick Clips to hold notes
•
Quartet dry-erase markers
Qty 4
Qty 1
Qty 1
Qty 1
Qty 1
Qty 1
•
•
•
•
•
•
Duramax®
Porcelain
Glass
Nano
Magnetic
Total Erase®
Total Erase®
Melamine
Frameless
Mounting hardware (brackets, screws and wall anchors)
Frame finishes
Contemporary and traditional frames
are designed to complement any environment.
Euro™
Titanium
Aluminum
Mahogany
Graphite
•
White
Black
*Frosted
Black
Aluminum
Euro™
Titanium
Silver
Black
Aluminum
Graphite
Mahogany
Mahogany
Graphite
Aluminum
Aluminum
Mahogany
Black
Aluminum
Graphite
Mahogany
Black
Aluminum
Oak
**Plastic
Black
Aluminum
Graphite
Mahogany
*Not magnetic
**Tray not included on
select models.
TM
NANO
CLEAN
THE NEW SCIENCE OF CLEAN
WELCOME TO THE FUTURE OF WHITEBOARDS
Quartet® Fusion Nano-Clean Whiteboards
Nano-Clean Surface
Ink cannot penetrate
the surface as it is
sealed at the nano level.
PROTECTED BY
NANO-CLEAN
TECHNOLOGY
25
YEAR
WARRANTY
Board Surface
Nano-Clean Surface
Sealed with a proprietary
hydrophobic coating, this nano
technology surface allows you to
cleanly and easily erase the board
because ink is unable to penetrate
the surface. The board does not
stain or ghost.
Magnetic
FUSION
Whiteboard surface is magnetic and
doubles as a bulletin board.
Accessories
Frame Design
Marker Tray
New Frame Design
Marker tray can be mounted in
either horizontal or vertical board
orientations. Also includes one
Quartet Dry-Erase Marker.
Keeping in line with the creation of
a progressive board surface we have
incorporated a clean, ultra-modern
frame design. The board surface is
recessed from the frame for a sleek
and clean profile. The silver and
black anodized aluminum frames look
great in any workspace, including
your most upscale conference room.

* Your assessment is very important for improving the work of artificial intelligence, which forms the content of this project