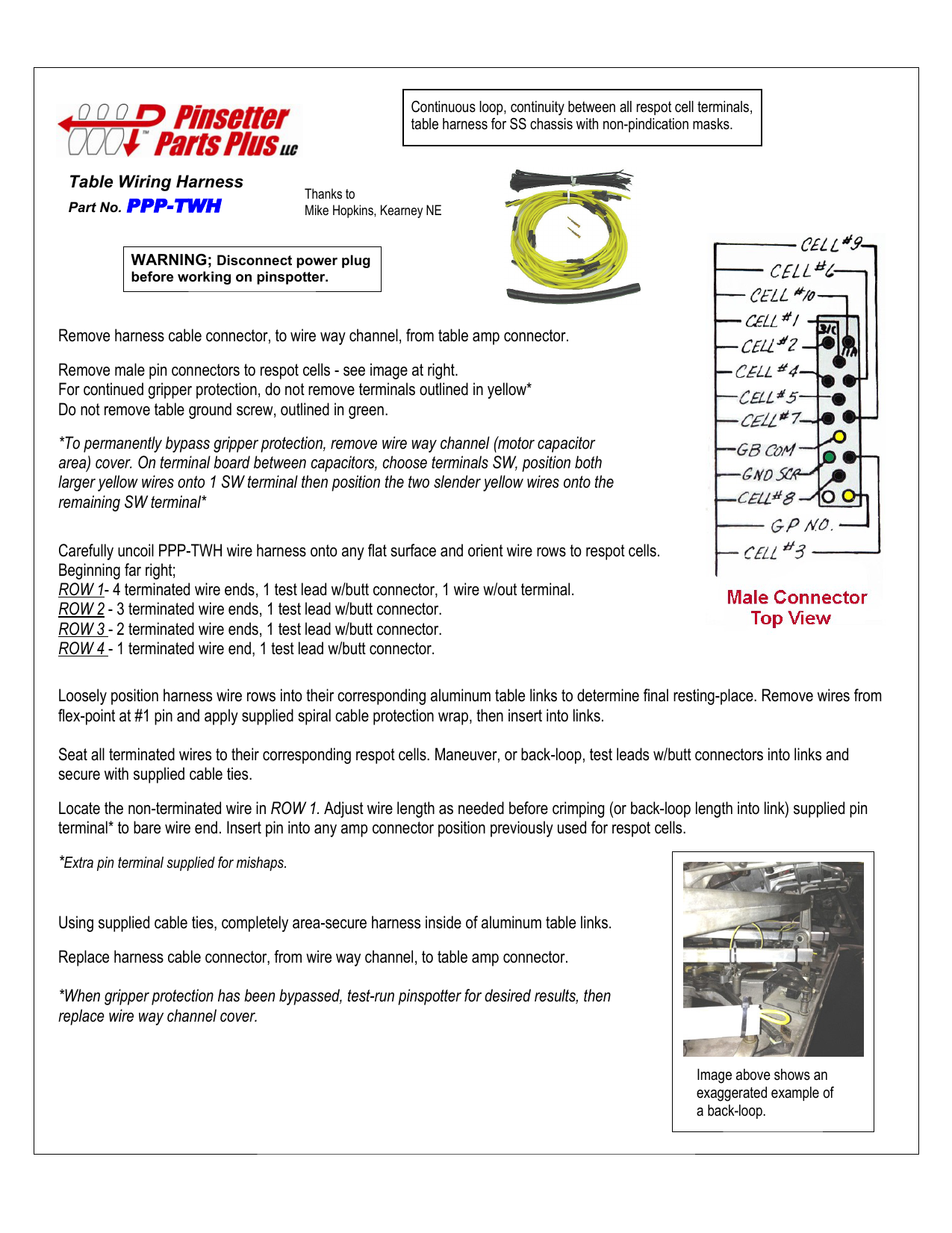 Continuous loop, continuity between all respot cell terminals,
table harness for SS chassis with non-pindication masks.
Table Wiring Harness
Part No.
PPP-TWH
Thanks to
Mike Hopkins, Kearney NE
WARNING; Disconnect power plug
before working on pinspotter.
Remove harness cable connector, to wire way channel, from table amp connector.
Remove male pin connectors to respot cells - see image at right.
For continued gripper protection, do not remove terminals outlined in yellow*
Do not remove table ground screw, outlined in green.
*To permanently bypass gripper protection, remove wire way channel (motor capacitor
area) cover. On terminal board between capacitors, choose terminals SW, position both
larger yellow wires onto 1 SW terminal then position the two slender yellow wires onto the
remaining SW terminal*
Carefully uncoil PPP-TWH wire harness onto any flat surface and orient wire rows to respot cells.
Beginning far right;
ROW 1- 4 terminated wire ends, 1 test lead w/butt connector, 1 wire w/out terminal.
ROW 2 - 3 terminated wire ends, 1 test lead w/butt connector.
ROW 3 - 2 terminated wire ends, 1 test lead w/butt connector.
ROW 4 - 1 terminated wire end, 1 test lead w/butt connector.
Loosely position harness wire rows into their corresponding aluminum table links to determine final resting-place. Remove wires from
flex-point at #1 pin and apply supplied spiral cable protection wrap, then insert into links.
Seat all terminated wires to their corresponding respot cells. Maneuver, or back-loop, test leads w/butt connectors into links and
secure with supplied cable ties.
Locate the non-terminated wire in ROW 1. Adjust wire length as needed before crimping (or back-loop length into link) supplied pin
terminal* to bare wire end. Insert pin into any amp connector position previously used for respot cells.
*Extra pin terminal supplied for mishaps.
Using supplied cable ties, completely area-secure harness inside of aluminum table links.
Replace harness cable connector, from wire way channel, to table amp connector.
*When gripper protection has been bypassed, test-run pinspotter for desired results, then
replace wire way channel cover.
Image above shows an
exaggerated example of
a back-loop.

* Your assessment is very important for improving the work of artificial intelligence, which forms the content of this project