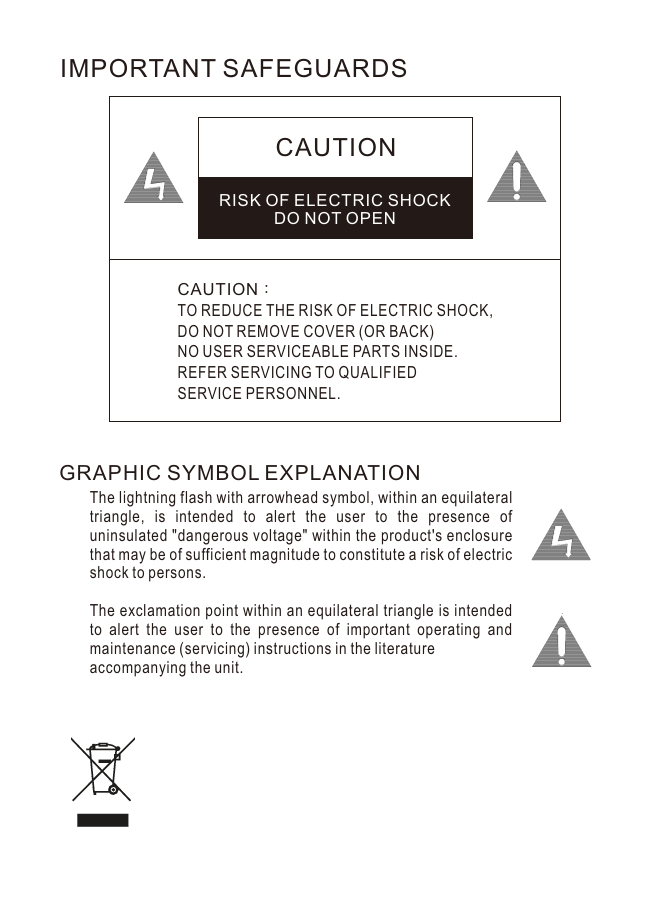 IMPORTANT SAFEGUARDS
CAUTION
RISK OF ELECTRIC SHOCK
DO NOT OPEN
CAUTION:
TO REDUCE THE RISK OF ELECTRIC SHOCK,
DO NOT REMOVE COVER (OR BACK)
NO USER SERVICEABLE PARTS INSIDE.
REFER SERVICING TO QUALIFIED
SERVICE PERSONNEL.
GRAPHIC SYMBOL EXPLANATION
The lightning flash with arrowhead symbol, within an equilateral
triangle, is intended to alert the user to the presence of
uninsulated "dangerous voltage" within the product's enclosure
that may be of sufficient magnitude to constitute a risk of electric
shock to persons.
The exclamation point within an equilateral triangle is intended
to alert the user to the presence of important operating and
maintenance (servicing) instructions in the literature
accompanying the unit.
CAUTION
Do not drop or strike this equipment.
Sensitive electronics inside are vulnerable to excessive shock.
Do not install the equipment near any naked flames or heat
sources.
Excessive heat could damage this unit.
Do not expose this unit to rain or excessive moisture, avoid
smoke and dust.
Please the camera in an environmental housing for protection.
If the camera gets wet, unplug it and have it checked by
qualified service personnel.
Do not cover cloth or to install this unit in poorly ventilated
places.
This may lead to overheating.
Do not continue to operate if there appears to be fault.
If the unit ceases to function, contact qualified service
personnel for help.
Do not touch the power connection with wet hands.
Risk of short circuit or electric shock.
Do not damage the power cord or leave it under pressure.
Risk of fire or shock circuit.
Executive Summary
IPD112 series is an Day&Night megapixel HD IP camera, built-in H.264 AVC(Advanced Video
Coding) video compression. H.264 AVC video compression engine supports high definition
video quality, 720P(1280x768) resolution, bandwidth efficiency with PPPoE and DDNS.
Also it provides higher bit rate of internet and diverse alarm functions such as movement
video detection e-mail or FTP. Moreover, IPD112 series can do remote surveillance with iPad,
iPhone or Android cell phone. The software R&D engineer can use HTTP protocol (HTTPAPI)
to develop related software, and integrate them with existing application software system.
IPD112 series is ideal solution for remote video monitoring via internet.
Part Description & Dimension
144
LINK ACT
67
Unit : mm
113
98
RJ-45 Network Cable
DC POWER INPUT (DC12V ±10%) JACK
Indicator LEDs
LINK: While cable of network is connecting
the LED is light.
ACT: When data is communicating, the LED
is flashed.
Base
Fix Ring
Inside Cover
Dome Cover
Lens
Live Video RCA Jack
(IPD112ESX support)
Reset Key
To restore the server to factory default
setting.
SD Card Slot (IPD112ESX support)
Installation
1. Put the provided screws (M3.0 x 25, wooden screw) through the holes marked as "a",
and fix the base in the desired area (FIG.1).
a
a
a
120°
65
FIG. 1
2. The direction of the lens is adjustable through the adjustable Pan/Tilt brackets and
rotatable round bracket for Azimuth. The lens can be adjusted easily by hand without
using screw driver. Please refer to FIG.2&FIG.3.
IRIS LEVEL VR
TILT
SCREW DRIVER
BRACKET
ZOOM ADJUSTMENT
FOCUS ADJUSTMENT
AZIMUTH
PAN
FIG. 2
(IPD112ESX3)
BRACKET
TILT
AZIMUTH
PAN
FIG. 3
(IPD112S4.3)
3. An extra RCA jack for easy installation. Plug the video input of monitor to the RCA jack
and adjust focus and zoom.
After finished, unplug the RCA jack. Please refer to FIG.4.
FIG. 4
4. Adjust DC iris level by turning the iris level VR. Please refer to FIG.2.
ATTENTION: Adjust this VR with care so as not to cause damage to the unit.
5. Put on the inside cover first, and followed by put on the dome cover.
Then tighten the fix ring(FIG.5).
b
b
c
c
FIG. 5
6. Other wires installation like connecting audio in/output, video output and alarm in/out
with connector, please follow instruction as below: (IPD112ESX3 Support)
DC12V
LAN
ALARM AUDIO
/VIDEO
Alarm In/Out
Audio In/Out
Untighten the three screws to take
off the cover of bottom.
To connect with wire accessory.
Take wire through the hole, and
configure the cover of bottom.
Tighten the three screws to fix the
cover of bottom.
NOTE
Wire & Power Adaptor Accessory (99-IPD112WR) are option product.
Alarm In/Out Terminal Pin Assignment
+5V OUT
N.O.
COM
INPUT
GND
(+5V OUT, 100m A max.)
(Alarm Output, Normal Open)
(Alarm Output, Common)
(Alarm Input)
(Alarm Ground)
Product Components
1. D/N CMOS HD Vari-Focal Dome IP Camera
2. Instruction manual
H.264 AVC IP Cameras
IPD552EX2.2/4.2 N/P
D/N 720P HD Dome IP Camera
IPD112ESX3 / IPD112S4.3
Instr uction Manual
INSTRUCTION MANUAL
3. CD Software Pack
4. Power Adaptor (IPD112S)
Wire & Power Adaptor Accessory (99-IPD112WR, Option product)
System Architectures
For connecting IPD112 series to the network, please follow one of the system architectures:
(1). Use with PoE of the network switch connected to the network.
LAN
LAN / Internet
PoE Switch
IPD112ESX
PC
(2). Use PoE power injector and the network switch connected to the network.
LAN
LAN
LAN / Internet
AC
PoE Power Injector
IPD112ESX
Non-PoE Switch
PC
(3). Use DC12V power adaptor and network switch connected to a network.
LAN
LAN / Internet
Non-PoE Switch
IPD112ESX /
IPD112S
PC
(4). Use with PoE-powered network switch and the PoE splitter connected to a network.
LAN
LAN / Internet
LAN
PoE Switch
IPD112S
PoE Splitter
(DC12V)
PC
Emergency Factory Default
To restore the server to factory default settings, please:
1. Hold Reset Key for 10 second.
2. The network LED lights turn off after about 40 seconds, then lit.
3. The server board reboots itself.
4. Using IPScan scanning for the IP address of the IP device.
5. Launch Internet browser for the IP address of the IP device.
6. Type default username "admin" and password "pass" for enter web interface of the IP
device.
NOTE
For convenient purpose, IP address resets to default IP address, 192.168.0.200, after
performing Load Default operation.

* Your assessment is very important for improving the work of artificial intelligence, which forms the content of this project